|
Auctions
Top Lots | EMLA 2018 Highlights
We're coming to the last of our Preview Blogs for the Propstore 2018 Entertainment Live Auction. During August and September, we will give you a weekly advance preview of some of the amazing and iconic lots that we have in store for you in this years auction… this week we're looking at our top picks from this year's auction!
With only one day to go until this year's Live Entertainment Auction kicks off, it's time to take a look at the 10 reasons why this year's auction is the most exciting one yet.
HAN SOLO'S JACKET
Star Wars: The Empire Strikes Back (1980)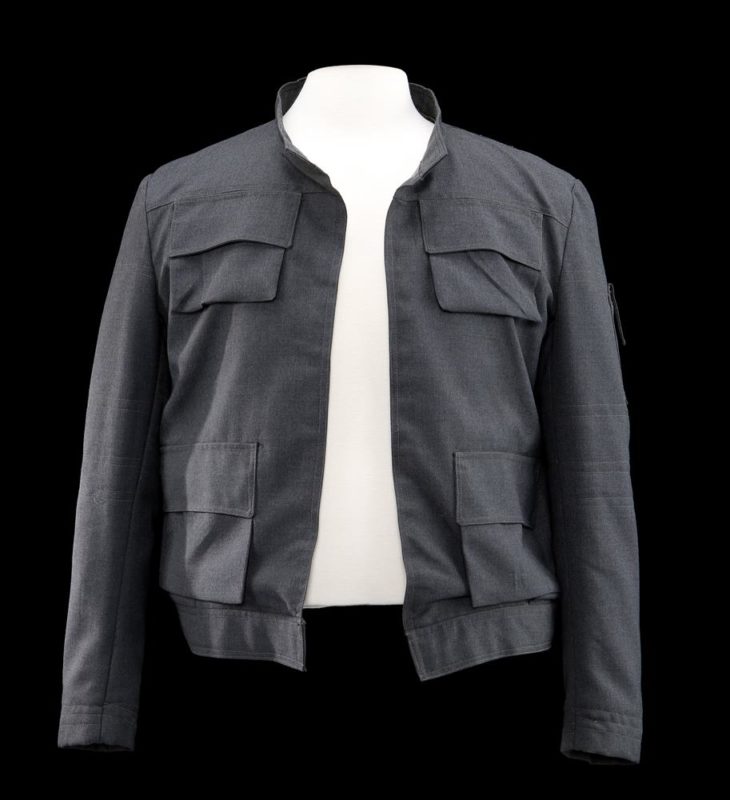 Han Solo didn't just help save the galaxy. He did it in style. This dark blue, mandarin-collared, heavily pocketed jacket (Han was a smuggler, after all) marked him out from the other heroes and villains of George Lucas' space opera as a man of practicality and panache. The star artefact of this auction, we're expecting it to fetch as much as £1 million.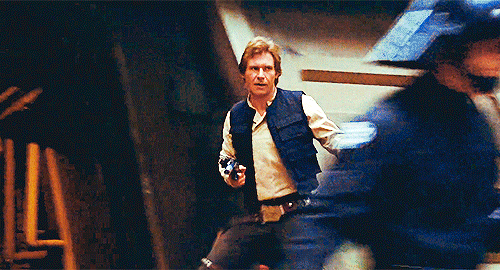 Fun Fact: Though it appears navy blue on screen, the actual jacket is more of a blue-grey colour. This was because costume designer John Mollo knew that blues usually looked black on film, so he deliberately made the jacket lighter.



MARTY McFLY'S HOVERBOARD
Back to the Future Part II (1989)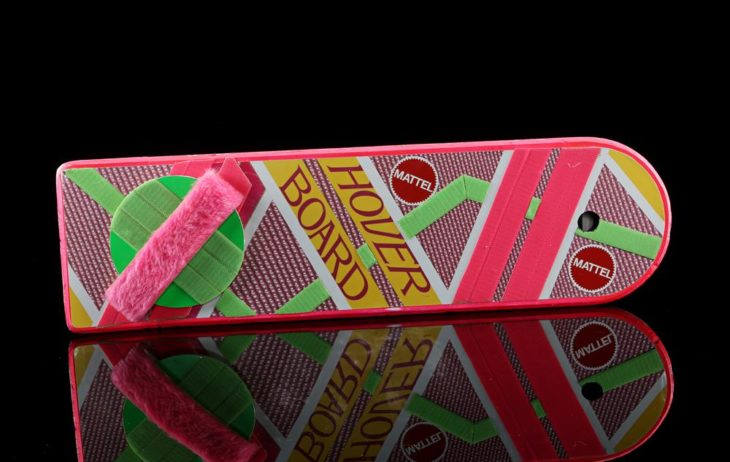 We all wanted one, we still haven't got them, but Michael J. Fox got to fly a neon-green-and-pink hoverboard during the second and third instalments of time-travel epic Back To The Future — here represented by this super-cool Styrofoam prop.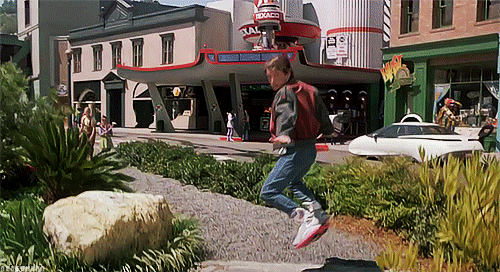 Fun Fact: During an interview, director Robert Zemeckis joked that the hoverboard really worked, which lead to toy stores being swamped with requests for the science-fictional device.
INDIANA JONES' SIGNATURE FEDORA
Raiders of the Lost Ark (1981)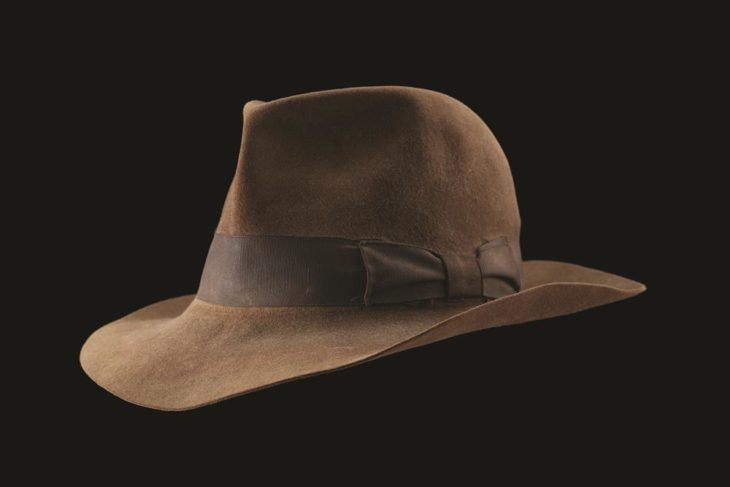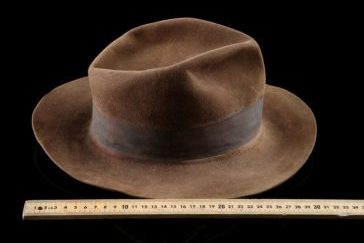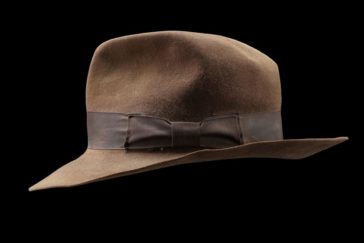 The most famous hat in movie history, this rabbit felt, wide-brimmed fedora has certainly been on some adventures. Harrison Ford wore it while coming eye to eye with the king cobra in the Well of Souls, while he was being dragged behind the truck, and when he so memorably shot that big, Egyptian swordsman.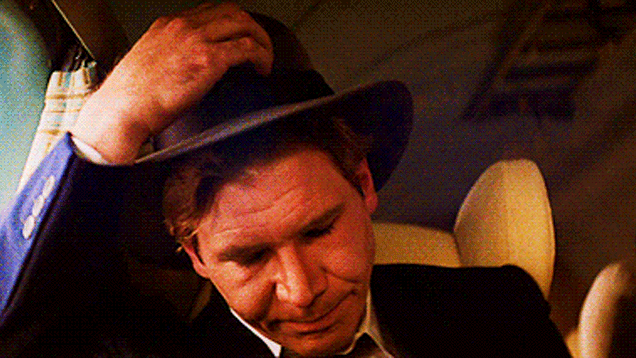 Fun Fact: The hat's wide brim was very useful when it came to disguising Ford's stunt doubles — it very easily and conveniently covered most of their faces.



LIGHT-UP T-800 TERMINATOR ENDOSKELETON
Terminator 2: Judgment Day (1991)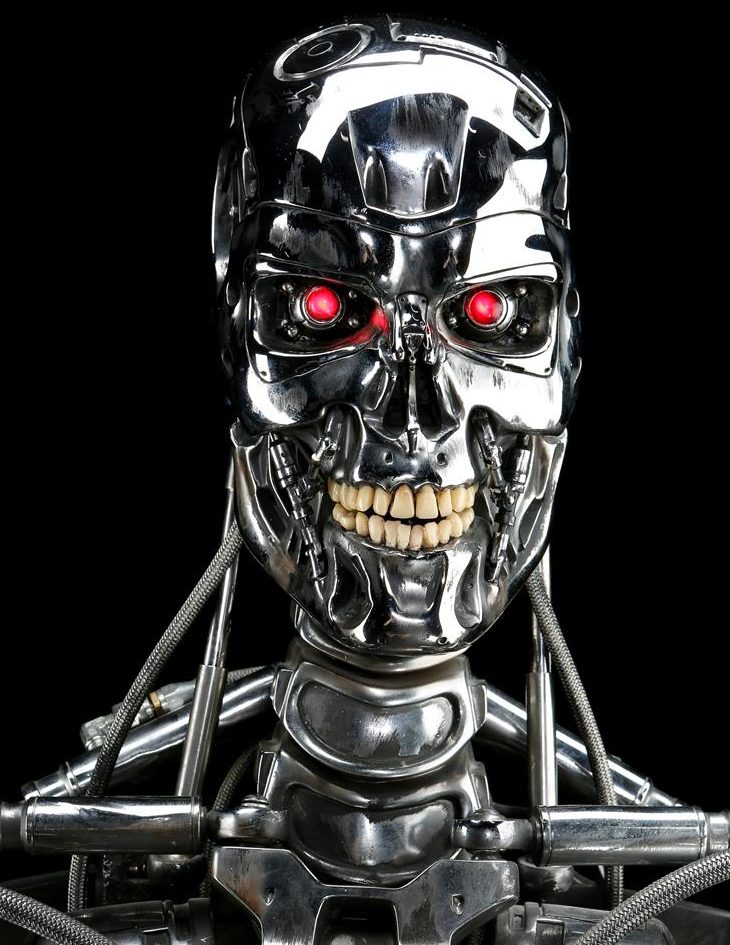 With its malevolent, human-toothed smile, its hellish red eyes and its burnished chrome form, James Cameron and special-effects supremo Stan Winston's Terminator Endoskeleton still makes a huge impact whenever you see it. Especially this particular model, whose LED eyes are wired to light up.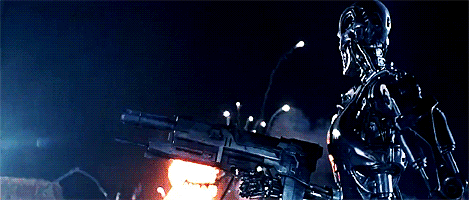 Fun Fact: The endoskeleton first appeared to Cameron in a fever-induced nightmare, as a chrome torso crawling towards him out of a fire.



JUMANJI GAME BOARD
Jumanji (1995)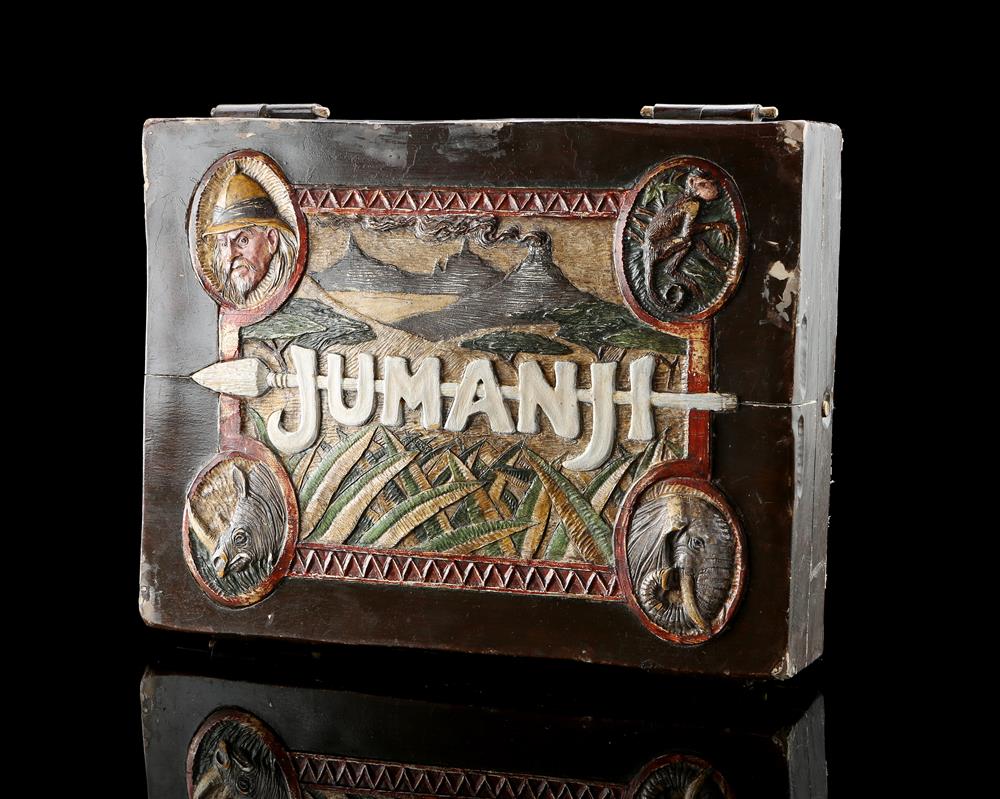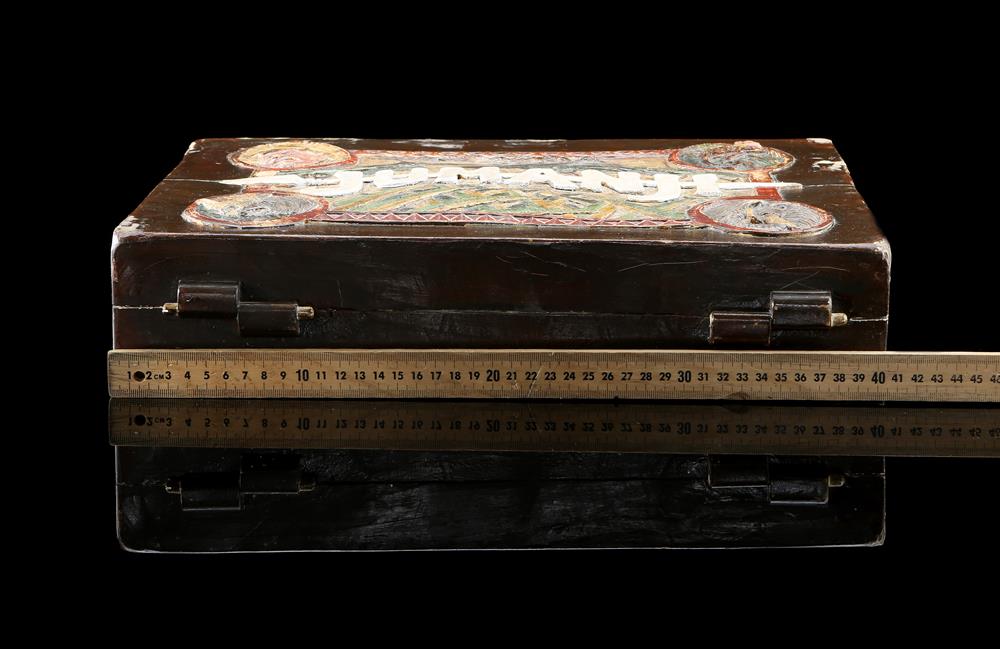 Constructed from fibreglass, resin and wood, this is a static version of the troublesome, magical board game from the jungle-themed Joe Johnston adventure. While you can't actually play the game, it is a fantastically detailed and ornate case.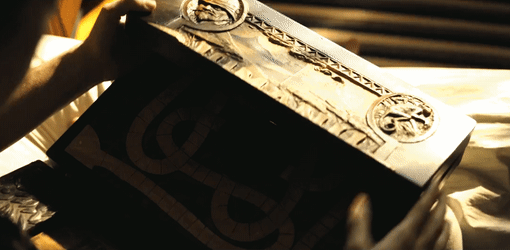 Fun Fact: The author of the original Jumanji book, Chris Van Allsburg, claimed that the word "Jumanji" is a Zulu word meaning "many effects". However, the word does not appear in the Zulu lexicon.
CAPTAIN AMERICA'S DISTRESSED ARMY RESCUE COSTUME
Captain America: The First Avenger (2011)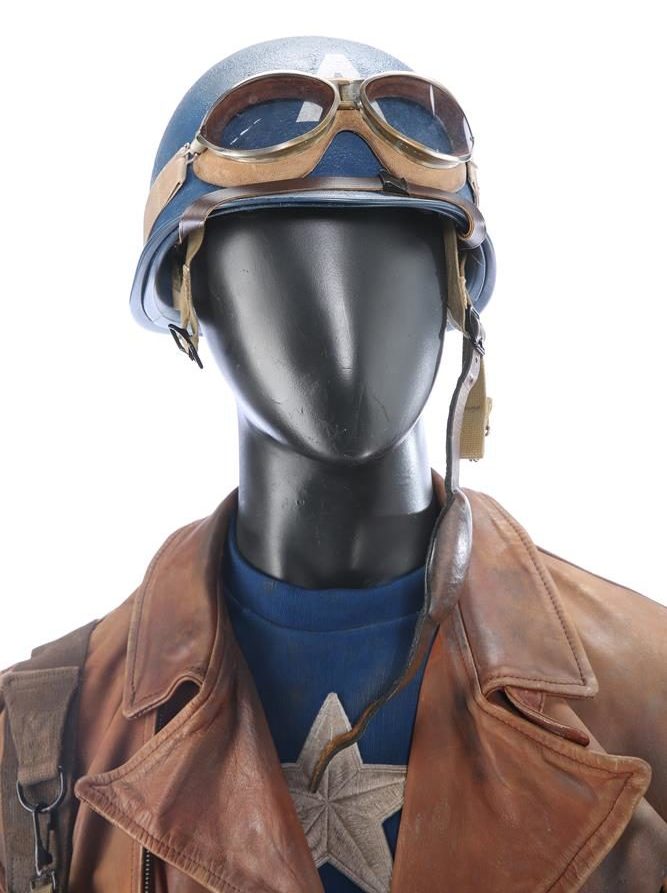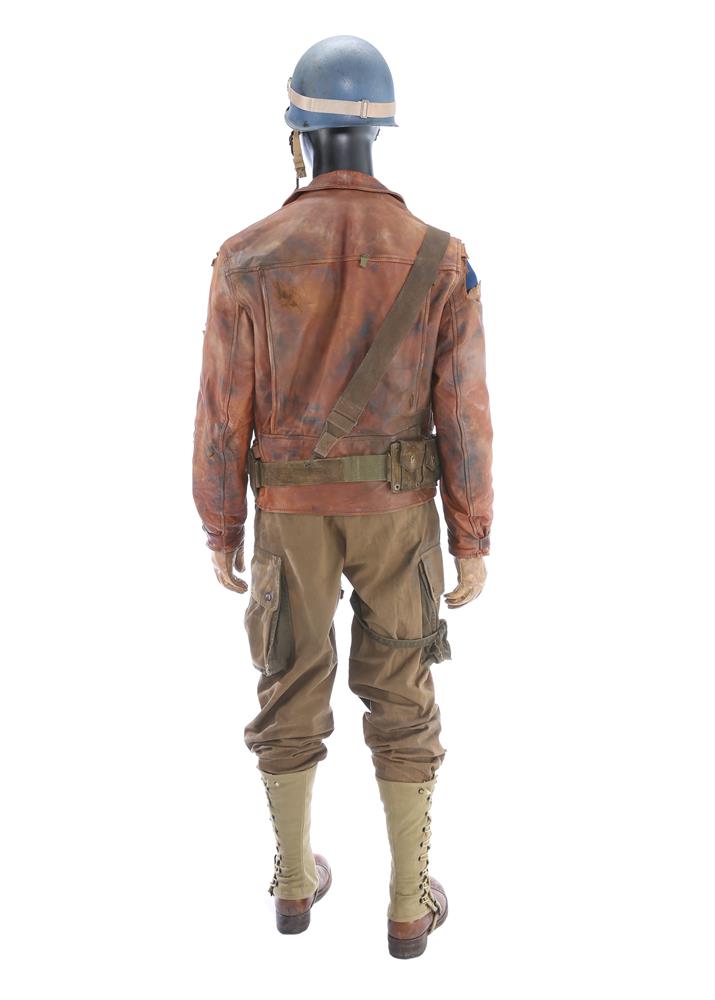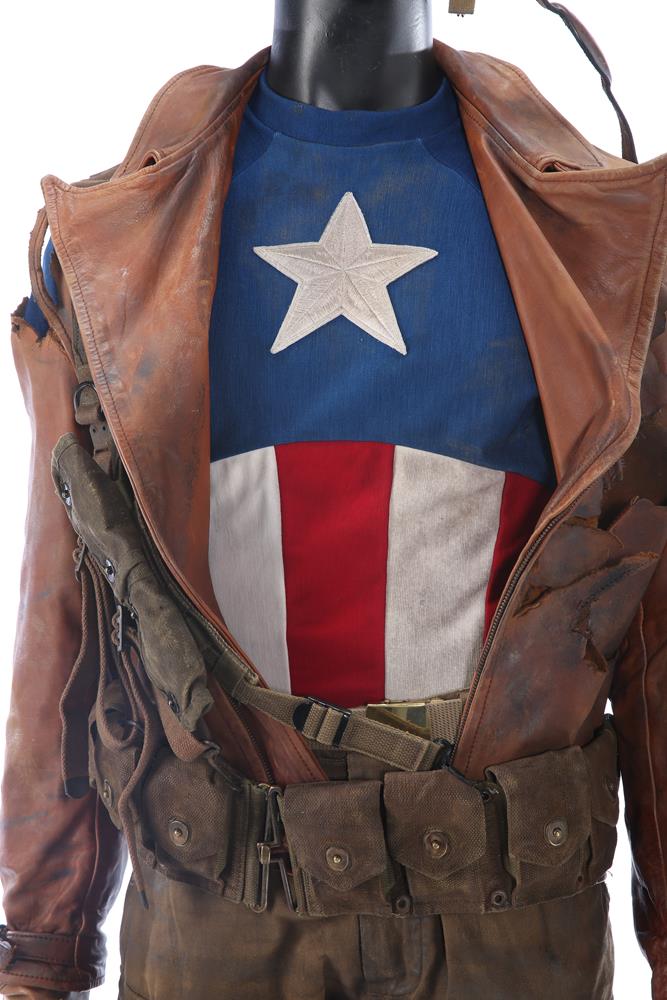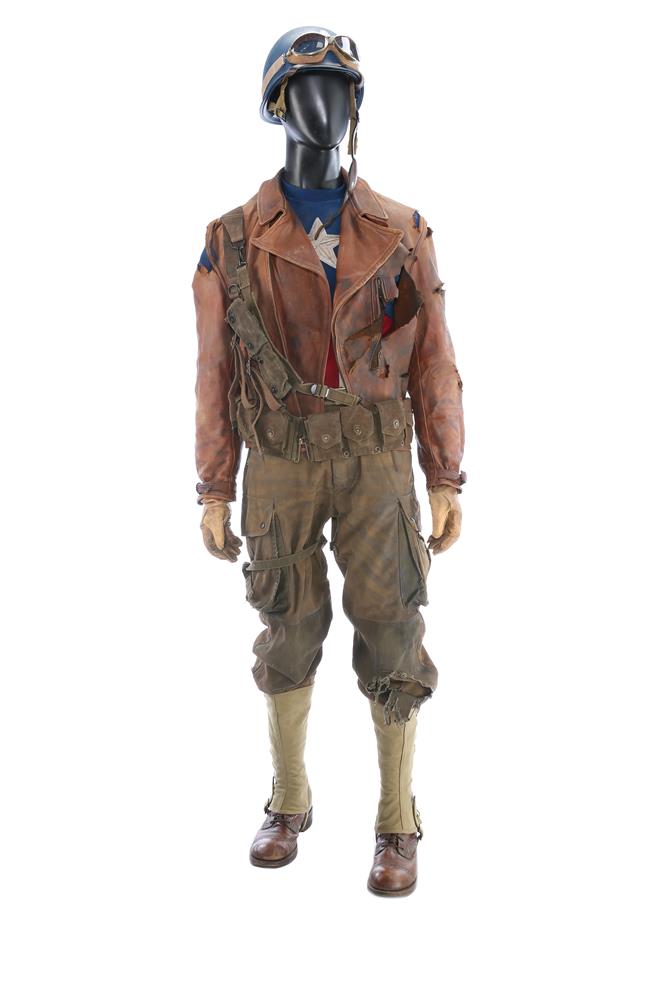 As worn by Steve Rogers (Chris Evans) during his first-ever mission, where he attacked a Hydra base during World War II and rescued the soldiers of the 107th Division. This costume blends Cap's red-white-and-blue show tour costume with battered army fatigues, representing the character's transition from propaganda tool to true man of action.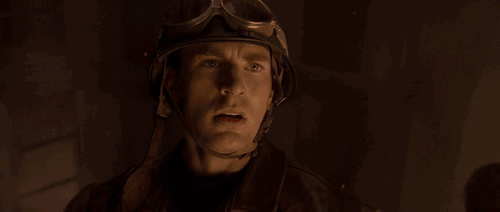 Fun Fact: Chris Evans actually turned down the role of Captain America three times, for fear of the impact the role would have on his private life.
SUPERMAN COSTUME DISPLAY
Superman (1978), Superman II (1980), Superman III (1983)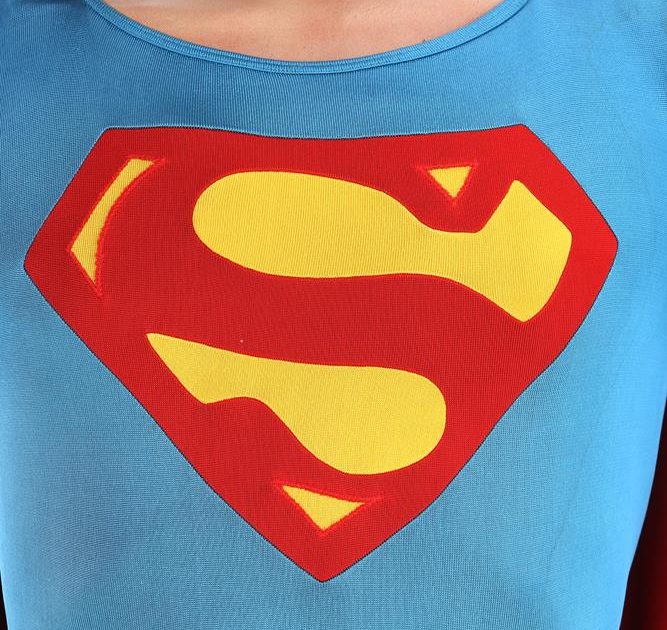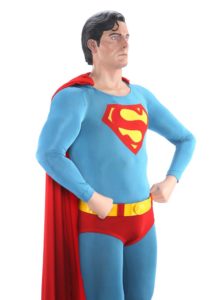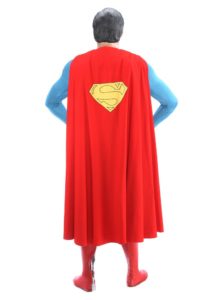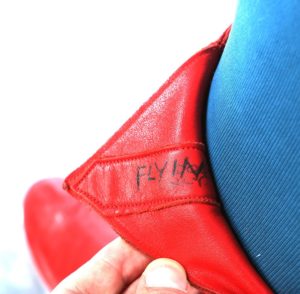 Easily the most well-known and recognisable superhero suit in history, this none-more-classic costume comes mounted on a mannequin based on a lifecast of Christopher Reeve. This costume was worn by Reeve in the first two movies, while the cape was also used for Superman III.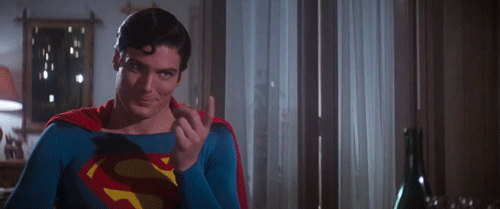 Fun Fact: Why the cape? In the 1930s, when the Superman comic book was first published, the cape served a useful visual purpose, selling the idea that Superman was flying through the frame, rather than falling.
ANAKIN SKYWALKER'S HERO LIGHTSABER
Star Wars: Revenge of the Sith (2005)


In Star Wars lore, there is no lightsaber as significant as this one: wielded by Anakin Skywalker (Hayden Christensen) during his fateful battle with Obi-Wan Kenobi (Ewan McGregor); given to Anakin's son Luke (Mark Hamill) on Tattoine; used by Luke while duelling Darth Vader (David Prowse) at the climax of The Empire Strikes Back; passed to Rey (Daisy Ridley), who uses it in the latest two Star Wars episodes.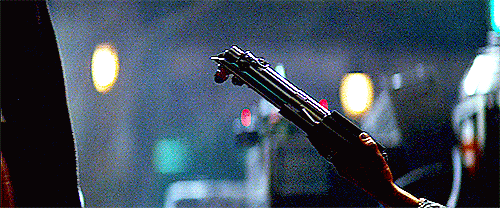 Fun Fact: Though this version of the lightsaber was closely based on the one made for the original Star Wars trilogy, it's actually slightly smaller to make it easier to handle.
EDWARD SCISSORHANDS COSTUME DISPLAY
Edward Scissorhands (1990)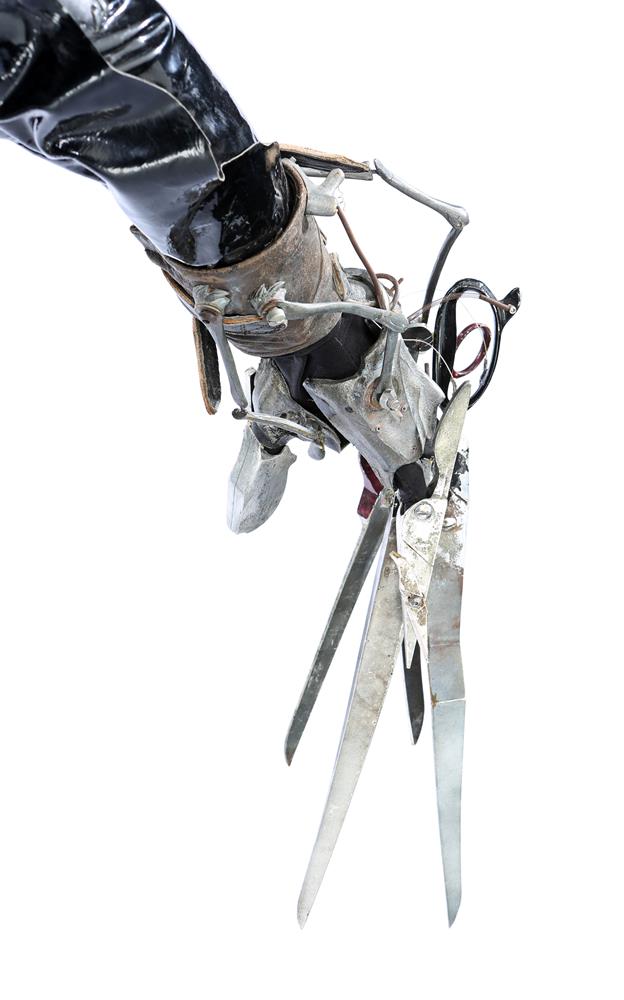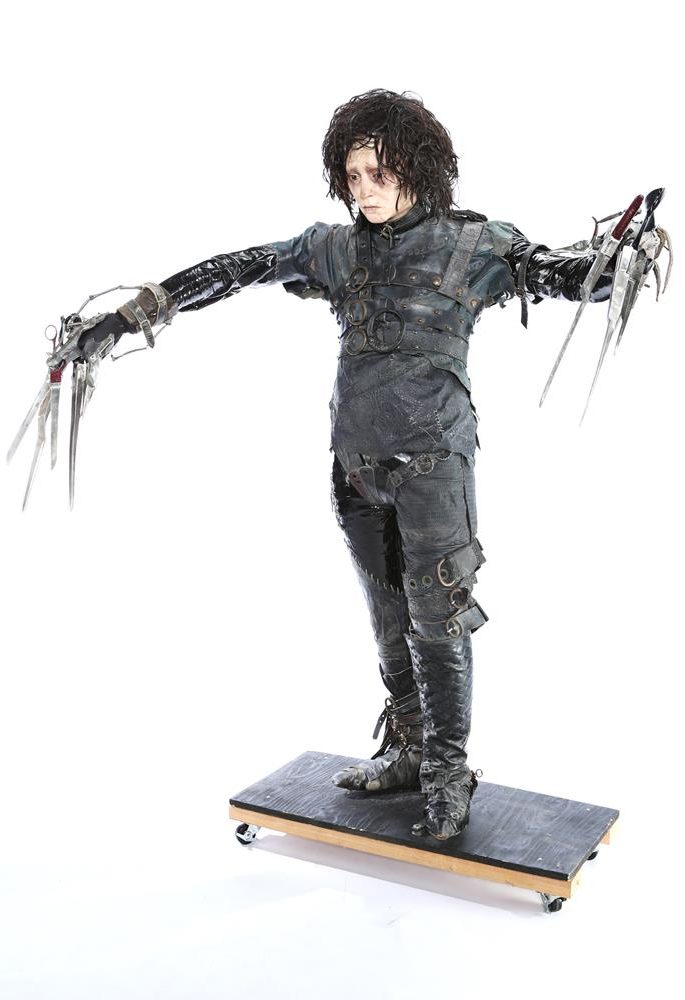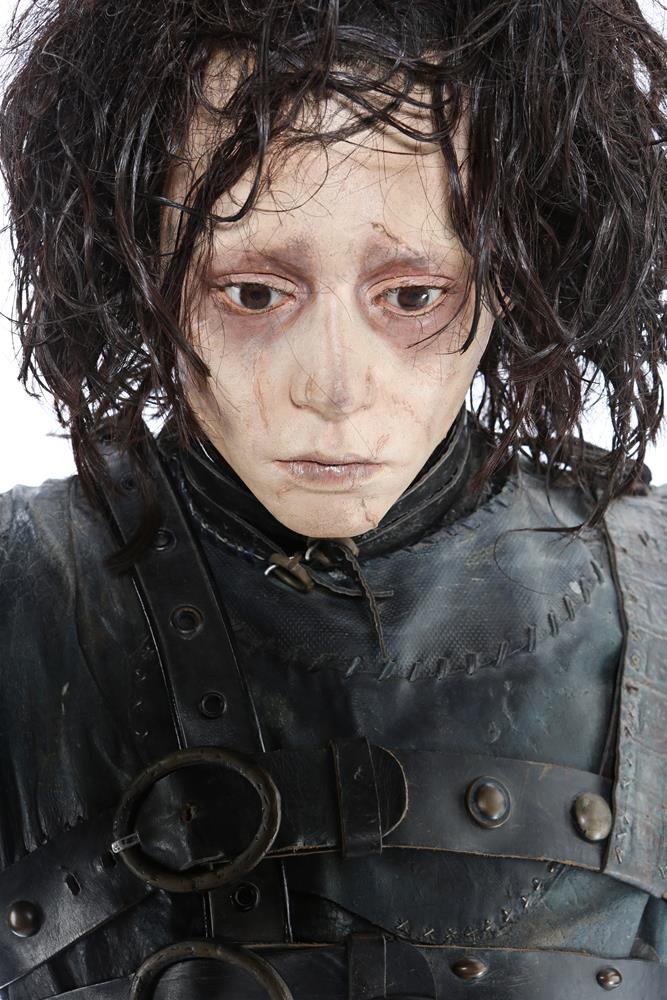 Few items could better sum up the distinct style and beautifully twisted imagination of Tim Burton than this elaborate costume design, featuring gothic-style leather and vinyl and, of course, those iconic long-bladed fingers.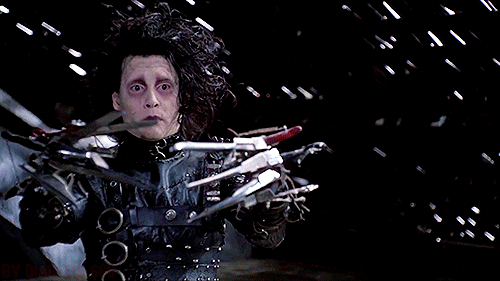 Fun Fact: The original inspiration for the film — and the costume — came from a drawing Burton did when he was just a teenager, of a sad-looking man with blades for fingers.



STEVE DITKO HAND-DRAWN ARTWORK
The Amazing Spider-Man #32 (1966)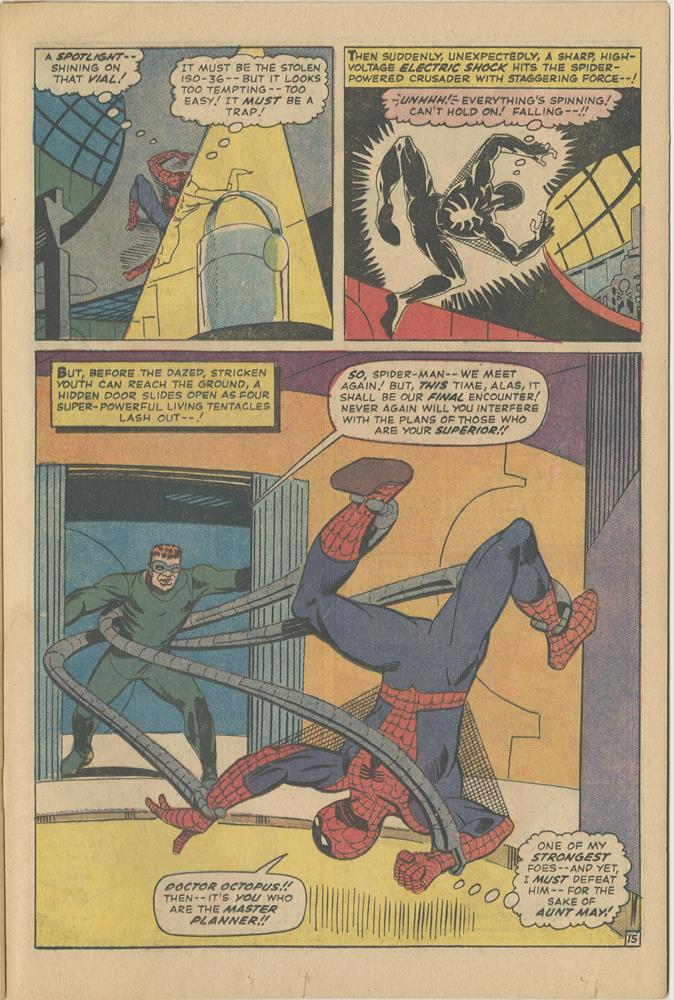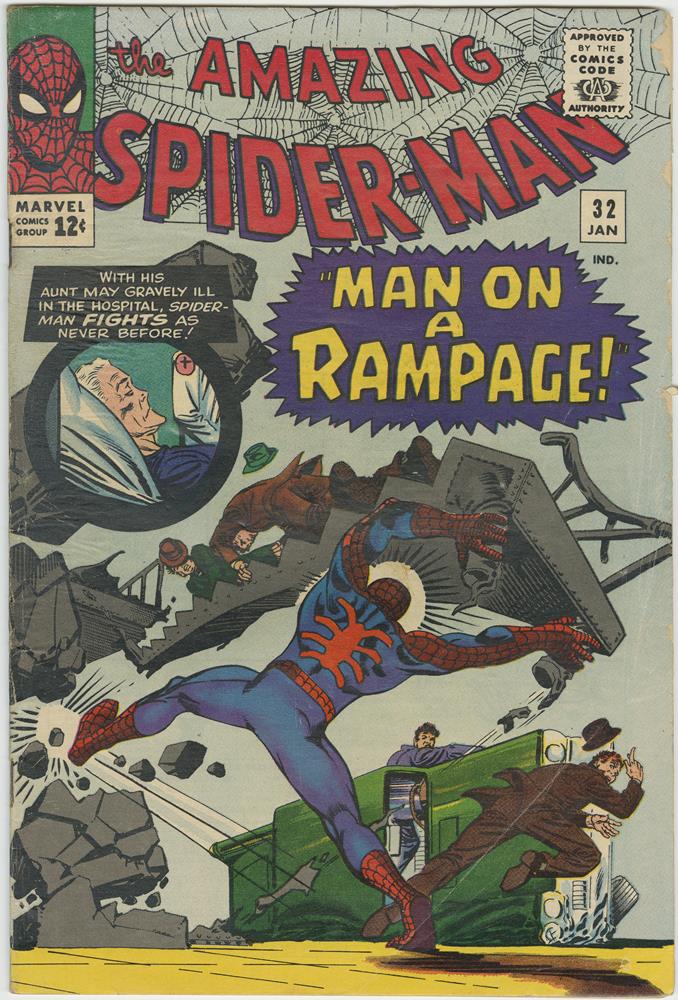 STEVE DITKO HAND-DRAWN ARTWORK
The Amazing Spider-Man #32 (1966)

A fantastic 2/3 splash page artwork by Spider-Man co-creator Steve Ditko, which shows the friendly neighbourhood crimefighter tackling his many-limbed nemesis Doctor Octopus. Ditko's Spider-Man art is always in high demand, but splashes showing Spidey in battle are very rare indeed.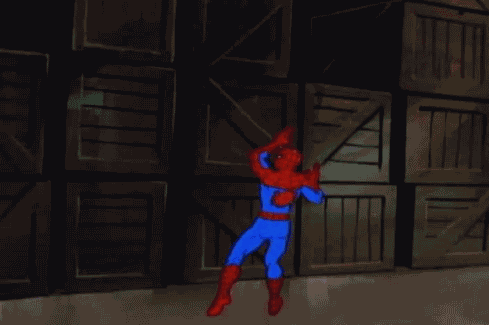 Fun Fact: Before Ditko became involved in Spider-Man's genesis, the character's wall-crawling powers came from a magic ring.



Remember, you are more than welcome to join us in the BFI IMAX to bid in person or even just to see these amazing Top Lots at our exhibition at the BFI IMAX in London.  However, don't worry if you can't be there on the big day – you can also bid live online, or by telephone, from anywhere in the world, or just watch all the exciting bidding action unfold on our live stream on the site.
And remember to register as soon as possible at propstore.com/liveauction and sign up for our weekly newsletter to ensure that you will be the first to see what's coming in the auction and be ready to bid in person, by telephone or online on 20th September!

Follow us on Twitter & Facebook to be the first to know about all current & upcoming Propstore Auctions and more!