|
Auctions
5 Reasons Why Han Solo Is The Greatest Star Wars Character
Welcome to the newest of our Preview Blogs from the Propstore 2018 Entertainment Live Auction. During August and September, we will give you a weekly advance preview of some of the amazing and iconic lots that we have in store for you in this years auction… this week we're looking at 5 Reasons Why Han Solo Is The Greatest Star Wars Character!
WE LOVE HIM. HE KNOWS. FIVE REASONS WHY HAN SOLO IS THE GREATEST STAR WARS CHARACTER
It's fair to say that few Propstore Auction items have generated quite the same level of excitement as one of this year's headline lots – namely Han Solo's jacket from The Empire Strikes Back. Of course, it's an amazing example of sci-fi costume design (by the brilliant John Mollo), but that's not the only reason we get tingles when we look at it. That reaction is primarily fuelled by the man who wears it. The scoundrel who became a general, the criminal who became a hero, the handsome rogue with a walking carpet for a best buddy. Han Solo is — without doubt — the most popular Star Wars character of all. Yes, even more popular than Boba Fett, Admiral Ackbar or that little scaredy mouse droid on the Death Star. If you don't believe us, then check out the recent readers' poll in Empire magazine, which firmly put him in the number one slot of a 'Greatest Characters' list. And if you still don't believe us, then consider these five claims to greatness (one for each movie he appears in)…
1. HE SHOOTS FIRST
Whether or not you reject the revisionism of the CG-modified 1997 Star Wars Special Edition (in which director George Lucas infamously added a laser blast from bounty hunter Greedo, just a second before Han gut-blasts him beneath a Cantina table), it's clear the Corellian smuggler is not your usual, straight-arrow hero. When we first meet him in 1977's Star Wars, he's merely concerned with paying off his debts, caring little for Luke and Ben Kenobi's rescue mission. Which is what makes him such a compelling character over the course of the next three films (including Episode VII, The Force Awakens). This is a guy who goes from self-serving mercenary to leading light of The Rebellion; from a cynical loner to the lover of a princess; from a Force and Jedi nay-sayer to a man who confirms "it's all true".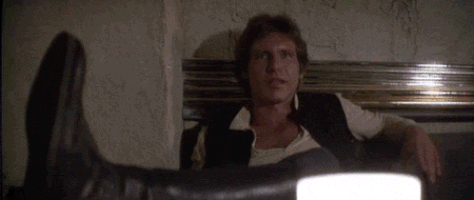 And if you're still in doubt that he was ever a true anti-hero, consider the proof provided by Ron Howard's recent prequel, Solo: come the conclusion (spoiler alert!) Han doesn't hesitate to put a blaster hole in the chest of his one-time mentor, Beckett (Woody Harrelson).
2. HE'S HARRISON FORD*
In the rough draft of George Lucas' "The Star Wars", Han Solo was a green-skinned alien acolyte of "the Jedi-Bendu". In a later version he was a flamboyant but flabby pirate. By Lucas' third draft, he'd been refined closer to the guy we now know: "A cowboy in a starship — simple, sentimental and cocksure of himself." But it wasn't he finally agreed to cast his American Graffiti actor Harrison Ford in the role (after auditioning the likes of Kurt Russell and Christopher Walken — with standby Ford feeding them lines) that Han truly arrived. Bringing his real-life, take-no-crap attitude to the character, Ford does invaluable work in grounding the Star Wars movies, giving the saga a bit of "hokey religion"-poking, human weight. And, importantly, a wry sense of humour. Just look at how many laughs he earns in the first film: charging foolhardily at a squad of stormtroopers (and then charging away from them just as fast), or trying pull a trick over a Death Star intercom, messing it up, and blasting the panel with the words, "boring conversation anyway".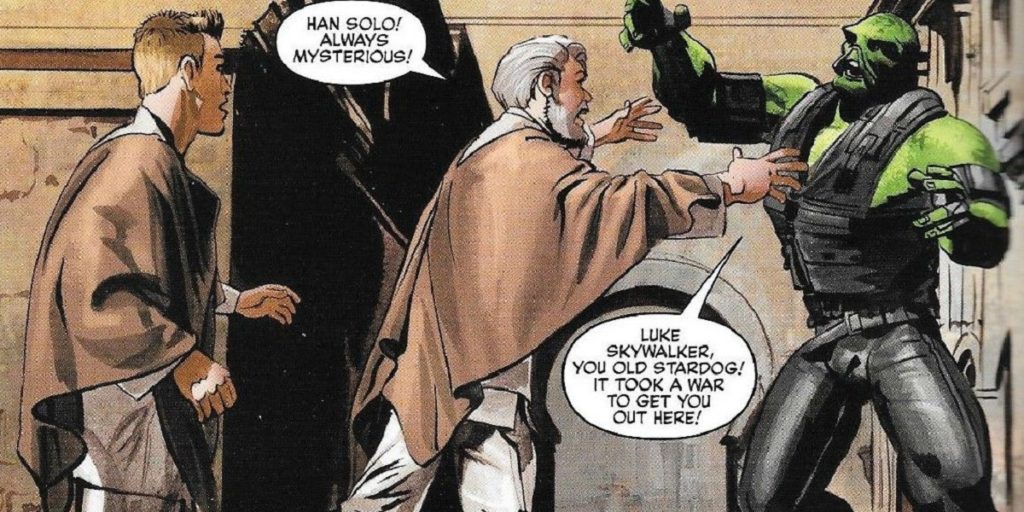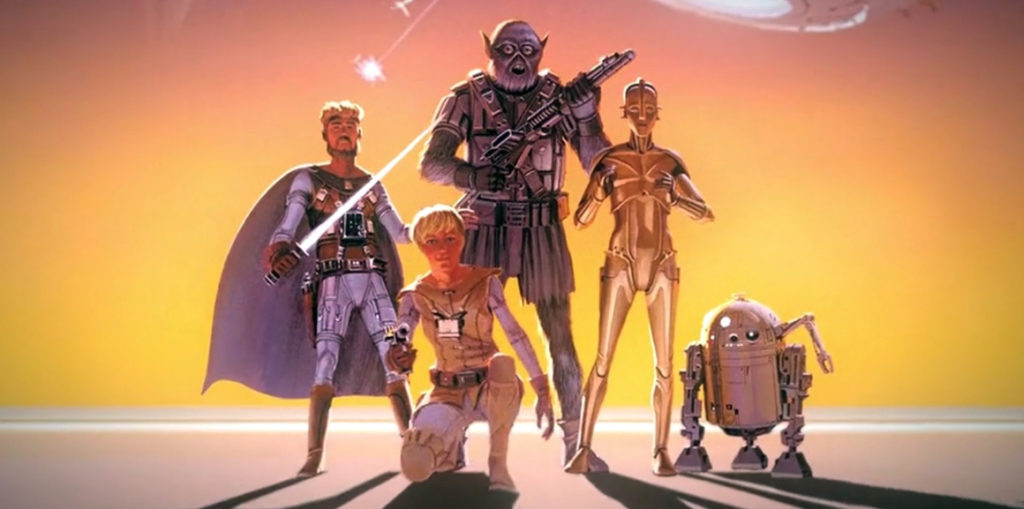 *Except in Solo, of course, where he's played by Alden Ehrenreich, who's no Harrison Ford (who is?), but was still really smart casting for the younger incarnation — less a physical match than a match in terms of pulling off that tricky balance of cool, charm, foolishness and sentiment.
3. HE'S GOT STYLE
When Princess Leia called him "a stuck-up, half-witted, scruffy-looking nerf-herder," Han was right to take issue with the "scruffy-looking" part. As dressed by John Mollo, he offers a sharp contrast to the flowing robes and sweeping gowns of the other human characters. He's all business and practicality with his collarless shirts and jackets full of handy pockets, a trusty blaster holstered at his side. Where the likes of Luke, Ben and Leia received their sartorial cues from the distant Middle Ages or the samurai films so beloved by Lucas, Han swaggered in like he'd just arrived from The Old West —the kind of guy who you'd expect to set saloon doors swinging, with a look Mollo said was largely inspired US cavalry officers. As a result, Han felt that bit closer to us: the most modern figure in Lucas' galaxy of "a long, long time ago". As much as he was the coolest-looking, he was also, for many of us, the most instantly relatable.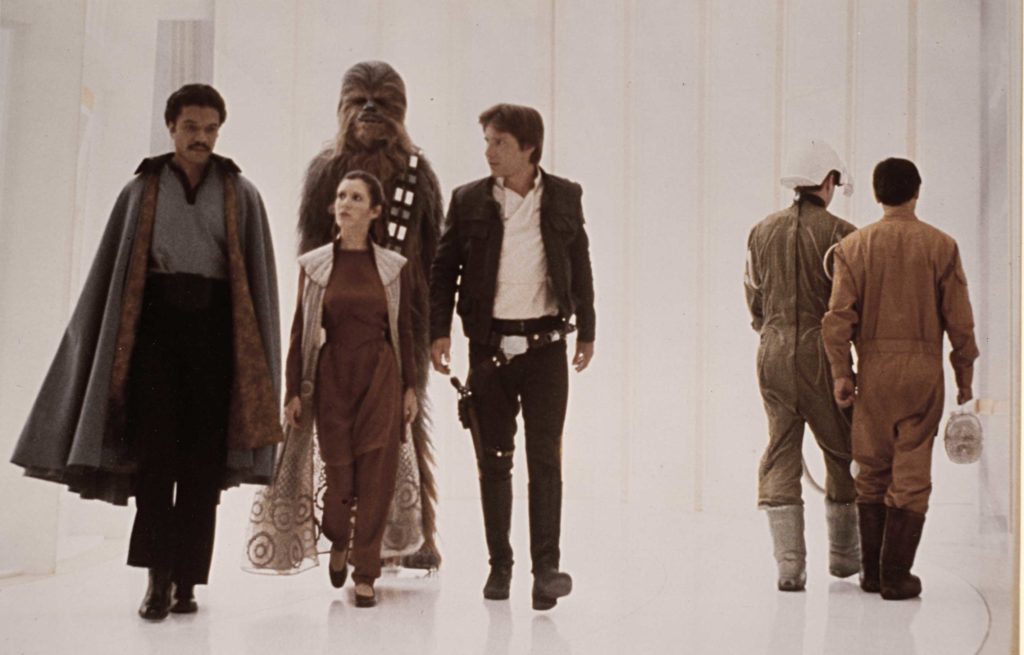 4. HE'S GOT HEART
If Han really were as cynical as he makes out, you wouldn't be reading about him here. What becomes apparent over the course of the original Star Wars saga is that he truly cares for his friends, from his life-long bond with Chewbacca (less his sidekick than his shaggy conscience), to his fraternal connection with Luke (Mark Hamill), to — most significant of all — his romance with Leia (Carrie Fisher). This peaks during the finale of The Empire Strikes Back, when Han is handed to Darth Vader to test out Cloud City's carbon-freezing tech. Following some fantastic on-the-run banter and intensifying sexual tension (the result of both Fisher and Ford's chemistry, and some cracking script work by Lawrence Kasdan and veteran writer Leigh Brackett), we witness the big moment of truth for their relationship, as Han is about to go into possibly fatal stasis. "I love you," Leia calls out, devastated. "I know," comes Han's reply. Ford himself came up with the response, after numerous different variations and takes during the shooting of the scene with director Irvin Kershner. And it's perfect: arrogant, irreverent but also utterly honest and deeply from the heart.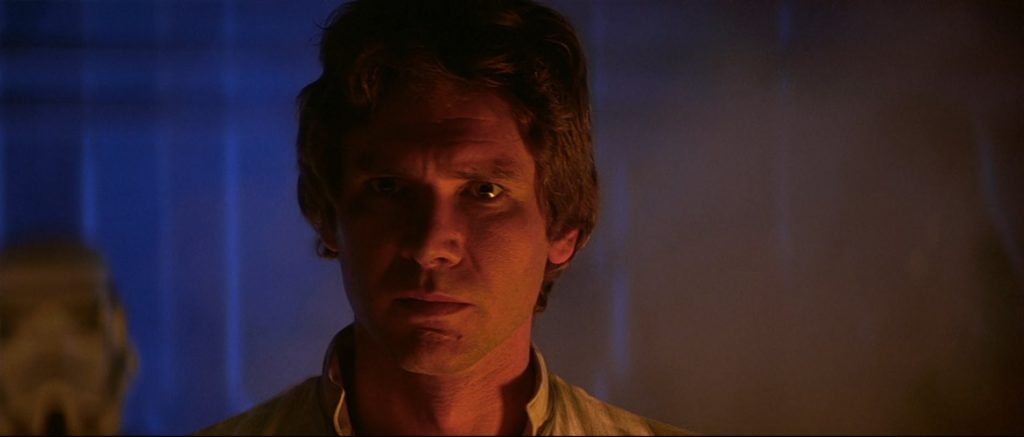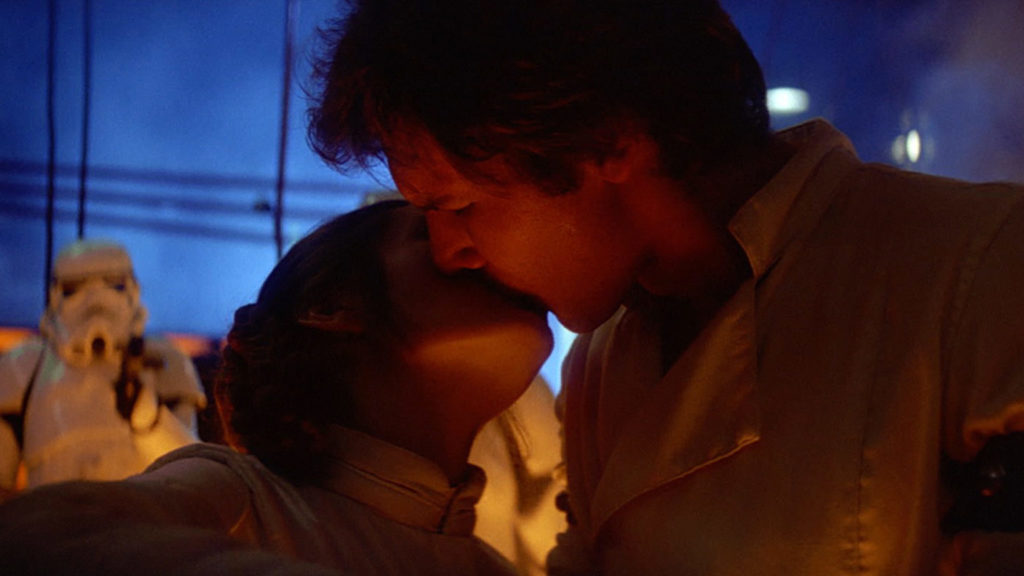 5. HE'S OFTEN IMITATED BUT NEVER BETTERED
There are dozens of Solo imitators, scattered across numerous different cinematic universes: those rogues we love for their rugged imperfections, whose independent, 'why-should-I?' spirit will always ultimately be quelled for the greater good. In the Marvel movies, you can find the space-smuggler's anti-heroic DNA in characters like Guardians Of The Galaxy's Star Lord and Iron Man's Tony Stark. Elsewhere in sci-fi you can hear his echoes in Captain Mal Reynolds of Joss Whedon's Firefly series and Chris Pine's take on Captain Kirk in J.J. Abrams'Star Trek reboot. In Star Wars itself Han has stylistic cousins inRogue One's Cassian Andor (whose wardrobe seems lifted wholesale from Solo's own) and the new trilogy's hot-headed Poe Dameron. But there is only one Han (even if he has now been played by two people), who stands apart, alone, above all his imitators. The clue, of course, is in his surname.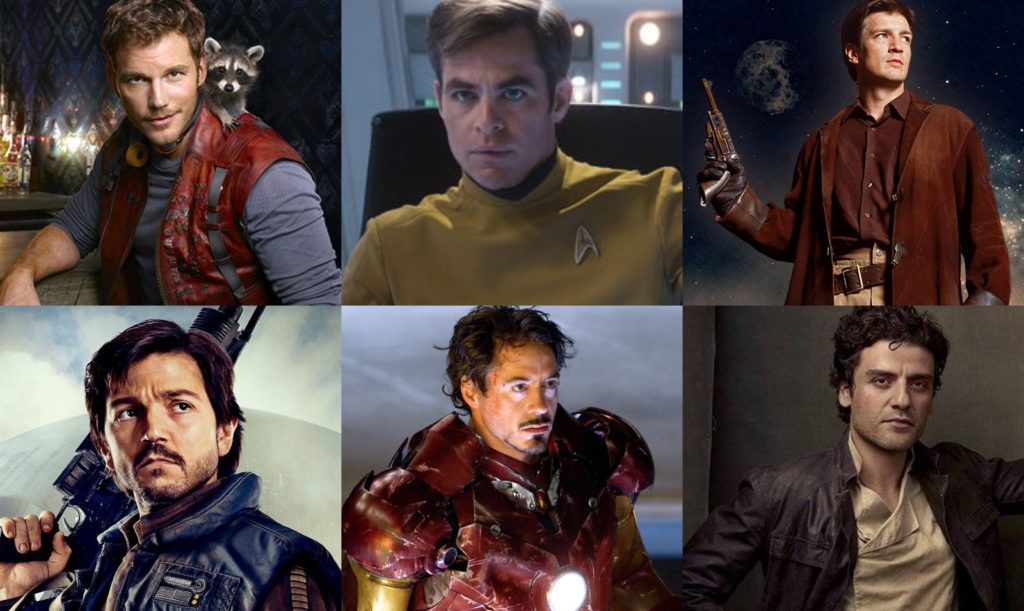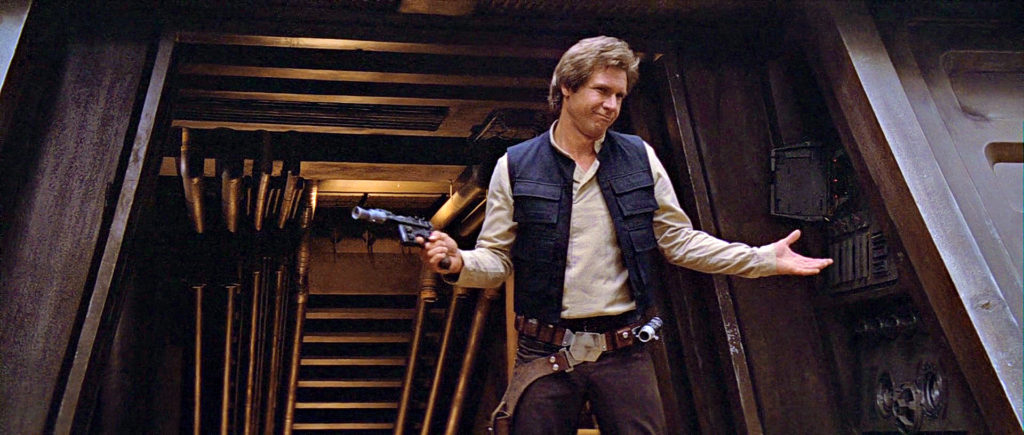 So what do you think? Is Han Solo the greatest Star Wars character ever? Let us know in the comments, or check out a little more about the upcoming Han Solo lots that are coming up in the Propstore Live Auction below, or get a little more in-depth with this year's star piece from a galaxy far far away – Han Solo's jacket!
Don't forget to keep watching these weekly 'sneak peek' blogs, showcasing some fantastic props from this year's Entertainment Live Auction 2018. Follow us on Twitter & Facebook to be the first to know about all current & upcoming Propstore Auctions and more!