We take a little trip down memory lane with a look at some original props and costumes from our favourite Marvel superhero films.
For all you superhero film fans out there, we thought we'd gear up for the upcoming release of the Avengers: Age of Ultron (out May 1st), and Ant-Man (out July 17th), with a little trip down memory lane with original props, costumes and memorabilia from some of our favourite Marvel creations.
Here's a sneak peek at the extended trailer for Avengers: Age of Ultron
Apparently heroes don't get any bigger than this…
Suitably primed ready to go? Then let's take a look at the props…
1. Captain America: The First Avenger – HYDRA Flamethrower Exploded Armour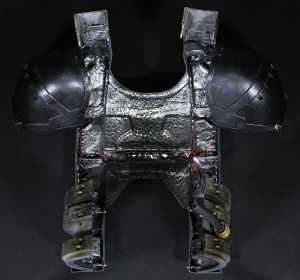 This set of HYDRA flamethrower armour featured in the production of the 2011 Marvel action-adventure film, Captain America: The First Avenger. This armour was used by the HYDRA flamethrower troopers in their attempt to finish off Captain American and his pursuit of Red Skull. This particular piece was worn by the trooper blown up by Peggy Carter (Hayley Atwell) in the heat of the battle.
Distressed for use, this piece remains in good condition and comes with a Propstore Certificate of Authenticity. It's yours for keeps for £1995
2. Spider-Man 2 – Spiderman's Red Left Shoulder Costume Patch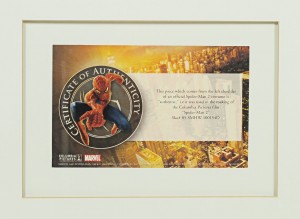 Having initially given up the day job, Spiderman (Toby Maguire) reluctantly dons his spider suit once more to fight Dr Otto Octavius (Alfred Molina) in this 2004 superhero sequel. If this film-used costume piece gets your spider senses tingling, a cool £1995 will secure it for posterity.
3. Thor – Mythology Book Pencil Artwork – Loki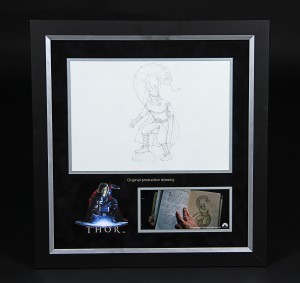 Here we have distinctive original artwork used in the production of the 2011 superhero film, Thor. This is the original pencil artwork used to create the image of Loki (Tom Hiddleston), Thor's brother. You can hammer out a deal on this ornate Nordic piece for just £795.
4.Spider-Man – Daily Bugle "Who Is Spider-Man" Newspaper Design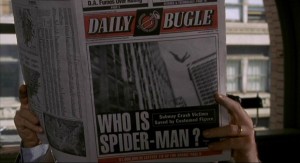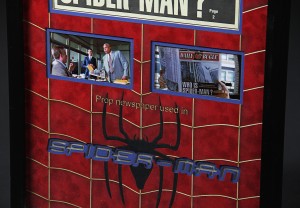 This is the newspaper that introduced Spider-Man to the world in the 2002 film Spider-Man (Tobey Maguire).This particular newspaper design can be seen halfway through the film as the Daily Bugle editor J Jonah Jameson (JK Simmons) reads the most recent article about everyone's favourite arachnid hero. This front page is printed on standard newspaper stock and is in very good production-used condition. The headline price on this piece is £645.
5.The Punisher – Frank Castle's Wounded Costume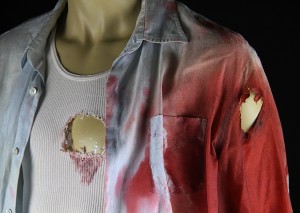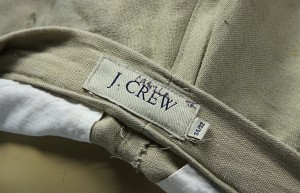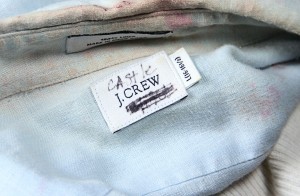 The very costume worn by retired undercover FBI agent Frank Castle (Thomas Jane) in the 2004 comic book adaption, The Punisher. This costume was worn in the family reunion scene towards the beginning of the film, when Frank and his family are shot on orders from crime boss Howard Saint (John Travolta). This natty summer outfit is in great condition (despite the bullet holes) and is yours for £1245.
6. X-Men: First Class – Azazel's Sword Display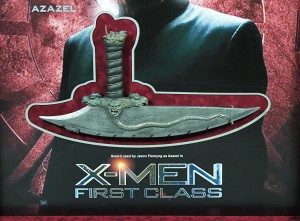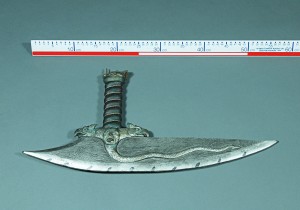 Now we're talking! This is one of two trusty blades used by the character Azazel (Jason Flemyng) in the 2011 production, X-Men: First Class. This sword was held in Azazel's right hand as he fought alongside Sebastian Shaw (Kevin Bacon) throughout the film. Made of hard rubber with a metal armature for stability and distressed to look like a well-used blade, this particularly sharp looking piece of Marvel superhero film history is available for £2995.
7. Blade 2 – Complete Blade Costume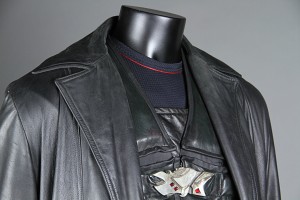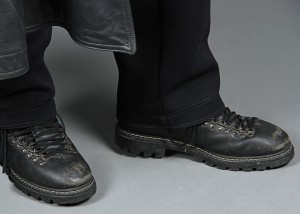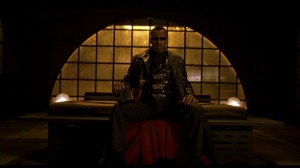 The pièce de résistance is undoubtedly this stunning complete costume as worn by Wesley Snipes in Guillermo del Toro's 2002 action Sequel, Blade II. This signature costume, designed by Wendy Partridge, comprises of a full-length black leather coat complete with blooded red lining and an opening for the character's sword; a thick padded black leather vest complete with embellished silver buckles; neoprene trousers; black nylon shirt; and black combat boots.
In very good condition, this outfit, as worn throughout the film, is guaranteed to impress your friends, if not the wife. Become a vampire slayer for just £7495.
Take a look at more of our marvellous collection of original Marvel film props and costumes or get in touch on Facebook or Twitter.