|
Auctions
Top 10 Greatest Comic Book Artists | Highlights from EMLA 2018
Welcome to the next Preview Blog from the Propstore 2018 Entertainment Live Auction. During August and September, we will give you a weekly advance preview of some of the amazing and iconic lots that we have in store for you in this years auction… this week we're looking at our top 10 greatest comic book artists!
From Marvel to DC, Captain America to Batman, comic books have been at the centre of modern pop culture since they became a household staple in the mid 1930s. The introduction of Jerry Siegel and Joe Shuster's Kyrptonian superhero Superman in 1930s helped the comic industry take off, ushering in what is now known as the 'Golden Age' of comics.
From their inception, a number of popular comic books have spawned their own spin-off comics, toys, games and – in recent years – movies.  And with a current US market estimate worth over £1.09 billion, it's clear to see that this is not just a passing craze. This amazing uptake in the comic world has heralded in the creation of household names such as Iron Man, Batman and Spider-Man – and more importantly, some of the best comic artists ever seen.
For those that may be new to comic art, we've got a series of videos that we have created which will introduce you to the different types of comic art that you may encounter, key terms that are used in the hobby, as well as a short history of comics:
Delve more into comic art with the rest of our Comic Art Collectables videos
In this year's 2018 Entertainment Memorabilia Live auction, we are lucky enough to have an amazingly diverse selection of comic art by some of the greatest and most influential comic book artists of all time.  Let's meet them…
Herb Trimpe
Best known for his long run drawing the Incredible Hulk throughout the 1970's, Trimpe had the opportunity to shape popular culture's view of the "jade giant" and introduce characters such as Wolverine and Doc Sampson to the Marvel Universe. Trimpe became Marvel's go to artist for the creation of comic books based on toys and licensed characters.  In the late 1970's, Trimpe was the regular artist for Shogun Warriors and Godzilla.  Then, in 1982, he introduced G.I. Joe to comic book pages, allowing fans of the G.I. Joe toys to see these "Real American Heroes" in action.  He followed up his run on G.I. Joe, taking over the reigns of another popular Hasbro toy line, Transformers.  Trimpe's art for the last page to the Incredible Hulk #180 (which was the first page to feature Wolverine) holds the record for being the most valuable piece of interior art from a US comic book, having sold for $657,250 in 2014.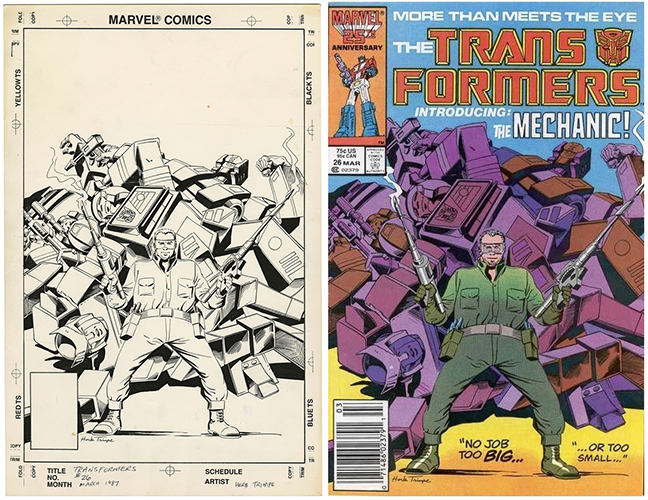 Lot # 552 – Herb Trimpe Hand-Drawn Cover Artwork
THE TRANSFORMERS #26 (1987)
John Romita Jr.
John Romita Sr. created a legacy as the second regular artist to draw the Amazing Spider-Man and for running Marvel's famous bullpen. But, his son, Romita Jr. created his own legacy in the comics industry. At the age of 19, Romita Jr. started working for Marvel on their line of UK reprints. He went on to draw Spider-Man himself in the early 1980's and then took over as the regular artist on the Uncanny X-Men book in the mid-1980's, following greats like John Byrne, Dave Cockrum and Paul Smith. Romita Jr. has enjoyed success at both Marvel and DC and in recent years co-created his own book along with Mark Millar, Kick-Ass, which went on to enjoy on-screen success.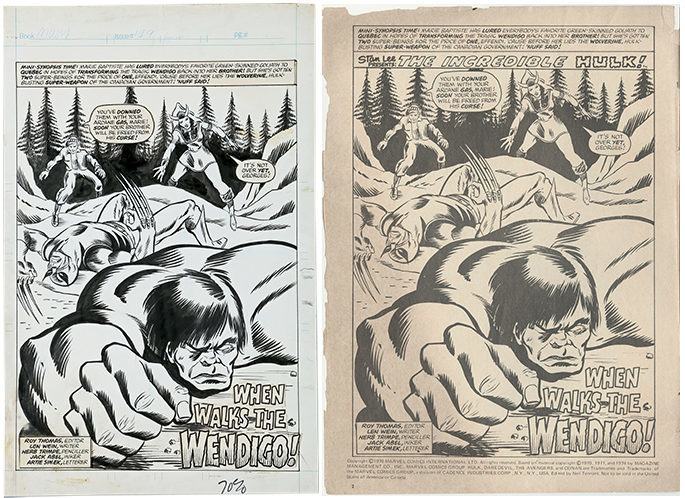 Lot # 595 – John Romita Jr. and Duffy Vohland Hand-Drawn Hulk and Wolverine Page One Title Splash UK Reprint Artwork
WOLVERINE / THE MIGHTY WORLD OF MARVEL #199 (1976) / INCREDIBLE HULK #181 (1974)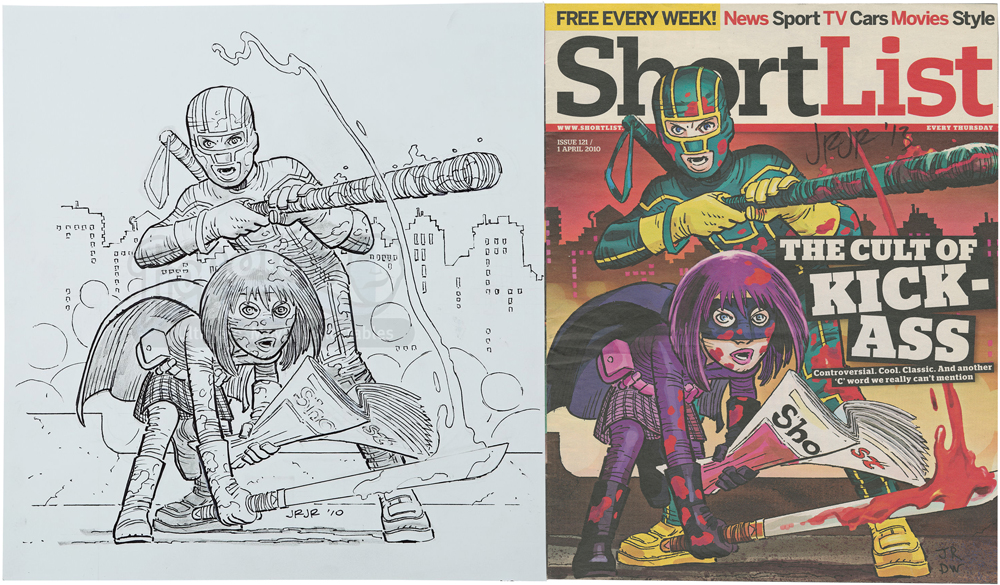 Lot # 283 – John Romita Jr. Hand-Drawn Kick-Ass and Hit-Girl Magazine Cover Artwork
THE KICK-ASS / SHORTLIST #121 (2010)
Frank Cho
Cho turned the University2 comic strip he drew while in college at the University of Maryland into the nationally syndicated strip Liberty Meadows. He left the life of a newspaper cartoonist to become one of the premiere modern comic book artists. Famous for his eye catching voluptuous women, Cho made a mark at Marvel drawing the likes of Shanna the She-Devil, the Hulk, the Avengers, and Wolverine. At DC Comics he is best known for his illustrated renditions of Wonder Woman and Harley Quinn.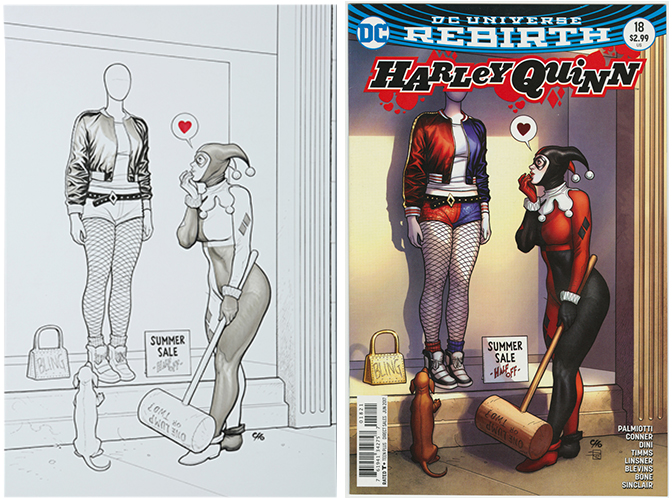 Lot # 202 – Frank Cho Hand-Drawn Variant Cover Artwork
HARLEY QUINN #18 (2017)
Dave Gibbons
A UK-based artist who rose to fame with his work on 2000 AD, Gibbons went on to work alongside writer Alan Moore to produce one of the most lauded standalone graphic novels of all time, Watchmen. Gibbons also co-created the Secret Service with Mark Millar which was adapted on screen for the first Kingsman movie.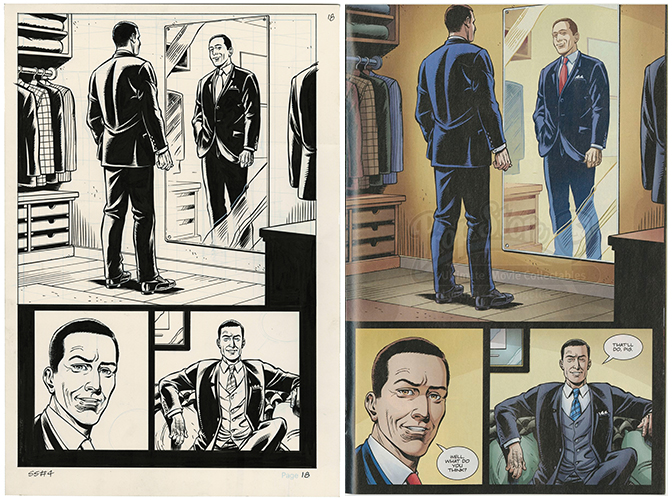 Lot # 286 – Dave Gibbons Hand-Drawn Page 18 Artwork and Graphic Novel Back Cover Art
KINGSMAN: THE SECRET SERVICE #4 (2012)
Mike Zeck
In 1984, Zeck drew Marvel Super Heroes Secret Wars which was the first cross-over of the entire Marvel Universe. For Secret Wars, Zeck designed the alien symbiote Black Costume Spider-Man which eventually became one of Spider-Man's greatest foes, Venom. After Secret Wars, in 1986, Zeck brought the Punisher character out of obscurity and made him one of Marvel's most popular characters of the 1980's. Zeck followed up his success on the Punisher by creating one of the most classic Spider-Man arcs of all time "Kraven's Last Hunt." In the late 1980's and early 1990's, Zeck moved on to work for DC Comics, drawing covers for the classic Batman: Ten Nights of the Beast series and drawing covers for Deathstroke the Terminator, a character that debuted at the end of the latest Justice League film.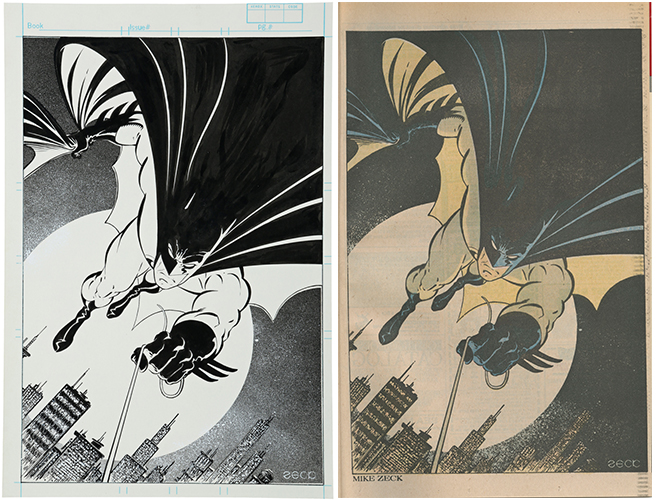 Lot # 70 – Mike Zeck Hand-Drawn Batman Pin-up
BATMAN / DETECTIVE COMICS #600 (1989)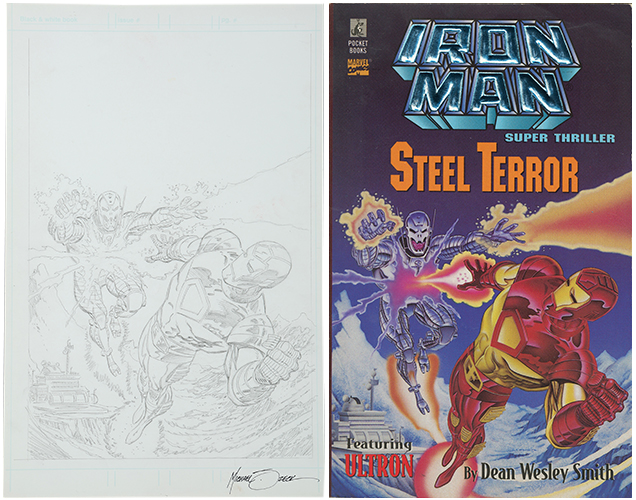 Lot # 256 – Mike Zeck Hand-Drawn Pencil Cover Artwork
IRON MAN SUPER THRILLER: STEEL TERROR (1996)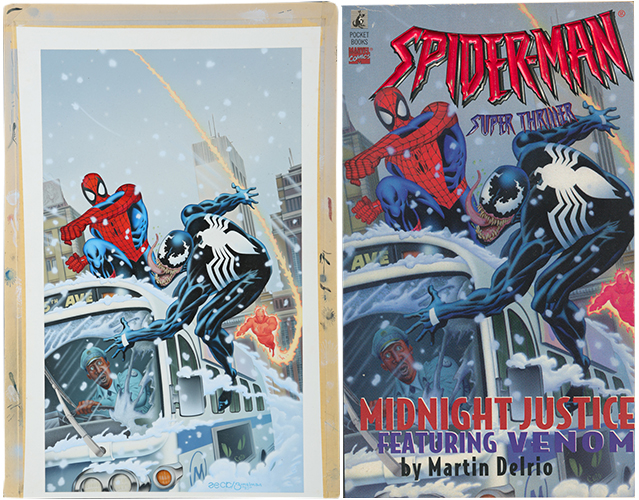 Lot # 410 – Mike Zeck and Phil Zimelman Hand-Painted Cover Artwork
SPIDER-MAN SUPER THRILLER: MIDNIGHT JUSTICE (1996)
Carmine Infantino
Infantino was not only one of the most influential artists at DC Comics in the 1960's, but he also served as Editorial Director and later Publisher of DC Comics. His introduction of a new version of the Flash in 1956 in Showcase #4 ushered in what is now known as the Silver Age of comics, reviving the superhero comic book. His "Flash of Two Worlds" story in Flash #123 introduced Earth-2 and the concept of multiple worlds to the DC Universe. In 1964, Infantino was also responsible for giving Batman a more serious "new look" after years of more comical stories featuring the character. Infantino did some work at Marvel as well, handling the artistic chores for titles such as Star Wars, Nova, and Spider-Woman.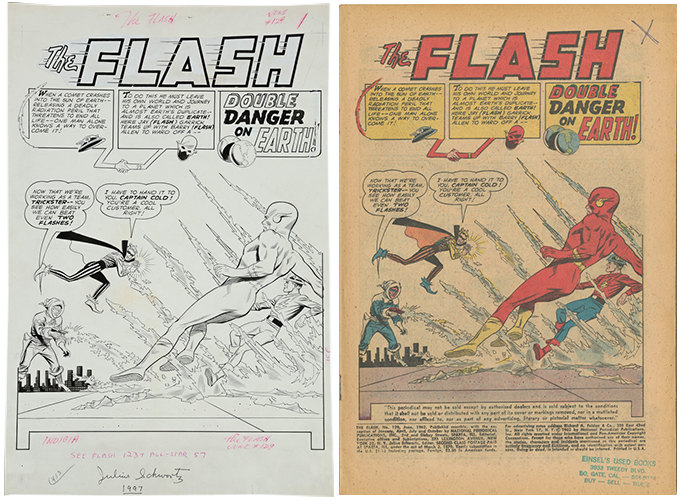 Lot # 173 – Carmine Infantino and Joe Giella Page 1 Title Splash Artwork
THE FLASH #129 (1962)
Bernie Wrightson
This master of the macabre is known for his superior linework. Wrightson co-created the Swamp Thing, introduced in a "try out" story in House of Secrets #92. The story proved such a success that it launched Swamp Thing into his own title and eventually movies and television. His illustrations for a new release of Mary Shelly's Frankenstein in the early 1980's are legendary for their detail and are some of the most desirable pieces of art in the hobby.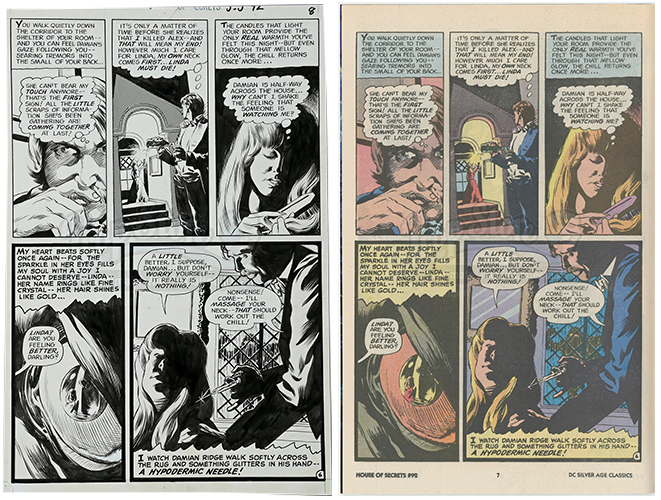 Lot #: 530 – Bernie Wrightson Hand-Drawn Page Six Artwork
SWAMP THING / HOUSE OF SECRETS #92 (1971)
John Byrne
During Byrne's legendary run with Terry Austin on the Uncanny X-Men, he put it on a trajectory to become Marvel's most popular title. During his run, Byrne introduced Marvel's first Canadian super hero team, Alpha Flight, issued in the Death of Phoenix and sent the X-Men to an alternate reality in "Days of Future Past." Byrne left the X-Men in 1981 to have an equally successful run drawing the Fantastic Four. Over his career, Byrne took over the creative chores for the Hulk, Avengers, Iron Fist, Spider-Man, Namor, Superman, and Wonder Woman, making his own unique mark on each title he touched.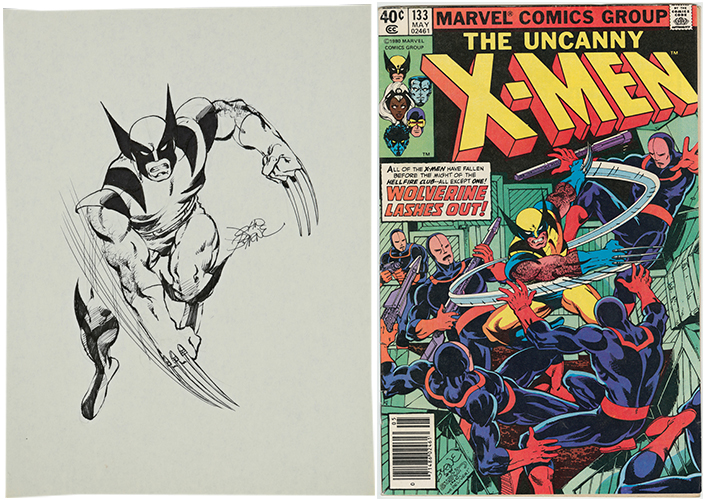 Lot #603 – John Byrne Hand-Drawn Wolverine Artwork Commission
X-MEN (CIRCA LATE 1970S TO 1980)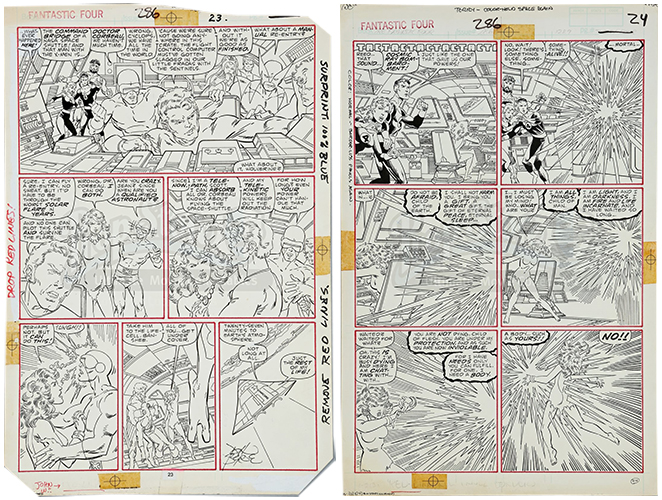 Lot #168 & 169 – John Byrne and Terry Austin Hand-Drawn Page 23 + 24 Artwork
FANTASTIC FOUR #286 (1986)
Jack Kirby
Starting his career in the 1940's with Timely Comics, Kirby co-created Captain America with Joe Simon. The "King" went on to be the most influential artist in the Marvel stable of artists, responsible for co-creating many of the founding heroes of the Marvel Universe in the 1960's including the Fantastic Four, X-Men, Thor, the Hulk, Ant Man, Black Panther, and the Silver Surfer. Kirby left Marvel in the 70's to work at rival DC Comics where he created the Fourth World, ushering in a whole new universe of characters, including the villain Darkseid.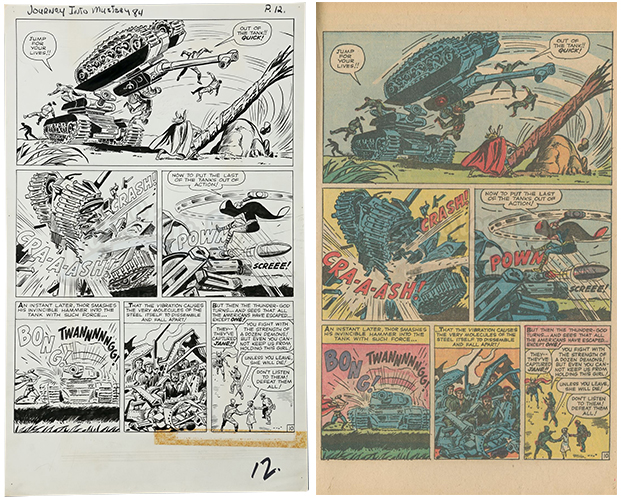 Lot # 548 – Jack Kirby and Dick Ayers Hand-Drawn Page 10 Artwork
THOR / JOURNEY INTO MYSTERY #84 (1962)
Steve Ditko
Ditko started his career drawing short fantasy and horror stories. When Marvel switched over to drawing superheroes in the early 1960's, Ditko co-created two of Marvel's most enduring characters – the Amazing Spider-Man and Dr. Strange. What set Ditko apart was his ability to portray the "every man" and his ability to bring realism to his fantastic worlds. Ditko's art for the story that introduced Spider-Man, Amazing Fantasy #15, sits in the Library of Congress and is recognised as the most significant US comic book story known to exist.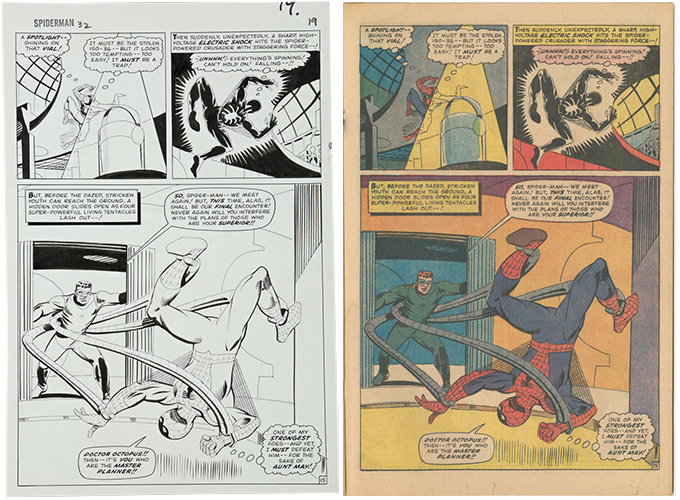 Lot # 411 – Steve Ditko Hand-Drawn Page 15 2/3 Splash Page Artwork
THE AMAZING SPIDER-MAN #32 (1966)
Find out a little more about some of these pieces from Propstore's very own comic expert, Chuck Costas:
If any of these artists' work have peaked your interest, then make sure you check out the amazingly diverse selection of comic art that we have in this year's 2018 Entertainment Memorabilia Live auction and don't forget to keep watching these weekly 'sneak peek' blogs, showcasing some fantastic props from this year's Live Auction. Follow us on Twitter & Facebook to be the first to know about all current & upcoming Propstore Auctions and more!