I started Propstore back in 1998, a hobby that quickly got out of control, but my passion for collecting props and costumes started some time before that. I've been travelling the world tracking down Star Wars props and costumes for close to 25 years. From Elstree to San Francisco, Los Angeles to Finse in Norway, I've racked up countless air miles, met some fascinating people and had some incredible adventures. I've been lucky to unearth a number of amazing film artefacts, some thought lost forever, and I thought I would take a moment to share a few of my favourites:
Stuart Freeborn's Personal Script
Star Wars: A New Hope (1977)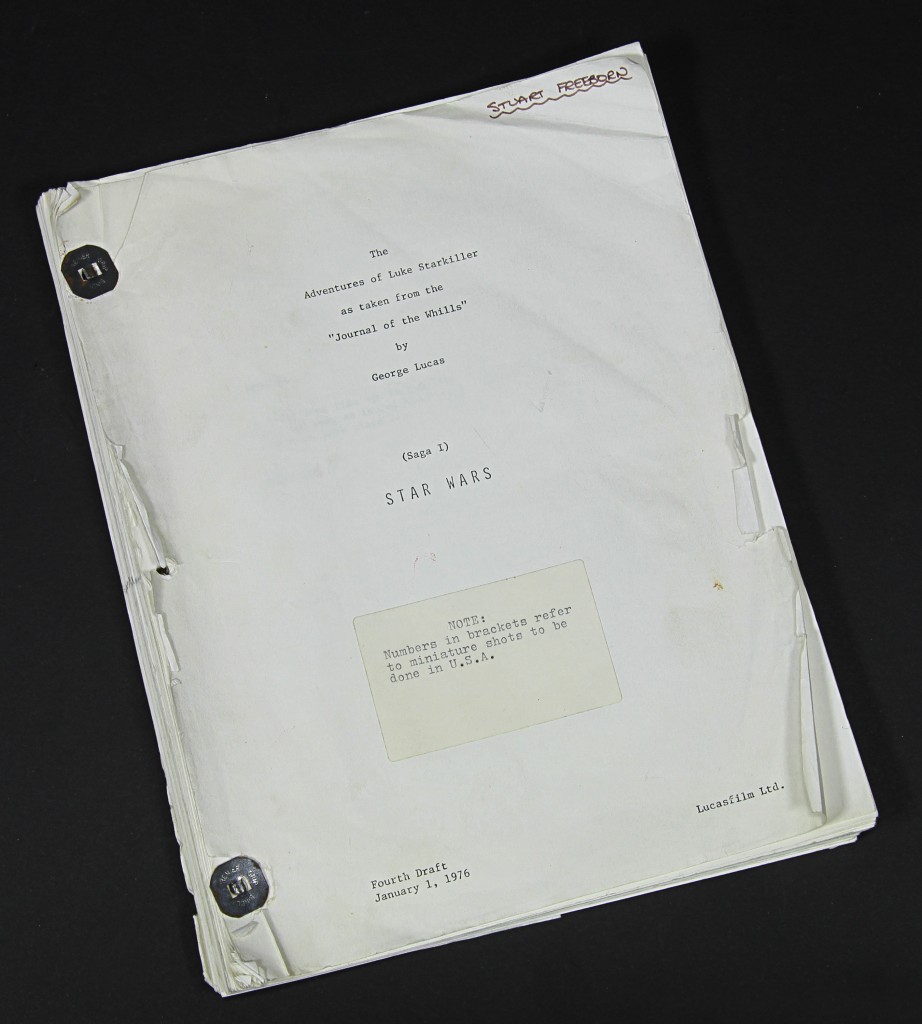 It all starts with a script…… and what's particularly special about his one is that it was the personal script of legendary creature and makeup artist Stuart Freeborn. The Propstore team and I spent a number of months working with Stuart and Kay Freeborn helping them move home back in 2004. Stuart told us the story of how George Lucas flew over to meet with him in person and present him with a script to read after seeing his work on the apes in Stanley Kubrick's 2001. Stuart was responsible for the creation of so many memorable Star Wars creatures including Chewbacca, Greedo and Yoda to name just three.
Princess Leia's (Carrie Fisher) Medal Ceremony Costume
Star Wars: A New Hope (1977)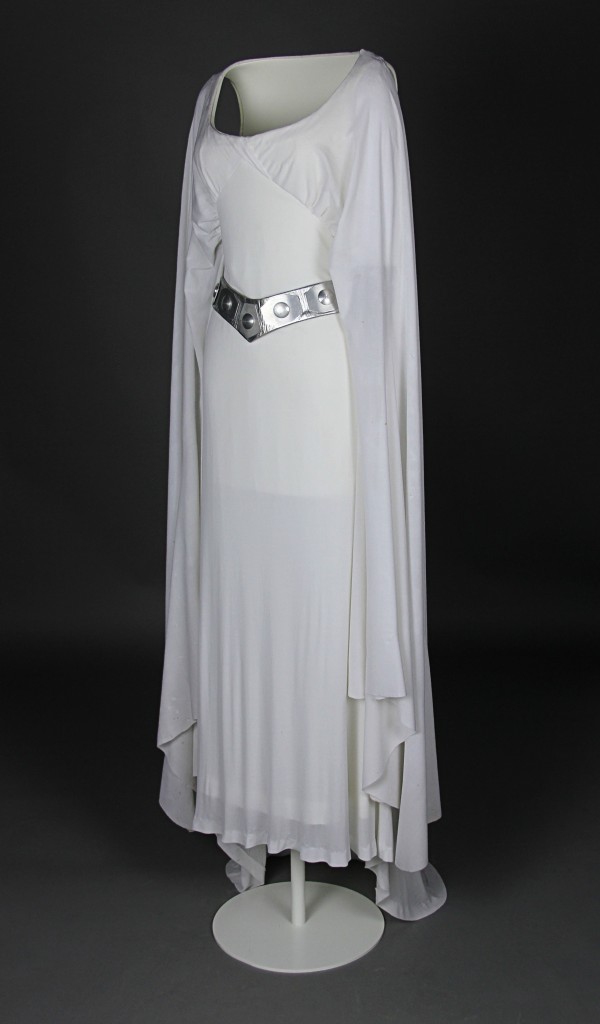 Principal costumes from the original trilogy are particularly hard to find, with this dress the only example made for the film. This costume languished in a crew members loft for many years. When I acquired it, it was in poor condition having been lent out for a friend to wear as a fancy dress costume! The dress was torn and had lipstick, wine and blood on it (some party!) and was dusty and grey with dirt and grime. I reached out to the Victoria and Albert Museum in London who recommended a textile conservation and restoration company who then spent 6 months very carefully cleaning, restoring and repairing the garment and belt, bringing them back to their former glory. It is a stunning and memorable costume from the final scene in the movie which also featured in numerous press and publicity images.
Y-Wing Fighter Filming Miniature
Star Wars: A New Hope (1977)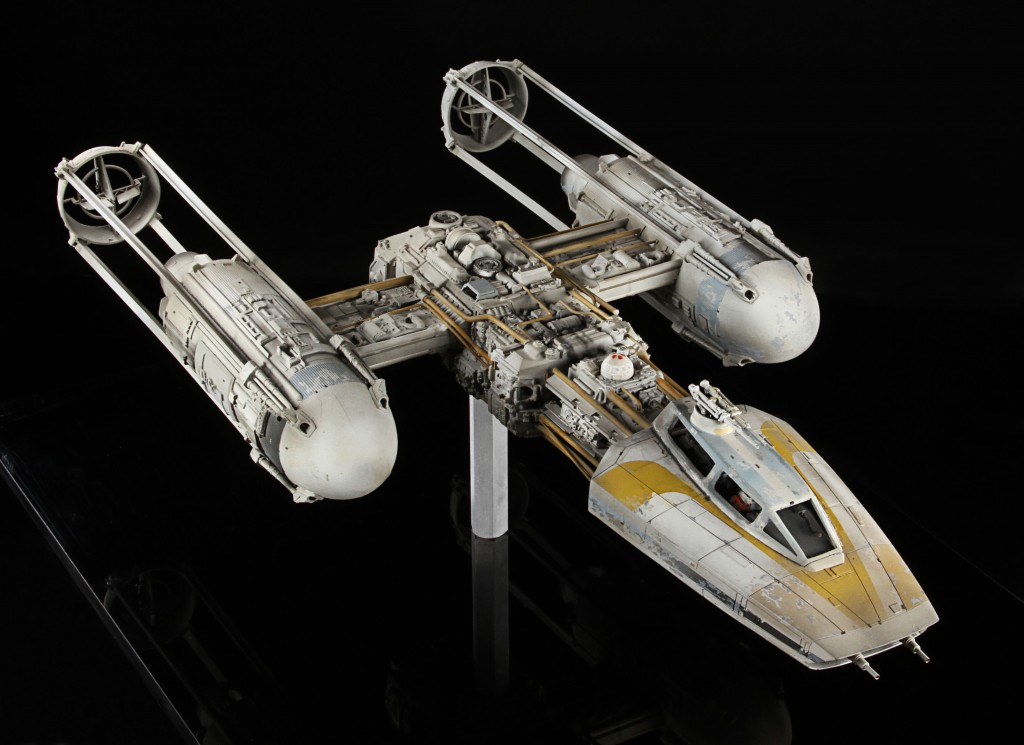 This miniature was gifted to Alan Ladd Jr by George Lucas personally after filming wrapped. Alan Ladd Jr ran FOX studios in Los Angeles and was responsible for greenlighting the movie for Lucas when so many other studios had turned it down. This miniature is seen in close up as three Y Wings form up and start their run on the Death Star trench – it is in fact the first ship that Vader destroys on screen in that sequence (which would have been a pyrotechnic version of this model). Interestingly the R2 unit, sitting behind the cockpit is removable and in some of the shots you can see that he's missing completely. It has multiple motion control mounting points and the engines are wired for illumination.
Darth Vader's Lightsaber
Star Wars: The Empire Strikes Back (1980)
This lightsaber can be 'screen matched' to many key sequences in Empire Strikes Back and is also briefly seen on screen in Jedi. Having been gifted by George Lucas to a close film maker friend, it then travelled via trades and sales to a display exhibition of various props and costumes in an American Casino. I heard about it on a collector's forum and truly couldn't believe what I was seeing. Persuading the Casino to part with it was in itself an epic undertaking – which included me having to locate a Daniel Craig Tuxedo from Casino Royale for them as part of the deal (which in itself was another adventure). It was certainly worth all the effort, it is truly a thing of real beauty, Vader's weapon of choice.
AT AT Pilot Helmet
Star Wars: The Empire Strikes Back (1980)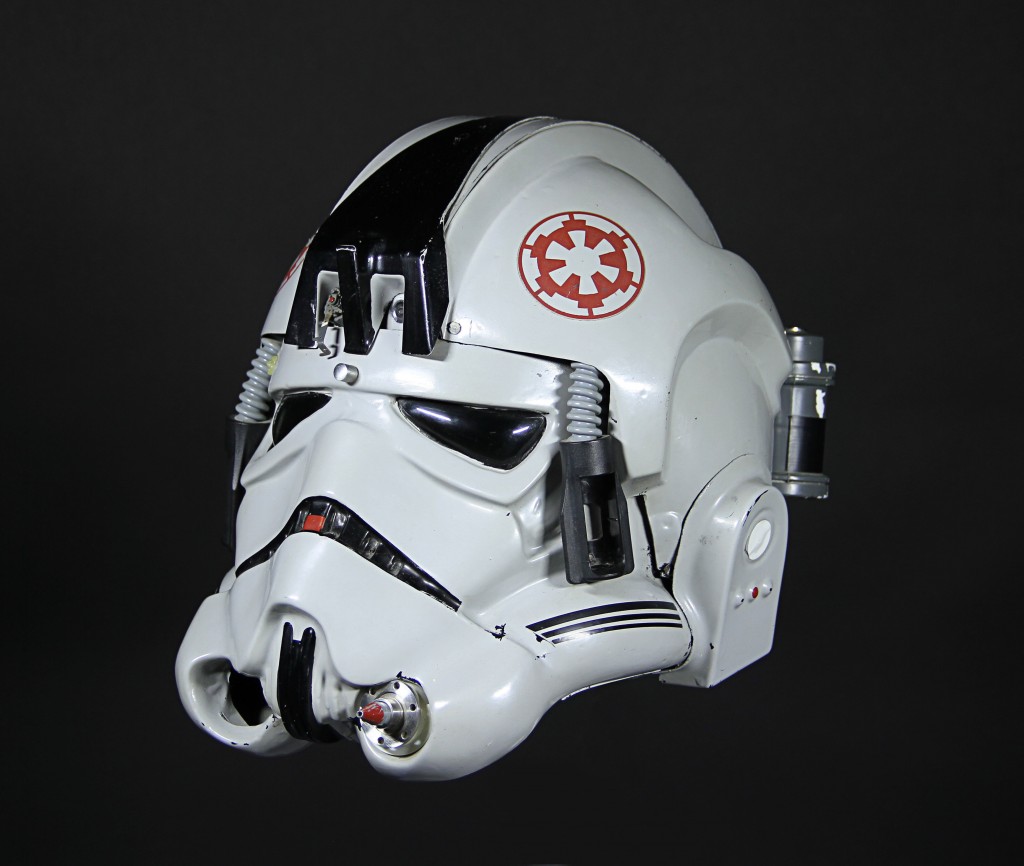 I find the helmets, especially for the Imperial characters, incredibly emotive. There are few people who don't recognise (at the very least) the Star Wars design and aesthetics and instantly connect with it as soon as they see one in person. It is believed that there were only two AT AT Pilot helmets created for Empire Strikes Back. These were both modified from a couple of the 13 or so TIE Fighter Pilot helmets built for A New Hope. This particular example was thought lost for ever after it was stolen from a private collector back in the early 90's. It was a major coup when I managed to conclude a deal with the family who had it stolen and then with the current owner who had bought it in good faith at open market. Many months of negotiations and conversations with both parties and my solicitors concluded with me flying to Inverness in Scotland to pick it up, buying an extra seat for the helmet to travel next to me on the way home.
My collecting saga continues!
Stephen
Be sure to check out our great range of Star Wars items currently listed on our website here.