|
Star Wars
Propstore Live Auction 2016 Presents… Star Wars
Welcome to the opening preview to the Propstore Live Auction 2016! During August and September, we will be posting Blog updates twice-weekly to whet your appetite with some of the amazing original memorabilia that will be coming up for sale in the auction…
From the first time that George Lucas created his Star Wars universe back in 1977, and through a myriad of sequels and prequels, the magic of Star Wars has never dimmed, and has been revitalised yet again with last year's wildly successful Force Awakens. At this year's Propstore Live Auction we have an exclusive collection of original props, costumes and production material to tempt you from the Star Wars cinematic universe…
TIE Pilot Helmet, STAR WARS: A NEW HOPE (1977)
There are a number of iconic helmets in Star Wars, including the instantly recognisable Imperial Stormtrooper and Rebel Pilot helmets. However, the TIE Pilot helmet on offer (a composite of the two) is rarer since far fewer were made. This sleek black helmet, with faceplate, dome and ear piece communicator, is enhanced with black and silver imperial cog decals. Presented on a custom made display stand, thi unique piece of Star Wars history will make a stunning addition to any Star Wars fans collection.
Auction Estimates: £50,000 – 70,000
X-Wing ILM Model Miniature, STAR WARS: THE EMPIRE STRIKES BACK (1980)
The X-Wing Model Miniature was created in the ILM (Industrial Light & Magic) workshop for use on The Empire Strikes Back, and was shot on the motion-control stage. It was specifically used in the rebel evacuation from Hoth and was intentionally 'distressed' to show the effects of laser fire and smoke damage in battle.  After filming finished, this model was specially gifted to Brian Johnson, ILM's renowned Special Visual-Effects Supervisor.  The X-Wing will be sold with a letter of authenticity from Brian Johnson and a printed production storyboard with additional handwritten notes verifying its authenticity.
Auction Estimates: £60,000 – 80,000
ILM Motion Control 'Rama' Camera, STAR WARS: A NEW HOPE (1977)
This Technirama Camera was owned by Industrial Light & Magic (ILM) and was used extensively on A New Hope, and then again on The Empire Strikes Back and Return of the Jedi.  In addition, since it remained part of ILM's camera department throughout the 1990s, it is almost certain that it was also used on other classic ILM films of that era such as Raiders of the Lost Ark, ET, Dragonslayer and Poltergeist.  This very special lot, which also includes an assorted collection of Star Wars production related ephemera and set photographs, presents a unique opportunity to acquire a genuine piece of filmmaking history.
Auction Estimates: £30,000 – 50,000
Rebel Trooper Vest, STAR WARS: A NEW HOPE (1977)
The black rebel trooper vests were throughout A New Hope, but have not been seen or documented since the production of the film in 1976. This striking black vest designed by British costume designer John Mollo features an array of pockets on the front and back minus any visible fastenings, keeping it in line with the traditional Star Wars Universe look. It will certainly be an unusual and unique enhancement to any Star Wars collection.
Auction Estimates: £4,000 – £6,000
The Star Wars' First Draft Script, STAR WARS: A NEW HOPE (1977)
Back in July 1974, when this script was first created, the Star Wars universe was still only a vision. This 146-page screenplay (bearing the original title The Star Wars) is the first revision to the rough draft that had been created a few months earlier. It gives the reader a unique  insight into the development of the plot, including a glimpse at characters and locations that were subsequently omitted by the second draft stage (titled Starkiller, Episode 1: The Star Wars). The script is bound in a red plastic front and back cover.  This script is a very desirable piece of Star Wars pre-cinematic universe history for any fan or collector.
Auction Estimates: £1,000 – 1,500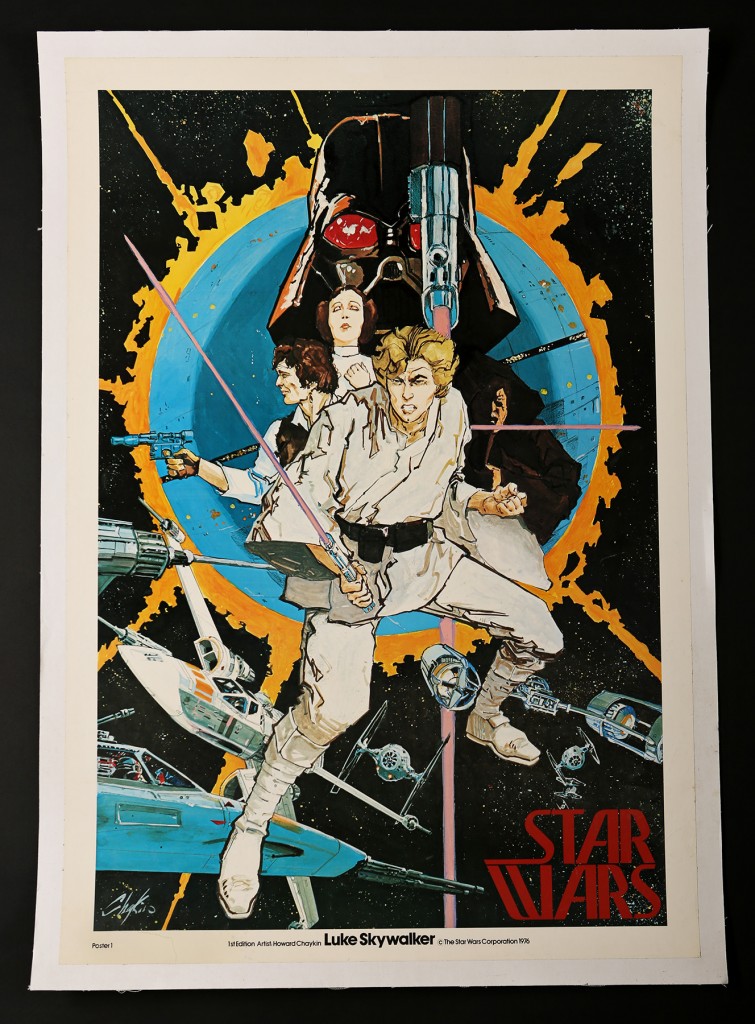 Howard Chaykin First Edition Poster, STAR WARS: A NEW HOPE (1977)
This first edition poster (designed by Howard Chaykin) was, for many, the first opportunity to see what was in store with the much-anticipated Star Wars: A New Hope.  The poster debuted at San Diego's Comic Con in 1976, a full year before the film's 1977 release, and introduced the key characters – Luke Skywalker, Princess Leia, Han Solo and Darth Vader. The poster is an iconic piece of Star Wars history, and is easily one of the most recognisable pieces of Star Wars art from the Original Trilogy memorabilia.
Auction Estimates: £1,000 – 2,000
George Lucas' Directors Chair, STAR WARS: ATTACK OF THE CLONES (2002)
This aluminium director's chair with GWL printed in white was provided for the legendary director George Lucas on the set of the prequel Star Wars film, Attack of the Clones. This is sure to be a great unique addition for any Star Wars collector.
Auction Estimates: £3,000 – 5,000
Philip Kohler's Norwegian Film Crew Outfit, STAR WARS: THE EMPIRE STRIKES BACK (1980)
This particular Film Crew Outfit set was used by the late Philip Kohler, the location manager, whilst shooting in a remote location in Norway, for the iconic wintry Hoth scenes in The Empire Strikes Back.  It comprises a distinctive (personalised with crew patches) blue and yellow coat, with blue trousers and snow boots. Also included is an 'Production' armband and Philip Kohler's personal rucksack used in the shoot. In addition, the lot also includes items he used on site, including a sweater, Star wars logo hat, scarf, glove, bag and pairs of socks.  This is a very unusual lot which originates from Philip Kohler's estate.
 Auction Estimates: £4,000 – 6,000
All of these fabulous original Star Wars props, costumes and production items will be available in the upcoming Propstore Entertainment Memorabilia Live Auction, so Register Now to make sure you are kept up to date will all the latest auction information and more! And don't forget to check back at the Propstore Blog every Monday and Friday leading up to the Live Auction to get more exclusive sneak peeks of what's to come in one of Europe's largest and most exciting film and TV memorabilia auctions.
Follow us on Twitter and Facebook to be the first to know about all current & upcoming
Propstore Auctions and more!