The scream of TIE Fighters and the stirring chords of John Williams' music on trailers means but one thing: Star Wars returns to our screens this month. The Force Awakens brings Han, Leia, Luke, Chewie, Artoo and Threepio back and launches a host of new characters to continue the iconic space opera. As you look to the future of the films, take a dip into the past and explore some exciting items from the originals and prequels available at the Propstore.
Original Dyeline – X-Wing
Star Wars: Episode IV – A New Hope (1977)
£995/$1239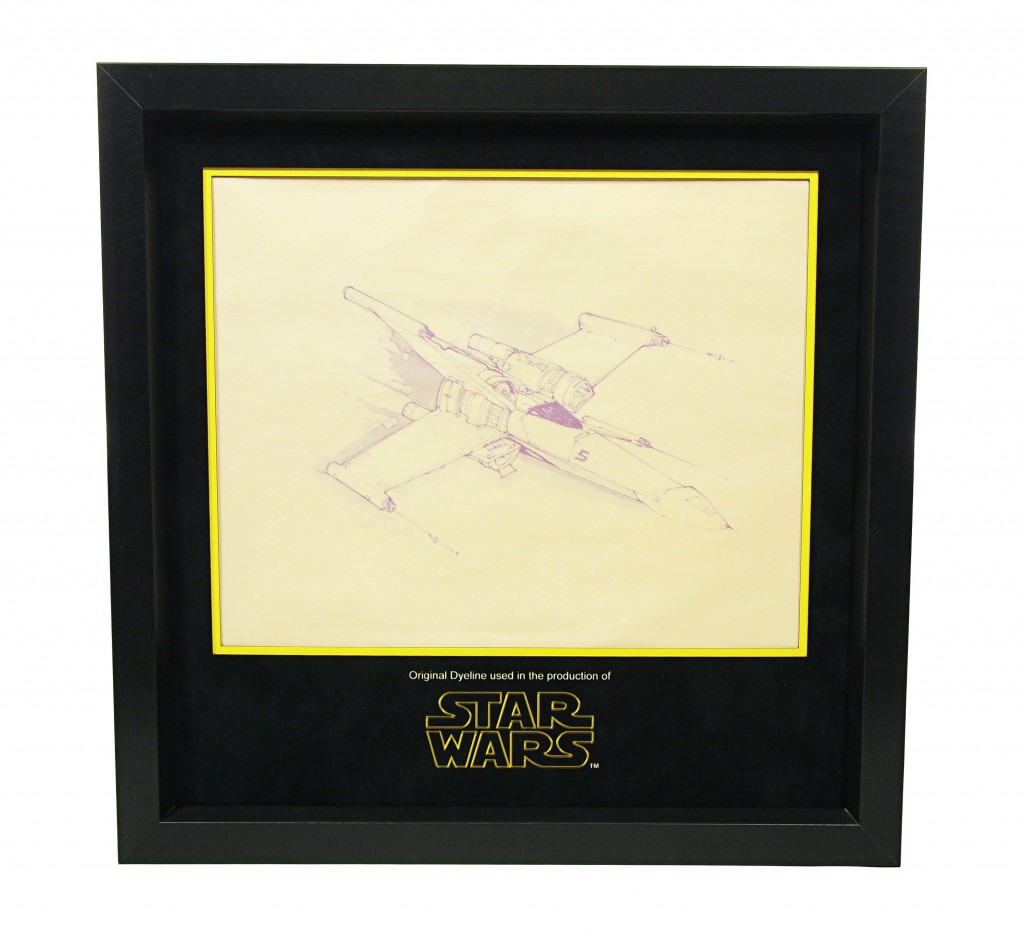 An original blueprint used by the effects team (including future filmmaker Joe Johnston) to build the models of the X-Wings for George Lucas' first Star Wars film. A real piece of history and a chance to own an early design for one of the galaxy's most famous spaceships.
John Mollo-Signed Star Wars Costumes With Costume Design Sketch – Rebel Trooper
Star Wars: Episode IV – A New Hope (1977)
£325/$409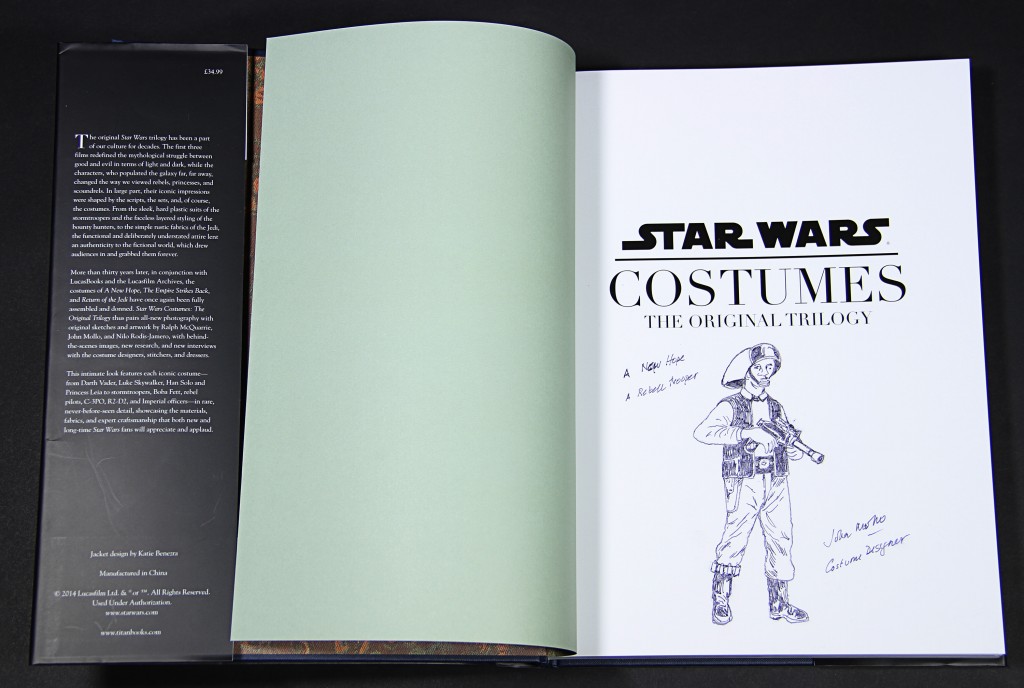 A fantastic book featuring sketches, designs, behind-the-scenes photos and notes, this offers a peek into the creation of costumes for the original trilogy. As a bonus, costume designer John Mollo, who worked on the first two movies, has signed and sketched a rebel trooper in this one, making it that much rarer and more collectible.
Framed Original Roy Carnon Storyboard Art – 75-76
Star Wars: Episode VI – Return Of The Jedi (1983)
£1129/$1695
Created by famed production illustrator Roy Carnon, who counted 2001 among his credits before he joined the Jedi crew, this depicts an early version of the duel between Luke and Vader in the Death Star during the confrontation near the end of the movie. Handcrafted, it's amazing quality and well worth buying.
Original Pre-Production Hand Drawn Storyboard Display – Holding Cell Guards
Star Wars: Episode IV – A New Hope (1977)
£1929/$2895
An image of one of the Death Star prison guards from Star Wars, this original piece of artwork was drawn by Jake Scattergood. It's hand-drawn in pencil and comes in a display unit with stills from the film and one of the original logo concepts, still bearing the name The Star Wars.
Chewbacca Hair Original Display
Star Wars: Episode IV – A New Hope (1977)
£175/$219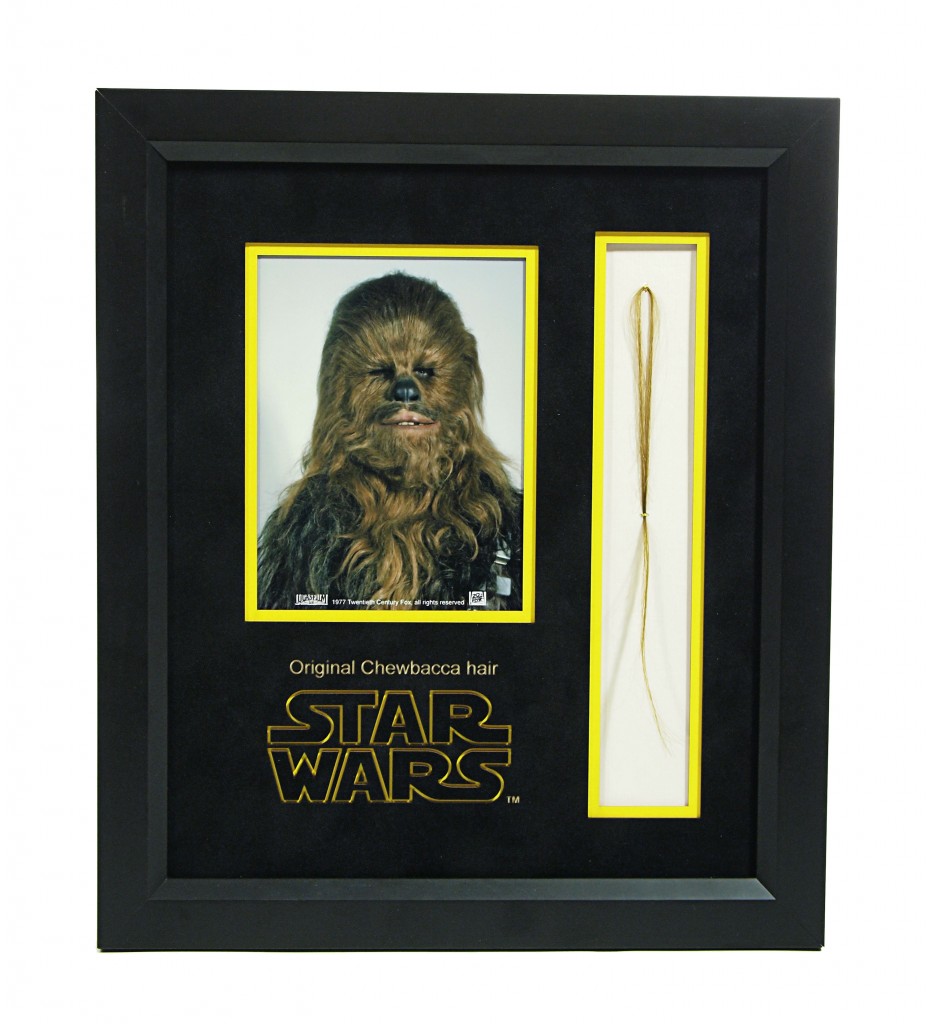 Because you'd never want to walk up to the Wookiee and pluck a hair yourself (that way lies death), make-up and creature effects artist Stuart Freeborn has helpfully done it for you. This is a multi-coloured strand that would have been used when Chewie needed a quick patching up, and comes mounted on a presentation board with an image of Han Solo's furry best friend.
Triple Storyboard Display – TIE On Approach, Falcon Takes Off, Han & Lando Talk (DS Approach 117P)
Star Wars: Episode IV – A New Hope (1977)/Episode V – The Empire Strikes Back (1980)/Episode VI – Return Of The Jedi (1983)
£695/$889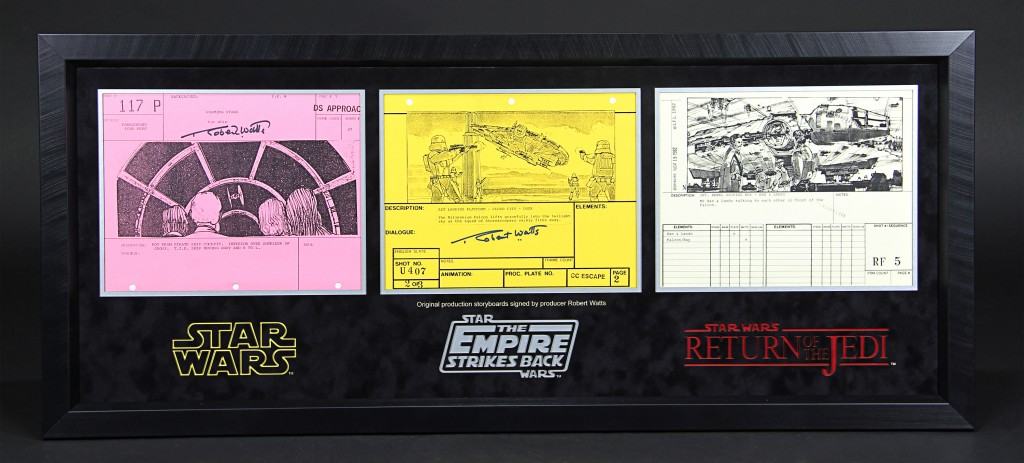 Three more original storyboards from the classic trilogy depicting scenes from the movies. Included are one from a shot where the Falcon approaches the Death Star and a TIE Fighter screams by, another showing the Empire scene with Stormtroopers trying to stop our heroes escaping from Cloud City and one with Han and Lando talking about the safe return of the Falcon in Jedi. Signed by production manager/producer Robert Watts, the three images come in a presentation case to help you take care of them, just as Han would want.
Jar Jar Binks First Pull Model
Star Wars: Episode I – The Phantom Menace (1999)
£195/$239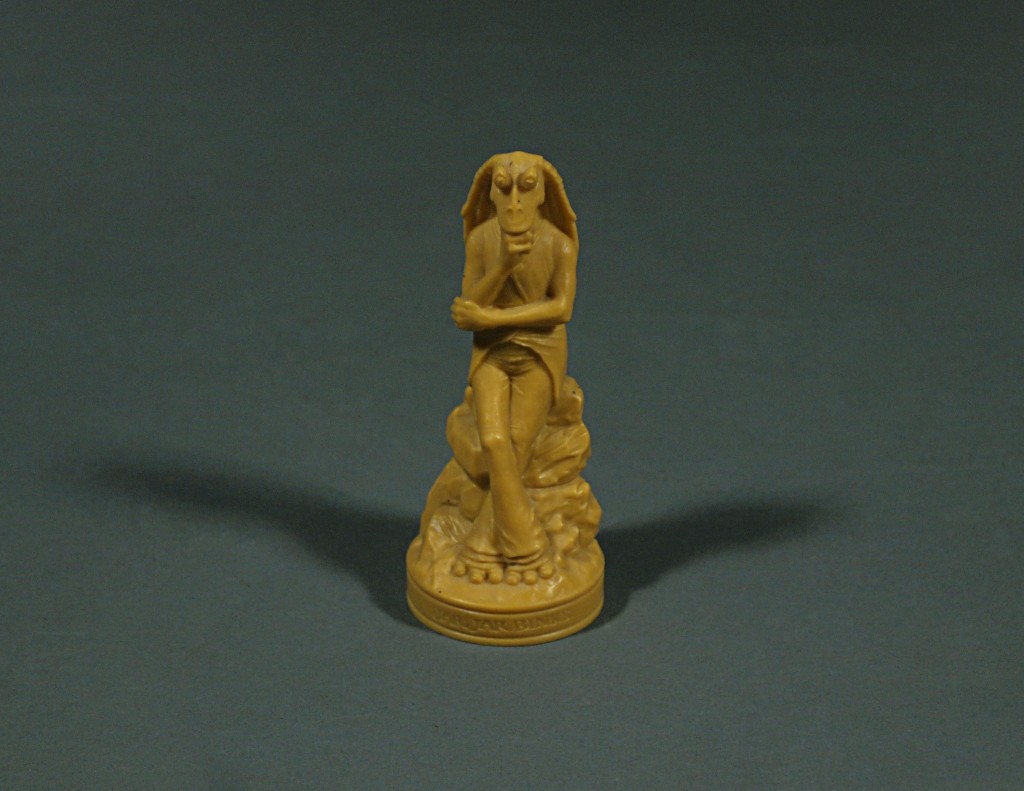 In an attempt to keep standards for merchandise high, this resin mould for the Humbrol Heroes 3-D Plaster Moulding Set was created on site at Lucasfilm, which makes it eminently collectible.
Which of these Star Wars items has you interested? Tell us on Facebook and Twitter.
And check out all the great Star Wars items we have to offer here.