It's Star Wars Week here at Propstore! As part of our celebrations we're sharing some of the iconic Original Trilogy (OT) production material that has been added to the website this week. Whether you're loyal to the OT, or are counting down the Parsecs until The Force Awakens, we've got some incredible relics to tantalise aspiring Jedis. May the Force be with you.
1. Original Dyeline – X-Wing – Star Wars – Ep IV – A New Hope
This is an original dyeline print of an X-wing, used by effects technician Joe Johnston's team in the production of George Lucas' very first Star Wars film. Utilised as a reference to aid the construction of visual effects models, this working production blueprint is an extremely cool memento from the first film in the Original Trilogy. This awesome X-Wing dyeline comes framed and glazed in a suede effect laser cut mount board, complete with the movie logo.
2. Ellorrs Madak Head & Hands Reference Photo Set – Star Wars – Ep IV – A New Hope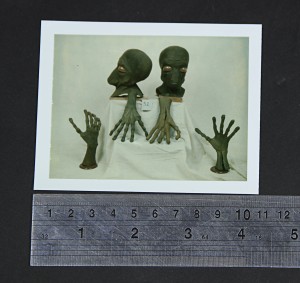 Another memento from the dawn of Star Wars. This collection of reference photographs was used to aid the production of A New Hope. Displaying the masks and hands of the alien Ellorrs Madak, these collectable photographs were acquired from the collection of respected special effects artist Stuart Freeborn.
Originally part of a larger collection depicting the many creatures from the Star Wars OT, these shots show the mask and hands from multiple angles. They also display a label marked "51" on white – denoting A New Hope in the production's labelling system.
3. Space Slug Puppet Reference Photographs – Star Wars – Ep V – The Empire Strikes Back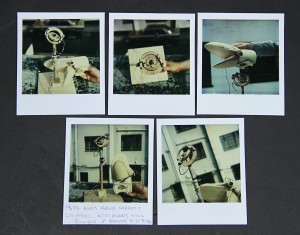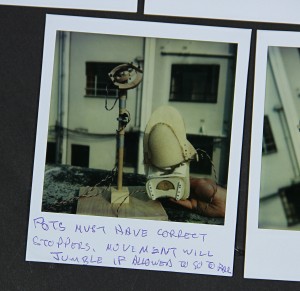 Meet the space slug from The Empire Strikes back. These reference photographs are yet more original trilogy images from the collection of Stuart Freeborn, depicting the creature sighted on the asteroid where Han, Leia, Chewie and Threepio hide from the Empire.
The creature itself is a puppet and the images in this set clearly display the neck movement mechanism used to bring the space slug to life. Adding to the uniqueness and collectability of these photos, the images feature hand-written instructions designed to prevent mishaps during use of the puppet.
4. Joe Johnston Cloud City Alien Concepts – Star Wars – Ep V – The Empire Strikes Back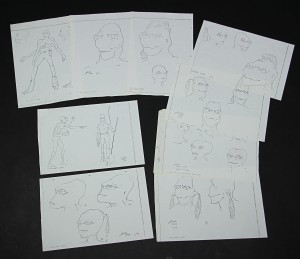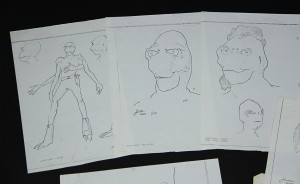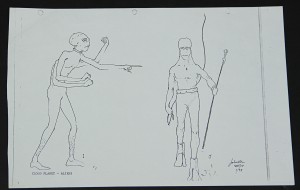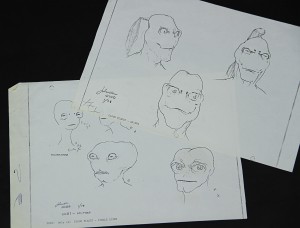 Iconic effects technician Joe Johnston played a huge part in bringing the worlds of the Original Trilogy to life. These design copies from The Empire Strikes Back are prime examples of his fantastical work and superb creations. The images show a range of alternative alien designs for the creatures seen on the Cloud City hovering above the planet Bespin. Despite their awesome design, these creatures would ultimately be replaced by the Ugnaught species. Dated January 1978, these highly collectible designs show the unused creatures' heads and bodies, highlighting the differences between male and female members of the species.
5. Signed Production Storyboard – TIEs Over Death Star (Death Star 432) – Star Wars – Ep IV – A New Hope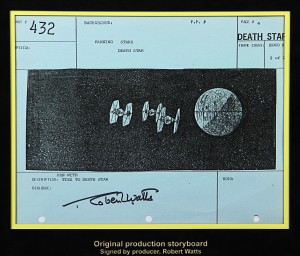 This awesome piece of artwork-come-memorabilia is shot #432 from A New Hope's Death Star sequence. This is an original storyboard from the very first George Lucas Star Wars production, complete with a signature from iconic producer Robert Watts (also responsible for producing the Indiana Jones trilogy and Who Framed Roger Rabbit).
This storyboard was part of a complete set, made to block out the Death Star's visual effects sequence in Episode VI, featuring rotoscopic laser effects, seemingly fired from the Death Star's turrets and miniature ships in the sky. This particular shot shows three TIE fighters, flying around the Death Star.
Interested in storyboards? You can find out more information about them in our helpful FAQ section
6. Mynock Creature Reference Photo Set – Star Wars – Ep V – The Empire Strikes Back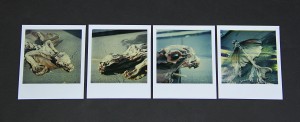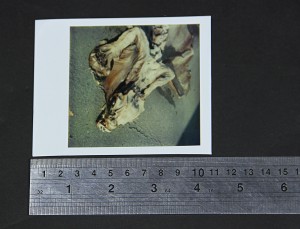 Here is another prime set of reference photographs acquired from Stuart Freeborn's collection. This group depicts the Mynock creatures from The Empire Strikes Back, seen inside the space slug within the asteroid where Han, Leia, Chewie and Threepio hide from the Empire. In these shots, the Mynock's facial details, cast-in tubing and unfolded wings can be seen, all used as reference points for the film's special effects team.
7. Colour Ewok Production Design Set – Star Wars – Ep VI – Return Of The Jedi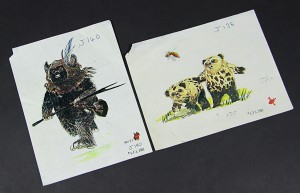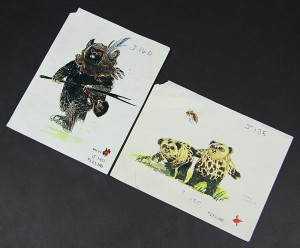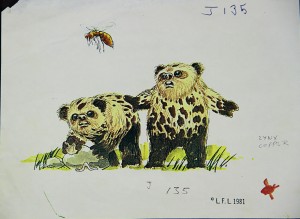 Among Star Wars' most loved creatures, the Ewoks have a special place in Original Trilogy lovers' hearts. These designs are printed in colour on A4 paper, showing Ewoks n a range of poses, armed with a selection of weapons, in a number of different scenarios. Both production copies have been stamped with George Lucas' red "seal of approval" dated 1981 – a symbol essential for creations which would appear in the movies.
Although used in Richard Marquand's non-OT Star Wars Episode VI – Return of the Jedi. George Lucas was responsible for approving every creation used in the production. A fantastic piece of later Star Wars memorabilia.
We've got a special treat this Friday with 10%off all Star Wars items on our website. All you need to do is enter MAYTHEFOURTH at the checkout! The offer expires at midnight PST on 9th May so don't miss out!
Are you loyal to the Original Trilogy or do you love all Star Wars movies equally? Which is your favourite piece of Star Wars memorabilia in the Propstore archive? Share your picks and opinions with other fans and collectors on Facebook or Twitter. Why not explore our Star Wars collection online or get in touch with our team for more information about our Star Wars props?