|
Auctions
The Female of the Species: The Women of Hannibal
While Hannibal Lecter's deadly exploits are certainly a major focus of the series, the women surrounding the good doctor are well-deserving of his respect, affections, and unsavoury appetites. Take a look at some of the key costume components worn by the leading ladies of Hannibal.
Lot 786: Bedelia Du Maurier's (Gillian Anderson) Hero Bloody Blouse and Skirt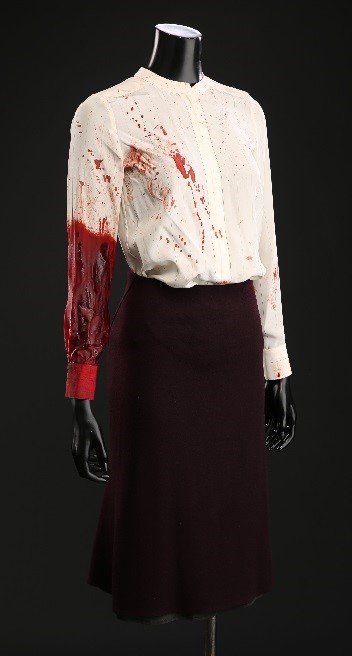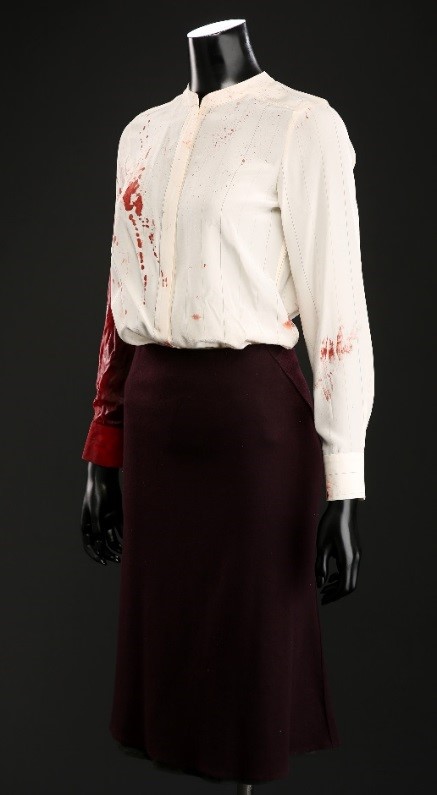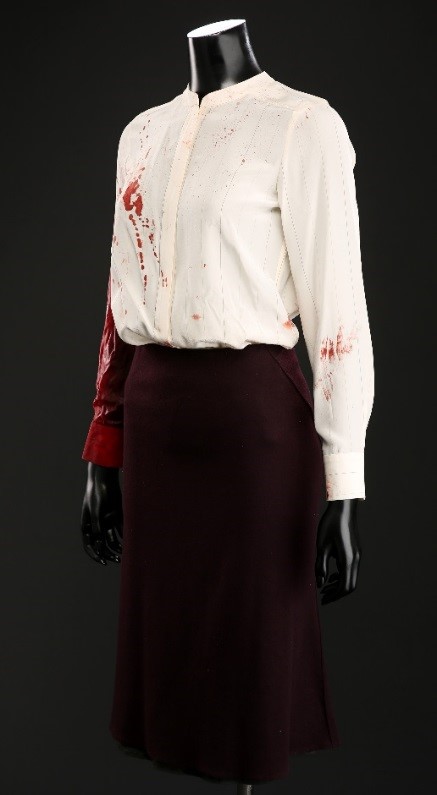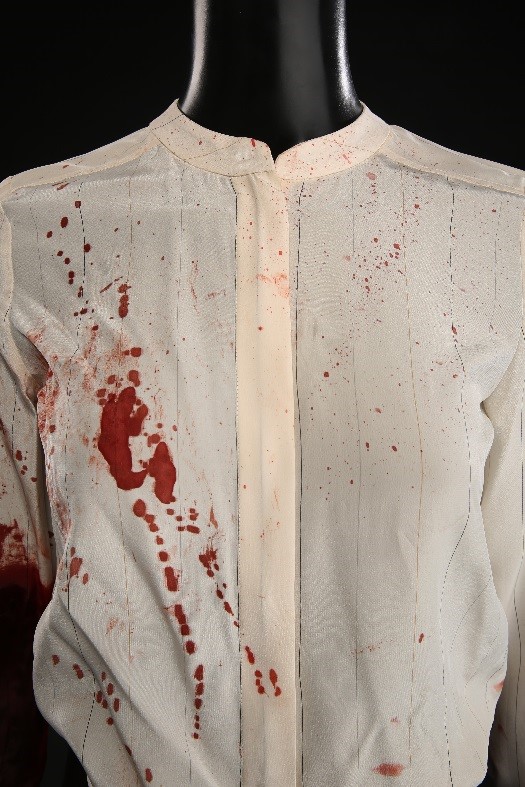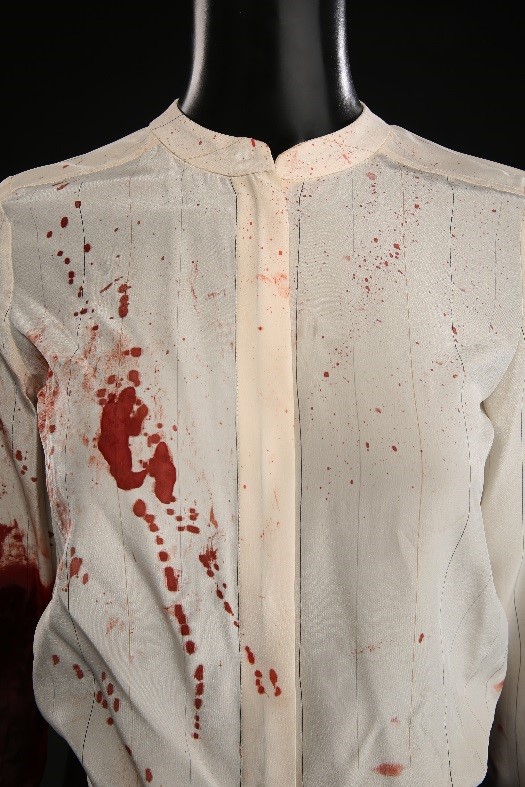 It takes a very special character to be Hannibal Lecter's psychiatrist, and Dr. Bedelia Du Maurier (Gillian Anderson) is certainly up to the task. From friend and colleague, to conspirator and victim, Bedelia plays many roles throughout the series, including that of psychiatrist to Neal Frank (Zachary Quinto). When the patient attacks her, Bedelia forces her arm down his throat, claiming her first victim. This costume was created for use in episode 301, "Antipasto," and is seen in flashback in several episodes. The Linda Baday shirt is heavily stained with stage blood to emphasize Bedelia's momentary brutality.
Lot 1262: Bedelia Du Maurier's (Gillian Anderson) Gown, Bracelet, and Shoes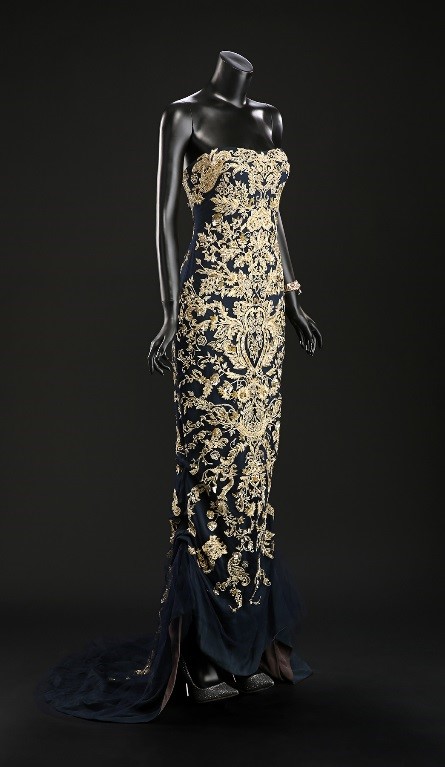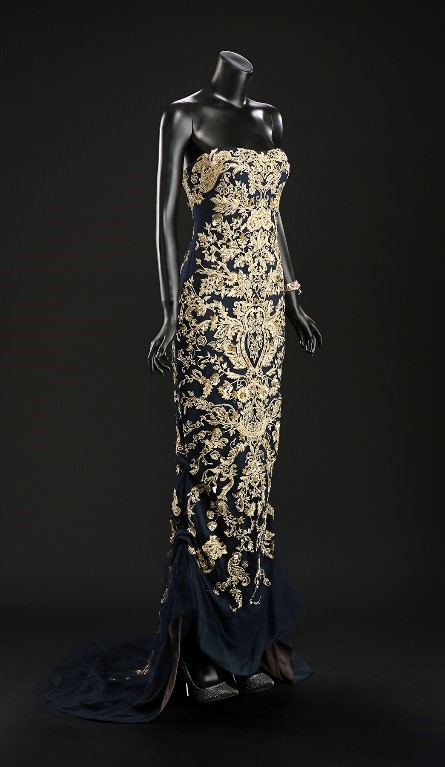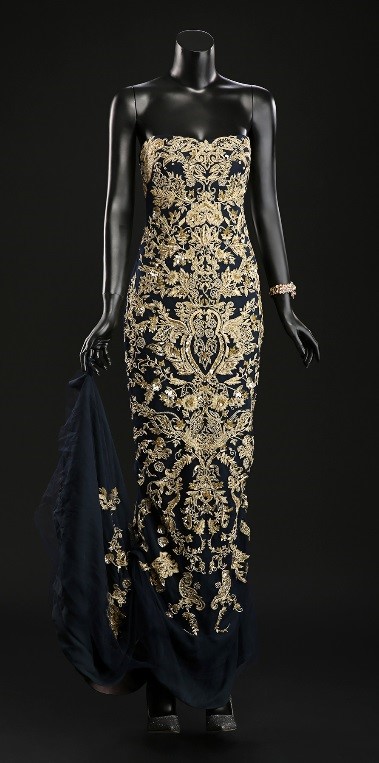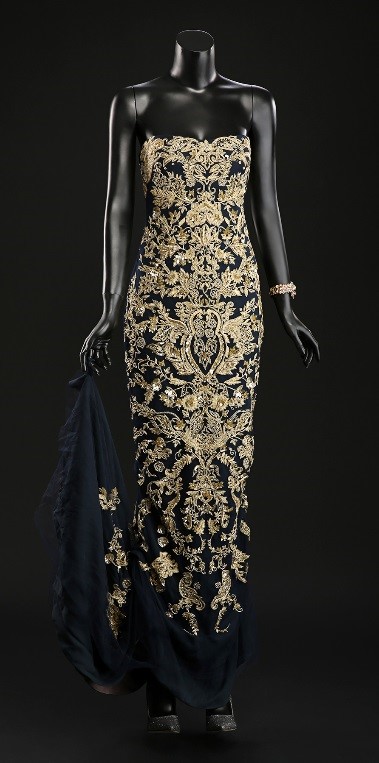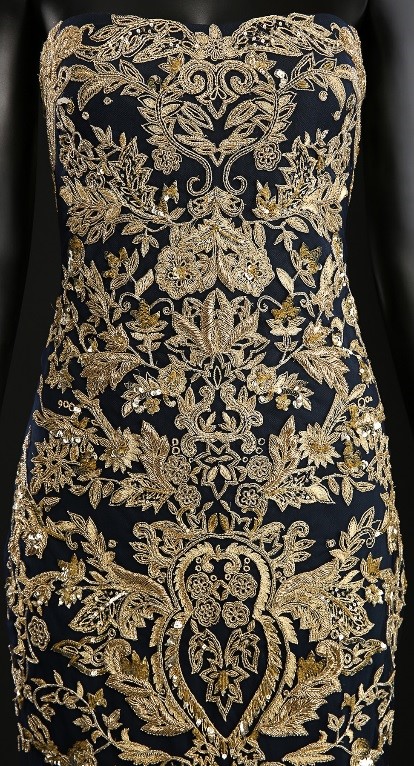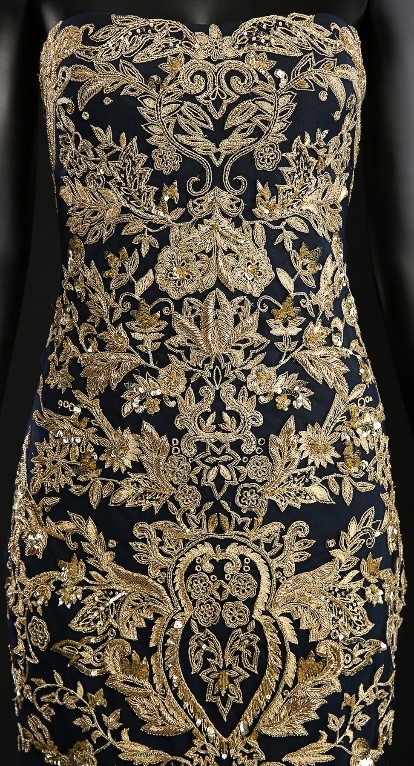 Of course, blood-stained blouses are not usual attire for Bedelia. In fact, she is often the height of fashion and sophistication when on the lamb with Lecter in the third season. This dress, also from "Antipasto," was worn by Bedelia when attending a lavish party with Hannibal and is also featured in the season's promotional photos. The gorgeous Marchesa dress is accompanied with a faux crystal bracelet and Jimmy Choo pumps.
Lot 253: Alana Bloom's (Caroline Dhavernas) Turquoise Wrap Dress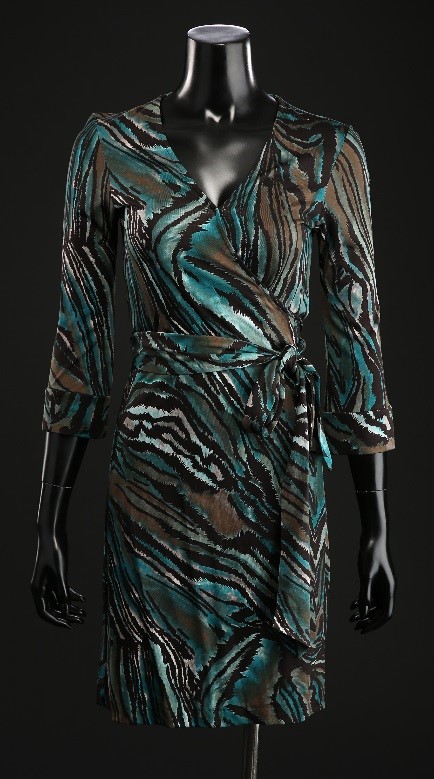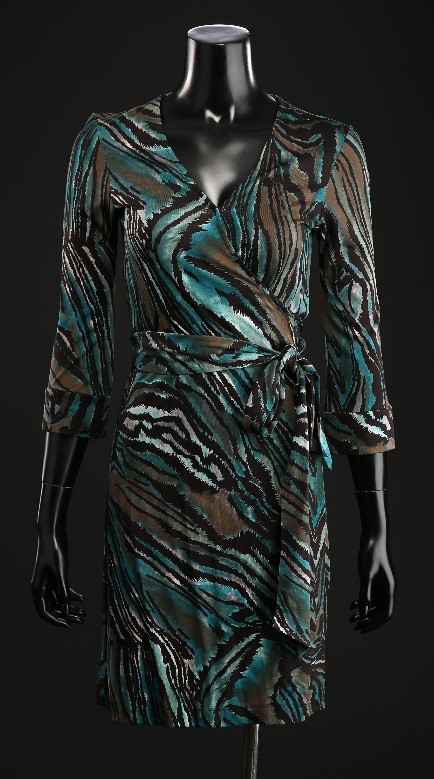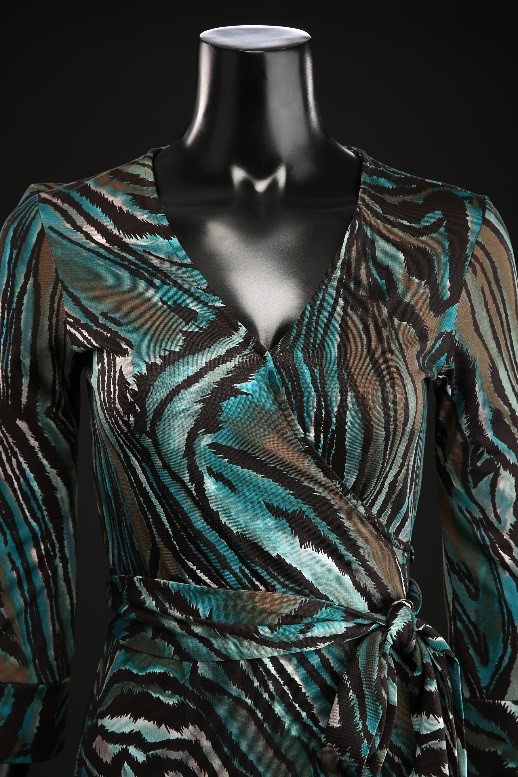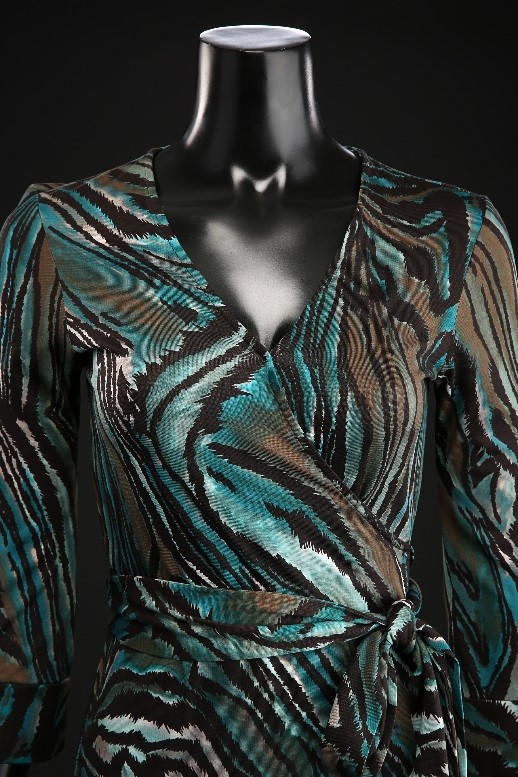 As one of the series' only mental health professionals without blood on her hands, Alana Bloom (Caroline Dhavernas) is one of the FBI's most trusted profilers. Regularly dressing in patterned wrap dresses, this lot from episode 111 "Roti" typifies Alana's professional appearance. The silk dress boasts a turquoise, grey, and brown pattern throughout and is labeled for the character.
Lot 514: Miriam Lass' (Anna Chlumsky) Dirty Nightgown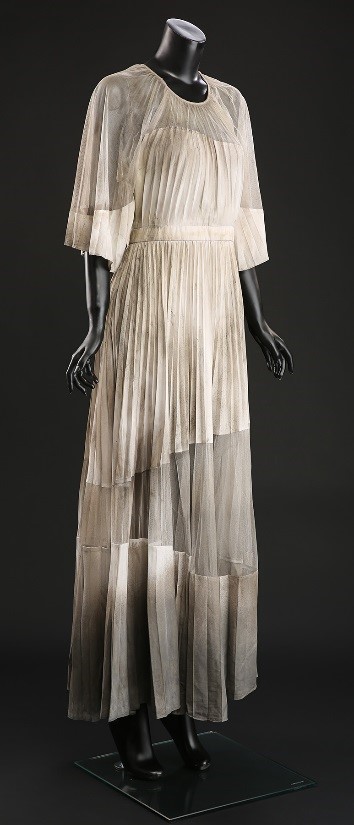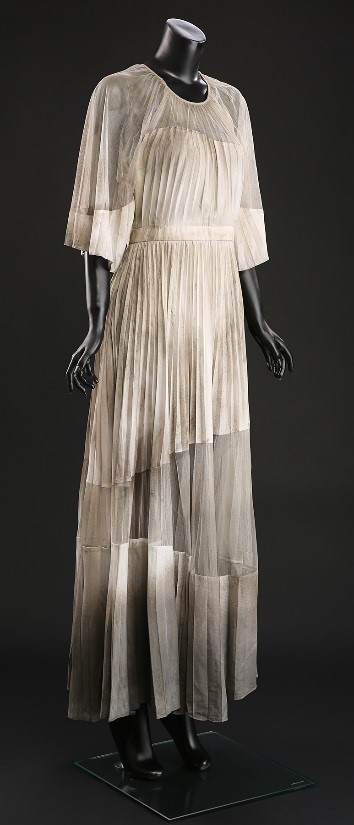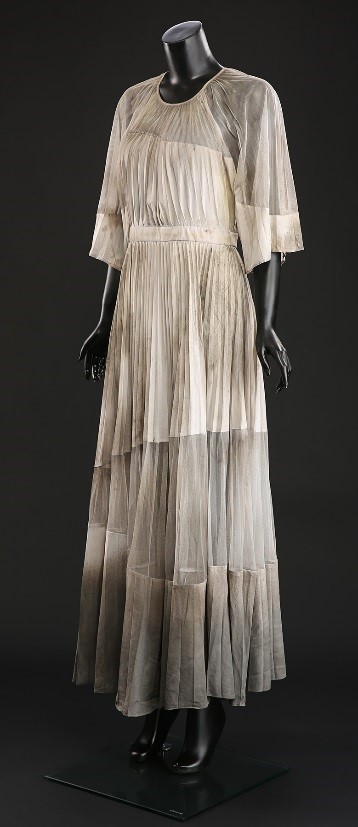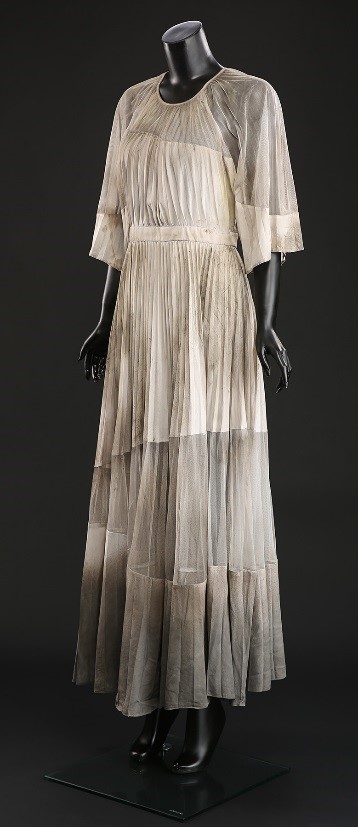 In a series full of unfortunate fates, Miriam Lass's (Anna Chlumsky) story is one of the most tragic. After being presumed dead by the FBI for years, Lass is miraculously found at the bottom of a pit wearing this dirty nightgown. The BCBG Maxazria brand gown was purposefully dirtied and stained by production, giving the appearance that Lass had been wearing the garment for much of her captivity.
Lot 623: Margot Verger's (Katharine Isabelle) Equestrian Outfit and Gear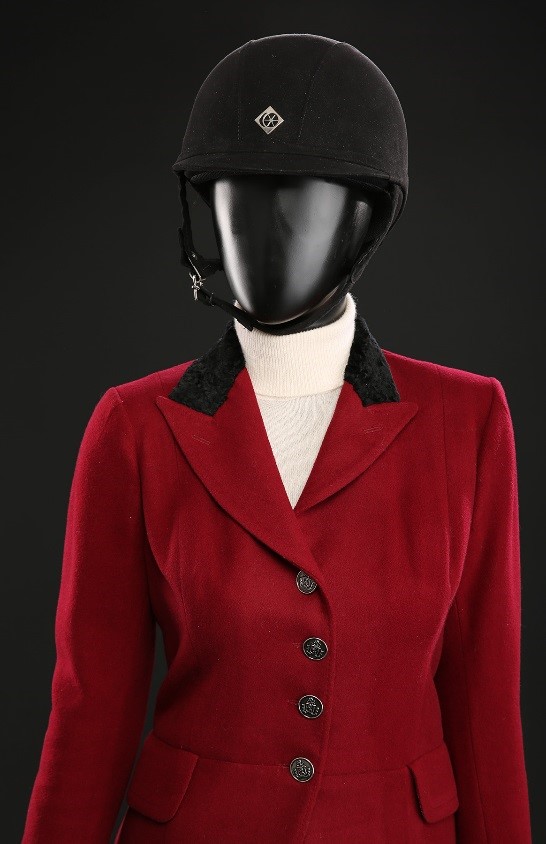 One part of the deadly Verger siblings, Margot Verger (Katharine Isabelle) is a force to be reckoned with in her equestrian outfit from episode 210 "Naka-choko." The lot consists of not only a full costume, but a suede riding helmet and black leather crop as well.
Items in the Hannibal Auction close April 4th, 6th, and 8th, so be sure to check out the full catalog and bid quickly. Thank you for reading our Hannibal blog coverage and be sure to check out the other blog articles in this auction series.