In our latest blog series, we're taking a look at our chosen top 5 films of some our favourite Directors in the business.
First up is Wes Anderson. The seven-times Academy Award-nominated American filmmaker is known for his quirky stylised films, usually with a batch of well-known 'Anderson' actors, colourful sets and an even quirkier script. In total, Anderson has directed 9 full-length feature films, with a 10th (The French Dispatch) coming sometime later this year. So, whether you love him or you hate him, check out our top 5 Wes Anderson films below and maybe you'll find something new to add to your 'To-Watch' list!
---
A film about complex family relationships and a bad father trying to make amends. As the third full-length movie written and directed by Wes Anderson, it's clear to see the developing origins of his design choices and trademarks.
The movie is a colourful yet muted depiction of the 1970s to the present day (2001), with many interesting details in both the set and costume design. One interesting thing that costume designer Karen Patch intentionally maintained throughout the film was the styles and colours of each character from their youth to adulthood as a means to present Anderson's idea of the family trying to hold on to their past.
Of course, no film is made without some degree of difficulty. Gene Hackman proved to be difficult to work with on set and even poor Mordecai the falcon was stolen and held for ransom during filming, so the crew had to use a different bird for the rest of the movie!
For only being Anderson's third film, it features an all-star cast who would later continue to work with him in his future productions. Though his first and second films (Bottle Rocket (1996) and Rushmore (1998) respectively) are both terrific films in their own right, they still carry the rough edges of someone new to their craft. It was in The Royal Tenenbaums (2001) that we truly start to see Anderson's now trademark sparkle take form.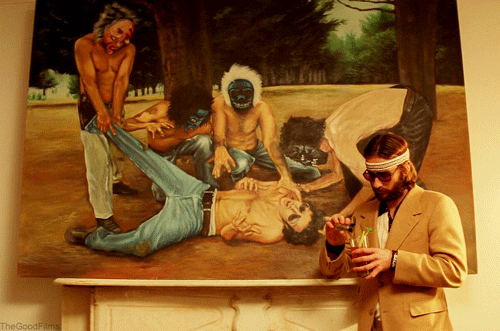 ---
With a plan to exact revenge on a mythical shark that killed his partner, Oceanographer Steve Zissou (Bill Murray) rallies a crew that includes his estranged wife, a journalist and a man that may or may not be his son in Anderson's next film, The Life Aquatic with Steve Zissou (2004).
Three years after The Royal Tenenbaums, Anderson released this quirky and artistic piece which was co-written by Anderson and Noah Baumbach (recently nominated for Best Original Screenplay for Marriage Story (2019) at this year's Academy Awards). The Life Aquatic with Steve Zissou is a light-hearted oddity featuring a now familiar band of 'Anderson' actors sailing the ocean, coming across pirates and discovering strange creatures.
The film is known for having amazing sets and one of largest stop-motion puppets ever constructed. The infamous Jaguar Shark puppet measured eight feet in length and required five hand-cranked controls for the swimming action.
Also, Wes Anderson's iconic cross-section of the Belafonte ship – in which we see all of the interior rooms and the people within it – was actually a real set that stood at an impressive one hundred forty feet long and forty feet high.
With homage payed to famed Oceanographer and underwater film-maker Jaques-Yves Cousteau, the film is filled with beautiful Italian scenery and award-winning actors, typically quirky costumes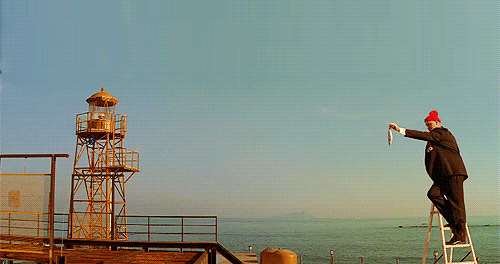 ---
Isle of Dogs (2018) is a story set in Japan about a boy looking for his lost dog in a world where the dogs have been outcast by society. The film is Wes Anderson's second fully stop-motion animated film and used more than 70 puppet artists and a whopping 1,000 clay puppets, out of which 500 puppets were humans and 500 were dogs.
The film's release was intentionally set for 2018, celebrating the Chinese year of the Dog. The film was actually inspired by a real-life Japanese island called Tashirojima which has a population of cats higher than humans.
Interestingly, the film is the second longest stop-motion animated film after Kubo: The Two Stings (2016) by Laika Studios.
Isle of Dogs is a heart-warming and outright impressive stop-motion film that carries all the Wes Anderson aesthetic and trademark cast and quirks that his fans have come to know and love, which is why it sits deservedly at our no. 3 spot of Anderson's top films.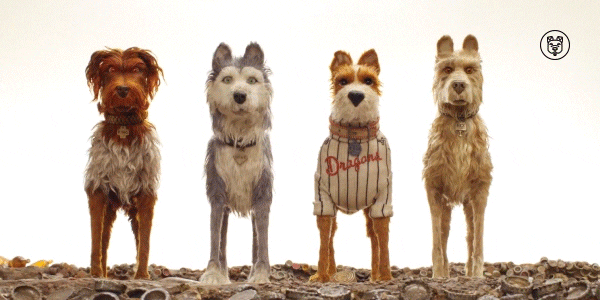 ---
A film about a wily fox trying to protect his family from three famers, Fantastic Mr. Fox (2009) was Wes Anderson's first animated film. The film is a beautiful, autumnal-toned adventure starring George Clooney as Mr. Fox, Meryl Streep as Mrs. Fox and Anderson's traditional troop of actors as the supporting cast.
Fantastic Mr. Fox is a testament to stop-motion animation and was narrowly beaten at the Oscars by Pixar's Wall.E for Best Animated Picture. Animators used real fur in the creation of the puppets, with around five hundred thirty-five puppets being made in total. The character of Mr. Fox himself had seventeen different styles, each of which had to be done in six different sizes for the various shots needed, meaning his character had one hundred two puppets alone!
Specific details and techniques are what make this film so charming. For example, Mr. Fox's wardrobe was based on Director Wes Anderson's own style, the train that passes the little farm town is the same miniature train set seen in Mr Fox's son Ash's (Jason Schwartzman) room, but was shot using forced perspective. And finally, the only CGI used in the production was the apple cider flood through the sewers.
This film is full of whimsy and wonderful quirks, with well written dialogue and perfectly directed visuals, making Fantastic Mr. Fox a clear no.2 in our list of best Anderson films.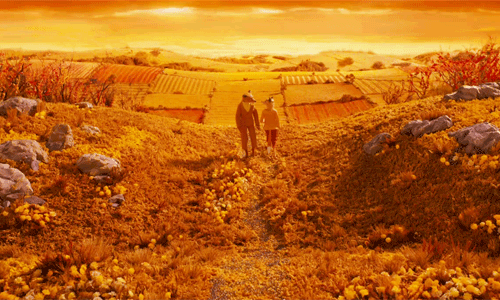 ---
The Grand Budapest Hotel (2014) follows a writer who encounters the owner of an aging high-class hotel and tells him of his early years serving as a lobby boy in the hotel's glory days. Exploring the seemingly uninteresting life of M. Gustave (Ralph Fiennes), The Grand Budapest Hotel takes is a delightful comedy with the usual Anderson quirks and a fabulous cast.
The film was a labour of love for Anderson, who took time and effort in creating almost every aspect of it, even down to the newspaper transitions that were entirely written by him. It also has a number of subtle nods to other great films and stories, like the references in Ludvig's (Harvey Keitel) tattoos to Pere Jules (Michel Simon) from Jean Vigo's L'Antlante (1934). There are also several references to Agatha Christie including the naming of the character Agatha (Saoirse Ronin) and the specifically referenced "4:50 from Paddington" (a Miss Jane Marple mystery) where the word "tontine" is used as a clue, a body is found in a sarcophagus, and a family lawyer deals with the will of an elderly person who has died and the family wants the money divided up (all things that happen in The Grand Budapest).
From subtle details to bright and bold designs, the film is a masterclass in costume design by Oscar-Winning Milena Canonero. She also worked with the set designers so that each scene had a very specific colour palette – with the hotel being very pastel with purples, yellow and pinks, the prison being very drab with greys and white, and the Desgoffe-und-Taxis mansion being very dark with blacks, browns and greens. Combined with Anderson's straight on filming technique, the colours and costumes create imagery similar to Renaissance paintings of which the painting "Boy with Apple" is the focus of the film.
The film won a total of four Oscars – for costumes, set design, music and make-up (specifically for the transformation of Tilda Swinton into the withered and wealthy Madame D).
The devil is in the details, and it is surely the details that make The Grand Budapest Hotel such a brilliant and wonderful all-round film. A worthy winner of our top spot as Wes Anderson's greatest accomplishment (for now!), we're looking forward to see what he does next.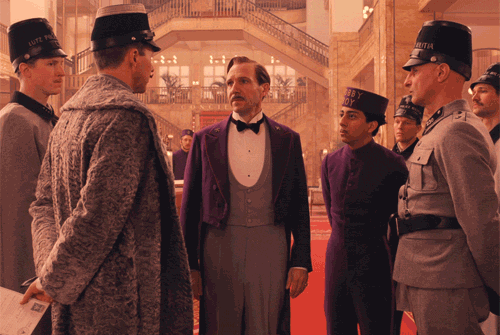 ---

So, what do you think? Do you agree with our top 5 Wes Anderson films? Is there one that you love that didn't make the cut? Let us know in the comments below what you thought, or what you would have included, or join in the discussion about this blog over on our Facebook page!
Don't forget to follow us on Twitter and Facebook. And remember, you can explore so much more at our archive and see the extensive range of film and TV items we have for sale and auction over at propstore.com!