Summer is shaping up to be an exciting one for Propstore customers!  We just completed our Outlander Charity Script auction and Marvel's "The Defenders" auction… both bringing in great fan engagement and yielding strong hammer prices.  Also, we're thrilled to have launched our first Entertainment Memorabilia Live Auction out of Los Angeles that will be taking place August 26th and 27th.  With that catalog now LIVE, there's no better time to check it out!
Take a look now at some of what we have in store for the rest of the summer!
---
The wait is over! Bidding is now open on all 867 lots from over 350 titles in our Live Auction – taking place in Los Angeles.
With iconic production items from Top Gun, Star Wars, Raiders of the Lost Ark, Once Upon a Time in Hollywood and so much more… the reaction from collectors and the press to this auction has been fantastic.
VARIETY
ROLLING STONE
TODAY
TMZ
Register online and start bidding today, or register as a phone or absentee bidder.
Stream the auction live August 26th and 27th, starting at 10AM PDT.

---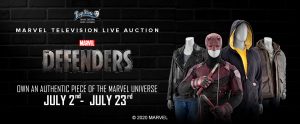 The Marvel Universe is safe once again thanks to all the amazing bidders in our third Marvel Television Live Auction. This sale included over 280 lots from Marvel's The Defenders, Marvel's Daredevil, Marvel's Jessica Jones, Marvel's Luke Cage, and Marvel's Iron Fist, which went under the gavel in a COVID-conscious auction setting. Many thanks to everyone who participated, including 49% new bidders!
– $62,500/£48,520 – Lot # 114 – Matt Murdock's Stunt Second Iteration Red Daredevil Suit
– $43,750/£33,964 – Lot # 172 – Matt Murdock's Stunt First Iteration Daredevil Costume
– $40,675/£31,577 – Lot # 39 – Matt Murdock's Stunt First Iteration Daredevil Costume
– $40,675/£31,577 – Lot # 277 – Matt Murdock's Red Daredevil Suit

---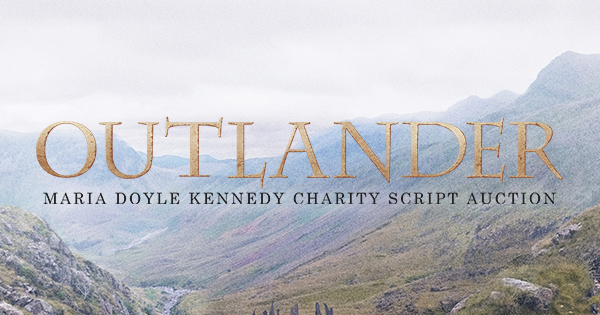 MARIA DOYLE KENNEDY'S OUTLANDER CHARITY SCRIPT AUCTION
Our latest Outlander Autographed Script Charity Auction was not only the strongest Outlander sale to date, but broke a Propstore record for script sales, with our top lot selling for an astounding £24,500 (including Buyer's Premium)! We're thrilled to see the interest in this series remaining strong among fans, especially when it raises money for a good cause. Many thanks to Maria Doyle Kennedy and the entire cast of Outlander for their time and commitment.
Top Lots (including Buyer's Premium)
– £24,500/$31,574 – Lot #2 – Maria Doyle Kennedy's Cast Autographed Script – Episode 509 'Monsters And Heroes'
– £10,750/$13,854 – Lot #4 – Episode 507 'The Ballad Of Roger Mac' Pink Draft
– £3,875/$4994 – Lot #12 – Episode 501 'The Fiery Cross' Goldenrod Draft
– £3,875/$4994 – Lot #14 – Episode 511 'Journeycake'
---
STAFF PICKS
Fandom knows no bounds amongst the Propstore staff. This philosophy resonates throughout the company, including with Propstore LA COO Brandon Alinger.
For this month's Staff Pick, Brandon chose to look at one of his favorite pieces from the Entertainment Memorabilia Live Auction – Los Angeles.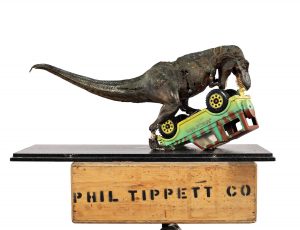 "A top pick for me has to be the T-Rex Stop-Motion Puppet and Jeep Miniature from Jurassic Park. That film represents the shift from practical effects to digital effects, but the decision to do dinosaurs as CG creatures was made late and the initial plan was to do them as stop-motion (or go-motion) puppets. Stop-motion puppets like this one were still used — stop-motion legend Phil Tippet animated many of the film's signature dinosaur scenes with puppets like this for animatics that helped Steven Spielberg plan out the sequences. It's interesting to think about what Jurassic Park would have been like with go-motion dinosaurs — perhaps a bit more like King Kong. The pre-vis footage with these puppets can be seen online and is extremely well done."
This lot and more from Jurassic Park and the Phil Tippet Collection are available for bidding now in the Entertainment Memorabilia Live Auction – Los Angeles.

Follow us on Twitter and Facebook to be the first to know about all current & upcoming Propstore Auctions and more!