|
Auctions
Propstore's Penny Dreadful Auction… Terrible Wonders
The world of Penny Dreadful is full of witches, monsters, immortals, and everything else that goes bump in the night. And whether working for good or evil, these supernatural entities often make use of the various magical tools at their disposal in order to see their will's realized. Take a look now at some of the magical lots in our Penny Dreadful Auction…
Lot's 4, 8, 13 – Lot of V of Cups Tarot Cards
One of Vanessa Ives' most treasured possessions is her tarot card deck. Sensitive to the spiritual world, she often uses the cards to peak behind the veil and see what fates lie in store. This lot consists of five cards featuring the V of Cups, a card Vanessa drew during her reading in episode 106, "What Death Can Join Together." The cards are printed on cardstock and feature light wear from production.
Lot 65 – Evelyn Poole's Red Scarf Fetish Doll
Though a presence in the show's first season, Evelyn Poole's true nature is not explored until the second season, where she channels her magic work into constructing fetish dolls of those she wishes harm. This lot, as well as the other fetish dolls in the auction, was created to populate the walls of Evelyn's Enchantment Room. Made of rigid foam and fabric, this doll is fully painted, with faux blood permanently dripping from the figure's mouth.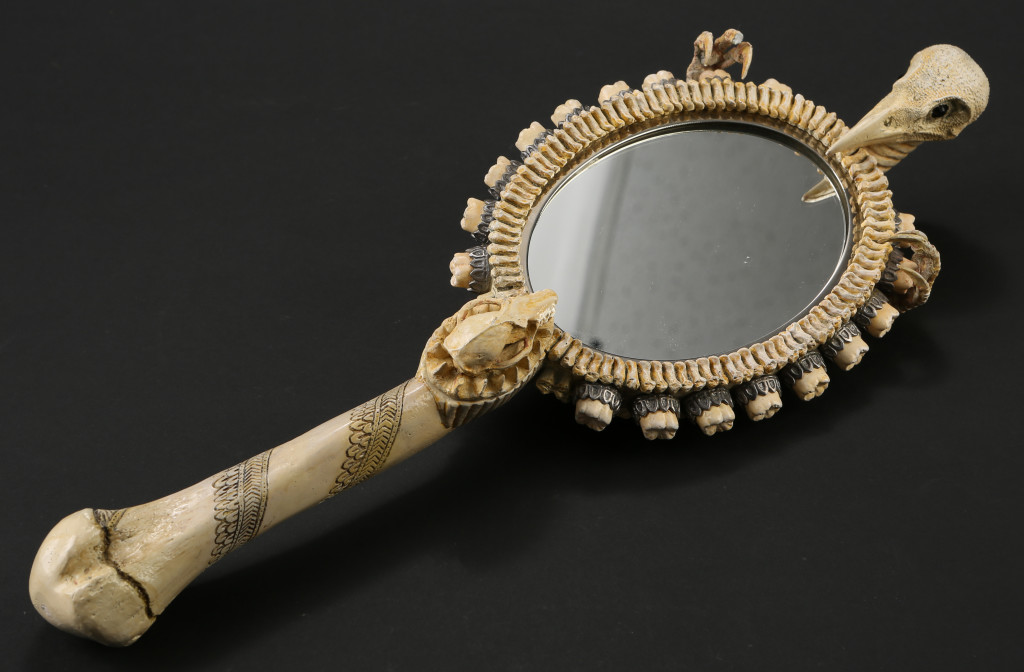 Lot 66 – Evelyn Poole's Skeleton Mirror
As a devoted servant to the Devil, Evelyn has practiced magic on his behalf for roughly 200 years thanks to her charms of longevity. Naturally, she enjoys gazing at her magical handiwork with her appropriately gothic skeleton mirror. Made of resin, the mirror features a posed bird skeleton gripping the glass from behind, as though to present it to the user. The skeletal aesthetic is continued throughout the mirror, including the bone handle and decorative teeth around the sides.
Lot 64 – Skull Relic with Writing
Charged by Sir Malcolm to translate the mysterious Verbis Diablo language, Ferdinand Lyle plunders the only known examples of the language from a museum collection for the group to inspect. Of those relics was a skull with examples of the language scribbled throughout it. The skull is made of cast resin and has been pained to appear real and aged. The writing on the piece is actually examples of Ancient Greek.
Lot 56 – The Cut-Wife's Walking Stick
The Cut-Wife's story is one for the ages. Cast out by her coven to survive without them, the Cut-Wife followed nature's path in isolation for centuries before Vanessa Ives crossed her path in the woods. For all the nightwalker's knowledge of magic though, the walking stick on offer in the auction is actually made of cast resin and painted to appear wooden and worn. The unusual shape of the stick lends to the authentic, natural look, as do the leather wrapping pieces around the handle.
These lots and many more are open for bidding in Propstore's Penny Dread Auction, with lots closing Friday, March 31st, 2017. Thank you for joining us for our Penny Dreadful blog coverage and be sure to check out our other articles in this auction series!
Follow us on Twitter and Facebook to be the first to know about all current & upcoming
Propstore Auctions and more!