|
Auctions
Propstore's Penny Dreadful Auction… Dreadful Weaponry
When battling the forces of darkness, it is always best to come prepared. For this reason, above all, the leading players in the SHOWTIME® Original Series Penny Dreadful always have their weapons of choice at the ready to strike back at the shadows. Here's a closer look at the great weapon lots in our Penny Dreadful Auction…
Lot 81 – Sir Malcolm Murray's Walking Stick and Blade
Whether attacking a vampire nest or walking the dark streets of London, Sir Malcolm Murray knows the classics are usually best. Beneath the decorative lion on top of Sir Malcolm's trusty walking stick is a secret blade, the perfect defense to a surprise attack. The cane and blade are made of cast, light-weight resin and painted to complete the wood and metal appearance.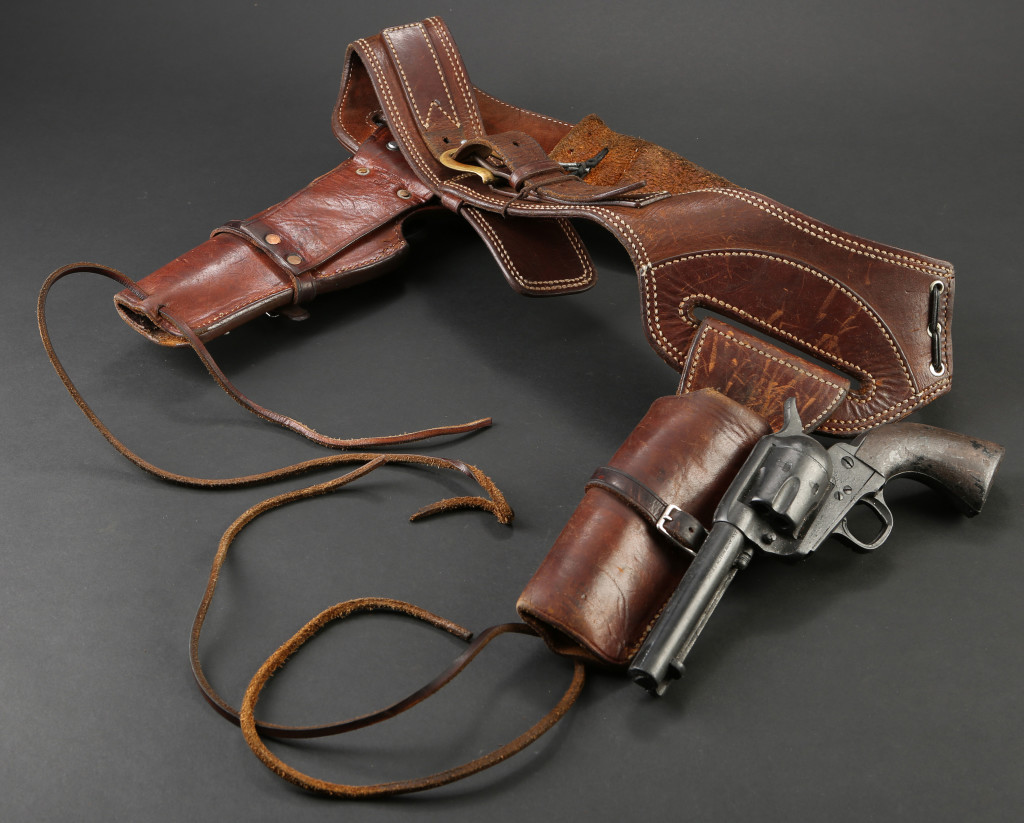 Lot  80 – Ethan Chandler's Stunt Revolvers and Holster Belt
Ethan Chandler came under Sir Malcolm's employ for one reason and one reason only, he's good with a gun. Or guns, rather, as the would-be-cowboy is rarely seen without his twin revolvers throughout the run of the series. The stunt revolvers on the auction block are made of cast rubber and have been finished to appear authentic. Accompanying the guns is Ethan's well-worn, leather belt, complete with ammunition loops and matching leather holsters.
Lot 79 – Catriona Hartdegen's Stunt Knives and Holster Belt
Raised as the son her father never had, Catriona Hartdegen's skills with a blade are practically unmatched. Once recruited by Vanessa, Catriona proves a fierce fighter against Dracula's minions. Catriona's pair of stunt knives are made of cast rubber and are accompanied by matching sheaths. The two blades are worn on a black, leather belt.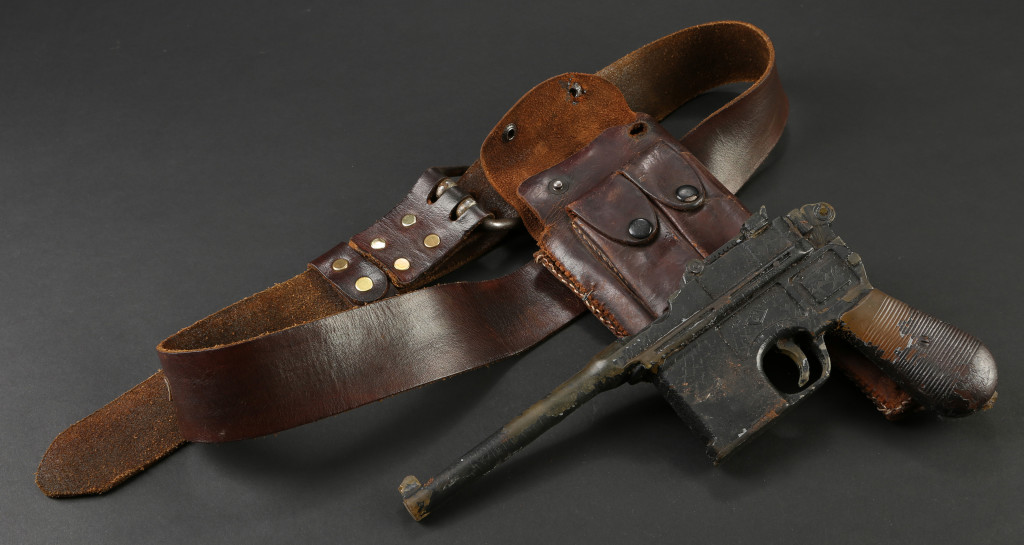 Lot 18 – Sir Malcolm Murray's Stunt Mauser and Holster Belt
When he sees an approaching opportunity to save his daughter from Dracula's thrall, Sir Malcolm Murray decides to strengthen his personal arsenal and purchases a prototype Mauser handgun that will prove useful to him on more than one occasion. This stunt Mauser is made of cast rubber, with a painted handle to mimic wood. The accompanying holster belt perfectly fits the unique weapon.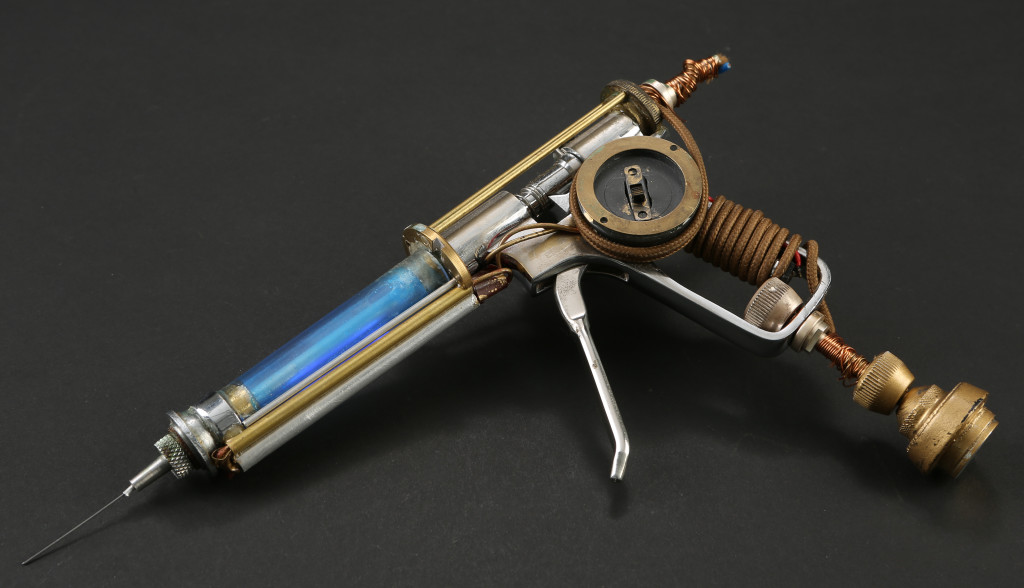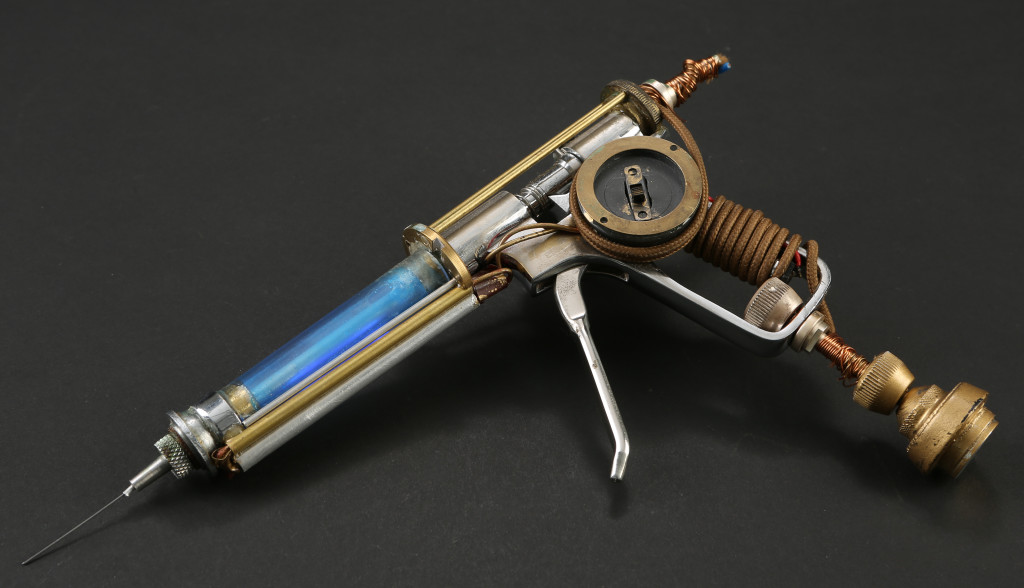 Lot 77- Dr. Jekyll's Prototype Light-Up Serum Gun
Doctors Jekyll and Frankenstein know too well that a mind is a terrible thing to waste. In an effort to curb the growing mania in London's mental patients, the two doctors team up to create a serum to permanently cure manic tendencies, though it is Victor Frankenstein's idea to administer the serum in an electrified state. Dr. Jekyll's serum gun consists of a variety of metals as well as a glass syringe and faux needle. This prototype is fully finished with two LED lights hidden in the syringe tube that can be operated via a small switch on the side of the gun. A foam travel box is included with the lot.
These lots and many more are open for bidding in Propstore's Penny Dread Auction, with lots closing Friday, March 31st, 2017. Thank you for joining us for our Penny Dreadful blog coverage and be sure to check out our other articles in this auction series!
Follow us on Twitter and Facebook to be the first to know about all current & upcoming
Propstore Auctions and more!