|
Auctions
Propstore Live Auction 2017 Presents… Super Heroes and Super Villains
Welcome to the next of our weekly Preview Blogs for the Propstore 2017 Live Auction. Today we will be focusing on 'Super Heroes and Super Villains'…
This year's auction presents us with the opportunity to get up close to some of the most memorable movie heroes, starting with Christopher Reeves' classic blue and red Superman tunic from Superman IV in 1987.  If your preference leans more towards contemporary super heroes, what could be more iconic that Thor's 'Mjolnnir' hammer from the eponymously titled 2011 movie? The final 'heroic' item we will be focussing on in today's preview is something very special indeed – Chris Pratt's stunning 'Star Lord' helmet from the first Guardians of the Galaxy movie in 2014. This striking and instantly identifiable piece has already caused a lot of interest amongst collectors and fans.
 Whilst we love our heroes, some of the most memorable movie characters are definitely the bad guys – our favourite Super Villains. In Tim Burton's 1989 Batman movie, I suspect Jack Nicholson's tour de force as The Joker is the most memorable performance of all. We are delighted to be able to offer for sale Jack Nicholson's Joker costume, in all its fabulous purple, orange and green glory, on a full size Joker mannequin.  We also have the Iron Monger's helmet and torso worn by Obadiah Stone (Jeff Bridges) in the exciting finale of the first Iron Man movie in 2008. However, the final item in our preview today is the costume belonging to Magneto (Sir Ian McKellan) in 2000's epic X-Men movie, comprising not only his signature grey and red tunic with Nehru collar, but also his iconic leather lined fibreglass helmet.
Check out them all out and more, below…
The Joker's (Jack Nicholson) Costume, BATMAN (1989)
The Joker's (Jack Nicholson) costume from Tim Burton's superhero film Batman. This complete costume comprises components from various scenes throughout the film, including Joker's meeting with the mobsters after killing Carl Grissom (Jack Palance), and the Gotham street parade.
Created by Academy Award®-nominated costume designer Bob Ringwood, the Joker's costumes were designed to express the mindset of the character. The Joker's mentality is reflected through colour; his costumes become increasingly vibrant and outrageous as he descends further into madness throughout the film.
The costume consists of a three-piece suit, shirt, gloves, necktie and shoes. The purple double-breasted suit is made of wool, with an orange and green pinstripe pattern and purple buttons running down the front of the waistcoat and jacket. The jacket is fully lined with brown satin, and the trousers feature turn-ups on the hem. The vibrant orange shirt is made of satin material. The necktie is labelled "TM Lewin & Sons" and is made of purple cotton, with a white and blue diamond pattern throughout. The pale purple suede gloves complement the matching suede detail on the pointed, purple leather Oxford shoes, which are marked as size 10.5.
Estimate: £20,000 – 30,000
Peter "Star-Lord" Quill's (Chris Pratt) Hero Helmet, GUARDIANS OF THE GALAXY (2014)

Next up is Peter 'Star-Lord' Quill's (Chris Pratt) hero helmet from James Gunn's space adventure Guardians of the Galaxy. The two-piece light-up helmet is made of cast resin with a variety of different finishes mimicking metals. The helmet has been lightly distressed by production to simulate use. Small segments of metal tubing and mesh are incorporated throughout. The interior of the helmet is padded with foam, leather and vinyl materials, with Velcro straps for comfort, with LED lights on the sides and behind the acrylic lenses connect to a lead wire and 3-pin circular connector, and illuminate the eyes with a red glow.
This helmet was the grand prize in a 2015 sweepstake held by Marvel and Fandango. Documentation on the sweepstake and a letter of provenance from the sweepstake winner are included.
Estimate: £30,000 – 50,000
Magneto's (Ian McKellen) Helmet and Tunic, X-MEN (2000)
Another great costume lot up for auction is Magneto's (Ian McKellen) helmet and tunic from Bryan Singer's superhero film X-Men. Magneto's two-piece helmet is made of fibreglass and is painted with a multi-toned maroon finish. The tunic is a one-piece garment made of grey material with a red lining with velcro segments close the front opening and Nehru collar. Three hidden straps inside the tunic were used to properly secure the garment to the actor.
Estimate: £20,000 – 30,000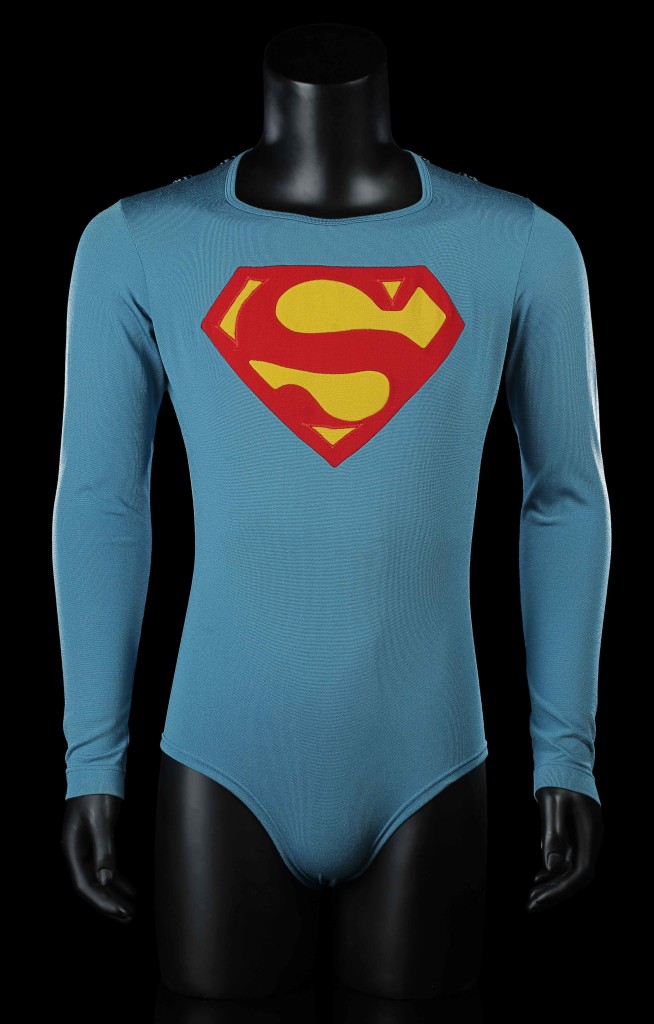 Superman's (Christopher Reeve) Flying Tunic, SUPERMAN IV: THE QUEST FOR PEACE (1987)
Superman's (Christopher Reeve) flying tunic from Sidney J. Furie's Superman IV: The Quest for Peace was created for use in flying sequences. Originally designed by Yvonne Blake for the original Superman films, and made by costumiers Bermans & Nathans, the tunic is made of Polyamide, a specially blended synthetic fabric designed to provide some stretch while limiting visible signs of sweat during use under the heat of production lighting. The fabric for Superman IV was specially made to create a shimmering effect under lighting.
The costume bears the Superman "S" symbol on the chest, with press studs attached at the shoulders for attaching Superman's flowing red cape. A zipper running down the back allows easy access and removal. A Berman & Nathans costumier label at the collar reads "Christopher Reeve; 4913 Flying; Superman IV."
Estimate: £8,000 – 10,000
Thor's (Chris Hemsworth) Mjölnir Hammer, THOR (2011)
One of our favourite lots is Thor's (Chris Hemsworth) Mjölnir hammer from the character's debut movie Thor. Mjölnir's head is made of dense, rigid foam rubber and features intricate Nordic designs and runes. The head is painted to resemble battle-tested steel. The handle is a hero-style component made of solid material wrapped in brown leather, with a repeating faux silver pattern that runs along its length. It could be used interchangeably with heads of different materials and has a small leather wrist loop is attached to the end of the handle. The piece shows light wear, with small cracking and chipping of the finish on the hammer head, but remains in good condition.
This lot was originally sold in the Captain America: The First Avenger Auction in 2012.
Estimate: £20,000 – 30,000
Iron Monger Helmet and Torso, IRON MAN (2008)
This next epic lot is the Iron Monger's helmet and torso from Jon Favreau's superhero film Iron Man. After Tony Stark (Robert Downey Jr.) escaped terrorist capture with a home-made iron suit, Obadiah Stane (Jeff Bridges) commissioned the Iron Monger suit and used it against Iron Man during the film's finale. This suit was used in shots where Stane viewed the armoured suit during its construction.
The torso piece is made of fibreglass shells assembled around a metal structure. Made for use as the stationary model, one wooden and two metal beams run inside the chest body piece from one shoulder to the other, reinforcing the shoulder mounts where the arms would have attached during production. The fibreglass body is fully painted to give the appearance of machined metal, and features the chest "RT" (repulsor transmitter), with a smoked acrylic lens and metal ring, and various ports and accents on the back and sides. The helmet is also made of fibreglass and is painted to match the body piece's metallic hue.
Estimate: £15,000 – 20,000
Don't forget you can bid now at propstore.com/liveauction to ensure that you will be ready to bid in person, by telephone or online on 26th September!  And keep watching this space to be the first to share in all the auction gossip………

Follow us on Twitter and Facebook to be the first to know about all current & upcoming
Propstore Auctions and more!