|
Auctions
Fancy A Journey To The '60s, '70s, '80s and '90s?
Usually you need some sort of time machine – a handy DeLorean, say, or a TARDIS – to take you back in time. But here are some awesome props you can soon bid on that'll at least let your imagination travel back to some amazing movies and TV shows.
Willow (1988)
 Auction price estimate: £1,000-£1,500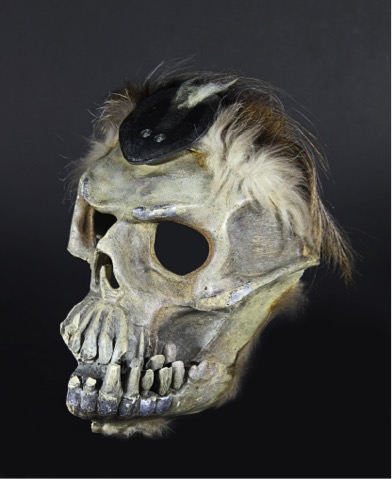 Spin the hands of the clock back to Ron Howard's fantasy classic by shelling out for this well-crafted villain's mask. Just don't use it for trick-or-treating – it deserves to be treated properly.
Superman's (Christopher Reeves) Underwater Tunic
Superman (1978)
 Auction price estimate: £25,000-£30,000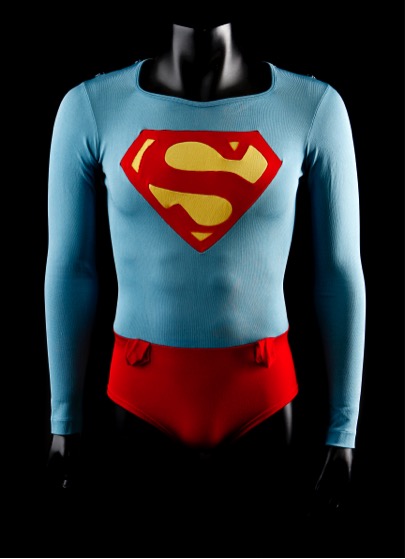 The early years of Christopher Reeves' residence in the Superman suit were a joyful celebration of superheroes, so why not own a piece of history and buy this suit, as used underwater when our hero is drowning at the Kryptonite-aided mercy of Gene Hackman's Lex Luthor.
Anakin Skywalker (Sebastian Shaw) Facial Appliances And Lifecast
Star Wars: Return of the Jedi (1983)
Auction price estimate: £30,000-£40,000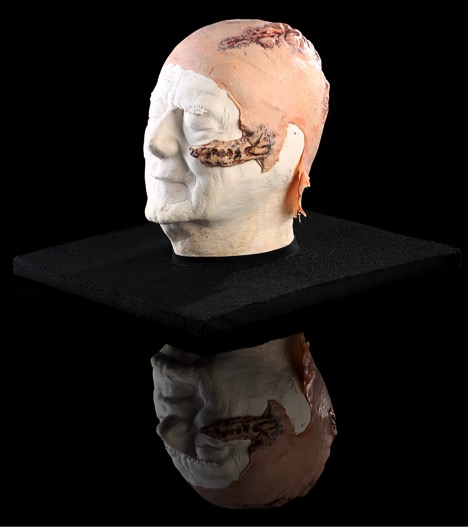 Relive how you felt when Mark Hamill's Luke Skywalker finally saw the true face of his father (played by Sebastian Shaw for this scene) in the explosive conclusion to the original trilogy.
Star Wars: The Empire Strikes Back (1980)
Auction price estimate: £15,000-£20,000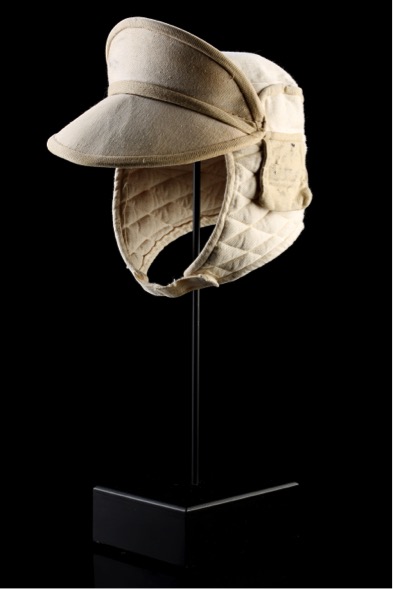 Need something else from that galaxy far, far away (which was also a long time ago, though really just the 1980s)? Try this trooper's hat, as seen in the battle of Hoth.
Star Wars: A New Hope (1977)
 Auction price estimate: £15,000-£20,000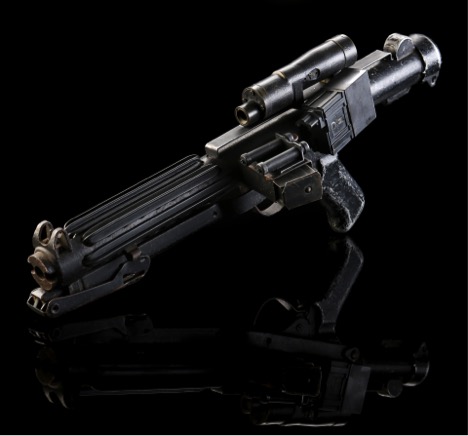 What if your Star Wars loyalties lean more towards the Empire? Why not buy a Stormtrooper's blaster, created by the first film's prop team. It doesn't fire, though – and even if it did, you wouldn't be able to shoot straight, in true Stormtrooper tradition.
Ambassador-Class Starship Model Miniature
Star Trek: The Next Generation (1987-1994) & Star Trek: Deep Space Nine (1993-1999)
 Auction price estimate: £40,000-£60,000

This hails from the 1990s, at a time when Star Trek: The Next Generation was finally stepping out of the shadow of its predecessor. Own one of the most recognisable ship models to come out of the series, also featured in DS9.
Spock's (Leonard Nimoy) Science Officer Costume
Star Trek (1966)
Auction price estimate: £50,000-£70,000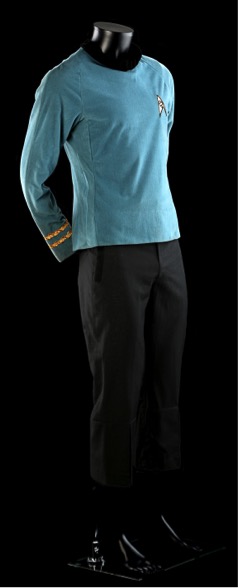 It's right back to the 1960s for this outstanding piece, as worn by Leonard Nimoy himself during the original Star Trek's second season. This is a true piece of sci-fi history.
The Rocketeer's (Bill Campbell) Hero Helmet
The Rocketeer (1991)
Auction price estimate: £14,000-£18,000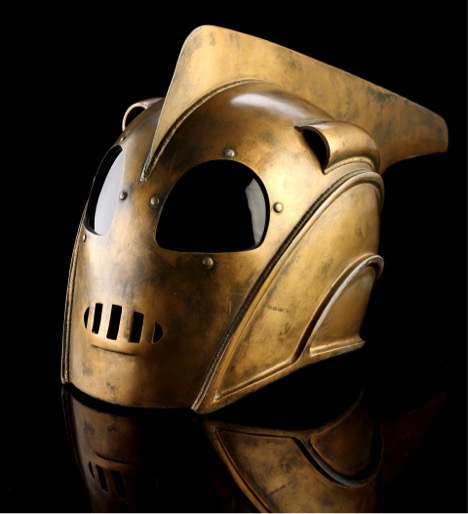 The helmet serves a dual time-travel purpose – back to a 1990s film that paid homage to 1930s and '40s serials. As worn by Bill Campbell in the movie itself.
Legend (1985)
Auction price estimate: £5,000-£7,000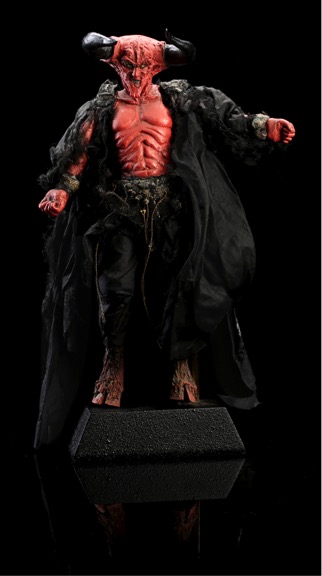 More memorable '80s fantasy on offer here, and a chance to own a tiny version of Tim Curry from Ridley Scott's film – which, let's face it, is something that would brighten up any room.
The Grail Knight's (Robert Eddison) Sword
Indiana Jones And The Last Crusade (1989)
Auction price estimate: £3,000-£5,000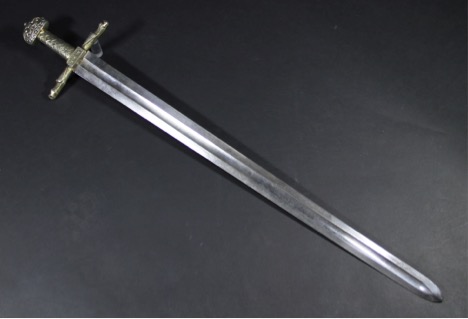 The Indiana Jones films are a source of good movie memories for so many of us, so why not buy a piece of the third one? This was used on set by actor Robert Eddison.
The Fifth Element (1997)
Auction price estimate: £15,000-£20,000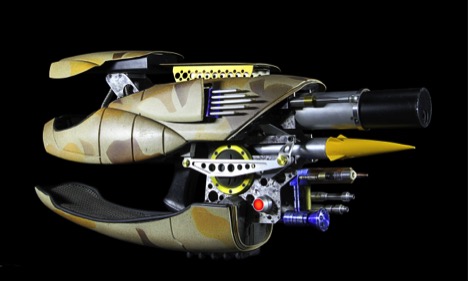 A weird sci-fi gun once held by Gary Oldman's Jean-Baptiste Emanuel Zorg? Yes, please.
Fizzgig Puppet
The Dark Crystal (1992)
Auction price estimate: £8,000-£10,000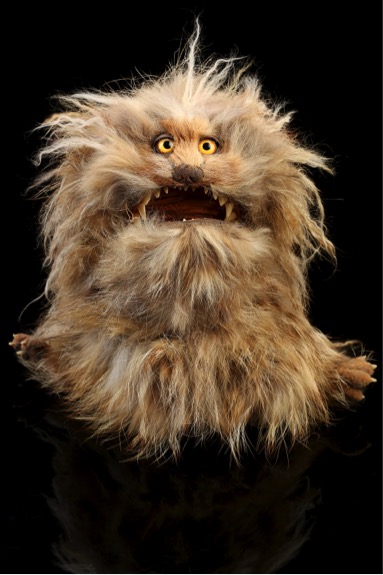 Happy puppet memories come flooding back with this piece, as used by Jim Henson and Frank Oz in the fantasy film. He's a noble sort, and still in good condition.
Rick Deckard's (Harrison Ford) Hero Vid-Phon
Blade Runner (1982)
 Auction price estimate: £20,000-£30,000
The future might not quite be as Ridley Scott's sci-fi noir imagined it, but that doesn't stop this phone prop being a worthy addition to anyone's collection. Harrison Ford used it on set, so it's extremely valuable.
Back To The Future Part II (1989)
 Auction price estimate: £4,000-£6,000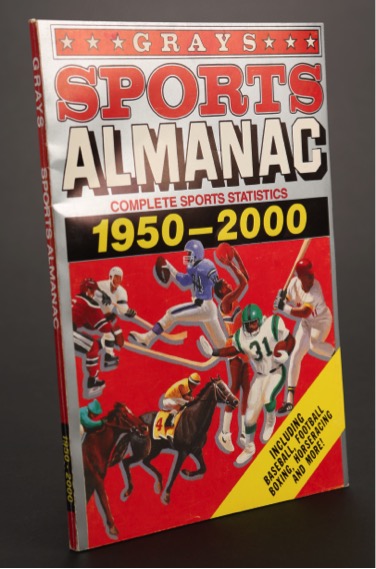 Beware! If you also have access to a time-travelling DeLorean, you could theoretically change the timeline. Please don't go ruining the world with this one, as Biff (Thomas F. Wilson) does in the BTTF sequel.