|
Auctions
Propstore Live Auction 2017 Presents… Horror
Get ready to be scared, as this week's Live Auction Preview Blog looks into some of our most Horror-ful lots coming up for auction…
We're officially halfway through our Live Auction Preview blogs, which means there's only just over 4 weeks to go until the day of the Live Auction! For this week's sneak peek, we thought we'd show you some of our favourite horror film and TV lots from The Shining to Hannibal, you're definitely in for a fright…
Fluffy Costume and Display, CREEPSHOW (1982)
First up in our list of best horror items from our upcoming Live Auction is the terrifying Fluffy's Costume from George A. Romero's horror anthology Creepshow, which was seen in the segment based on Stephen King's short story The Crate, where Fluffy appeared as a carnivorous monster unleashed from an intentionally sealed Arctic expedition crate.
This lot includes the one and only Fluffy costume created for the film along with a custom-made themed display incorporating a stack of crates. Fluffy was designed and built by noted make-up effects artist Tom Savini, and was featured heavily in Savini's first book on Make-up Effects Grande Illusions. The Fluffy costume's bodysuit, which includes integral legs, clawed feet, arms and chest, has been professionally conserved and mounted upon a custom-made body form, and rests in a custom-made three-stacked crate display featuring coloured LED lighting and a sound module that plays sounds from the film.
Estimate: £20,000 – 30,000
 Hannibal Lecter's (Mads Mikkelsen) Straitjacket, HANNIBAL (2013-15)
This next lot is for any Hannibal Lecter's (Mads Mikkelsen) straitjacket, from episode 212 (titled "Tome-wan") of the television drama series Hannibal. Hannibal wore a straitjacket when he was suspended at Mason
Verger's (Michael Pitt) pig farm. The bespoke jacket is made of cream coloured canvas and brown leather. Leather straps and buckles are attached to the ends of the sleeves to restrain the arms, while another strap connects the front and back of the jacket between the legs.
Estimate: £1,000 – 1,500
Mohawk Mogwai, GREMLINS 2: THE NEW BATCH (1990)
He may look cute in his Mogwai form, but don't be fooled by his cheeky grin! This adorable Mohawk Mogwai puppet is from Joe Dante's horror-comedy sequel Gremlins 2: The New Batch, and was created by Academy Award®-winning special effects artist Rick Baker's Cinovation Studios.
The puppet's skin is made of foam latex, while the mechanical body is covered with soft black and white fur, featuring the puppet's signature mohawk hairstyle. The foam latex skin is fully painted and displays a high level of detail, with acrylic eyes, hand-punched hair on the chin, and painted fingernails and toenails. A metal armature runs throughout the body and is connected to a pair of cables controlling the puppet's arms. Puppeteers operated the limbs and hands using the two plastic squeeze-trigger cable controls, although the trigger controlling the right hand is no longer functional.
To any bidders looking to get their hands on this little guy, just remember there are only three rules with this prop – (1) no bright lights, (2) don't get him wet, and (3) never feed him after midnight, no matter how much he begs!
Estimate: £6,000 – 8,000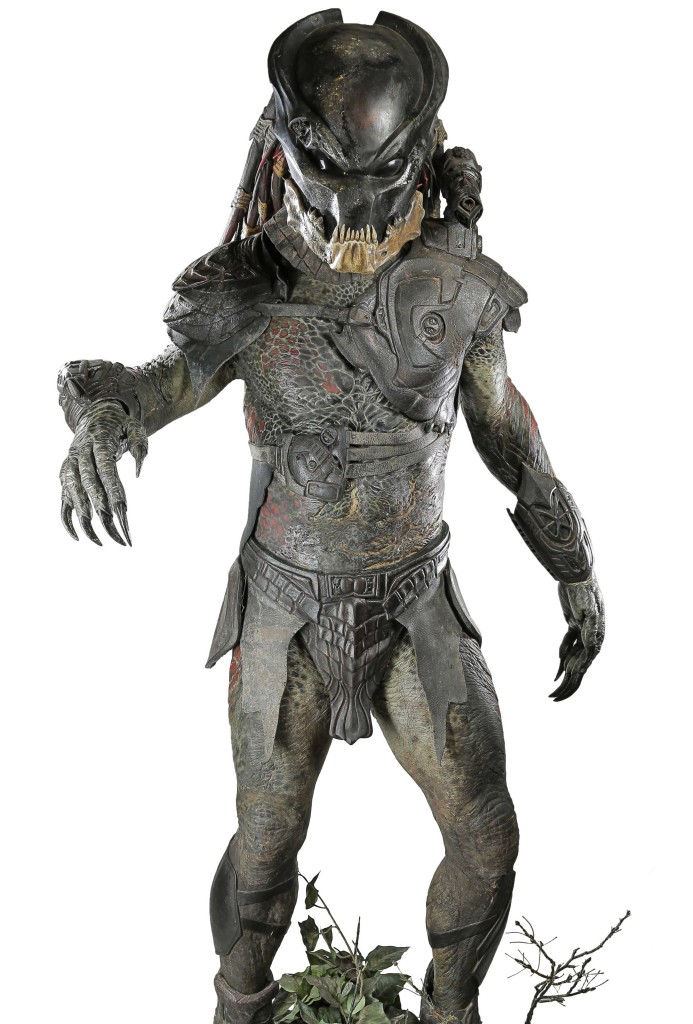 Mr. Black / Berserker (Bryan Steele) Predator Creature Costume , PREDATORS (2010)
Next up in our list is this intimidating Mr. Black / Berserker (Bryan Steele) Predator costume from Nimród Antal's sci-fi action film Predators, in which a group of human warriors were brought to an otherworldly planet, where they were hunted by a vicious alien race known as Predators. Mr. Black, also known as Berserker, led the hunt throughout the film.
The costume consists of a body suit of foam latex painted in a speckled pattern of black, red, white and yellow; matching hands, which are tipped with resin claws, and feet; a foam-latex headdress featuring an array of foam dreadlocks; and a helmet constructed from hard rubber, with an internal fibreglass layer, internal padding, clear lenses, and decorations which resemble metal and bone, secured via Velcro to the scalp. Also decorating the suit are hard rubber chest, thigh and shoulder armour pieces, secured with leather straps and several leather cloths; left and right bracers, each featuring a resin blade; a neoprene and rubber collar; a slip-latex loincloth hiding a zipper; and a resin shoulder cannon, the creature's signature weapon.
Estimate: £10,000 – 15,000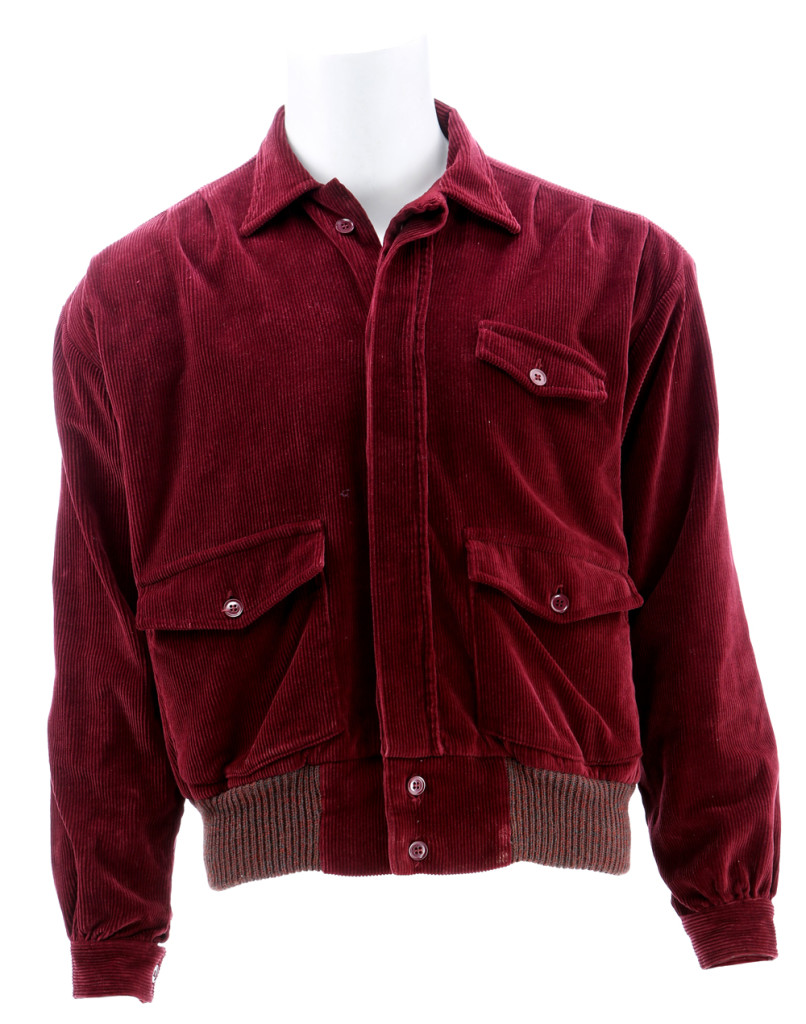 Jack Torrance's (Jack Nicholson) Jacket, THE SHINING (1980)
Here's Johnny! One of our favourite horror lot coming up in the Propstore Live Auction in September is the iconic Jack Torrance's (Jack Nicholson) jacket from Stanley Kubrick's horror film The Shining. Based on Nicholson's own jacket — which was created by designer Margaret Howell — the jacket was ultimately chosen by Academy Award-winning costume designer Milena Canonero after Nicholson insisted it should be worn by his character. Howell was then contacted by the production and several were made for filming. The custom-made blouson jacket is made from burgundy corduroy material with a brown, woollen elasticated waistband.
If you're looking for something truly iconic to bid on this year, then look no further. Just be wary for side effects if you put it on…!
(The two images are part of a larger archive forming Lot 401. The collection will be sold with copyright, and are illustrated here for reference purposes only.)
Estimate: £30,000 – 50,000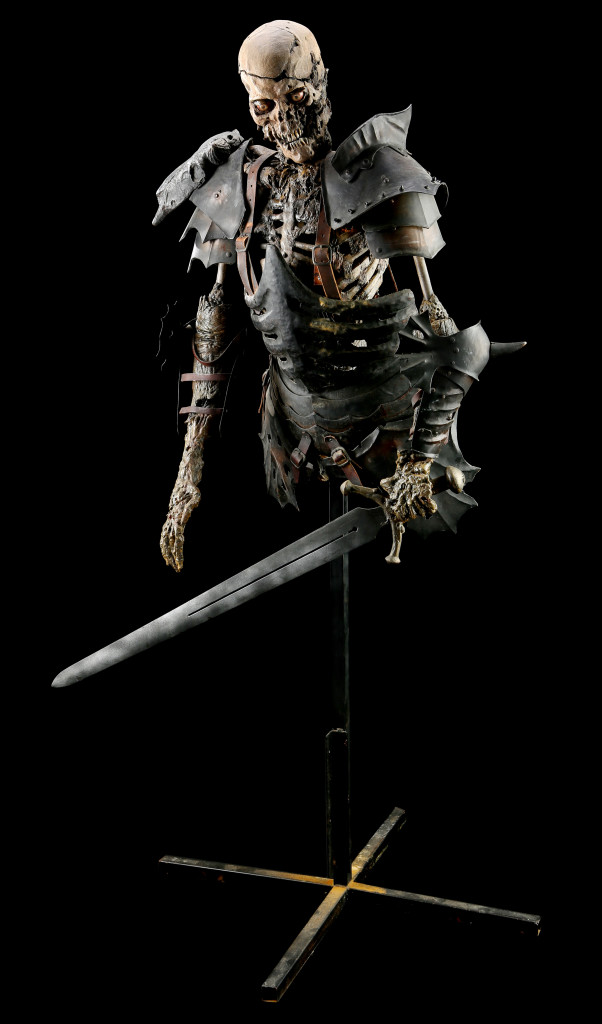 Full-Size Evil Ash (Bruce Campbell) Cable-Controlled Puppet, ARMY OF DARKNESS (1992)
Another great lot coming up in the Propstore Live Auction is the Full-Size Evil Ash (Bruce Campbell) Cable-Controlled Puppet from Sam Raimi's comedy horror sequel Army of Darkness. This puppet is designed to reflect Evil Ash's skeletal state after his skin melted away, and was used for shots in which Evil Ash was seen from the torso up.
The puppet consists of a foam-latex skin with fibreglass bones, over a metallic inner structure. The torso is dressed in various armour components made of vacuum-formed plastic, rigid foam and resin. The armor is attached to the puppet with leather straps. Evil Ash carries a resin sword in his left hand. The head was designed with articulating facial features, allowing controlled movement to the eyes, jaws and neck. Cable controls lead from the interior of the skull and down the spine, where they have been cut and the eyes were operated via radio control.
Estimate: £8,000 – 10,000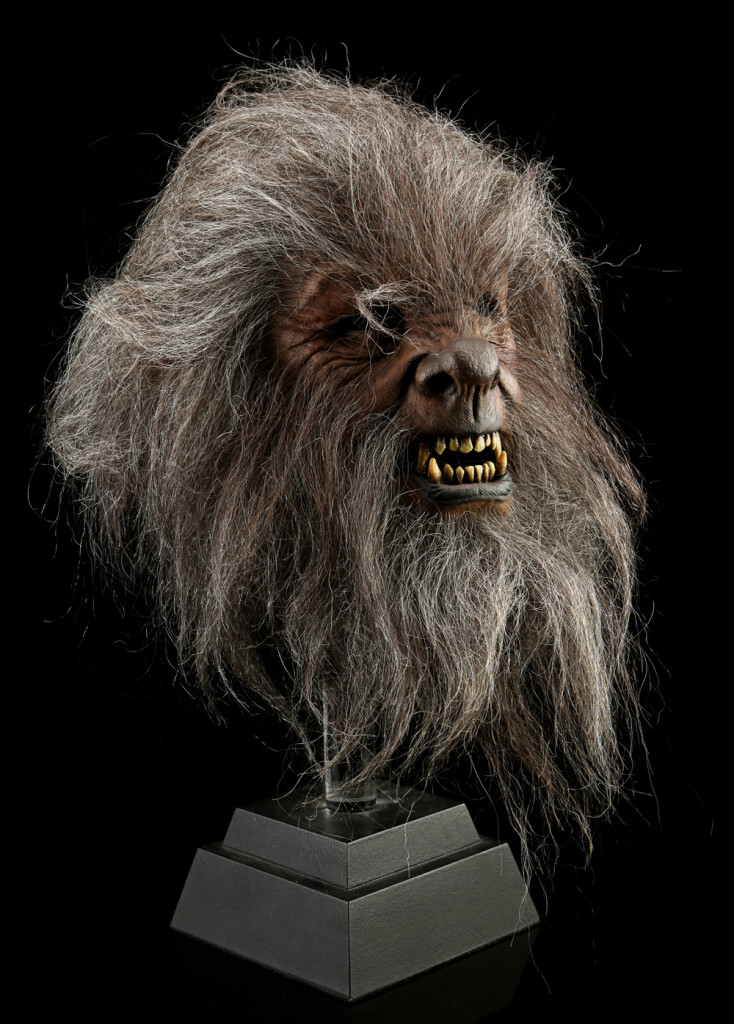 Sir John Talbot Werewolf Mask, THE WOLFMAN (2010)
Last, but not least, is our final item is a Sir John Talbot werewolf mask from Joe Johnston's horror drama The Wolfman. Created by Rick Baker's Cinovation Studios, this piece is made of slip latex and has been painted brown, with hand-punched grey hair throughout, giving the piece a lifelike appearance. The hair on the mask is untrimmed, indicating it was never completed during production, but would make an amazing display for any collector looking to add a really unique piece to their collection!
Estimate: £3,000 – £5,000
Don't forget to register soon at propstore.com/liveauction to ensure that you will be ready to bid in person, by telephone or online on 26th September!  And keep watching this space to be the first to share in future developments………

Follow us on Twitter and Facebook to be the first to know about all current & upcoming
Propstore Auctions and more!