|
Collections
Movie Memorabilia For Your Christmas Wish List
Christmas is rapidly approaching, and naturally our thoughts turn to gifts. If you're the type who loves movie items and are looking for some cool movie items to give as gifts, or even suggest a few that Santa (or a kind friend) could bring for you this festive season, we have a few suggestions from the Propstore's collection.
General Bonesapart's (Deep Roy) Sword Display
Corpse Bride (2005)
£995/$1269
A small prop used in the production of Tim Burton's stop-motion film, this ended up embedded in the chest of the spooky General Bonesapart, voiced by Deep Roy. Designed and finished to look old and rusted, it's a great piece from a fun film.
Gotham Observatory Security Badges
Batman & Robin (1997)
£295/$359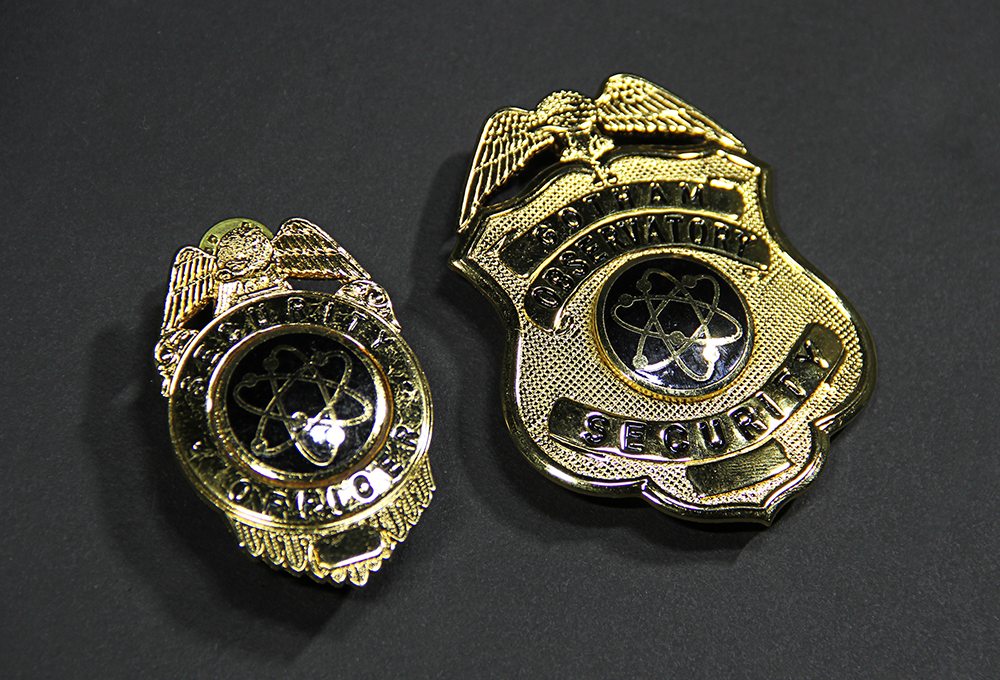 The job of security guard in Gotham City is never an easy one, especially with villains such as Mr. Freeze (Arnold Schwarzenegger) and Poison Ivy (Uma Thurman) looking to break in to where you work and use a telescope for nefarious ends. Despite their tangles with baddies, the badges are in top condition.
Pirate Gold Coin Display
Pirates Of The Caribbean: Curse Of The Black Pearl (2003)
£195/$239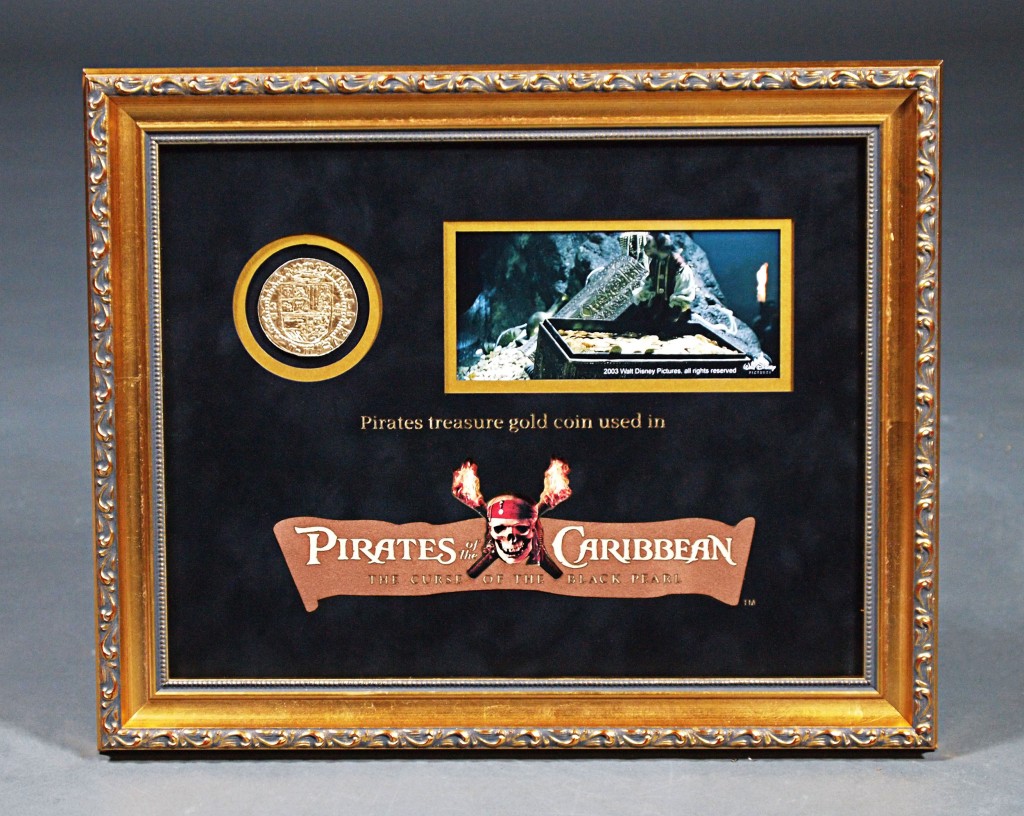 Beautifully displayed in a case that carries the film's logo and a picture of the many gold coins seen in the movie, this is a prop from the first outing for Johnny Depp's Captain Jack Sparrow. With Latin detailing and a gold crest, it's a lovely piece of memorabilia: just keep it out of the hands of any skeletal pirates lurking around.
Engineer Pyramid Ampule – Small
Prometheus (2012)
£995/$1239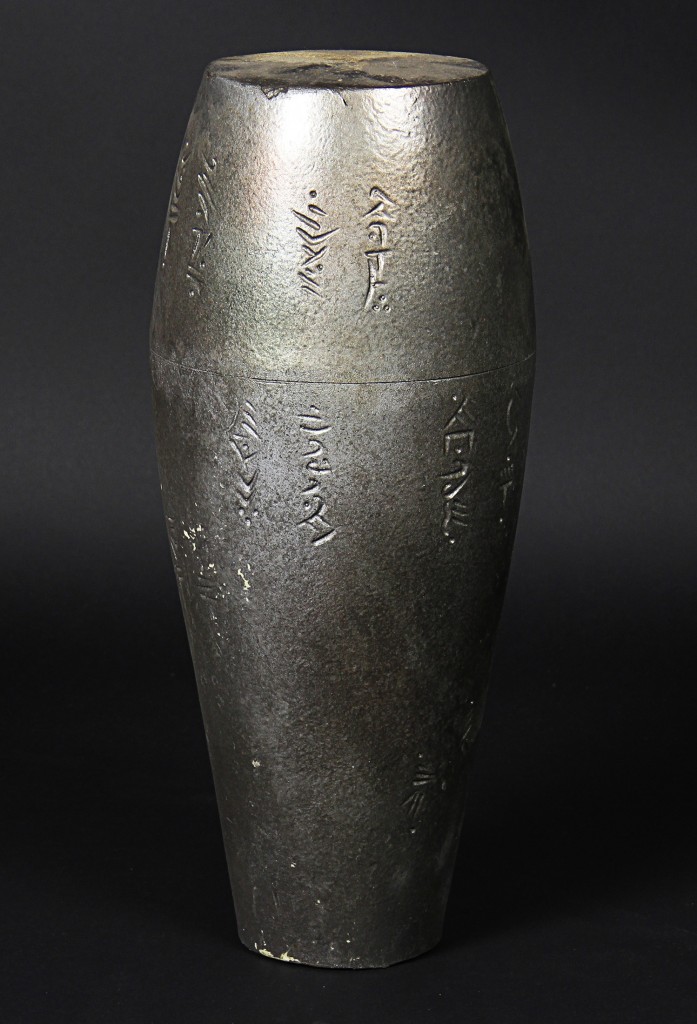 Crafted by 'Raku' pottery specialist Rob Sollis for Ridley Scott's sci-fi, this is one of the urns used by the alien engineers to hold their biological weapons, intended to wipe out entire species. This example of a prop was made from foam with a resin skin and boasts typically wonderful detailing and, most importantly, zero terrifying bio-weaponry.
Triple Storyboard Display – Falcon Escape, Droids, Vader's Hand
Star Wars: Episode IV – A New Hope (1977)/The Empire Strikes Back (1980)/Return Of The Jedi (1983)
£595/$759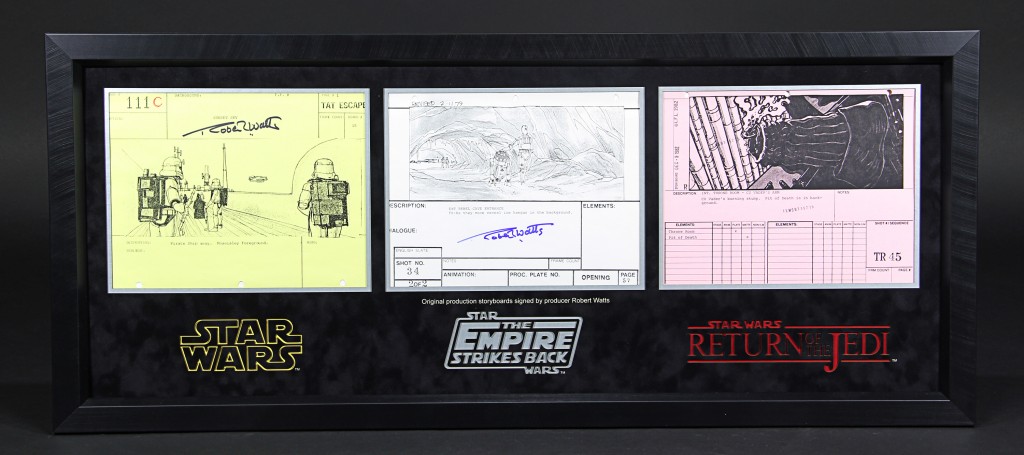 This item includes three fascinating storyboards from the original Star Wars trilogy, which make them a must-own for fans. They all feature sequences from the movies, including the Millennium Falcon escaping Star Destroyers above Tatooine, droids Threepio and Artoo walking through the Rebel base on Hoth and a shot of Darth Vader's hand after it is cut off in the climactic fight with Luke on the Death Star. The first two have been signed by Robert Watts, who was production manager on Star Wars, an associate producer on Empire and co-producer of Return Of The Jedi.
"Scarf" Disguised As A Scientist Original Stop Motion Puppet
The Pirates! In An Adventure With Scientists! (2012)
£2459/$3109
An amazing chance to own some of Aardman Animation's craftsmanship, this is one of the models used when our buccaneering heroes must sneak into the Royal Society to present Polly the dodo as Scientific Discovery Of The Year. It's made with typical Aardman care, and is presented on a display stand.
Barrel Mask Unfinished Casting
The Nightmare Before Christmas (1993)
£379/$595
Tim Burton and Henry Selick's stop-motion classic is surely the perfect place to find a gift for Christmas. This allows a glimpse into the production process of the film and is all the rarer for that, taken from one of the mischievous trick-or-treating henchmen to the evil Oogie Boogie.
Daily Bugle "Who Is Spider-Man?" Newspaper Front Page Display
Spider-Man (2002)
£645/$799
As used on Sam Raimi's first film about the Marvel hero, this style of newspaper was held by J.K. Simmons' J. Jonah Jameson as he reads about the web-slinger. With a great prop like this comes great responsibility, so it has been mounted on a laser-cut board that also includes two stills from the film showing the prop in action and the movie's logo.
What would you want to find in your stocking? Tell us on Facebook and Twitter. And check out everything we have to offer at www.propstore.com.