|
Auctions
Gods Of Egypt Auction… Women Of The Nile
Unlike the armored militarism of many of the male gods, the female deities of Gods of Egypt show their power more subtly, incorporating symbols of their might into the fine dresses, crowns, and other ornamental pieces they wear. Naturally, this makes many of the goddess costumes some of the most visually arresting lots in the auction. 
Lot 17 – Hathor's Bedroom Dress
The Goddess of Love always dressed to impress. Even if only to greet Horus on the morning of his coronation, Hathor enters the would-be-king's bedroom in an ornately sequined dress, complete with an intricate bead design throughout the top and a bronze, fishtailing sequin effect along the skirt.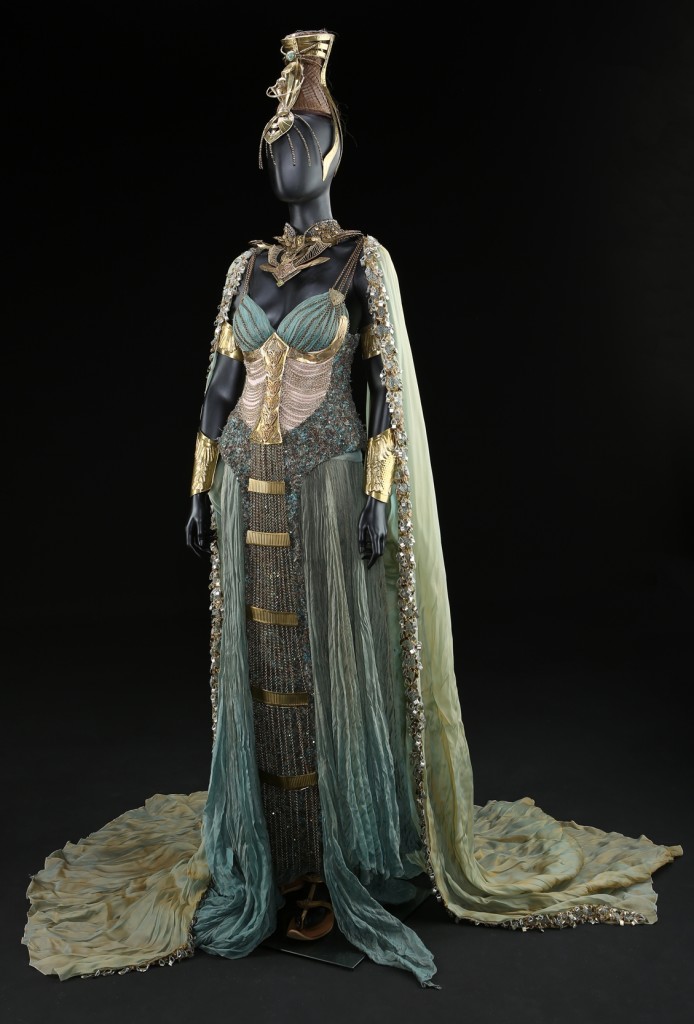 Lot 37 – Nephthys's Coronation Dress
For Horus's coronation ceremony, the Goddess of Protection made a regal entrance in her green and gold gown. Along with a detailed dress is a flowing green cape, meant to represent the wings Nephthys sports in her divine form. Completing the outfit is an intricate headdress and gold accent jewelry throughout.
Lot 132 – Hathor's Invasion Dress
After Egypt fell under Set's rule, Hathor acted as the mad king's ally and lover until she left to help Horus win the throne for himself. Her clothing was noticeably more muted during these scenes, with the bright blues and reds of her previous costumes replaced with earth tones for her invasion dress. Hathor's organza cape is worn under an intricate necklace piece and is tapered at the ends to look frayed. Additional jewelry and a headdress complete the lot.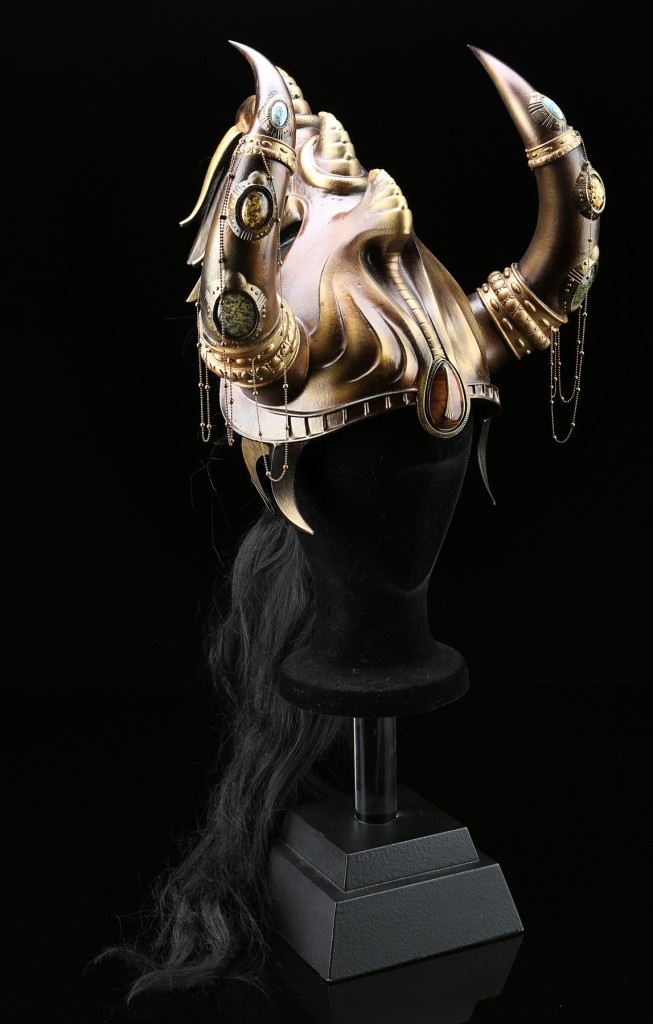 Lot 232 – Astarte's Helmet
To find and stop his nephew from taking back the throne, King Set sent Astarte and Anat after Horus and Bek. Armed to the hilt, atop her giant sand snake, Astarte is made only more threatening by her imposing helmet. The helmet's design is in keeping with design incorporated into other costumes, though the addition of horns to this piece gives it a vaguely Norse-like look as well. A pony tail of jet black hair hangs neatly from the back of the piece. A series of inset stones and delicate chain ornaments complete the helmet's threatening-but-feminine look.
Lot 299 – Zaya's Crowning Ceremony Costume
Zaya attends two coronation ceremonies in the film, while being enslaved, killed, sent to the underworld, and rescued in between the events. So when it came time for Horus to finally take the throne, Zaya attended in style. The white dress features gold polka dots throughout. Custom gold-toned pieces line the top of the dress, with still more beads and designs connecting to a delicate collar and shoulder straps. The matching bracelets and earrings are also included.
These lots and many more will be open for bidding in Propstore's Gods of Egypt Auction starting January 15th, with lots closing Friday, January 26th. Thank you for joining us for our blog coverage and be sure to check out our other articles in this auction series!
Follow us on Twitter and Facebook to be the first to know about all current & upcoming Propstore Auctions and more!