|
Collections
Heroic Helmets From the Propstore Archive
From deep space, to ancient battlefields, where would a self-respecting hero be without a helmet? Hold onto your hats, movie fans, as we take a closer look at some of the heroic helmets from cinematic history, fresh from the Propstore archive. No matter what you're into, these big screen helmets will definitely turn your head…
1. Leonidas' (Gerard Butler) Screen-Matched Helmet
300 (2006)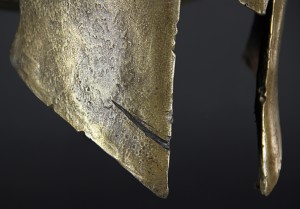 As Gerard Butler (Leonidas) talks to his Spartans at the Hot Gates, this is the helmet he is wearing on screen. Screen matched to the movie, this fibreglass helmet has been carefully distressed specifically for the character of Leonidas.
Sporting cuts, scrapes and a little fake blood, this is the helmet of a true Spartan hero. After heavy use on set, the helmet is a little battered. It has lost its plume trough and has a little wear and tear, but is in overall good condition – the surface damage only adds to the authenticity of this seriously epic piece of movie memorabilia.
2. Joppa Guardsman's Helmet
Clash of the Titans (1981)
Another helmet which harks back to Ancient Greece's epic heroes and battles, this fibreglass helmet, complete with leather chinstrap, was worn by a solider seen patrolling the city of Joppa and the realm of the Queen of Cassiopeia in Desmond Davis' 1981 flick.
With a wide crest, floral detailing, plus raised eyebrow and nose elements, this foam-lined helmet has been used on the sets of later productions, sporting a few scratches from regular on set use.
3. Original Classic Cylon Helmet
Battlestar Galactica (1978)
Have you every wondered what it might be like to be an emotionless Cyborg hell bent on the destruction of the human race? This outstanding original Cylon helmet from the iconic 1978 Battlestar Galactica will help you get into character instantaneously.
Made from vac formed plastic, this classic piece of sci-fi memorabilia was made in two separate segments, joined with silver tape. With a deeply recessed eye slit, wearers are able to almost entirely disguise their eyes, giving the mask a hauntingly inhuman aspect. This slit would originally have included red scrolling lights. Still in remarkable condition, this is a must-have piece of on-screen sci-fi history, originating from a true cult classic.
4. Prototype Stormtrooper Helmet
Star Wars – Ep IV – A New Hope (1977)
Perhaps one of the most iconic helmets from sci-fi movie history, this stormtrooper helmet is a prototype made for the very first George Lucas Star Wars film, Episode IV – A New Hope. Although this particular helmet never appeared on screen, this creation is a direct ancestor of the final, original stormtrooper design.
Key differences include detailing around the ears and ridging at the nape of the helmet. This extraordinary helmet has been in the possession of a financial backer of the Star Wars original trilogy for over 20 years and comes complete with a detailed, authenticated history.
5. Hawkman Helmet
Flash Gordon (1980)
FLASH! Ah-aaah, Saviourof the Universe! If you have a soft spot for the antics of cult golden hot pants wearer Flash Gordon, this eye-popping helmet worn by the Hawkmen will certainly get your attention.
Made from fibreglass and painted in green and gold, this show-stopping piece of headgear appears numerous times in the movie and comes displayed on a laser etched stand, bearing the details of the helmet and its on screen significance.
Which of our cinematic helmets would you most like to wear around the home? Perhaps you have a favourite helmet from the silver screen which isn't included in our collection? Let us know in the comments!