We all have that dream prop that we wish would adorn our walls or sit proudly in a display case. The good news is, we're just days away from our Live Auction and your chance to bid on these truly amazing items…
Nostromo Laser Pistol
Alien (1979)
 Auction price estimate: £3,000-£5,000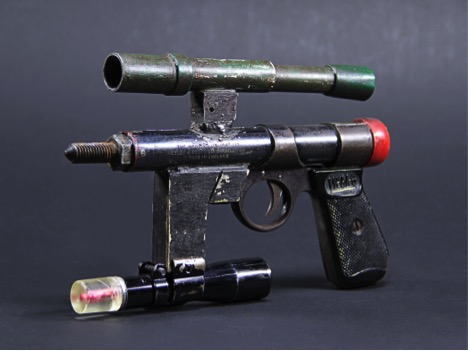 Built for use by the kids who stood in for the actors during exploration of the mysterious, derelict alien ship (to make the scale of the set look that much bigger), this is a fascinating piece that appears in Ridley Scott's sci-fi classic. Just be careful of strange eggs in the area…
Set Of Prop Pierce & Pierce Business Cards
American Psycho (2000)
Auction price estimate: £2,000-£3,000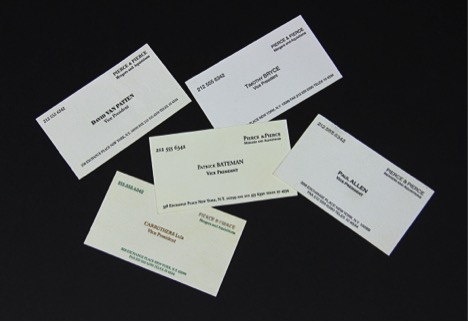 For the businessman who has everything, and might be thinking of making a killing, these were the props used by Christian Bale's Patrick Bateman and his colleagues in the famous business card comparison scene.
Back To The Future (1985)
 Auction price estimate: £3,000-£5,000
Back To The Future is one of those films so good that it defined several childhoods. This prop was handled by Doc Brown (Christopher Lloyd) himself in the Twin Pines Mall parking lot in an early scene. Hopefully no Libyans outbid you.
Batman's (Michael Keaton) Batarang with SFX Video Screen
Batman Returns (1992)
Auction price estimate: £6,000-£8,000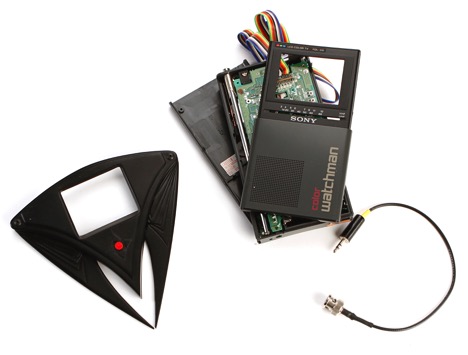 If your dream is to pretend to be the Dark Knight, you'll want this extra-special wonderful toy. It never made it to screen though, which makes it even more rare and interesting.
Rick Deckard's (Harrison Ford) Hero Vid-Phon
Blade Runner (1982)
 Auction price estimate: £20,000-£30,000
For those needing a real talking point (pun entirely intended), this was not only seen in Blade Runner, but also used by Harrison Ford himself. It might not actually make video calls, but add an iPad, a Skype account and you too could be Deckard.
Frank Bullitt's (Steve McQueen) Licence Plate and Behind-The-Scenes Photographs
Bullitt (1968)
Auction price estimate: £10,000-£15,000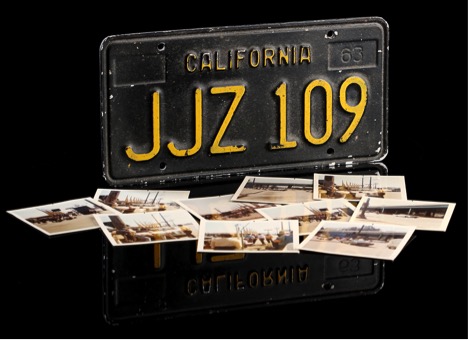 No matter how cool your car is, surely it would be cooler with the addition of this plate, seen in one of the greatest car movies ever made. You may never be as amazing as Steve McQueen, but this gets you that one step closer.
Leeloo's (Milla Jovovich) Multi Pass
The Fifth Element (1997)
 Auction price estimate: £4,000-£6,000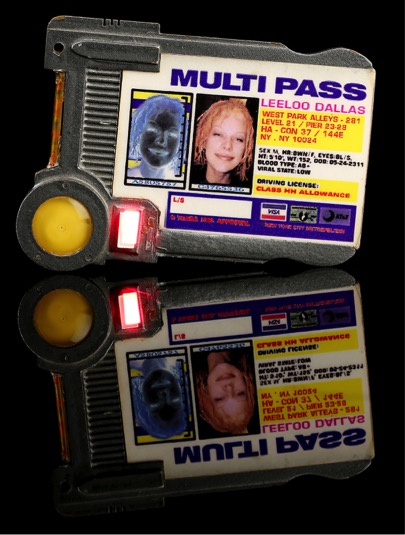 Fans of Luc Besson's stylish and frenetic sci-fi epic can't help but hear Milla Jovovich when they think of this handy ID gadget. It won't get you onto any of today's cruise ships, however.
Fizzgig Puppet
The Dark Crystal (1982)
 £8,000-£10,000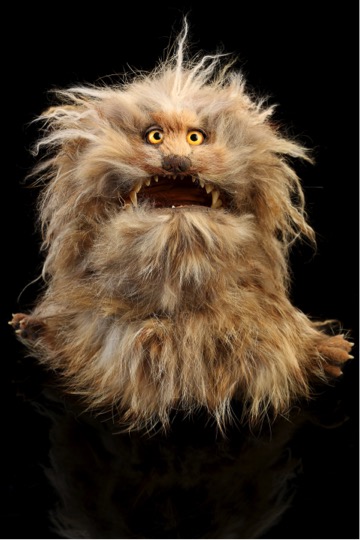 Having trouble with the evil Skeksis? Need a loyal companion for your quest? Then Fizzgig is your man. Or Muppet – he was designed by fantasy illustration genius Brian Froud for Jim Henson's team, so he really is special and still in great shape.
Hogwarts Acceptance Envelope With Wax Seal
Harry Potter And The Philosopher's Stone (2001)
Auction price estimate: £2,000-£3,000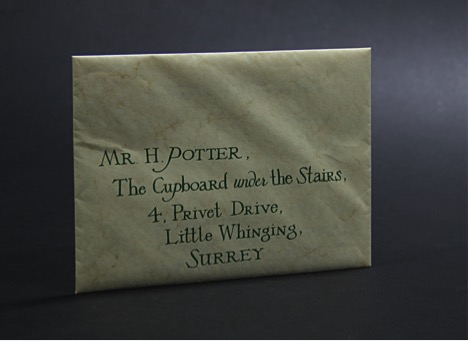 Though many envelopes were used for the scene where Hogwarts' owl post sent Harry his acceptance, this hero piece features an actual Hogwarts red wax seal. Go on, try to figure out which house you'd be sorted into.
The Lord Of The Rings: The Fellowship Of The Ring (2001)
Auction price estimate: £25,000-£30,000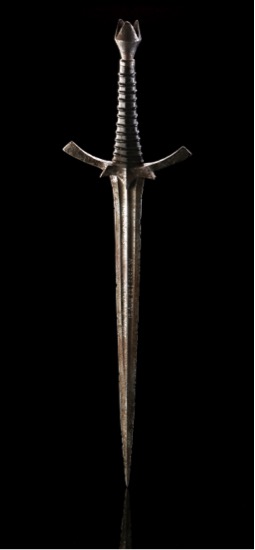 Used by that nasty piece of work the Witch King in the first of Peter Jackson's amazing Lord Of The Rings films, this is one of the few actual props to make it into private hands, and is therefore incredibly desirable.
The Rocketeer's (Bill Campbell) Helmet
The Rocketeer (1991)
 Auction price estimate: £14,000-£18,000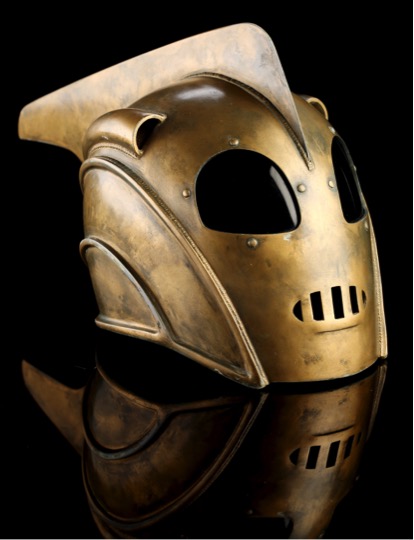 Joe Johnston's throwback to classic adventure serials remains a cult favourite, and this offers you the chance to own the hero's iconic helmet, as worn in the film by leading man Bill Campbell.
Ambassador-Class Starship Model Miniature
Star Trek: The Next Generation (1987-1994) & Star Trek: Deep Space Nine (1993-1999)
Auction price estimate: £40,000-£60,000

This old warhorse of a ship is the Ambassador Class vessel which served as different ships across various TNG and DS9 episodes.
Wolverine's (Hugh Jackman) Claws
X-Men 2 (2003)
 Auction price estimate: £4,000-£6,000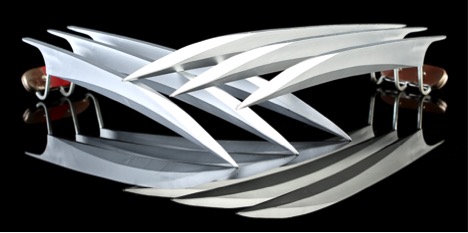 With his cocky attitude and his comic book history, Wolverine has become one of the most beloved heroes on film. Now you can own a pair used by Logan himself in the second X-Men movie.
Superman IV: The Quest For Peace (1987)
 Auction price estimate: £4,000-£6,000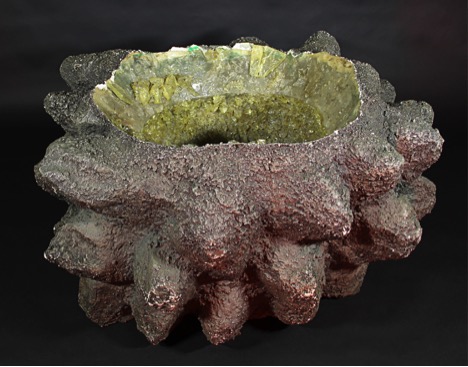 While you can't actually use this to travel to Krypton, how cool would it be to own something used on the set by Christopher Reeve? Kryptonian energy crystal sold separately.
Hero Stormtrooper Blaster
Star Wars: A New Hope (1997)
 Auction price estimate: £15,000-£20,000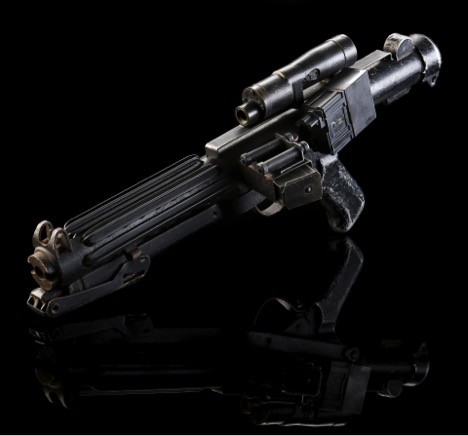 Though "hero" refers to pieces seen up close and used in production, these should really be called "villain" blasters as the Empire's troopers held them in the original film.