|
Auctions
Propstore Live Auction 2016 Presents… Star Trek
Welcome to this week's preview to our Propstore Live Auction on 27th September 2016. will be focusing on one of the most beloved 'space' series – Star Trek…
From its humble beginnings on US television in the 1960s, Star Trek has spawned a veritable industry of film and TV output over the past six decades. After the original Star Trek TV series finished, it was followed up by a number of spin-off Television series, plus a total of 13 movies (to date). The Star Trek brand is alive and well in this, its landmark 50th anniversary year, as demonstrated by the popularity of the latest movie Star Trek Beyond, and the prospect of a new Star Trek TV series in 2017.
The following pages showcase a selection of fantastic Star Trek memorabilia which will be coming up for auction in September, ranging from a couple of vintage pieces from the original 1966 show, to pieces from three of the movies and the Voyager, Enterprise and Deep Space 9 TV series. Hopefully, there will be something to suit every taste!
Captain Janeway's (Kate Mulgrew) Borg Costume, STAR TREK: VOYAGER (TV 1995-2001)
Captain Janeway, played by Kate Mulgrew, wore this Borg assimilation costume in a season 7 episode titled 'Unimatrix Zero' of Star Trek Voyager. It comprises of a leotard, jumpsuit and boots with biomechanical decoration painted in black copper and metallic grey, and includes Kate Mulgrew's name on the tag inside. A particularly distinctive feature of the costume is the concealed battery pack which powers coloured LEDs across the back and front of the costume.
Auction Estimates: £4,000 – £6,000
Spock's (Leonard Nimoy) Whale Tank Outfit and Headband, STAR TREK IV: THE VOYAGE HOME (1986)
The late Leonard Nimoy was one of the most beloved Star Trek actors, with Spock being one of the most iconic characters of the franchise. This costume was worn by Spock in the 1986 movie to perform a 'Vulcan mind meld' with one of the whales at the Cetacean Institute.  It consists of a sleeveless tunic, belt, trunks and linen headband. The wardrobe tag inside states that it was worn by Nimoy, as Spock, in scenes 95-98 of the film.
Auction Estimates: £3,000 – £5,000
Klingon Uniform, Mask and Disruptor, STAR TREK III: THE SEARCH FOR SPOCK (1984)
Even people who are not aficionados of Star Trek will recognise the Klingons, who are amongst the best known villains in contemporary film and TV culture. This bespoke Klingon uniform was originally made for Star Trek III, but was reused in Star Trek VI and modified for use in the Next Generation, Voyager and Deep Space Nine TV series.  The costume includes numerous pieces, including a leather tunic, pleated spandex pants, wrist guards, gloves, belt, gorget, and a leather holster for a Klingon Disruptor (which is also included in the lot). And, of course, the ensemble would not be complete without a slip latex mask with scalp and chin hair attached!
Auction Estimates: £3,000 – £5,000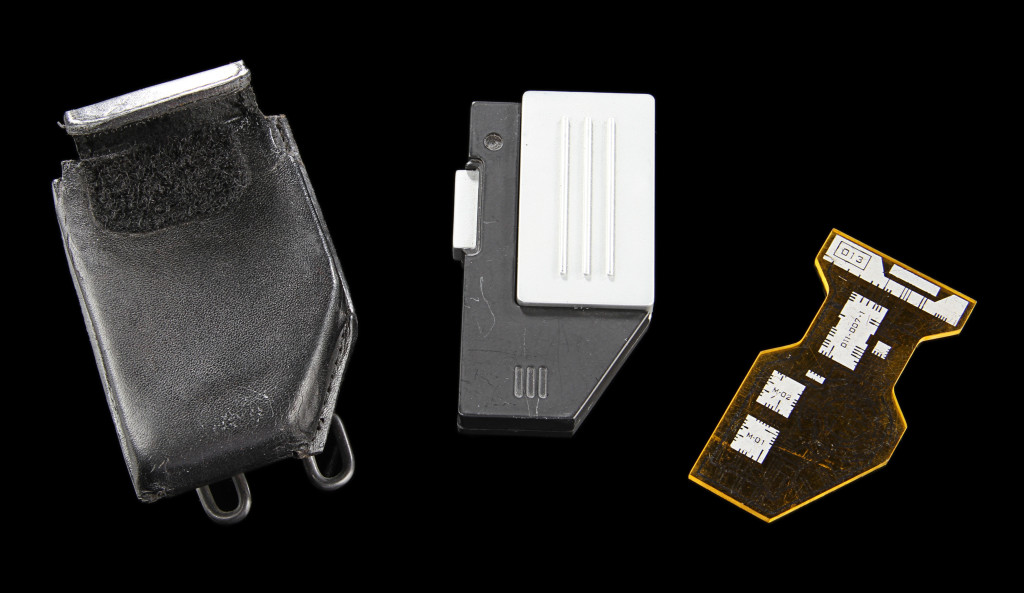 Starfleet Light-Up Communicator, STAR TREK: ENTERPRISE (2001-2005)
The flip-top communicator is an instantly recognisable Star Trek accessory, used by the Enterprise crew throughout the Star Trek: Enterprise series. This silver and black device has blue lights which are activated when the flip-top release is activated. It is presented with a leather communicator pouch and an acrylic isolinear communicator chip and is the perfect compact addition to any Star Trek collection!
Auction Estimates: £2,000 – £2,500
Major Kira's (Nana Visitor) Bajoran Military Uniform, STAR TREK: DEEP SPACE 9 (TV 1993-1999)
Major Kira, played by Nana Visitor, was the Bajoran liaison officer on board Starfleet Deep Space 9. There were a number of versions of her uniform over the years, and this striking one is the third version. It is a long sleeved burgundy jumpsuit with piping and a collar pin, accompanied by matching purple ankle boots, a purple belt labelled 'Kira' and a phaser holster.
Auction Estimates: £1,500 – £2,000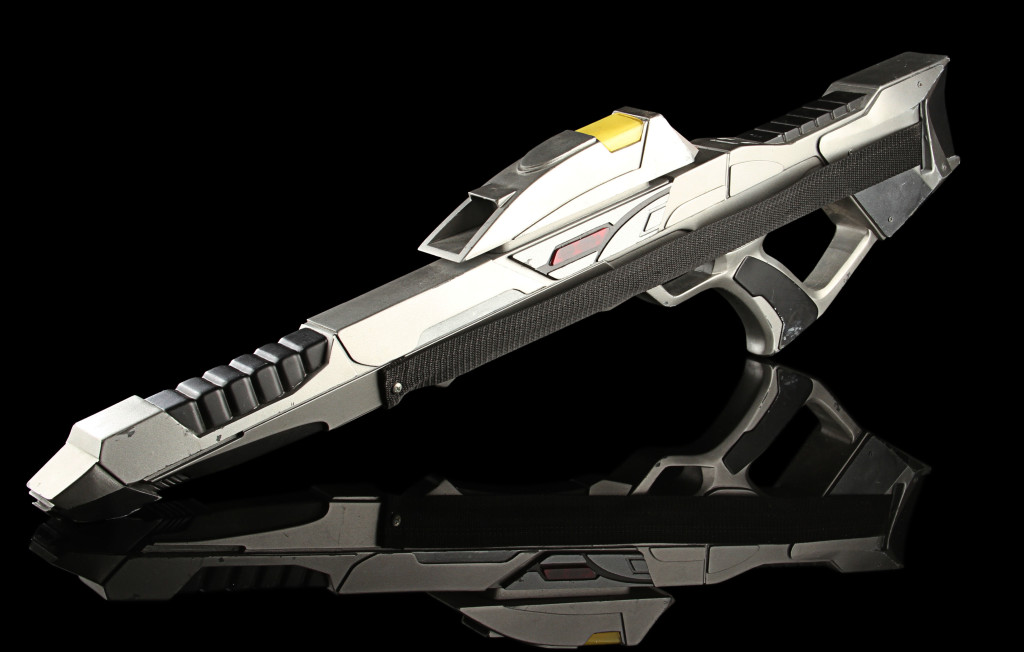 Starfleet Type III Mark II Phase Rifle, STAR TREK: INSURRECTION (1998)
The Phase Rifle was the weapon used in Jonathon Frakes' 1998 film Star Trek: Insurrection, the ninth Star Trek movie. Captain Picard (Patrick Stewart) and the crew used the Type III Mark II during their defence of the Ba'ku evacuation.  This impressive prop weapon is made of resin and is painted metallic grey and black with coloured panels.
Auction Estimates: £1,200 – £1,500
Lt. Tom Paris' Starfleet Uniform, STAR TREK VOYAGER (1995-2001)
Lt. Tom Paris, played by Robert Duncan McNeill, appeared as the USS Voyager's medic in every episode of the Star Trek Voyager TV series. His distinctive uniform consists of a two tone black and burgundy jumpsuit, topped with a grey tunic.  Both items are labelled 'Robert McNeill'.
Auction Estimates: £1,500 – £2,500
Tribble with Lincoln Enterprises Box, STAR TREK (TV 1966)
This vintage lot is a little piece of Star Trek history, dating from the first TV series in 1966. Tribbles were small furry aliens, and this one is made of soft foam and covered in faux-fur.  It comes with an original shipping box from 'Lincoln Enterprises Ltd', the mail-order catalogue company set up by Gene Roddenberry's wife Majel (aka Nurse Christine Chapel) and a partner in 1967 to sell memorabilia and original production material from the series.
Auction Estimates: £4,000 – £6,000
Director Michael O'Herlihy's Script –'Tomorrow is Yesterday', STAR TREK (TV 1966)
This is the final draft script for Episode 19 of the very first Star Trek series, 'Tomorrow is Yesterday', dated 21 November 1966.  The 64-page script is in a red ring binder and includes a three page cast and crew list.  Handwritten notes, annotations and diagrams throughout the script give a unique insight into the process of making Star Trek, and make this a very special memento for any collector.
Auction Estimates: £1,000 – £1,500
All of these amazing Star Trek lots will be available in the upcoming Propstore Entertainment Memorabilia Live Auction, so Register Now to make sure you are kept up to date will all the latest auction information and more! And don't forget to check back at the Propstore Blog every Monday and Friday leading up to the Live Auction to get more exclusive sneak peeks of what's to come in one of Europe's largest and most exciting film and TV memorabilia auctions.
Follow us on Twitter and Facebook to be the first to know about all current & upcoming
Propstore Auctions and more!