By
Prop Store
on August 27th 2015 August 27th 2015
Our upcoming Entertainment Memorabilia Auction will be held at the BFI IMAX, London on 23rd September, and it will be packed with exciting lots from the biggest movies and TV series for collectors. Visit ODEON's BFI IMAX from 9th September to see these incredible props at our free exhibition and don't forget to register to bid in person, via phone or online at www.propstore.com/live auction to be in with a chance of owning one of these classic pieces. Here are a few of our favourites.
Spock (Leonard Nimoy) Science Officer Costume
Star Trek (TV 1966)
Estimate: £50,000 – £70,000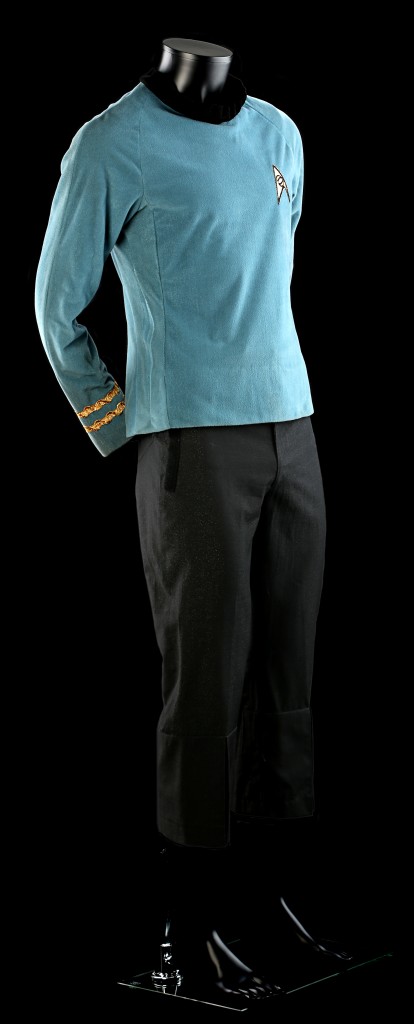 This is your chance to own an actual costume worn by Leonard Nimoy in the original Star Trek's second season. It comes complete with wardrobe tags from the Paramount Archives and includes his blue velour tunic and black trousers.
Original USS Enterprise Bridge Chair
Star Trek (TV 1966)
Estimate: £4,000 – £6,000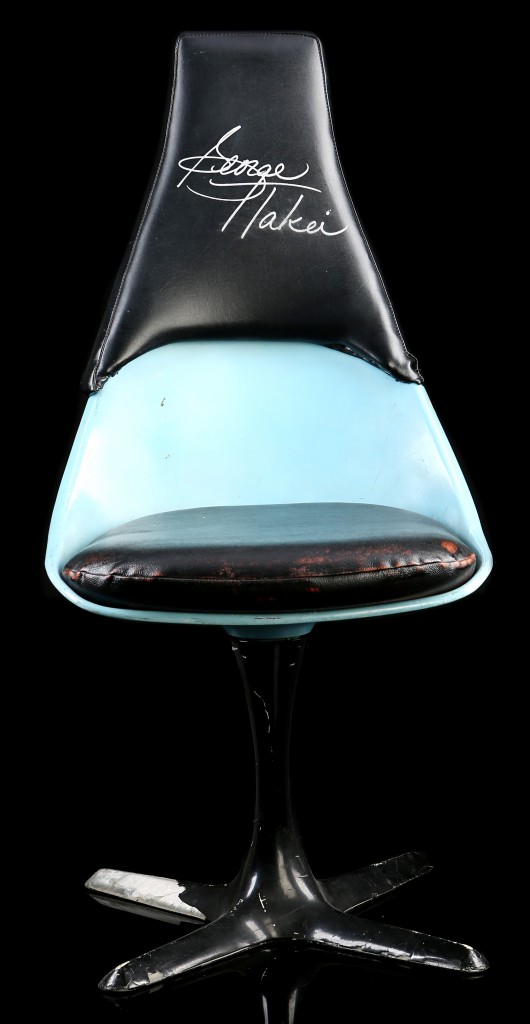 Continuing the Trek theme, we have a classic bespoke chair created by Star Trek's 1960s art department. Adapted from a Burke-style chair, the most exciting element of this one is the signature of George Takei, who played Hikaru Sulu on the show. Oh myyyyy….
The Witch King's Dagger
The Lord of the Rings: The Fellowship Of The Ring (2001)
Estimate: £25,000-£30,000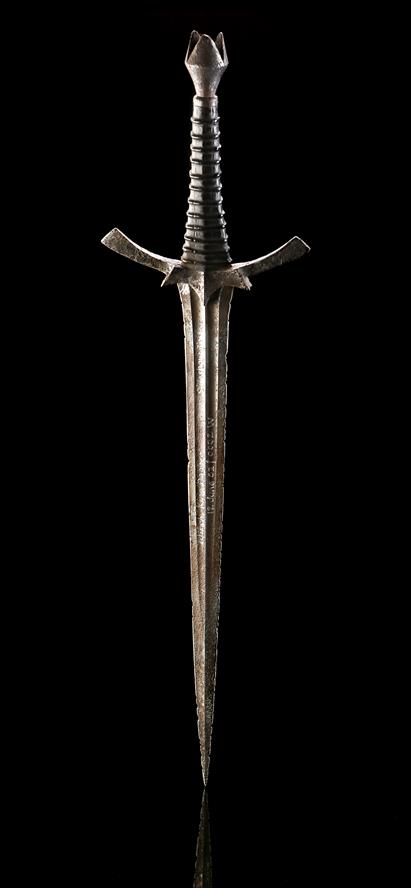 There aren't that many principal character props left from the films outside of Peter Jackson and Weta's archives. And this is one of the most recognizable items, wielded by the chief of the Nazgul during their attack on Elijah Wood's Frodo and co. at Weathertop in the first film.
Wolverine (Hugh Jackman) Claw Set
X-Men 2 (2003)
Estimate: £4,000-£6,000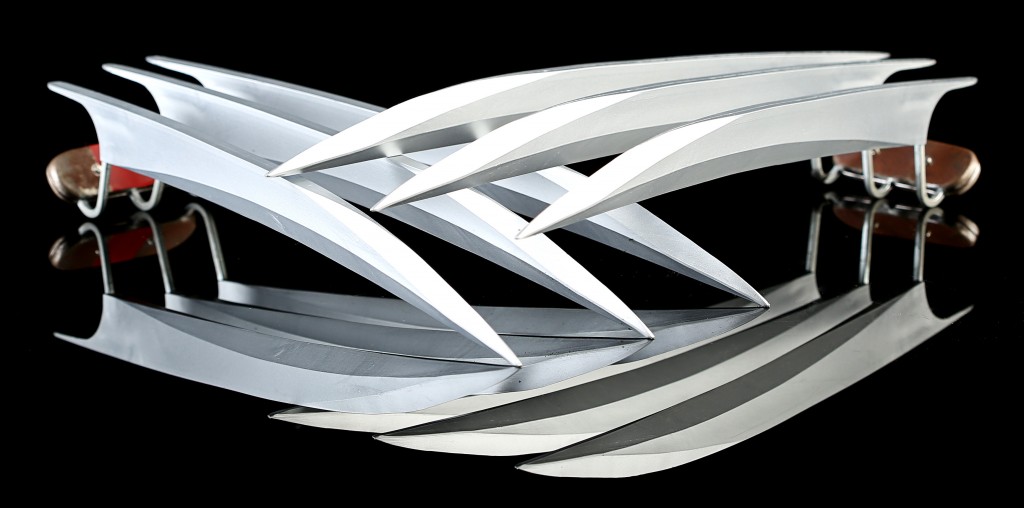 With a new X-Men movie on the way (that would be 2016's Apocalypse), the Marvel mutants are on our minds. So why not bid to own one of the most recognizable items from the movies, as used by Hugh Jackman himself.
Maximus' (Russell Crowe) Gladius And Sheath
Gladiator (2000)
Estimate: £8,000-10,000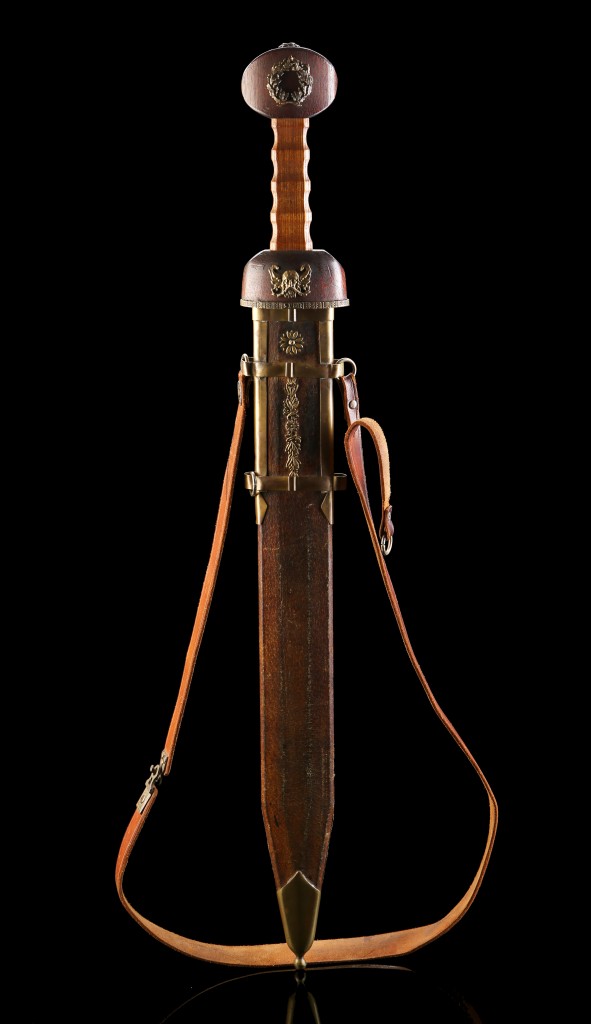 For those that were entertained by Ridley Scott's take on the Roman epic, this is a chance to own one of Maximus' (Russell Crowe) swords. On our command, unleash hell. Actually, don't – just put it on display.
Excited by the auction? Tell us what you'd bid on if money were no object by hitting our Facebook and Twitter pages…