|
Auctions
5 Out of This World Star Trek Props Now Up for Auction
Discover 5 incredible Star Trek lots from our upcoming auction on 23rd Sept 2015 at London's BFI IMAX, including Nimoy's Spock costume. Bid high & prosper.
The upcoming Entertainment Memorabilia Auction (BFI IMAX, London – 23rd September 2015) is packed with exciting lots for true Trekkies. Visit ODEON's BFI IMAX from 9th September to see these incredible props at our free exhibition and don't forget to register to bid in person, via phone or online to be in with a chance of owning one of these classic pieces of Star Trek history. Failing to do so would be highly illogical.
Today we're setting our phasers to stun with a collection of the most exciting Star Trek lots going under the hammer…
1. Spock (Leonard Nimoy) Science Officer Costume
Star Trek (TV 1966)
Estimate: £50,000 – £70,000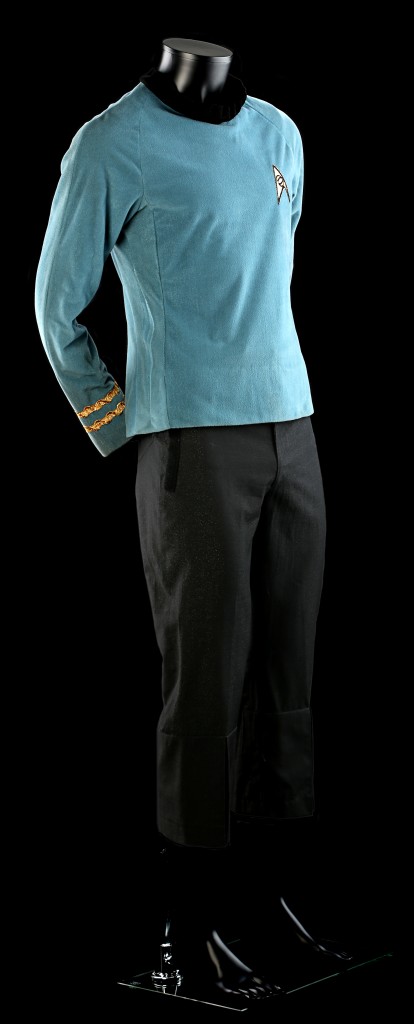 This incredible piece has been carefully screen-matched to the science officer's costume worn by Leonard Nimoy in the role of Spock in The Ultimate Computer and The Omega Glory episodes in the second season of The Original Series. Acquired directly from Paramount Studios in the early 1990s and offered with original Paramount Archives wardrobe tags, the veracity of this garment is confirmed.
Comprised of a blue velour tunic and black trousers, this is a costume designed to boldly go where no man has gone before. Spock's gold rank braids bedeck both sleeves, demonstrating his position as First Officer. Meanwhile the Starfleet's reflective gold science patch has been attached to the left breast of the tunic. Like many of the costumes designed for principal characters during this period, the sides, reverse and right hand pocket of the trousers include Velcro strips, used to attach communicators and phasers to the outfit.
Though in fantastic condition, this costume bears some fascinating marks of use on the set of The Original Series. The loose-weave black fabric collar has lost its hook closures, while the notoriously difficult left side zipper fastening, which regularly caused wardrobe malfunctions among the cast, has been removed and stitched together. Both the tunic and the trousers were tailored specifically to fit Nimoy. The chest of the tunic, for example, shows evidence of side stitching designed to make it smaller. Perhaps most excitingly, the name "Nimoy" has been hand-written on the inside of the trousers' left pocket.
2. Ambassador-Class Starship Model Miniature
Star Trek: The Next Generation (TV 1987- 1994) & Star Trek: Deep Space 9 (TV 1993-1999)
Estimate: £40,000 – £60,000
Made originally for the episode Data's Day as the USS Zhukov, this resin and fibreglass studio scale Ambassador-class starship model was reused in different guises in numerous episodes and seasons of Star Trek: The Next Generation and Star Trek: Deep Space Nine.
In the fifth season episode Redemption II, this model appears as the USS Excalibur. Later, in the Deep Space Nine episode Emissary it graces our screens again as the USS Yamaguchi.
Finished in blue and grey, and decorated with of styrene rib detailing across the hull and nacelles, this chameleon-like model is a fantastic piece of Star Trek memorabilia. Gold and blue detailing on the nacelles and deflector dish enhance this awesome piece, while white appliqué panels show evidence of its Yamaguchi transformation.
This is a collectible rich in details and Star Trek history. Red and black Starfleet decals bedeck the exterior, while the registration number from its second incarnation as USS Excalibur can be seen on the underside of the saucer dish, with the name "Excalibur" underneath the shuttle bay. The USS Yamaguchi has made its mark too. The name "Yamaguchi" along with the registration NCC-26510 can be seen on the top of the saucer.
The icing on the cake comes in the form of numerous lights fitted across the saucer, hull and nacelles. Further lights light up the body of the starship, creating the effect of illuminated windows.
3. Chakotay's (Robert Beltran) EVA Suit
Star Trek: Voyager (TV 1995-2001)/ Star Trek: First Contact (1996)
Estimate: £8,000 – £10,000

The very first EVA suits appeared in Star Trek: First Contact. Later versions were modified for Star Trek: Deep Space Nine and Star Trek: Voyager. This fine example appeared in Voyager season four episode 24: Demon worn by Robert Beltran in the role of Chakotay.
This garment is the work of Saturn award-winning costume designer Deborah Everton and comprises a silvery white jacket with matching trousers supported by connected braces, completed with boots, gloves, a helmet and a red nylon and plastic vest which includes a fibreglass neck ring.
This is a costume designed for performance. Rubber strapping has been used to secure the vest and gloves, with Velcro and zip fasteners on the boots. Meanwhile, holes in the trousers have been included for use with a suspension harness. To complete the creation, lights run throughout the suit with still functional light-up components on the arms, legs, chest and helmet that can be operated via UK mains.
Like Nimoy's costume, this garment bears the exciting marks of use during production. The waist of the trousers are inscribed "John", while the boots and gloves marked "Gelbert Coloma," "Al Goto" and "Josh Clark." respectively. Elsewhere on the costume more hand-written markings can be seen. The vest is marked "3 Chakotay" at the neck and "Batt Cover" on the back, while the jacket contains a Star Trek: Voyager costume label marked "Robert Beltran."
4. Original USS Enterprise Bridge Chair
Star Trek (TV 1966)
Estimate: £4,000 – £6,000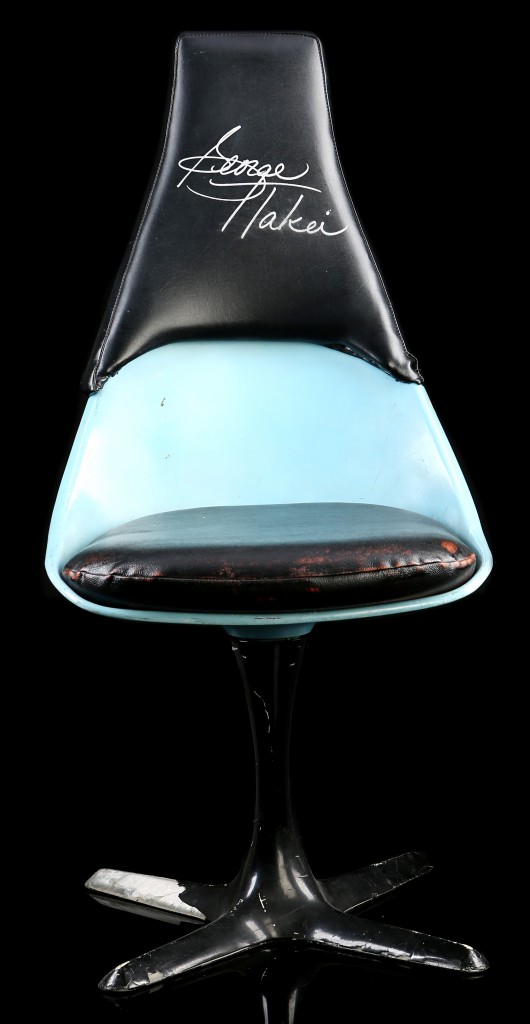 A true original, harking back to the 1960s sci-fi drama that launched a deep space dynasty. If you love the early days of Star Trek, this classic bespoke chair, made from an upcycled, fibreglass Burke-style chair by Star Trek's 1960s art department, is a must have. The original chair has been modified on top to allow the black padded top to be added, along with a black padded seat cushion.
The original USS Enterprise bridge chair is mounted on a metal beam with an X-shaped swivel base. Signed in silver on the backrest by actor George Takei, who played Hikaru Sulu, this is a real treasure for Original Series lovers.
5. Jonathan Archer's (Scott Bakula) Porthos Puppet
Star Trek: Enterprise (TV 2001 – 2005)
Estimate: £2,500 – £3,500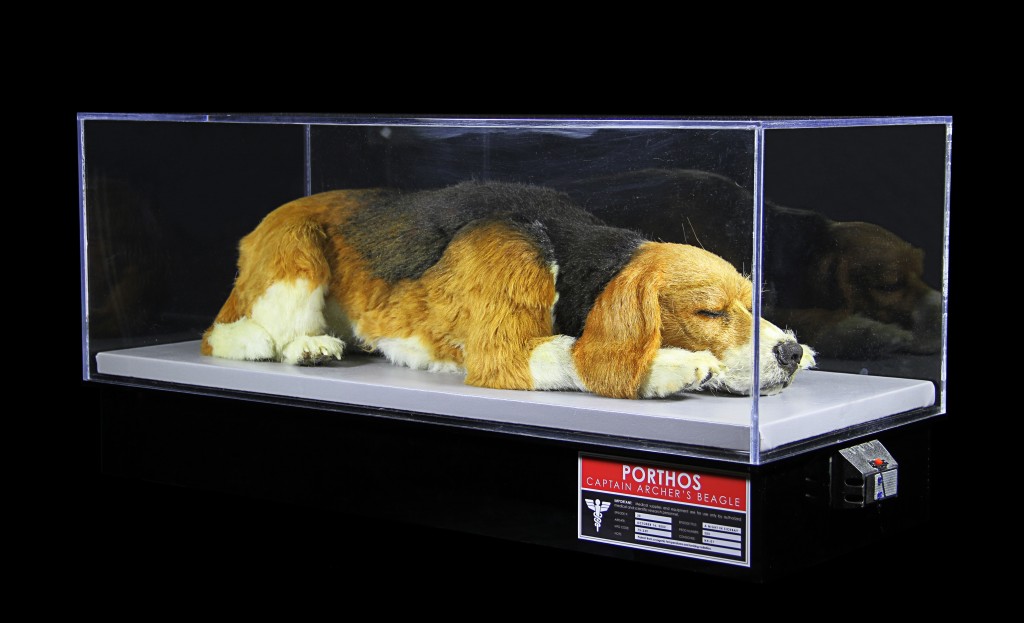 Presented in a bespoke "quarantine tank" display, Jonathan Archer's (Scott Bakula) pet dog Porthos from Star Trek: Enterprise is now up for auction. The puppet was created to make special effects possible in the second season episode A Night in Sickbay in which Porthos contracts an alien virus and must fight for his canine life with Archer by his side.
Made from rubber and hand-punched fur, the Porthos puppet includes detailed whiskers, claws and even a bellows inside used to mimic the appearance of breathing. Operated by power cables hooked up to the mains, this bellows system is still in working order.
Excited by these lots? Come see them in person at our free BFI IMAX exhibition in London from 9th September. If you'd like to own one of these out-of-this-world collectibles, don't forget to register for the auction before 23rd September.

Which Star Trek lot would you most like to own? Share your favourite with other Trekkies and collectors via Facebook or Twitter.