|
Auctions
Toy Story: Propstore Launches Its First Vintage Collectibles Auction…
Propstore's current Vintage Toys And Collectibles Live Auction represents another ground-breaking first for the company. In bringing together 750 original production toys, international collectibles, posters, cast & crew items into one auction, it is the first time Propstore has moved into the toy collecting space with a carefully curated selection from some of the world's most beloved movies: Indiana Jones, Star Trek, The Lord of the Rings, Jurassic Park, Marvel, Teenage Mutant Ninja Turtles, Rambo and of course Star Wars.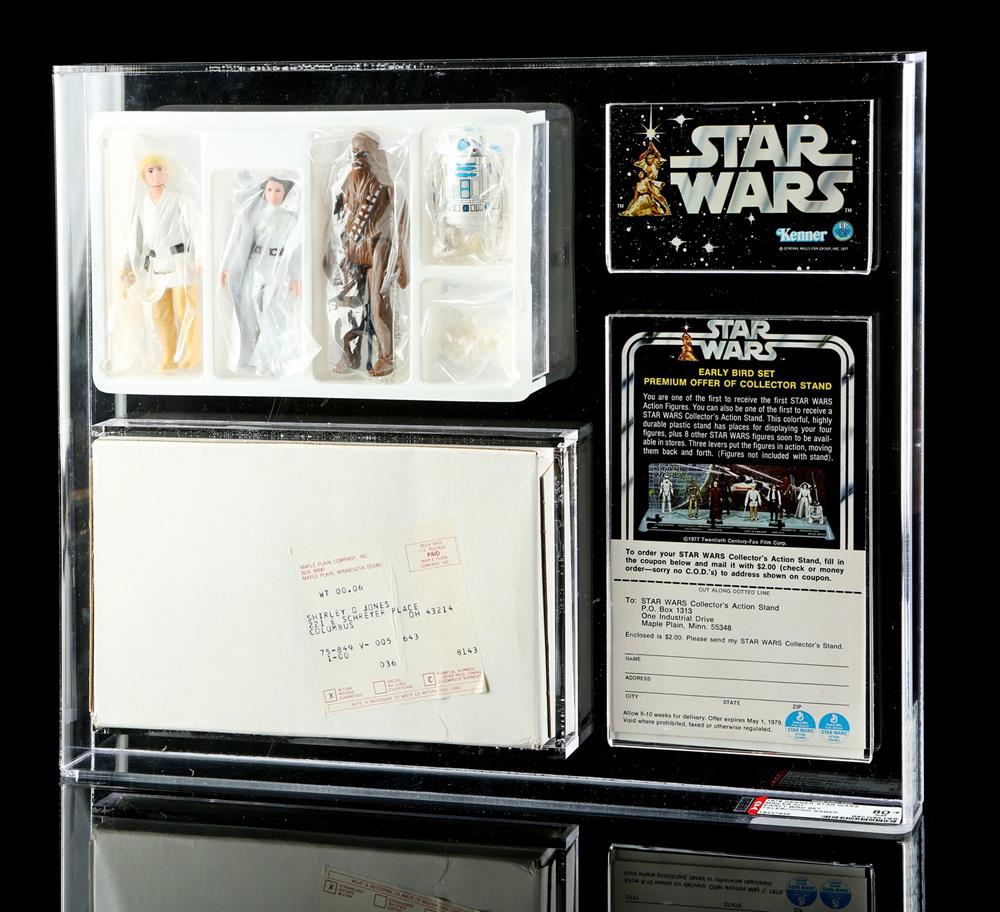 The auction features over 400 lots of Star Wars collectibles, many available for the first time. Featuring items consigned by former VP of Production for Lucasfilm and Return of the Jedi producer Howard Kazanjian, the auction is not only a Star Wars fan's dream but also provides a perfect overview as to how George Lucas' film defined and reinvented the world of movie merchandising.
When Star Wars opened on May 25 1977, the licensing department were unprepared for the demand, meaning many Force frenzied kids were to be left without SW presents on Christmas day. This forced toy company Kenner to create the infamous Star Wars "early bird" kit consisting of a cardboard display stand with detachable cards, a sheet of stickers and the "early bird" certificate. This last item could be redeemed for 4 action figures (Luke Skywalker, Princess Leia, Chewbacca, R2-D2) as soon as they became available the following spring.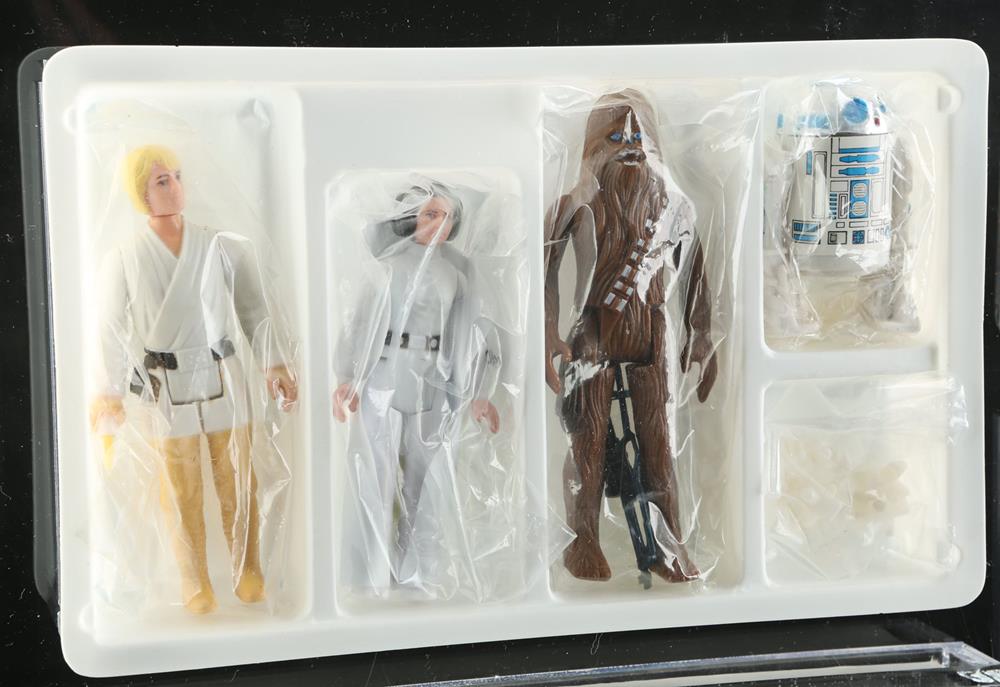 This rare set in the auction was received by an eager fan who ordered the "early bird" kit but never opened it. The "early bird" kit is partly prized by fans and collectors for the inclusion of a Luke Skywalker action figure that had a hard plastic lightsaber embedded in his arm which telescoped twice —this was dropped from the production run version of the toy as it was too expensive to produce, replaced by a lightsaber that only extended once. Among the first pieces of Star Wars merchandise, the "early bird" kit remains the cornerstone in any collection.
While the success of Star Wars merchandise ensured the movie merchandising industry was never caught unaware again, it also had a huge impact on the toy industry in general. Previously dolls such as The Six Million Dollar Man and Hasbro's G.I. Joe figures were 12" tall. But if a Han Solo figure was that tall, it would mean any Millennium Falcon would have to be around five feet in diameter and also incredibly expensive. It was Kenner president Bernie Loomis and designer David Okada who decided 3 ¾ inches was the perfect height — the size to be able to fit in a child's pocket. One upside to this: at this size, the toys could have a price point that meant kids could afford to collect the set rather than the odd figure.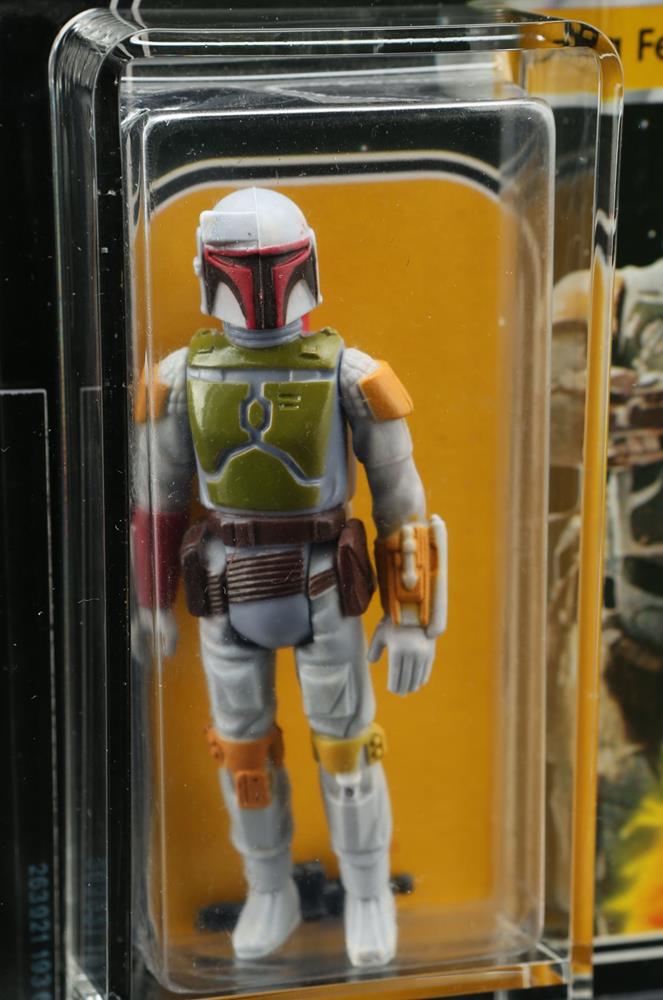 Some rare Star Wars action figures are on offer in the auction; a graded French Boba Fett action figure, a long unavailable Yak Face figure and, the holy grail of Star Wars Collectors, the limited edition 1978 first release Jaw action figure with a vinyl cape (subsequent runs of the little scavenger character were fitted with more expensive sewn cloth robes).
The auction also includes other Star Wars rarities. From Howard Kazanjian's private collection comes the ultra scarce Canadian Chewbacca Hand Puppet, made exclusively for the Canadian market. Note that this is the red tongued variation of the Woke.
Outside of that Galaxy Far Far Away, toys and collectibles from cinema's biggest franchises are up for sale: The Indiana Jones selection features a highly prized original opaque green wax sculpting of Thuggee high priest Mole Ram. This one-of-a kind, hand-made piece is the basis for every production figure in existence.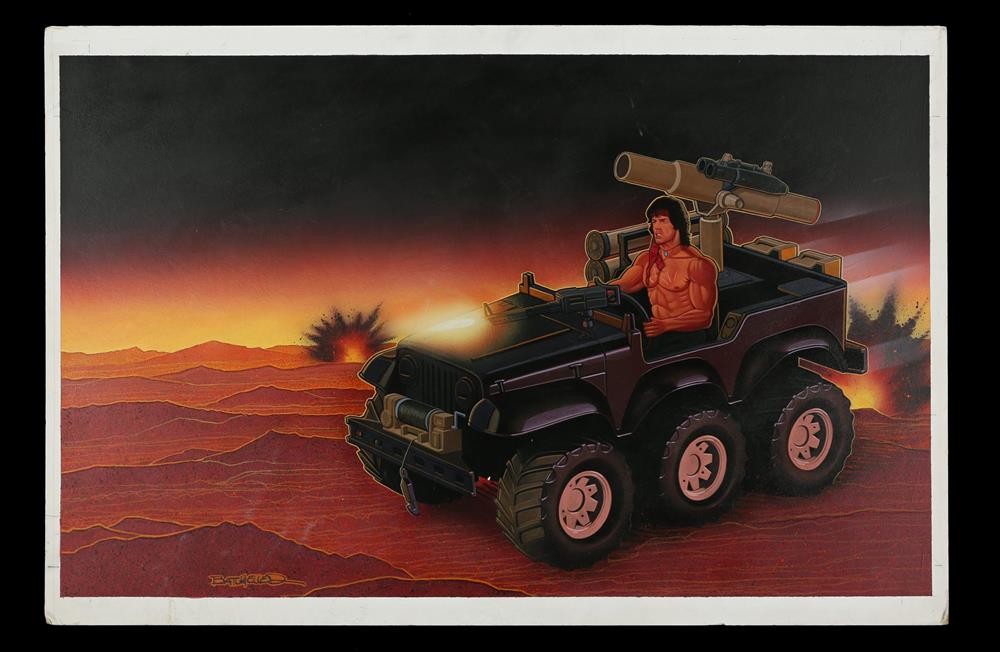 From Rambo: First Blood Part 2, the alternate box art for the 1985 Rambo Defender 6"x6" Assault vehicle features a life-like depiction of Stallone as John Rambo. Toy company Calico believed the rendering was too realistic and asked that Rambo be made to look "more toy-like, resulting in the original artwork becoming highly sought after.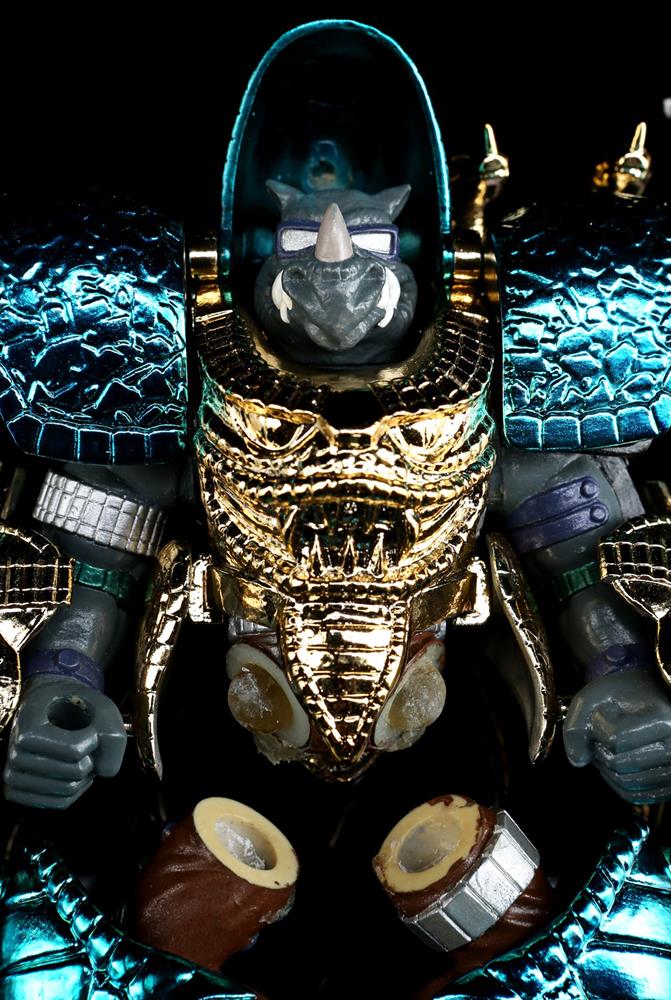 The auction is also full of unique unproduced prototypes. These range from Star Trek Romulo action figures to a hand-painted never released Metal Mutant Rocksteady prototype based on the Teenage Mutant Ninja Turtles.
This is just a sample of the 750 pieces in Propstore's Vintage Toy Live Auction, offering collectibles of every stripe. The two-day auction takes place in Los Angeles, California on February 28th and March 1st. So if you are looking for something unique from a film you love or a rare piece to enrich your collection, peruse the full catalog here. Your own toy story starts here.
These lots and many more are open for bidding now in Propstore's Vintage Toys and Collectibles Live Auction. Thank you for joining us for our blog coverage and be sure to check out our other articles on the Propstore Blog!

Follow us on Twitter and Facebook to be the first to know about all current & upcoming Propstore Auctions and more!