|
Auctions
The Rick Baker Auction Wraps at Over $1 million!
From Men in Black memorabilia, to Mighty Joe Young animatronics, take a peek at the biggest lots and buyers from Propstore's Rick Backer auction here.
33 countries, 842 bidders, 415 lots; the Propstore Rick Baker auction was almost as bold, big and brilliant as the incredible creations crafted by one of cinema's greatest make up and effects artists.
This event was designed to celebrate the work of artist Rick Baker, whose tenure as one of Hollywood's greatest effects specialists brought to life characters and creatures in major movies from Men in Black and Mighty Joe Young, to Batman Forever and How The Grinch Stole Christmas.
And it appears that the Propstore team were not the only Rick Baker fans in the room…
The auction attracted a huge response, with over a quarter of a million online views and 2171 bids placed on the day (not including absentee pre-bid sales). Bidders from Canada, Australia, France, Japan, the UK, the US and Mexico – to mention a few – all tuned in for the chance to win their own piece of Rick Bakers exceptional movie oeuvre.
The star lot of the day was Baker's 1997 creation for Men in Black: A full costume, immaculately displayed, for the character of 'Mikey', an amphibious extra-terrestrial played by actor John Alexander. The lot sold for an impressive $39,000. Here's the creature in action:
https://youtube.com/watch?v=q0zxxDFpwx4
Let's take an inside look at the auction's star lots…
1. Mikey (John Alexander) Costume Display – MEN IN BLACK (1997)
SOLD FOR: $32,500

2. Full-Size 'Big Joe' Head Skin, Chest, Arms and Hands – MIGHTY JOE YOUNG (1998)
SOLD FOR: $27,500

3. Hero Joe (John Alexander) R/C Animatronic Head – MIGHTY JOE YOUNG (1998)
SOLD FOR: $17,000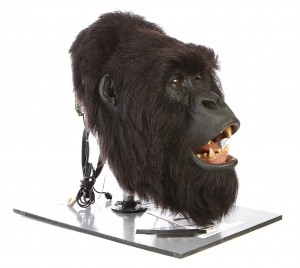 4. Full-Size Alien Edgar Bug Animatronic Character – MEN IN BLACK (1997)
SOLD FOR:$16,000

5. Harry (Kevin Peter Hall) Insert Head with Controls – HARRY AND THE HENDERSONS (1987)
SOLD FOR: $14,000

6. Sir John Talbot Werewolf Mask – THE WOLFMAN (2010)
SOLD FOR: $13,000

7. Lawrence Talbot (Benicio Del Toro) Animatronic Transformation Puppet – THE WOLFMAN (2010)
SOLD FOR: $12,000

8. Michael Jackson Body Lifecast and Molds – MIC HAEL JACKSON: MOONWALKER (1988)
SOLD FOR: $11,000

9. Sir John Talbot (Anthony Hopkins) Werewolf Mask – THE WOLFMAN (2010)
SOLD FOR: $11,000

10. Mohawk Puppet – GREMLINS 2: THE NEW BATCH (1990)
SOLD FOR: $10,000

Take a look at some of the great articles we were featured in during the run up to the auction…
Which lots from our Rick Baker auction would you have bid on? Share your favourite Rick Baker creations with other fans on Facebook or Twitter.
Would you like to learn more about our upcoming lots or about the great man Rick Baker himself? Get in touch with our team or check out our 10 part Rick Baker "Monster Maker" blog series.