In our last blog, we looked at some of the classic Halloween monsters that the Monster Maker is famous for, but this week our focus turns to some of the more natural creations from Baker's career.  Without question, bringing living animals to life with actors, puppets, masks and make-up is an incredible challenge, and Baker's award winning ability to do so has defined his career.  Take a look at some of the natural creatures that Baker has brought to life over the years.
While perhaps not as famous as some of the other films Baker worked on, Greystoke remains one of the most significant because of the groundbreaking apes he brought to life on screen.  Learn a little bit more about one of the ape suits Baker created to allow actors to realistically portray apes on screen.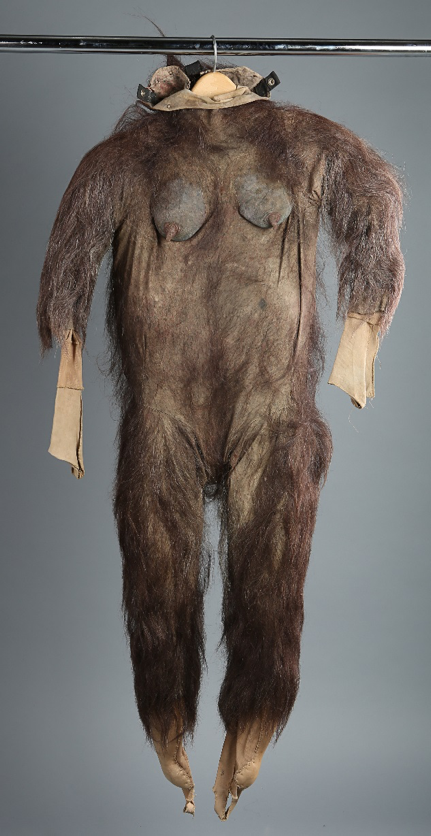 Lot 10. Ape Suit
GREYSTOKE: THE LEGEND OF TARZAN, LORD OF THE APES (1984)
An ape suit from Hugh Hudson's drama Greystoke: The Legend of Tarzan, Lord of the Apes. The lot includes a muscle suit and hair suit used in the production of the film for background ape performers. The undersuit is made from a nylon material and has several padded muscle pieces sewn into it to imitate the musculature of actual apes. The hair suit is comprised of a nylon suit with hand-tied yak fur and has a zipper down the back. Foam latex breast and buttock are attached to the suit.  These fully painted pieces have hardened over time. The costume features a tag labeled for "Brown." The items included in this lot show some production and age wear, such as hardened latex, and remain in overall fair condition
Making the actors look like primates was only part of the challenge that Baker had to overcome.  He also had to make them move like primates. One of the ways he did this was through mechanical hand extensions that gave the primate hands more appropriate proportions while still maintaining their dexterity. Take a closer look at lot 24 for an example.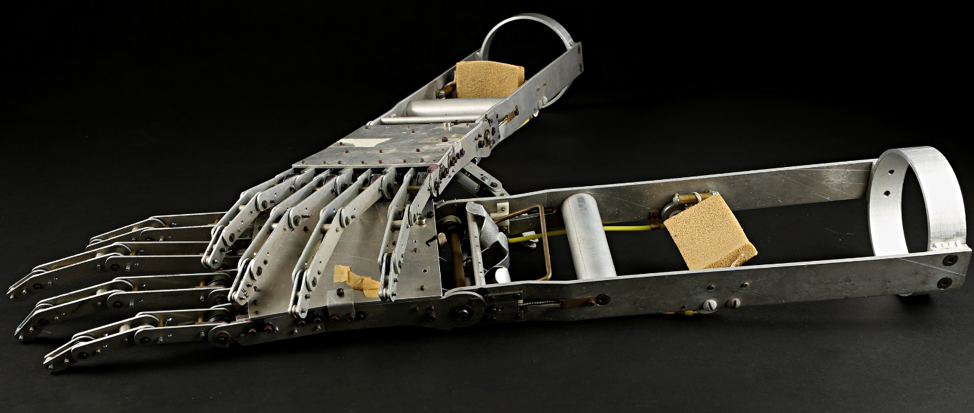 Lot 24. Articulated Ape Hand Mechanism Pair
UNKNOWN PRODUCTION
A pair of mechanical dexterous gorilla hands created at Cinovation for an unknown production. These arms were created for use by performers portraying gorillas but were never skinned or used. They feature a metal arm sleeve and include pulley operated metal hands. The rigs feature three finger controls that can be pulled to translate motion to the hands. Each control moved the corresponding finger on the extension. The arms show slight wear, but remain in good condition. Dimensions (each): 25″ x 5″ x 4″ (64 cm x 13 cm x 10 cm).
Not all the natural creatures that Baker worked on were primates. For example, observe the impressive detail and accuracy that accompany lot 118.
Lot 118. Panda Face on Plaster
THE AMAZING PANDA ADVENTURE (1995)
An Ernie panda face from Christopher Cain's The Amazing Panda Adventure. This head was likely created when designing the look of the film's star animal. The head is made of a plaster shell that has been fully dressed with glued hair and painted features to appear lifelike. A metal rod is attached in the back of the hollowed head. The piece shows light wear but remains in good condition. Dimensions: 10" x 8" x 7" (25 cm x 20 cm x 18 cm).
Baker even made a name for himself by taking natural creatures like the gorilla and giving them a silver screen twist.  For his work on Mighty Joe Young, this meant making a gorilla that could be portrayed by human actors and still appear massive on the screen.  In part, this was accomplished by making different scales of Joe components to be used in different circumstances depending on how the shot was portraying Joe.  Lot 183 is a "Big Joe" head skin, one of the largest scales used on the film.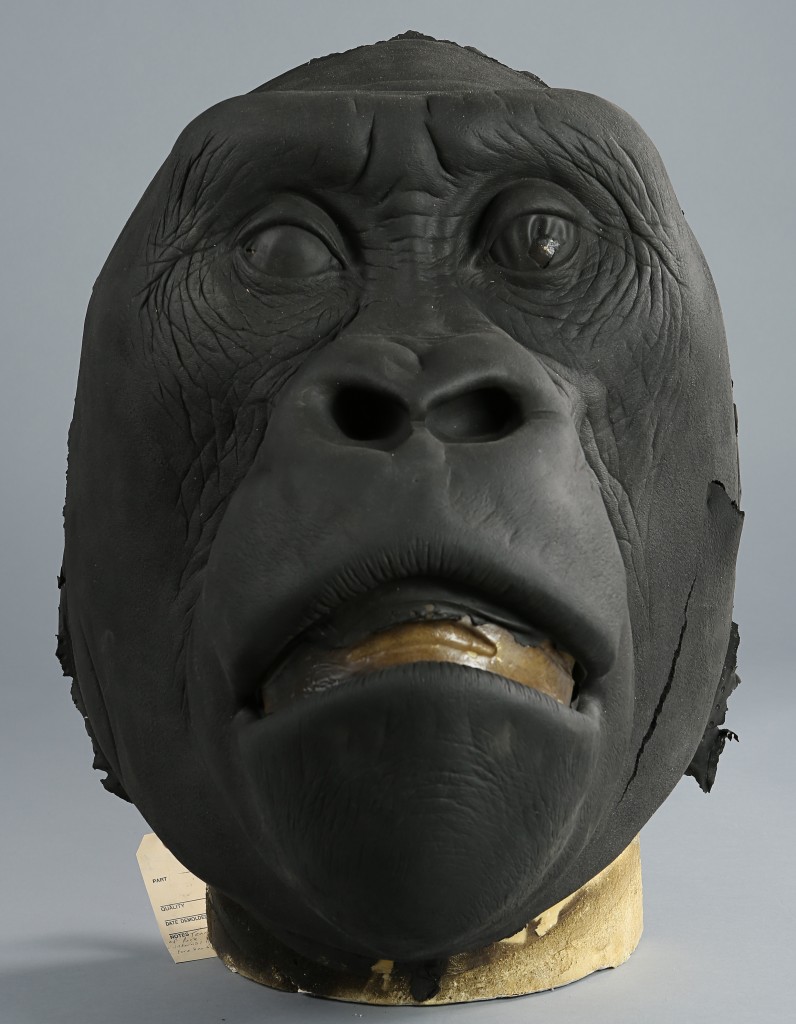 Lot 183. Unfinished Large Joe Face
MIGHTY JOE YOUNG (1998)
A large 'Big Joe' head skin from Ron Underwood's family adventure Mighty Joe Young. This skin was created for use of a full-sized puppet head for the character, although this particular skin was never fully finished. The skin is made of foam latex and is offered on its original rigid foam form meant to help the skin keep its shape. The skin features some damage, though the piece remains in fair condition. Dimensions: 21" x 18" x 27" (54 cm x 46 cm x 69 cm).
Another example of Baker putting a Hollywood twist on natural creatures is his work on Planet of the Apes.  Not only did Baker have to humanize the apes and give them personalities in keeping with their characters, he also had to maintain this aesthetic while designing various species of primates.  Below, see how Baker achieved this for one of the Orangutan's seen in the film.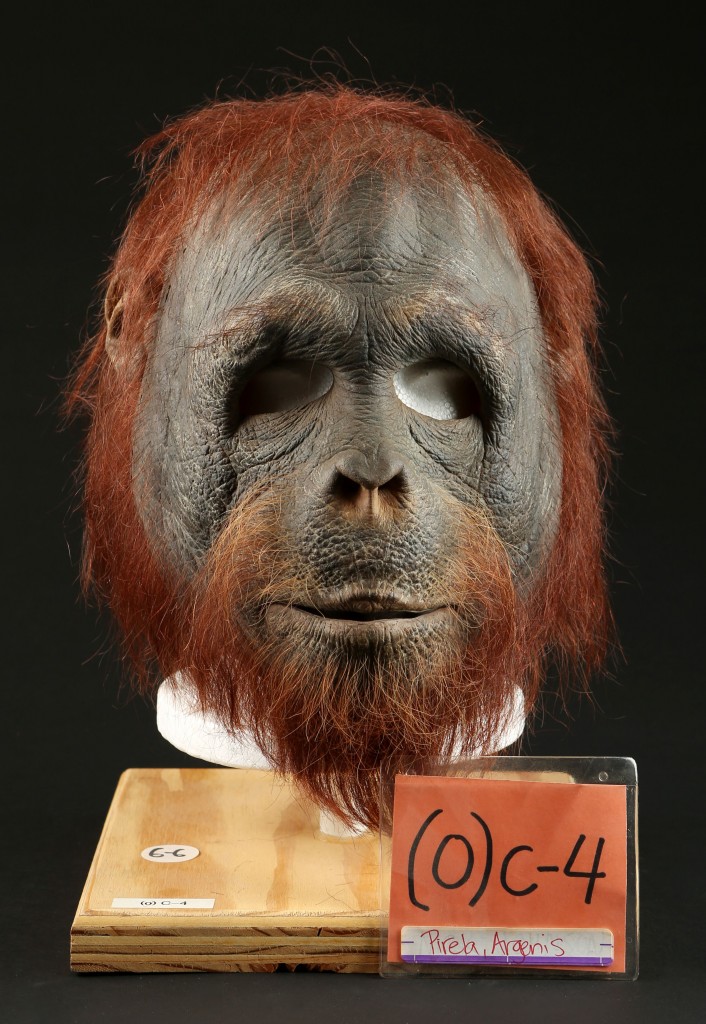 Lot 285 – Orangutan Full Head Mask
PLANET OF THE APES (2001)
An orangutan mask from Tim Burton's sci-fi remake Planet of the Apes. The mask is made of a slip latex skin and is fully painted and features brown and red hair. This piece is offered on an original wooden stand and Styrofoam head and features production labels for Pirela, along with a production card reading "(O) C-4." The mask shows light wear, but remains in otherwise good condition. Dimensions: 9" x 9" x 14" (23 cm x 23 cm x 36 cm).
Of course, not all of Baker's famous creations can be found in nature.  Some of Baker's most memorable and creative work involves the aliens of Men in Black and of course the Gremlins.  In next week's blog, we will take a look at some of these creatures in the auction.
In the meantime, head over to http://propstore.auctionserver.net/view-auctions/info/id/29/ and make sure that you're registered.  Bidding starts on November 2nd and you won't want to miss out on your favorite Baker creation.