By
Matt Truex
on October 15th 2018 October 15th 2018
On behalf of the Suburbicon Chamber of Commerce, we would like to extend our warmest welcome to our new residents. Our little hamlet may be quaint, but we think it's just the slice of home-grown American heaven that you've been looking for. Have a look around and meet your new neighbors!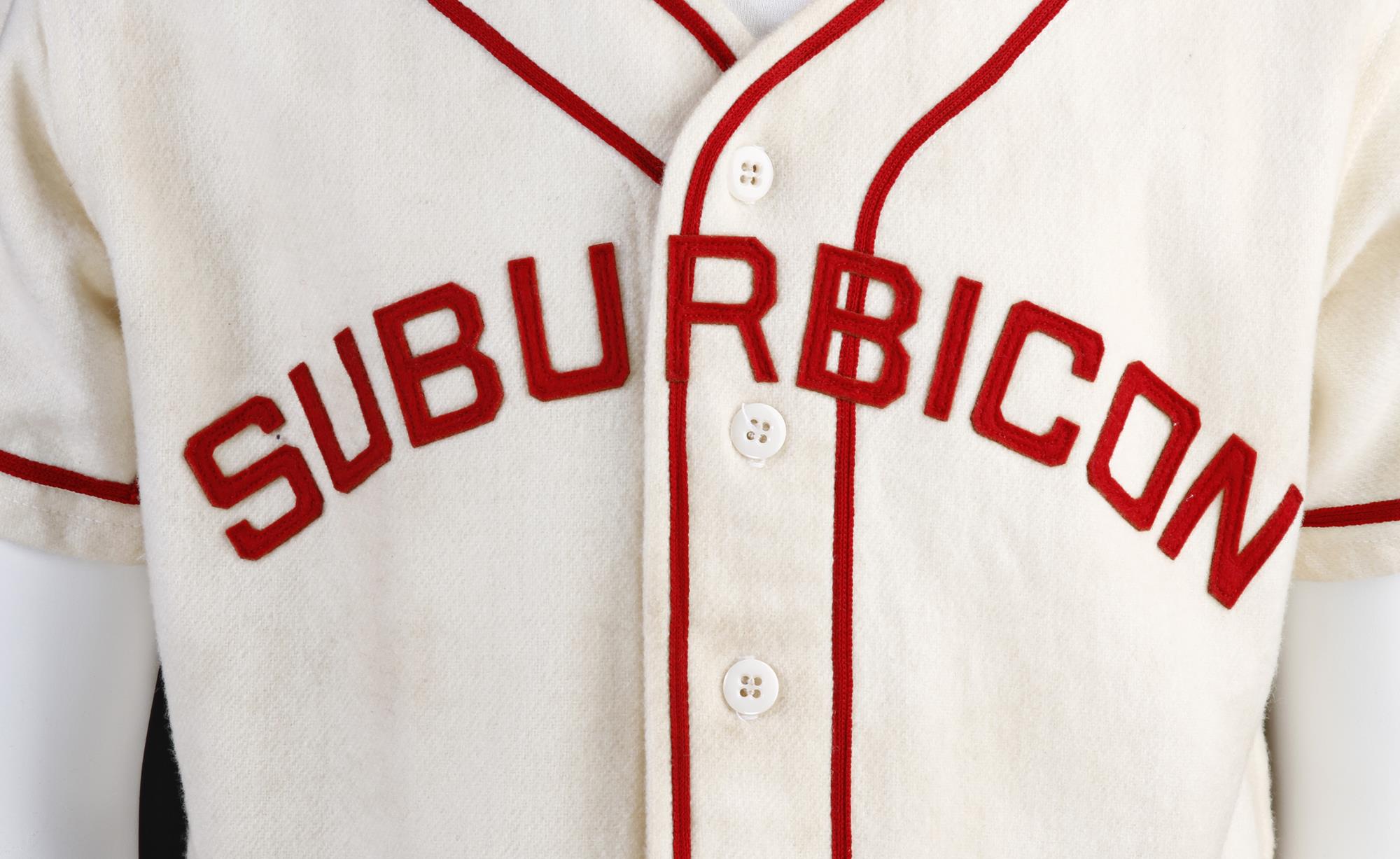 Lot 37 – Nicky Lodge's (Noah Jupe) Baseball Uniform
Our local baseball league is a wonderful way to take your first steps into the Suburbicon community. Dressed in their crisp, Suburbicon uniforms our young players are dedicated to the game and good sportsmanship. Take young Nicky Lodge, for example. Even after the recent, tragic death of his mother, Nicky never misses a game or a chance to pal around with his teammates. Hit a homer for your mother, Son!
Lot 27 – Margaret's (Julianne Moore) Bud Cooper Confrontation Dress
Looking to meet some of our local homemakers? Well look no further than our dear Margaret. A new neighbor as well, Margaret recently moved in with her brother-in-law and nephew (yes, young Nicky Lodge) after her twin sister's untimely passing. Despite their hardship, Margaret has taken to Suburbicon life swimmingly. Why, she even got a job as a cashier at the local grocery store. Margaret's determination and loving manner makes her a perfect fit here in Suburbicon.
Lot 25 – Bud Cooper's (Oscar Issac) Brown Suit and Business Card
Someone has to pay the mortgage, which is why the breadwinners of Suburbicon are some of our most treasured residents, and life insurance agent Bud Cooper is just such a local. Bud is a wonderful "people person," and is a welcome sight in any doorway he darkens. We've seen a lot more of Bud around lately, as he works to settle the insurance policy on late Rose Lodge's life, but we're sure that will all get straightened up lickety-split.
Lot 42 – Gardner Lodge's (Matt Damon) Bloody Ensemble
Nothing against the rest, but few men in Suburbicon are as hard-working and honest as Mr. Gardner Lodge. Gardner's recent loss has not kept him from performing any of his family duties, always quick to help with clean-up an unfortunate mess or give some parental guidance to young Nicky. What more could you ask for in a new neighbor?
These lots and many more are open for bidding now in Prop Store's Suburbicon Auction, with lots closing October 26th. Thank you for joining us for our blog coverage and be sure to check out our other articles in our auction series!

Follow us on Twitter and Facebook to be the first to know about all current & upcoming Prop Store Auctions and more!
\