|
Auctions
Propstore Live Auction 2017 Presents… Cult Movies
Welcome to the second of our weekly Preview Blogs for the Propstore 2017 Live Auction.  Today's theme is Cult Movies. In time honoured fashion, the selection of movies is very diverse, so hopefully one of these films or series might appear on your own personal list of favourite films…
Over the following weeks, we would like to take the opportunity to use these blogs to give you a special Preview of some of the rare and unique props, costumes and production materials that will be coming up for sale in this year's Live Auction. The preview will start today, with a sneak peek at some of our favourite Cult Movies items, and we will continue to give you first look at what is coming with twice weekly blog updates right through to auction day.  And, if you can get to London, the BFI IMAX will also be hosting a free 3-week museum-style exhibition  from the 7th – 26th September, of over 300 of the key auction pieces in the weeks leading up to the big day.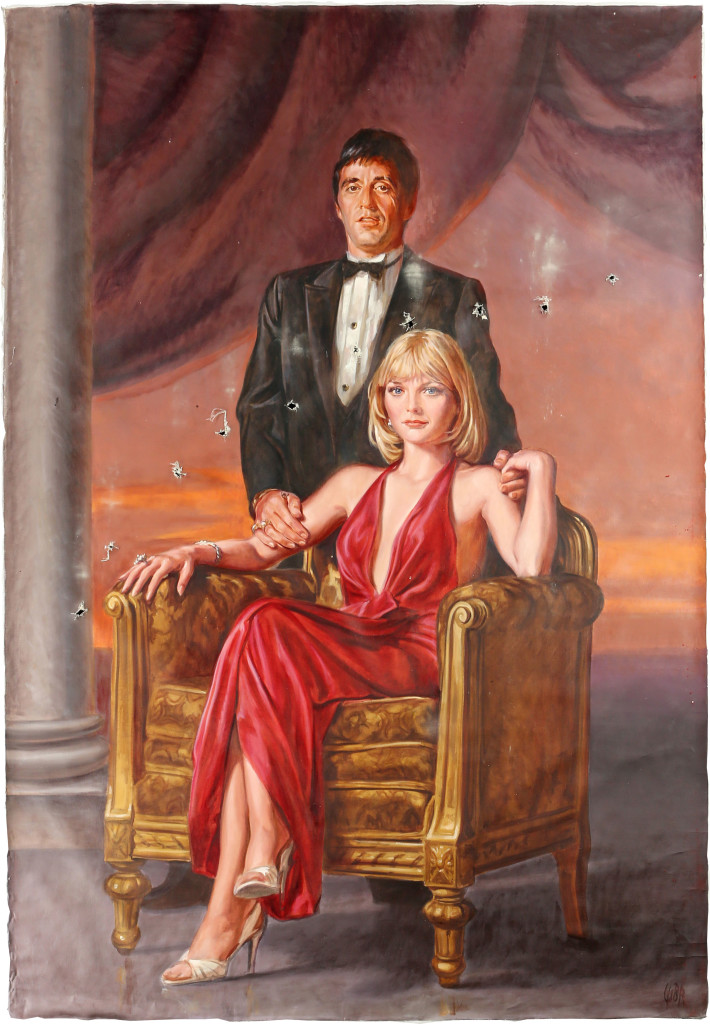 Portrait of Tony Montana (Al Pacino) and Elvira Hancock (Michelle Pfeifer), SCARFACE (1983)
This item is truly one of a kind – a hand-painted portrait in acrylic on canvas of Tony Montana (Al Pacino) and Elvira Hancock (Michelle Pfeiffer) from Brian De Palma's crime drama Scarface. The imposing painting (241cm x 160cm, or 95" x 63") is seen in numerous scenes throughout the film, hanging on the first floor of Tony's mansion, and shows the couple presenting an appropriately glamorous image. And it wouldn't be a true gangster movie without the ten gunshot holes it acquired during the gunfight at the end of the film! The lot also includes a reference photograph of Tony and Elvira which assisted the artist and three behind-the-scenes stills of the production crew on set with the portrait.
Estimate: £30,000.00 – £50,000.00
Jules Winnfield's (Samuel L. Jackson) "Bad Mother Fucker" Wallet , PULP FICTION (1994)
This LOT will undoubtedly win the award for the most 'unusual' title! Jules Winnfield's (Samuel L. Jackson) "Bad Mother Fucker" wallet from Quentin Tarantino's Academy Award®-winning crime film Pulp Fiction, is seen when hitman Jules Winnfield turned over to Pumpkin (Tim Roth) before he took control of a restaurant robbery. The wallet is one of four created for the film by Gary's Leather and is brown in colour with "BAD MOTHER FUCKER" embroidered in black thread on the front flap, and it will be sold with a faxed Letter of Authenticity from property master Jonathan Hodges.
Estimate: £20,000.00 – £30,000.00
Model Miniature Pizza Delivery Car, THE FIFTH ELEMENT (1997)
This fantastic model miniature pizza delivery car is from 'The Fifth Element', Luc Besson's stylish sci-fi adventure in which flying cars were used to populate a futuristic New York City. The model car is constructed from fibreglass, foam and balsa wood, and is finished with red and silver-coloured paint and decorated with an orange sign advertising "John's Famous Original Pizza". It even has intricate tiny model pizzas, packets of cooking ingredients and wooden spoons on shelves inside!
Estimate: £5,000.00 – £7,000.00
The Terminator's (Arnold Schwarzenegger) Costume, TERMINATOR 3: RISE OF THE MACHINES (2003)
The Terminator's (Arnold Schwarzenegger) signature costume is iconic and instantly recognisable by anyone who has seen the movie series. Throughout Jonathan Mostow's sci-fi action sequel 'Terminator 3: Rise of the Machines', his costume became more and more distressed as the story progressed, particularly after the dramatic police shoot-out sequence in the cemetery.
The costume comprises a zipped and padded leather motorcycle jacket and trousers, with a grey cotton T-shirt (marked size XL), a black leather belt and a pair of black motorcycle boots.  The interior of the jacket has a hand-written label reading "A.S. 20H WET", suggesting the jacket was created for the sequence when the Terminator and T-X (Kristanna Loken) battle at the Air Force base, plus the embroidered text "AST Original 3/3". It is displayed on a custom-made mannequin that features a fibreglass sculpt of the actor's likeness, including a head of artificial hair and a pair of replica sunglasses to complete the Terminator's signature look, so  the lucky purchaser will be getting their very own 'Terminator', not just a costume!
Estimate: £10,000.00 – £15,000.00
Rocky's (Sylvester Stallone) Autographed Shorts, ROCKY III (1982)
And finally in our line-up is are Rocky Balboa's (Sylvester Stallone) autographed shorts from the classic boxing sequel Rocky III. Balboa wore these yellow and black nylon shorts, with "Rocky" embroidered in black on the right leg, during the film's opening montage and during the fight with Thunderlips (Hulk Hogan). The shorts, which were originally donated by the Stallone family at an LA fundraiser, feature Stallone's autograph in black marker, with the inscription "Best of Life" and the year of the film's release.
Estimate: £8,000.00 – £10,000.00
Don't forget to register soon at propstore.com/liveauction to ensure that you will be ready to bid in person, by telephone or online on 26th September!  And keep watching this space to be the first to share in future developments………
Follow us on Twitter and Facebook to be the first to know about all current & upcoming
Propstore Auctions and more!