The 2016 Propstore Live Auction is now behind us, and the amazing items from the auction are currently being despatched all around the world to their new owners!  There has been a huge amount of interest in the auction, and so we thought that it would be fitting to end with a round-up of some of the highlights…
This year's Live Auction was bigger and better than ever before! The auction hosted an incredible 575 lots of original props, costumes and production material from 160 films and TV shows – something for every taste! And the museum grade Exhibition at the British Film Institute IMAX in London for 2 weeks before the auction itself, was also an amazing success. The Exhibition showcased over 200 items from the auction, and gave potential buyers and interested members of the public a one-off opportunity to see these special pieces up close and in person.
The Propstore auction coincided with a number of special screenings at the BFI IMAX, proudly presented by ODEON, which saw classics such as Gladiator, Top Gun and the Christopher Nolan-directed The Dark Knight trilogy return to the big screen for film fans to enjoy in the lead up to the auction. It was a great opportunity for younger fans of classics like Jaws and the Alien Film Series to see cinema magic in work for the first time on the big screen!
Andy Edge, Commercial Director at ODEON UK & Ireland said:
"We've been incredibly proud to help Propstore bring these iconic film mementos to the public, and give UK film fans a chance to walk away with their own piece of cinema gold today. Today's auction results mark the end of two weeks of celebrations which saw some of film's best ever classics – and their most iconic props – brought back to the big screen here at the BFI IMAX."
And we weren't the only ones interested – we had great coverage on BBC, ITV and CNN, plus a fantastic long feature on Channel 5 starring our very own Sian Taylor from Propstore! In all, we saw well over a hundred features and articles about the sale in the media, in publications as diverse as the mainstream newspapers (including The Telegraph, Times, Daily Mail and New York Post), major online sites such as Bloomberg, Yahoo Movies and MSN Entertainment, and a host of 'lifestyle' sites and blogs, including the wonderfully named 'This is Why I'm Broke', 'Dude I Want That' and 'Fashionably Geek'!  It was also great to see that the auction story reached out to even more places that we could have imagined, such as DNA India, Hindustan Times and Journal du Buzz.
Channel 5 and Good Morning Britian (ITV) news coverage
"No question, no arguments – you need Batman's bike…Ready your finest gravel-voice now…"

Top Gear Batpod Article
Live Auction Articles in The Times and Timeout London
"If your neighbourhood needs a bit of cleaning up, we've got just the tool for you. A "Bat-Pod" motorbike that took its star turn in director Christopher Nolan's The Dark Knight (2008) and The Dark Knight Rises (2012) has become available in a giant auction of movie memorabilia. Judging by the shape of those tyres, we doubt it was a very tight star turn."

BBC Autos Batpod Article
Four-Page Spread in Total Film
The interest, feedback, participation all came together to make a truly memorable and exciting event.  The statistics are remarkable – thousands of people flocked to the BFI IMAX in London to view the items on display in the two weeks leading up to the auction and an amazing 1300+ people from 40 countries bidding in the auction – and we know that many more followed it live online, to see what was happening to all their favourite items!
The auction itself ran, non-stop, for a marathon 10 hours, with a live audience in the auditorium and banks of phones and computers taking remote bids. The bidding was, at times, frenzied, with bids coming from all sides managed skillfully by our unflappable auctioneers, Thomas Plant and Neil Shuttleworth. Many of the IMAX audience stayed the course for the entire auction, enjoying the excitement and energy (as, I am sure, many of our online bidders also did) which made for an intense but exhilarating experience!
#auctionselfie Just about to start Luce Auction! Great crowd and some amazing Props up for grabs @propstore_com @PlantThomas @thesaleroom pic.twitter.com/S4ivGs0rqG

— Neil Shuttleworth (@SASauctions) September 27, 2016
The lots themselves created more of a stir than we could ever have anticipated, with furious bidding and record-breaking prices. Notable sales included:
Hero Batpod Vehicle from The Dark Knight Rises (2012) sold for an astounding £312,000 *FIRST EVER OFFERING*, cementing its position as one of the ultimate pieces of movie memorabilia 
The rare Star Wars Tie Fighter Helmet from Star Wars: A New Hope (1977) reached a world record price of £210,000 after a long and hard-fought exchange of bids, and the ILM Motion Control Rama Camera's special place in cinema history was reflected in its selling price of £108,000
The unique Star Wars X-Wing ILM Model Miniature, a jewel for any Star Wars collector, also went for £108,000
The iconic Steven Spielberg Jaws (1985) Clapperboard reached a record-breaking £84,000 for a single clapperboard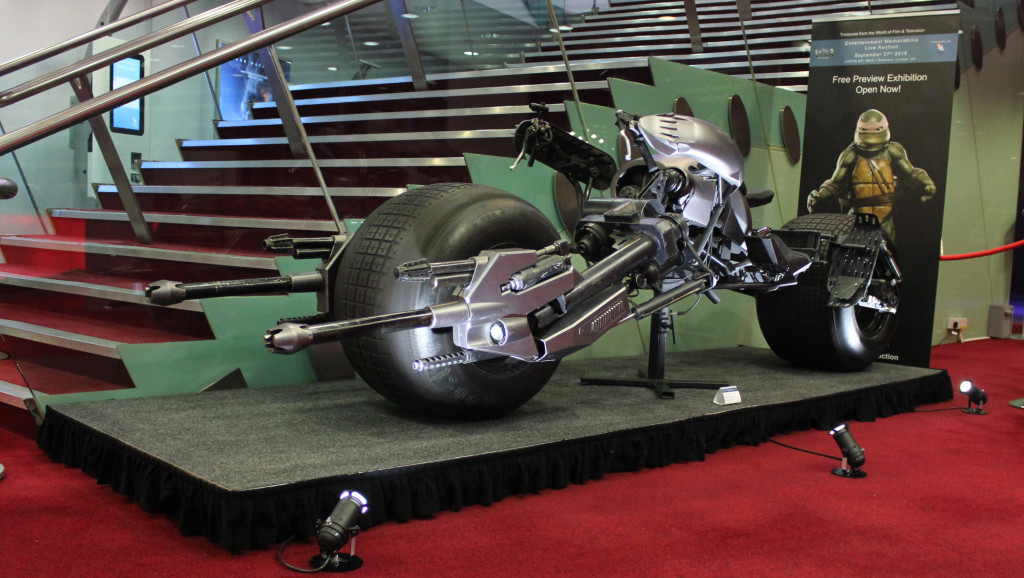 The Batsuit from The Dark Knight Rises (2012) was sold for £192,000, and the Batsuit from Batman Begins (2005) went for £96,000, both exceptional results, whilst Bane's Costume from The Dark Knight Rises (2012) also raised £96,000 after a round of very competitive bidding
Captain America's Shield was eventually sold for £42,000, after significant interest in the media
The Terminator 3 (2003) Endoskeleton achieved a very impressive £102,000
The Sloth Mask from The Goonies (1985) achieved £36,000, reflecting the popularity of Goonies memorabilia on the day
Some of the other really interesting results on the day were those that were most unexpected. Who would have guessed that James Bond's $500k Poker Chip would reach an astonishing £12,000 (more than ten times its original estimate)? Or that Rita Vratasky's Sword from Edge of Tomorrow (2014) would eventually be won for £51,000 after one of the fiercest bidding wars of the day? Or even that Harry Potter's invitation to join Hogwarts would fetch £8,400? And how fitting it was that the late, great Lord Attenborough's personal script for Jurassic Park (1993) should achieve a worthy price of £11,400.
However, it wasn't all about the most expensive items.  At the more affordable end of the scale, it was great to see how popular the beautiful Ray Harryhausen sketches were, as well as the many and varied costume items on offer, the IDs and the posters.
Stephen Lane, Propstore CEO commented on the auction:
"We're delighted with the success of our third live London auction which was held at the BFI IMAX London, in partnership with ODEON. It was a truly unique event with a global audience. We delivered the opportunity for film fans and collectors alike to bid on some of the world's most iconic film and TV items, and secure their own pieces of movie and television history. Propstore are already making plans and accepting consignments for our 2017 live auction."
At the end of such an immense and truly special event, we would like to offer a huge thank you to everyone who contributed to make this our best Live Auction ever.  Your interest, your feedback, your participation, and your enthusiasm for the items all came together to make a truly memorable and exciting day! Congratulations to everyone who managed to secure what they were looking for, and commiserations to those who were, sadly, outbid on the day.  Remember that you don't have to wait until the 2017 Live Auction to get your hands on very special items. We will be having online auctions throughout the coming year, starting with the amazing Phil Tippett and Twilight Saga auctions in the coming weeks, so make sure you take a look, and happy bidding for the future!
The Propstore Team, BFI ODEON IMAX London, Live Auction 2016
*All prices stated above reflect the final inclusive purchase prices.