As the final live auction days in this year's Propstore Los Angeles Live Auction (June 28-30) come ever closer, let us dive in and examine a true highlight and, in my humble opinion, one of the most breathtaking and culturally significant lots up for offer. I'm of course talking about none other than the glorious Princess Leia's (Carrie Fisher) original screen-matched ceremonial dress from Geroge Lucus' Star Wars: A New Hope (1977).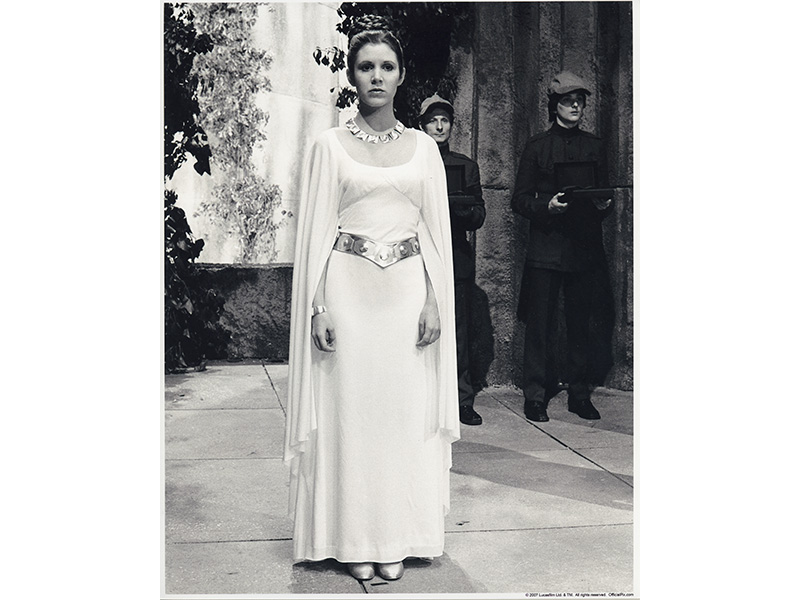 ---
Conceived by costume designer John Mollo. Mollo incidentally won an Oscar® for Costume Design for his work on this film – an incredible feat considering this was his first project in the role of a designer. Leia donned her gown during the film's final scene in the throne room, where she graciously bestowed Luke Skywalker (Mark Hamill) and Han Solo (Harrison Ford) with their well-earned medals of honor. Mollo later stated that he believed only one ceremonial dress was created for the film, and there is no evidence to suggest otherwise. This is historically significant in itself and made even more so when coupled with the fact that this gown is also the only known Princess Leia costume to still exist from the original film.
---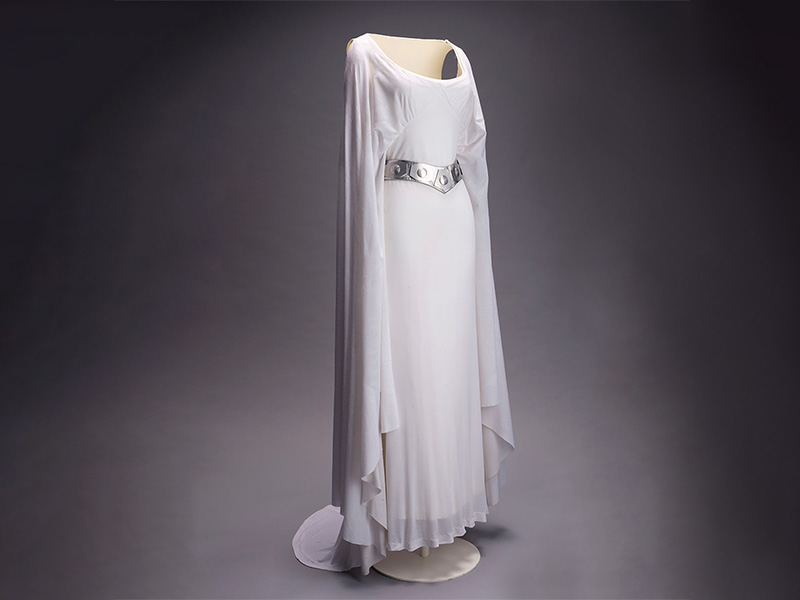 ---
Once believed to no longer be in existence, a chance discovery revealed this dress had been stored for many years, untouched, by a crew member in a London attic. Upon its rediscovery, professional textile conservators conducted a meticulous, museum-caliber restoration in London. Over an eight-month period, the dress was thoroughly cleaned by hand to remove years of dust and dirt that had accumulated upon it while in storage. The original structure of the garment was restored with archival precision. A conservation-grade gauze has been adhered to the fabric in the most fragile areas, and tiny holes are infilled using the gauze as a base. The hem was also restored in full and open seams were re-stitched.
---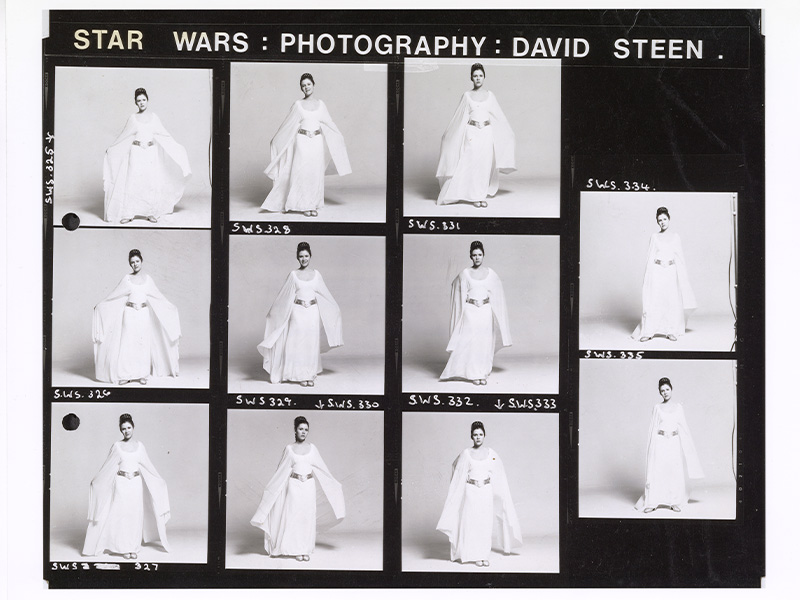 ---
To truly understand the prestige of this costume, we must first look at the character for whom it was made. The wise, determined and fearless Princess Leia. A character that could rescue herself in a universe dominated by men, an unwavering rebellious leader, a symbol of hope and courage, and, perhaps most importantly, a well-rounded, empathic role model that redefined society's stereotypical "damsel in distress" trope and paved the way for strong female characters in film. All this and more is embodied in the choices made for her ceremonial costume; the regality of its cut and detailing is symbolic of the princess' royal lineage and commanding presence, whilst creator Lucas's conscious choice of the color white, like Leia's hooded dress worn throughout the film, was to reflect and signify the purity, fairness, and beauty of her character.
---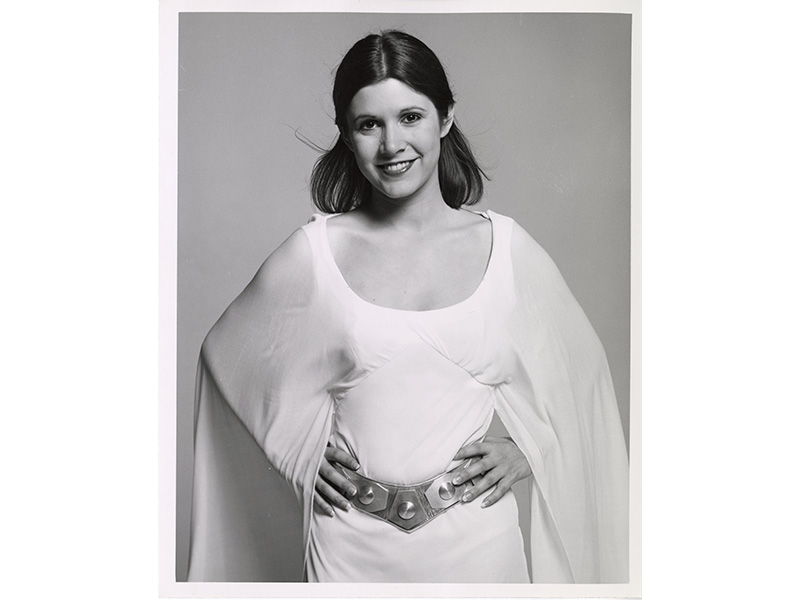 ---
Some lots, I find, come loaded with emotional power, and that's certainly true of this partially distressed Deborah Nadoolman Landis, former president of the motion picture Costume Designers Guild (CDG) and author of six books on the subject, points to the romantic, medieval style of the gown as a look that further solidifies Leia's rightful place as a leading character in the timeless epic. "If Luke's quest has been compared to King Arthur's, then Princess Leia is our Guinevere. With her crown of braided hair, Leia's romantic gown harkens back to Camelot with its glamorous long-hanging sleeves, narrow silhouette, and silver-armored girdle. Unmistakably Leia, it pairs perfectly with the high-necked white gown that serves the Alliance in the rest of the film. The simplicity and brilliance of John Mollo's costumes have staked a place in the iconography of costume design," Landis said.
---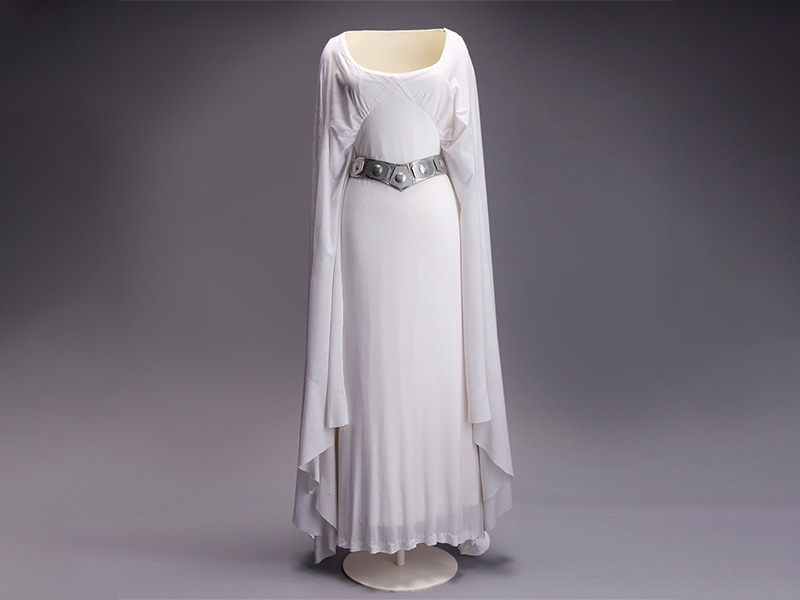 ---
Aside from the knowledge that this is believed to be the only dress made for the film, the garment has also excitingly been screen-matched to the film. Details in the stitching of the dress, the unique wrinkles and folds in the leather of the belt, and scratches on the belt's plates screen-match to stills from the film and photo-match to publicity imagery. Slightly more form-fitting and detailed than her more conservative white hooded costume worn earlier in the film, this ceremonial dress is made from a lightweight cream silk fabric and includes intricate draping. It was fabricated by leading costume house Bermans and Nathans in conjunction with a French dressmaker. The ceremonial gown is distinguished by its empire-waist bodice, lower-cut neckline and unique integral sleeve drapery and is complete with the original belt, which is backed with a neutral material to prevent it from deteriorating on the dress while displayed.
---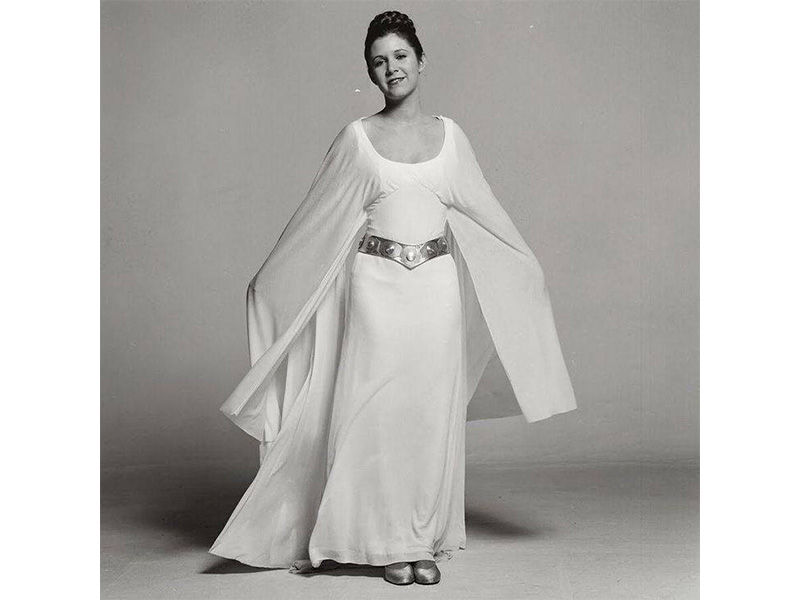 ---
Beyond its film use, the dress features on Star Wars posters, including the original Style A one-sheet by Tom Jung and Hildebrandt's' artwork for the UK Quad. Photographer David Steen also shot Fisher in the dress for numerous publicity shots, which were used as references for these posters and have also been published in various other media, such as the Rolling Stone 1977 Star Wars cover.
---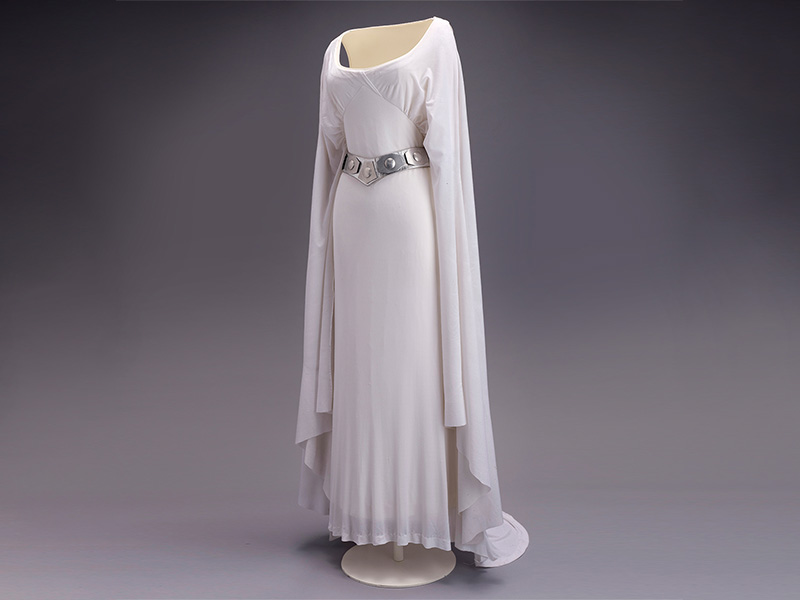 ---
The historical significance of the original Princess Leia Ceremonial Dress in film and pop culture cannot be overstated. It is a cornerstone of Star Wars history and a warm recognition of the late Carrie Fisher's impact, who brought so much life and love to the role. Like the film, Carrie Fisher is also considered a beloved Hollywood mainstay, and upon her sad passing in late 2016, there was a global outpouring of love from her fans. With the Star Wars IP now in the care of Disney, one of the world's top entertainment companies, the characters and stories will undoubtedly be part of global culture for decades to come. It is a comforting thought to know our younger generations will also have the pleasure of growing up with the franchise's epic struggle of light and dark, fantastical creatures, awesome fight scenes, and of course, be inspired by the unforgettable Princess Leia.
---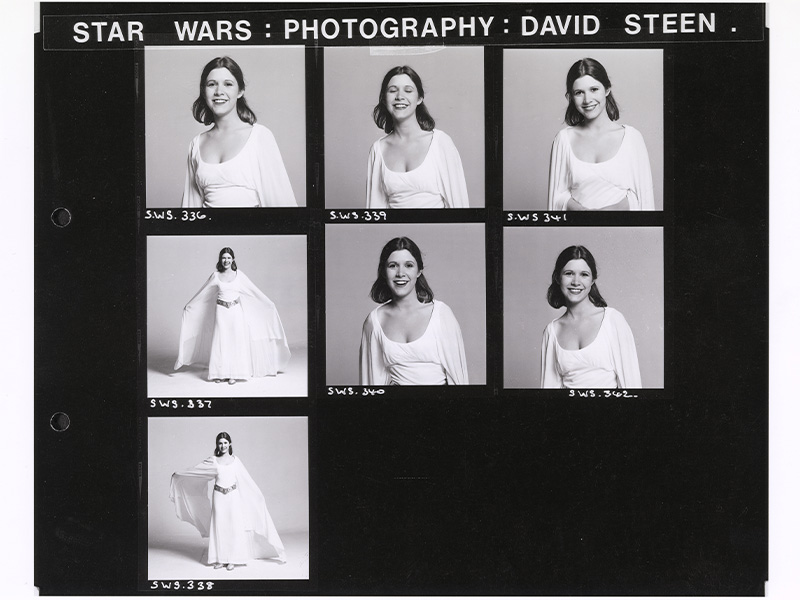 ---
As Lucas wrote in the final scene of the film's original screenplay, "Luke, Threepio, Han and Chewbacca enter the huge ruins of the main temple. Hundreds of troops are lined up in neat rows. Banners are flying, and at the far end stands a vision in white, the beautiful young Senator Leia. Leia is dressed in a long, white dress and is staggeringly beautiful."
---
---
---
Join us on June 28 – 30, 2023 when the lots will begin to close in our three day live auction. And remember to get those bids in early if you want a shot at picking up some incredible pieces of entertainment history.
Check out the full catalog here now.
---
For all the latest from Propstore, including upcoming auctions and Buy now exclusives, follow us on Instagram, Facebook, Twitter, and now TikTok! For our full archive of past and current sales, head over to propstore.com now.
---