|
Auctions
FEATURED LOTS | Entertainment Memorabilia Live Auction – Fall 2022

The Prop Store Entertainment Memorabilia Live Auction is nearly upon us. Running for four days in London at BAFTA 195 Piccadilly from the 3rd to the 6th of November, it offers a treasure trove of collectibles for movie and music fans. With over 1500 lots up for grabs, we are sure that there will be something for everyone. Here are some of our highlights …
Movie Items
Superman's Complete Costume – Superman Franchise (1978-1987)
Arguably the most iconic movie costume of them all, Superman's complete ensemble is mounted on a lifecast of Christopher Reeve. Reeve is, for many, the definitive Superman, but it was originally felt that he was too skinny for the role. Producers suggested that he wear a "muscle suit" but Reeve opted for a strict physical exercise regime which was led by actor and bodybuilder David Prowse. Lord Vader proved to be an effective taskmaster, with Reeve putting on 24 pounds of muscle during pre-production.
James Bond's Little Nellie Pilot Helmet – You Only Live Twice (1967)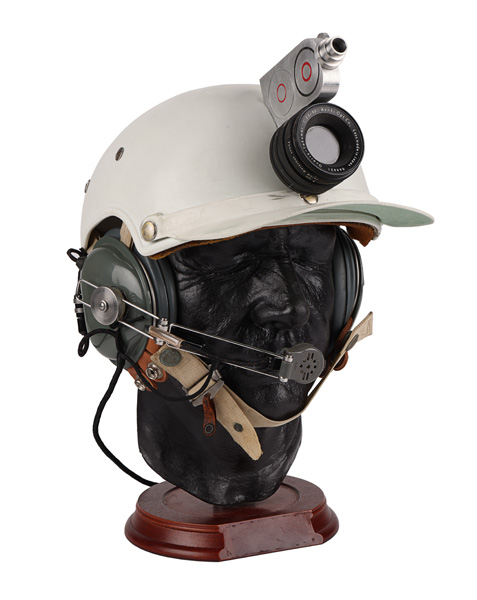 This screen-matched pilot helmet is one of two that were made for the production – one worn by Sean Connery for close-ups and the other by Little Nellie's inventor and stunt pilot, Wing Commander Kenneth Horatio Wallis. With his handlebar moustache and military bearing, Wallis was a character as colourful as any that Fleming created. Almost blind in his right eye, he cheated his way into the RAF by sneaking a look at the eye test chart with his left eye. He went on to fly 28 missions over Nazi Germany and was nicknamed "Crasher" for the number of times he cheated death. A leading exponent of the autogyro, he earned 34 world records and still held eight of them when he died in 2013 at the age of 97.
First Edition Hardback Book of Harry Potter and the Philosopher's Stone (2001)
A coveted hardback first edition of the debut novel in the Harry Potter series, JK Rowling's hocus-pocus opus. Approximately 200 copies of this proof edition were published, despatched to reviewers and book shops to generate interest. The book contains some notable errors, including a misspelling of the author's name as "J.A. Rowling". The publication is dated June 1997, precisely two years after Rowling had completed the original manuscript. It was subsequently submitted to twelve publishers, all of whom rejected it, prior to its purchase by Bloomsbury Publishing.
Andy Dufresne's Screen-matched Rockhammer Bible – The Shawshank Redemption (1994)
It is remarkable that the most highly rated film on IMDb's Top 250 Movies chart was initially a box office disappointment. Its word-of-mouth success owes much to Frank Darabont's screenplay, an adaptation of a Stephen King novella, including his use of the "plant and payoff" screenwriting technique. When Warden Norton (Bob Gunton) handed Andy Dufresne (Tim Robbins) a Bible and told him "Salvation lies within", it foreshadowed a denouement in which Norton discovered that Dufresne used the book to hide a small rock hammer with which he had tunnelled his way out of the prison.
Commodus' (Joaquin Phoenix) Rome Chariot – Gladiator (2000)
With petrol prices still rather high, and electric vehicles in short supply, of particular interest in this auction is the chariot that Commodus (Joaquin Phoenix) rode on his triumphant return to Rome after the defeat of the Germanic tribes. It is made of wood with a metal frame and black leather fascia adorned with Roman embellishments. The real-life Commodus had a passion for gladiatorial combat and was the only Roman Emperor to have taken to the arena. His opponents dutifully surrendered and survived but less fortunate were the exotic animals that Commodus frequently butchered. He reportedly killed 100 lions in a single day, a misdeed that echoes in eternity.
Yoda's Jedi Robes – Star Wars: The Phantom Menace (1999)

News just in from Jedi fashion week: beige is the new brown. Earth tones have been a feature of Jedi apparel since the inception of the franchise and they provide a compelling contrast to the shiny, futuristic splendour of the Death Star's internal decor. George Lucas described the Jedi as "warrior-monks" and several Catholic monastic orders wear similar robes of undyed brown, historically donated by peasants. It was therefore befitting that Yoda – the oldest, most ascetic and pre-eminent Jedi Master – should wear the simplest of attire.
Music Items
OASIS – Noel Gallagher's Custom Silver Sparkle Gibson Les Paul Florentine
The one-of-a-kind guitar was made for Gallagher by Gibson's custom shop in 1997. It was used extensively during 1997 and 1998 for recordings and live performances, including the "Be Here Now" album and live tour. In a 1997 interview for Spin magazine, Gallagher described the guitar as the best in the world. It features Gibson's hallmark five-piece diamond-like pearlescent inlay, adorning a black headstock. With its distinctive silver glitter finish, the guitar is a piece of music history from an era-defining band.
ELVIS PRESLEY – Signed Gun License Application
Elvis' gun license application from 1970 features his fingerprints and several personal details. The King of Rock 'n' Roll had a burning love of guns and built up a vast collection over his life. He famously shot several television sets at Graceland if he disapproved of what he had watched, leaving anyone in the vicinity all shook up. One TV set paid the ultimate price when crooner Robert Goulet mixed up the words of the national anthem. Only one other complete set of Elvis' fingerprints is known to exist, making this lot incredibly rare.
GEORGE HARRISON – George Harrison Owned Dallas 'E' Banjolele
This gold-plated Dallas 'E' banjolele was owned and played by renowned musician and former Beatles guitarist George Harrison. It originally belonged to comedy performer George Formby until his death in 1961. Harrison watched Formby's films and listened to his music throughout his childhood, which later sparked an obsession with ukuleles during the 1980s. His love of the instrument is referenced in an interview with musician Tom Petty in the Martin Scorsese documentary George Harrison: Living in the Material World.
THE BEATLES – Paul McCartney's Photo-Authenticated Morecambe & Wise Show Striped Blazer
The Beatles wore striped blazers and boater hats to perform a light-hearted version of the song "Moonlight Bay" with comedians Eric Morecambe and Ernie Wise. The off-script repartee between Eric, Ernie and the Fab Four is also a joy to watch. The Morecambe & Wise episode in which the Beatles featured was filmed on 2 December 1963. By the time it was broadcast, on 18 April 1964, the Beatles had appeared on the Ed Sullivan Show in New York, quipped with Cassius Clay in Miami and scored three number-ones in the Billboard Hot 100 charts.
MICHAEL JACKSON – Photo-matched Studded Leather Bracer
Necessity is the mother of invention, and Jackson felt that the huge success of Thriller necessitated his reinvention. The King of Pop adopted an edgier look and sound with Bad, his final collaboration with Quincy Jones. Inspired by the biker personas of heavy metal bands such as Mötley Crüe, Jackson completed his metamorphosis with the help of his leather-clad guitarist Steve Stevens. The resulting album was one of the best-selling of all time, lauded by critics and fans alike, and a world tour which was the largest attended in history.
BLUR – The Magic Whip Tour Ice Cream Van
The decorated ice cream van accompanied Blur's 2015 tour, The Magic Whip, following the release of their acclaimed album of the same name. Blur launched their very own brand of ice cream which they gave out for free from the van at various tour stops. Flavoured dairy vanilla custard with a raspberry ripple sauce, it was developed by dairy specialist The Licktators, which had previously released music-themed flavours such as Jiggy Pop (popcorn flavour) and John Lemon (lemon curd).
Remember to join us live at 3pm GMT from the 3rd to the 6th of November 2022, as we auction off all of these amazing lots and over 1500 others.
If you want to see more awesome entertainment memorabilia from our forthcoming auction, then you can check out the full catalogue now: propstore.com/liveauction
Don't forget to follow us on Twitter and Facebook. And remember, you can explore so much more at our archive and see the extensive range of film and TV items we have for sale and auction over at propstore.com!