|
Uncategorized
Propstore First Look: Propstore at Comic Con- Their Five-Year Mission
The very first Comic Con was held at the small U.S. Grant hotel in San Diego in 1970. Since then, the convention's attendance and activities have steadily grown into the megalithic monster of entertainment that it is today. Unique vendors like Propstore have also shared in the convention's growth, and their displays have enlarged steadily with each year that they have attended.

2008

Propstore made its first appearance at Comic Con in 2008. Though they were armed with a truckload of props and costumes, their first booth measured just ten by ten feet, an area which the Propstore crew later called "the closet." One of the larger pieces on display at the booth was a complete Spartan costume from the film 300, which had only been released in the US in March 2007. 300's popularity was going strong, and the costume received much media interest as well as fan attention when it was exhibited. The Spartan costume, though it reveals most of the body, is a conglomeration of many pieces, all of which are essential to giving the item the look of an authentic ancient Spartan warrior. Propstore's complete example consisted of the Spartan battle helmet, leg greaves and gauntlets, red cape and brooch clasp, and leather briefs with sandals. The weaponry consisted of the Spartan sword with belt & sheath, and the Spartan longspear. In addition to displaying an ancient hero's costume, Propstore also showed a modern one: the Batsuit. The suit, from Batman Returns (1992) was worn by Michael Keaton. It consisted of Keaton's Bat cowl, as well as the torso body armor with arms, and the pant armor that covered from the torso to the knees. Riddle me this: What better venue for Comic book heroes than Comic Con?
2009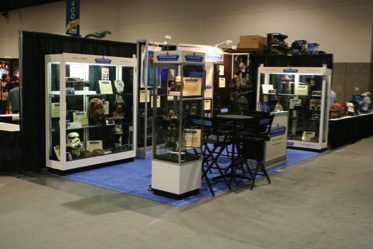 At Comic Con 2009, Propstore's booth was expanded to 20 by 10 feet. On special display was the original idol from Raiders of the Lost Ark (1981), the only one known to have been owned by another individual other than "Uncle George." There are two styles of fertility Idols known to exist that can be spotted on screen: one is a special effects version, internally wired to mechanically move its brown doll's eyes.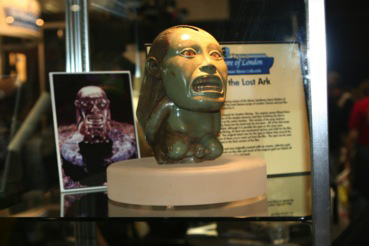 The other is a casted hollow version, once filled with sand to add weight. This example was the doll eye Idol found by Propstore COO Brandon Alinger in Kauai in the mid 2000s, left behind after the production of Raiders was completed all those years ago.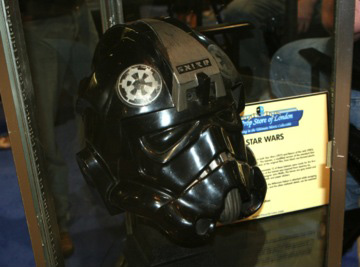 Another Lucas-related item on display was a Tie-Fighter Pilot helmet from Star Wars (1977), with the Empire logos still present on the helmet. The helmet, alone in a case, was a breathtaking example of the excellence of Star Wars' overall costume design.

2010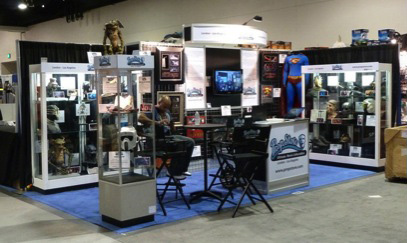 Propstore "Strikes Back" in 2010, returning with a new Star Wars universe rarity: a Biker Scout helmet from Star Wars: Episode VI – Return of the Jedi (1983). The lightly scratched and obviously production used helmet maintained all of its original insignias, including the grey triple stripe above the visor and the Imperial symbol on the bottom left visor flap. Interestingly, upon inspection, one could see that the helmet's chinstrap and entire faceplate was cleverly designed to hinge upward to accommodate the wearer.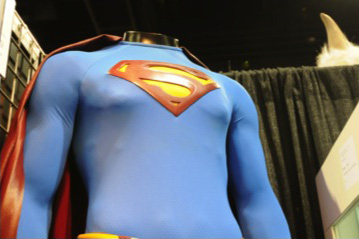 One of the most memorable costumes exhibited at Propstore's Comic Con booth was a complete Superman suit from Superman Returns (2006), displayed in 2010. Though many will debate the film's worth or even the look of the suit itself because it departs so greatly from the traditional Christopher Reeve suit, the details and construction on the Returns example is truly something to behold. The cape is double-lined velvet with leather-like attached components. The famous chest crest, belt and even the boot soles were casted pieces, which were construction details that had not been used in the fabrication process on any Superman suits in previous productions. This excellent Brandon Routh costume is a total spectacle of construction, and remains the only example known in private hands.
From Indiana Jones and The Last Crusade (1989), Propstore displayed the Grail Diary, one of the most quested for props from the Indiana Jones films. The diary, one of six known original prop diaries to exist, is filled (in the story) with the notes and historical observations of the estimable Dr. Henry Jones. Propstore's original diary retains all of Dr. Jones' fascinating musings, as well as many loose paper inserts. As a special feature for Propstore's Comic Con booth visitors, every page of the Grail Diary was carefully photographed and loaded onto an I-Pad, enabling fans to scroll through the entire work and all of the extra materials at length without damaging the original prop. This comprehensive examination of a prop had never before been available to the public, yet in 2010, fans of the Indiana Jones films could examine in detail one of the most famous and intricate props in existence.
2011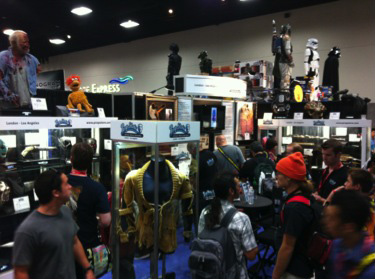 In 2011 Propstore (now no longer Comic Con rookies) brought out pieces from one of fandom's most popular series Star Trek (1966-1969), and the series-related and best-loved Star Trek film: Star Trek II: The Wrath of Khan (1982). From the original series, a red velour Lieutenant Uhura costume was displayed, dating from Star Trek's first two seasons.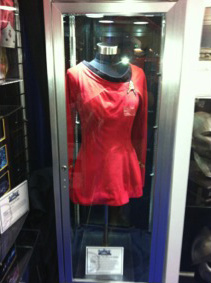 As a wonderful feature, Uhura's uniform still retained its original gold foil rank braid and Starfleet insignia. From the film Star Trek II: The Wrath of Khan, villainous Khan Noonien Singh's distressed Ceti Alpha V golden tunic occupied the showcase corner space at the Propstore booth, awash in lights and fan excitement.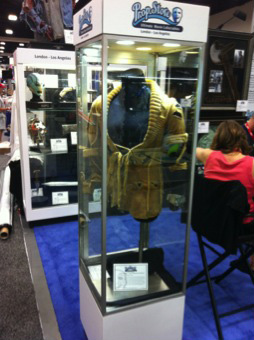 Designed to show off actor Ricardo Montalban's very real musculature of both his chest and arms, the costume piece was thoughtfully designed and distressed, which in person was incredibly arresting. Paired with the tunic was Khan's original wrist communicator, made of resin cast components, leather and various electronic details such as a switch relay.
2012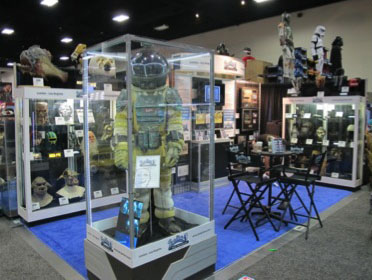 In 2012, Propstore's booth capitalized on the release of Ridley Scott's critically acclaimed Prometheus (2012) by displaying the crown jewel of all 1970s film space apparatus: Kane's Spacesuit from the original Alien (1979). This elaborate movie costume was designed and constructed under the supervision of John Mollo, whom no doubt was already an expert in sci-fi fashion. After all, he dressed all who had inhabited a galaxy far, far away in Star Wars a few years earlier. Dazzling in its intricacy, the suit retained all of its string thigh lacings, its oxygen atmosphere backpack, the shoulder armor, helmet and insignia patches, and was complete down to its leather and metal-woven tubed boots. Science fiction has rarely looked so lyrical, yet so functional. Finally, as a nod to beloved film weaponry, Conan's special effects sword from Conan The Barbarian (1982) was on glorious display.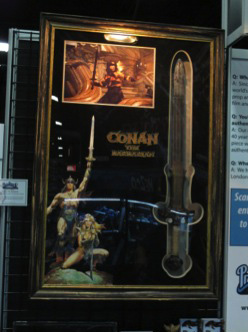 The Conan sword, owned and acquired by Propstore CEO Stephen Lane from Conan physical effects supervisor Nick Allder, features a beautiful rolled-steel and hand-beaten blade, attached to a resin fiberglass grip and pommel. The spring-loaded mechanical tip of the blade was designed retract for safety, so that Mr. Schwarzenegger would never accidentally rip anyone's guts out, at least not while on set. Today, these built-in weapon mechanics are rare, as many swords are air pressurized to retract, or simply inserted into an opponent using CG effects. The special effects Conan sword, designed by Ron Cobb and built by Nick Allder and his team, is a triumph in sculpture, casting, molding and epic design.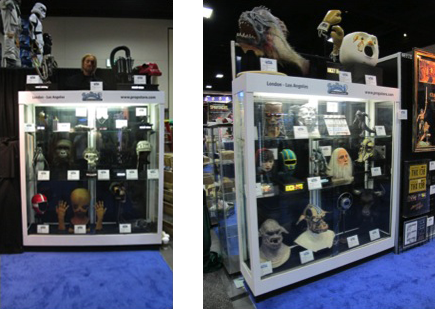 Many of the wondrous items that Propstore brings to San Diego Comic Con have never before been exhibited publicly. More importantly, after certain items have been on public view at the convention, they might disappear into private collections, never to be seen again. Some sage advice to the film enthusiast: never miss the opportunity to see these wonderful icons of movie history. View them annually at the Propstore booth at Comic Con.