How a bold decision in 2013 changed the nature of Propstore's business and launched it towards a new future…
Thursday 16 October, 2014 was possibly the most nerve-wracking day in Stephen Lane's life. The founder and CEO of Propstore was with his team at the Vue Cinema in the Westfield Centre in West London, embarking on a bold new venture for their company. One that would pivot Propstore into a whole new area: the live-auction market.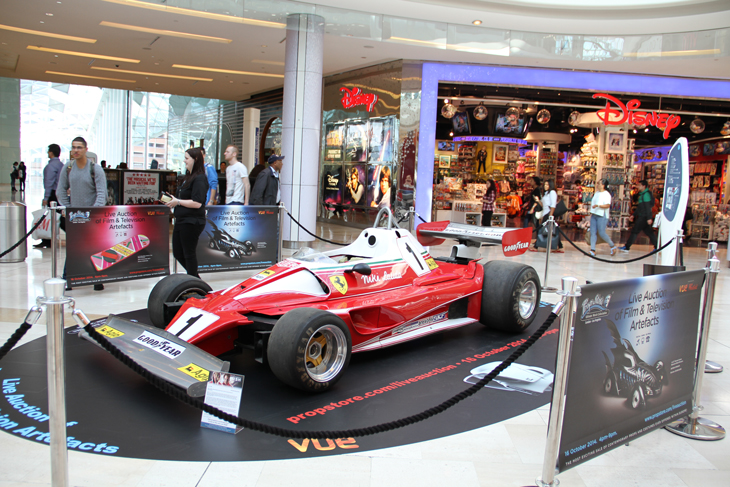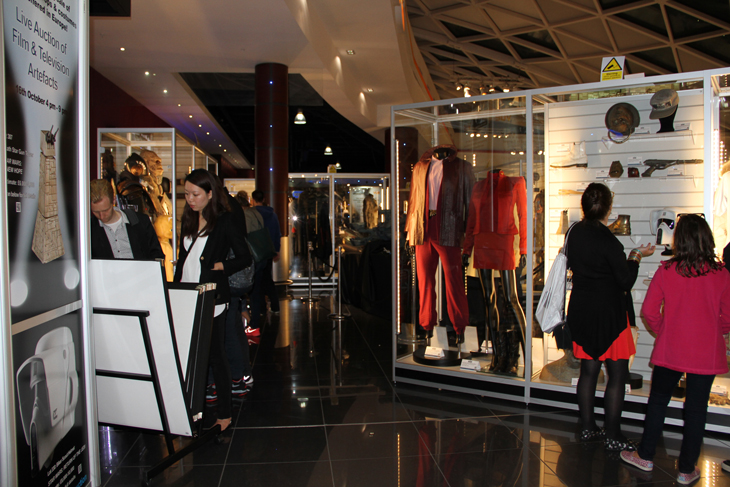 First Live Auction Preview Exhibition at Westfield 
Over a years' worth of intense work had gone into this event. The accounting and administration teams had been fully versed in the legalities and tax implications of executing a global memorabilia auction. The photography and copywriting teams had upped their game for presentation, putting together their first printed catalogue for the event. A preview exhibition was painstakingly constructed, with Propstore staff learning how to build and dismantle museum-grade exhibition display cases and how to light the star lots most effectively. Then there were the technicalities of the day to contend with: streaming, bandwidths, installation of satellite dishes… All essential to ensuring remotely located collectors could bid alongside those who were physically in the room.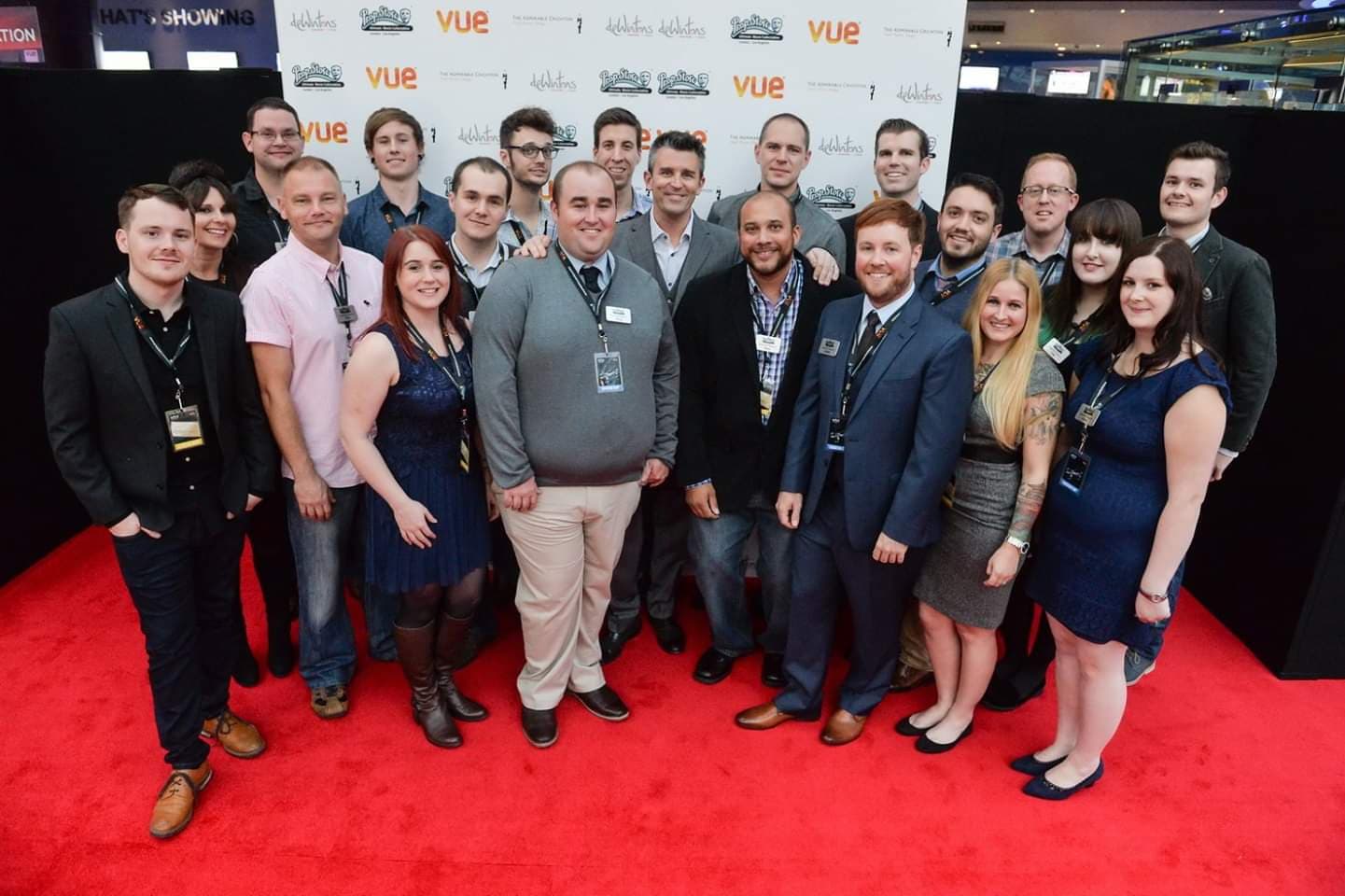 The Propstore Team, 2014
"It was like starting a brand-new business all over again — while you're going at full pace in your current business," says Lane. "It was terrifying, to say the least. It nearly killed me!"
He recalls the anxiety of sitting there in the Vue auditorium as the first lot — a pair of Nostromo crew trousers from Ridley Scott's Alien — went under the hammer. "We weren't known for auctions," he says. "It was just a question of whether people were going to respond and engage."
"This was our one opportunity to make our mark on the live-auction scene and its simply had to go with a bang," says Project Manager Siân Taylor. "The quality of material, the bidder experience, the whole operation had to be seamless."
"People knew Propstore, but they'd never seen us do an auction before," adds Brandon Alinger, Chief Operations Officer of Propstore LA. "Our clients were thinking, 'What is this thing going to be? How is it going to go?'"
The need to move into the live auction market, and launch Propstore's first ever Entertainment Live Memorabilia Auction (EMLA), had become increasingly apparent over the previous years. Propstore had held auctions before — its first was as early as 1999, for Sleepy Hollow — but these were usually on behalf of studios, held on existing online platforms like eBay, and infrequent. The core of the business was 'buy it now', with Propstore purchasing material from studios and individuals and managing the supply to market over time. However, it faced stiff competition from well established auction houses.
"We would go in and say, 'we can give you $50,000 for all your assets,'" says Alinger, "but then then the auctioneers would come in and say, 'well, we're going to auction your stuff and we think the minimum price will be $50,000, but it might go for $10 million.' That little word 'might' was a hard thing for us to overcome."
Then a further opportunity presented itself in 2012 when London auction house Christie's wound down its yearly entertainment auction, creating a crucial gap in the market.
In 2013, while sat together in a hotel lobby, Lane, Alinger and Lane's wife Lizzie put together a "scorecard," as Alinger describes it, "of the plusses and minuses of stepping into auctions." The plusses were too numerous to ignore; the minuses could all be overcome. From that point there was no turning back.
Fortunately, that first EMLA (Entertainment Memorabilia Live Auction) was a success. Though it started slowly, and was what Lane calls "a tough day", at the close of play they ran the numbers. "We'd sold close to a million pounds' worth of props in one day," he says. "From that point in time, we realised it was a big deal. That was the trigger for how we moved forward."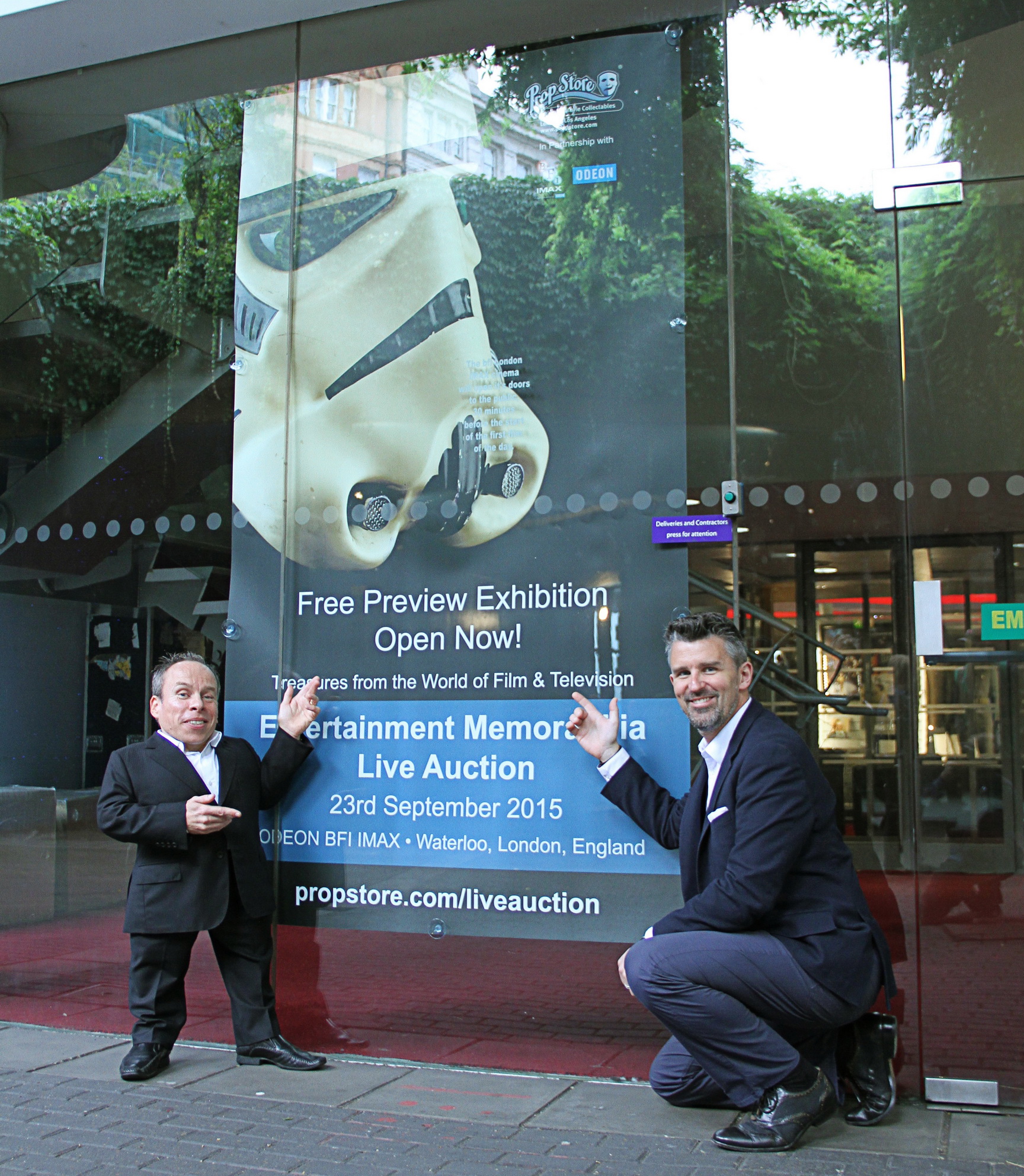 Stephen and Warick Davis at the 2015 EMLA Preview Gallery, BFI IMAX
Since 2014, Propstore has held an EMLA every year, though after that inaugural event, it moved to a new home at the ODEON BFI IMAX in Waterloo, London, with a free exhibition of the key lots held there during the previous two weeks. Alinger most fondly remembers the 2016 auction, which included a major consignment of material from Warner Bros, including assets from Christopher Nolan's Dark Knight trilogy. "The Batpod from The Dark Knight sold for £260,000," he remembers, "the Christian Bale Batsuit went for £180,000. We had a huge amount of interest with multiple phone bidders around the world and there was just huge excitement in the auction room. You could tell it had really been elevated to the next level."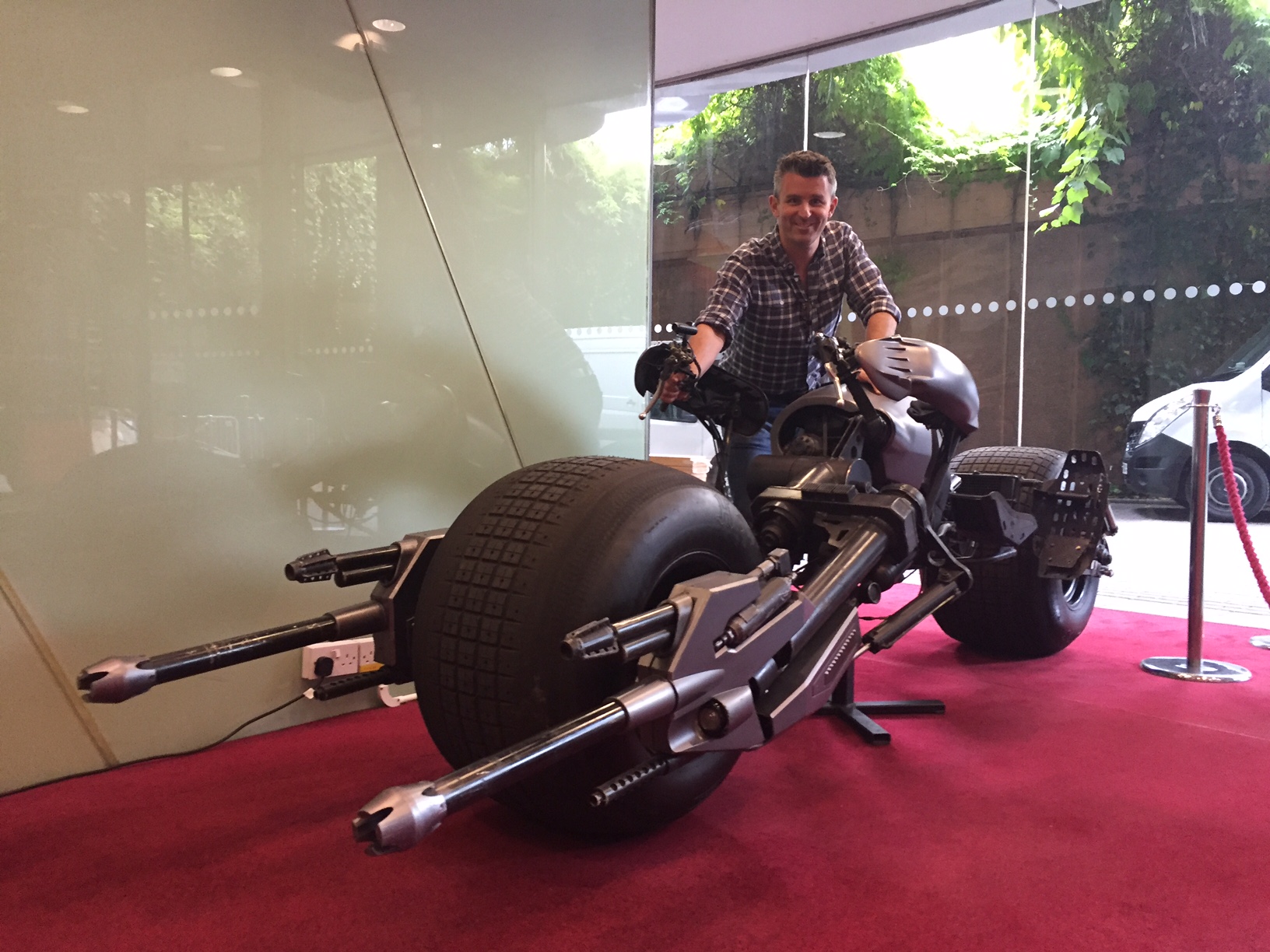 Stephen with the Batpod from The Dark Knight, EMLA 2016
"The live auctions are always hard work, but they really are worth it," insists Propstore's photographer Sarah Sorkin. "Everyone mucks in and I have such a sense of pride at how everyone behaves. Now after four years I think we have it down to a fine art. The auction catalogue is always evolving its design to maximise how we visually showcase the amazing pieces we have for sale and I love seeing all our hard work in print."
To General Manager Tim Lawes, the company's longest-serving employee, the live auctions have greatly evolved Propstore. "It's just an organic, natural increase," he says. "It's not something you can force or fake. You make a headline with something like that, you get publicity, then someone emails you out of the blue and says, 'Oh, I saw about your auction on breakfast TV this morning, and I've got all this stuff in the attic…' The bigger you get, the more interest there is."
While Propstore has retained its buy-it-now business, the future is focused on expanding and diversifying its auction activity. In May 2015, Propstore memorably auctioned 400 of creature-effects genius Rick Baker's creations ("that really stood out as a landmark for me," says Alinger), while in 2018 it held live auctions devoted to cinema posters, comic-book art and TV treasures. Next year Propstore will diversify further.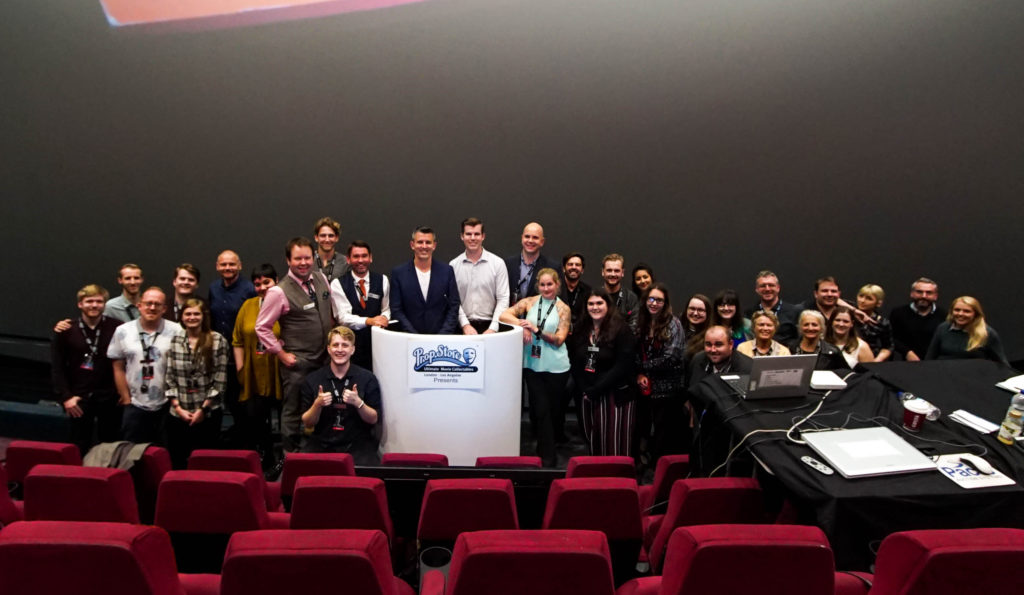 The Propstore Team, EMLA 2018
"We have our first vintage toys and collectibles auction taking place in February next year in Los Angeles, with another happening towards the end of the year in the UK," Lane reveals. This brings him and Alinger full-circle in a way, back to their earliest collecting days. "That's where I started," says Lane, fondly. "The first things I collected were vintage Star Wars action figures."
Lane is as excited about the future as he is the past. "We don't really feel 20 years old," he says. "This could be Year One for us. I don't see any reason why this shouldn't go on to become a second or third-generation company. There is way, way further to go and grow. And I think that's going to bring a lot of excitement for us all during that process."
Go Back To Part 1:  Propstore's momentous early days… 
Don't forget to follow us on Twitter and Facebook. And remember, you can explore so much more at our archive and see the extensive range of film and TV items we have for sale and auction over at propstore.com!