From a one-man show to a company with an international reputation — Propstore's momentous early days…
The story of Propstore doesn't begin with a big bang, but it does start with a blaster. In 1992, vintage action-figure collector Stephen Lane was at the Toy & Collectors Fair in Westminster when he was offered a rebel blaster prop from the first Star Wars movie for £500. "Bearing in mind I was trading in action figures for £20 or £30, it was a massive investment for me," says Lane. "But I took a punt on it and bought it. Then I thought: 'What do I do next with this exactly? Where does this take me?'"
Where it took him was on a journey which changed his life and brought a bold new force to the entertainment memorabilia business.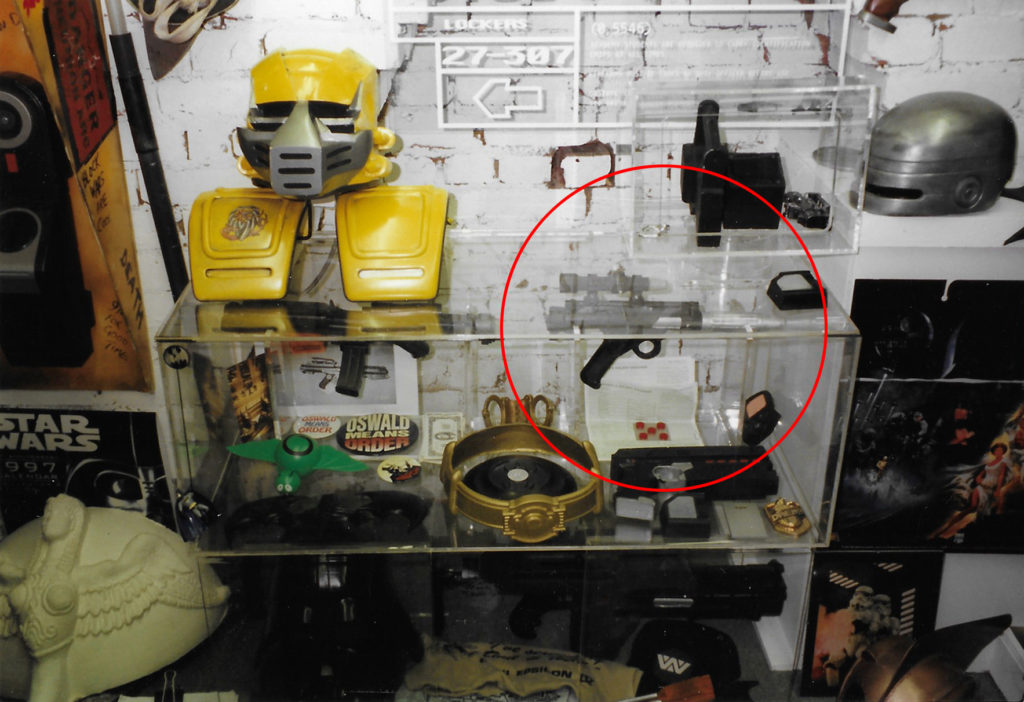 An early collection of artifacts in Stephens collection in his attic – circled is the above mentioned Rebel Blaster from Star Wars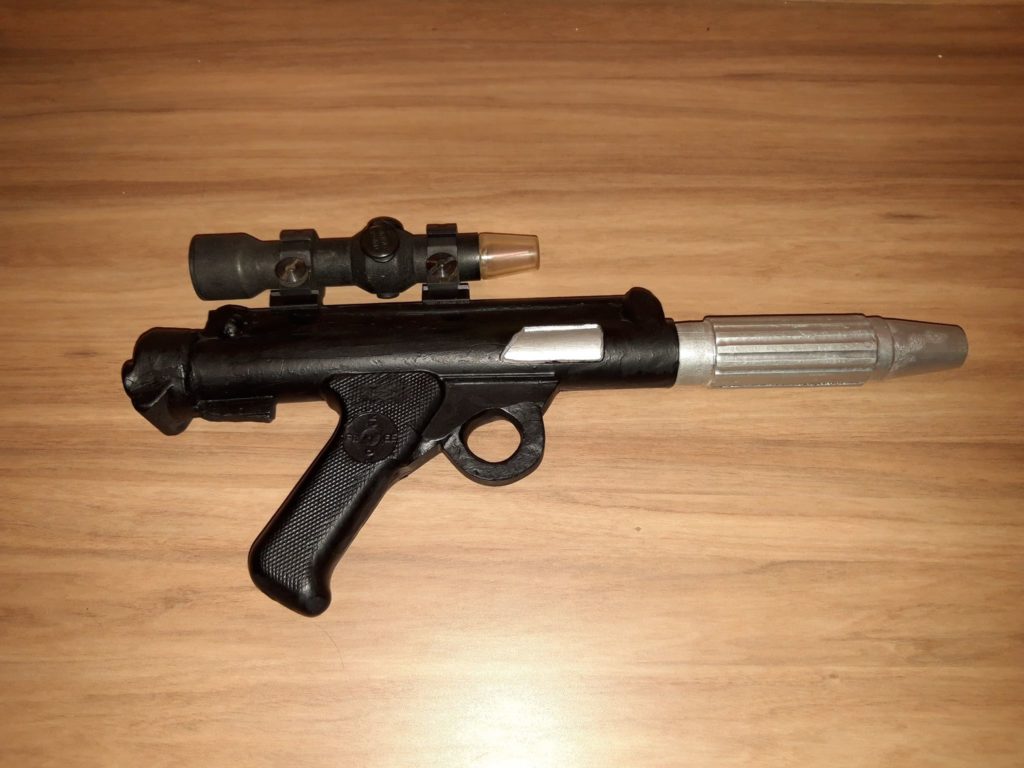 The Rebel Blaster as it stands today – photo credit to collector and current owner of the blaster Andy Goulding
Curious to discover the provenance of the blaster, Lane tracked it to source: film industry armourers Bapty & Company on Harrow Road in London, run by Richard Hooper. After taking Lane on a tour of the facility, pointing out props and weapons from films like Aliens, Batman, Flash Gordon and Star Wars, Hooper revealed that all these assets were destined to either be rented by other productions or, if not, thrown in a skip.
"I was just astonished that nobody had any foresight that these items could be culturally significant in the future," says Lane. "That was the trigger."
So in 1998, with some encouragement from his wife Lizzie, Lane gave up the company he had previously been running, Manor Signs, and devoted himself to Propstore full-time. "The very first order on the Propstore system was from an American collector called Dana Hammontree," says Lane. "He bought a crew jacket for £393. Interestingly, Dana's son is now a collector who buys from us regularly — 20 years after the first order from his father. It seems the products and service from Propstore are so good they transcend generations of collectors!"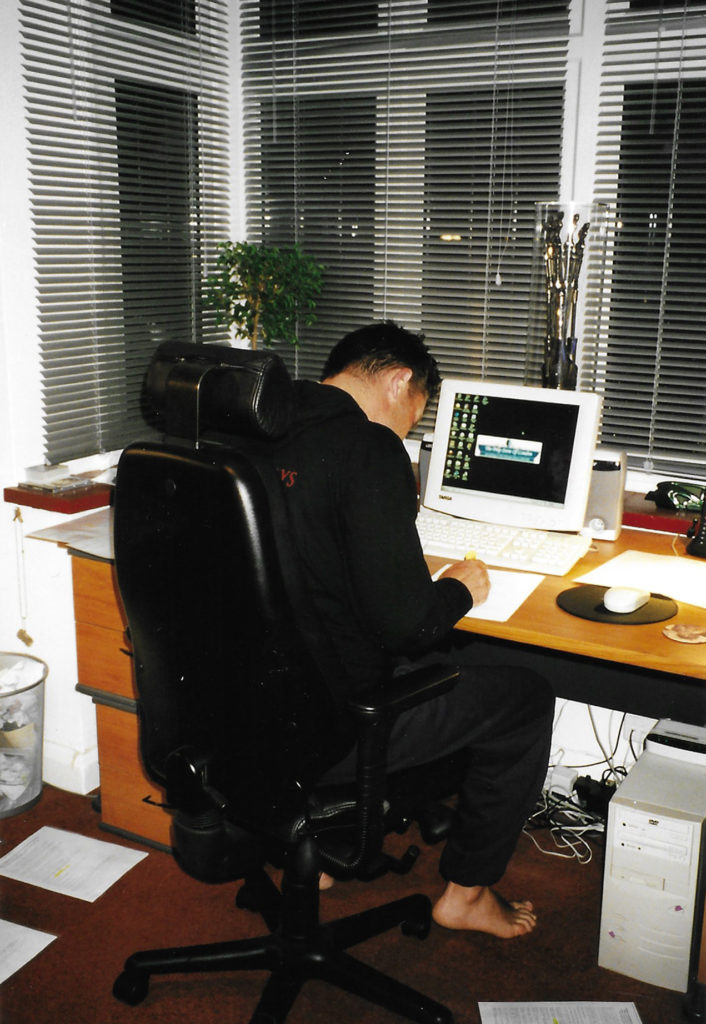 Stephen processing Propstore orders from his first office at home – Photo Credit Lizzie Lane

Stephen's early memorabilia collection – featuring his extensive collection of action figures
But it wasn't the Transatlantic, Live Auction-orchestrating business it is today. Lane forged contacts in the film industry —  armourers, prop masters, prop rental houses and special effects houses — filling his van with movie and TV-show artefacts and selling them at memorabilia shows.

Two of Propstore's early memorabilia displays at collectors conventions
While at these shows, Lane befriended fellow collector Tim Lawes, a same-day courier from Haselmere in Surrey, who would often help him and Lizzie out. "I think Stephen wanted to be a one-man band, just trading out of his spare room," recalls Lawes, now Propstore's General Manager, "but things escalated for him very quickly — more than he'd anticipated."
In 1999, for example, Lane pulled off his first big studio deal, buying Sleepy Hollow and Event Horizon assets from Paramount Studios. "It was a massive deal at the time," says Lawes. "I helped him move it all, unpack it all and sort it all. It really gave Propstore a foothold." Unsurprisingly, the next year Lane decided it just wasn't feasible to continue as a solo act.
It was at a bar in Solihull, during a memorabilia show at the Birmingham NEC, that Lawes convinced Lane that he should be that help. Lane was  unsure, but only because Lawes would have a 90 minute commute — something that hardly concerned Lawes, given he spent his days driving around the UK anyway. After a few drinks, the deal was done: Propstore had its first employee.
Stephen and Tim on the set of Harry Potter and the Philosophers Stone circa 1999
It also, in 2001, established its UK base, amid they idyllic, leafy environs of Chenies Manor, in Buckinghamshire. Lane was driving past the manor when he noticed that the haulage company which he knew operated out of the buildings behind the historic landmark had now vacated the site. Straightaway he called the landlord and snapped up the small office and warehouse it had formerly occupied (though during the years since, Propstore has expanded across the site).
Stephen, Lizzie, Tim and second employee Katy at Propstore's Chenies Manor location
"It was ideal because it's somewhere we've been able to expand into," says Lawes. "And with regard to proximity to the film studios, the location is ridiculous: you've got Leavesden on one side, Elstree a bit further around, and then to the South there's Pinewood, Shepperton and Longcross. Also, many crew guys live in this area, so we very rarely have to travel too far to go and see a collection."
During the following years, Lane pulled off some huge and impressive warehouse buy-outs, in 2003 acquiring assets from 20th Century Fox's warehouse archive — including 15 full-size robots from sci-fi thriller iRobot — and in 2007 obtaining the entire inventories for Universal Pictures' The Chronicles of Riddick and Serenity, which were all shipped by surface freight from California to the UK.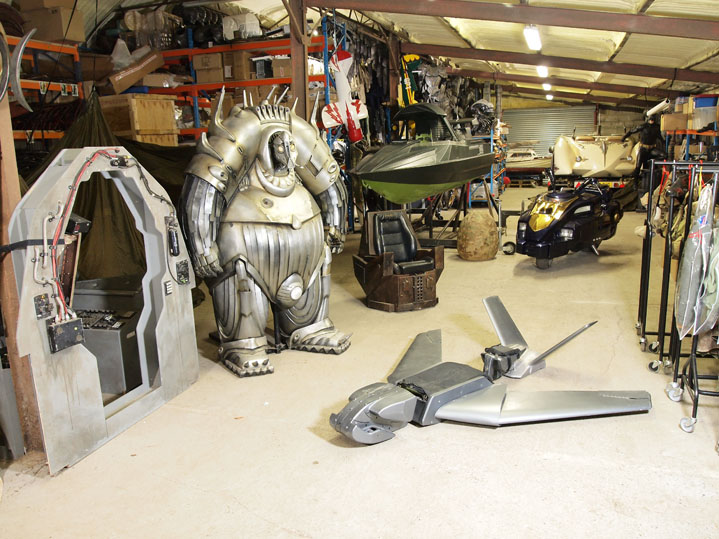 One of Propstore's warehouses – circa 2011
The most significant leap forward during these early days, though, was Lane's realisation that he'd need to use the internet to push his company to the next level. On one of his regular trips to America in the mid-'90s, he noticed website addresses appearing on US billboards. "I thought, I've got to get a website," he says. "We were losing a huge amount of business to other auction houses who didn't have the same passion as us."
But not only did he build a website to both expand Propstore's US market and establish a Japanese market, he also had the foresight to partner with eBay and Amazon just as they were setting up in the UK.
"We did some sales and promotions on both of those platforms," he says. "These days you'd be lucky if you could get a rep for one of those companies on the phone, but back then they were very hungry for unusual content. So I managed to get the word out quickly."
Within nine years, Lane had taken Propstore from a one-man band, driving from convention to convention with a van full of artifacts, to an eight-strong team, which held auctions online and reached collectors all around the world.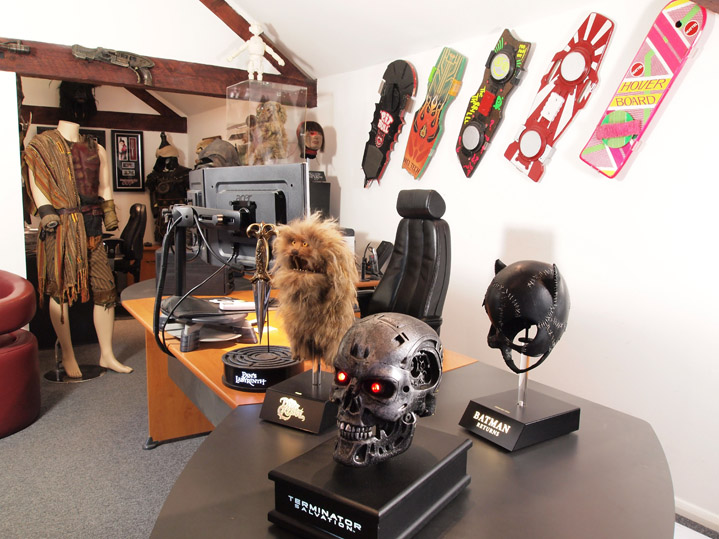 Stephens Desk at Propstore – circa 2011
"Even back then we were the leaders in film memorabilia," says Sarah Sorkin, who joined Propstore in 2006 as its photographer. "Although we worked on a much smaller scale, we knew the importance of making sure everything was accurate and our customer service was second to none. Without a good reputation we wouldn't have anything!"
That reputation was certainly growing. So much so, Lane realised just having the one base in the UK was no longer enough. Now his sights were set on Hollywood…
 Coming Next in Part 2: The foundation of Propstore's US Operation…
Don't forget to follow us on Twitter and Facebook. And remember, you can explore so much more at our archive and see the extensive range of film and TV items we have for sale and auction over at propstore.com!