After the success of his (now) iconic film Back To The Future (1985), Robert Zemeckis set his sights once more dazzling audiences with Who Framed Roger Rabbit (1988). Before the current generation of motion-capture filled films, the hybridisation of animation and live action film was definitely a rare sight – mainly because of how difficult it was to achieve. However, Zaemeckis took a leap of faith and created a film so unique and special, that it still holds a special place in our hearts 30 years later.
So on its 30th anniversary, we want to look back over some of our favourite Roger Rabbit pieces sold through Propstore over the past few years and re-live our love for the movie…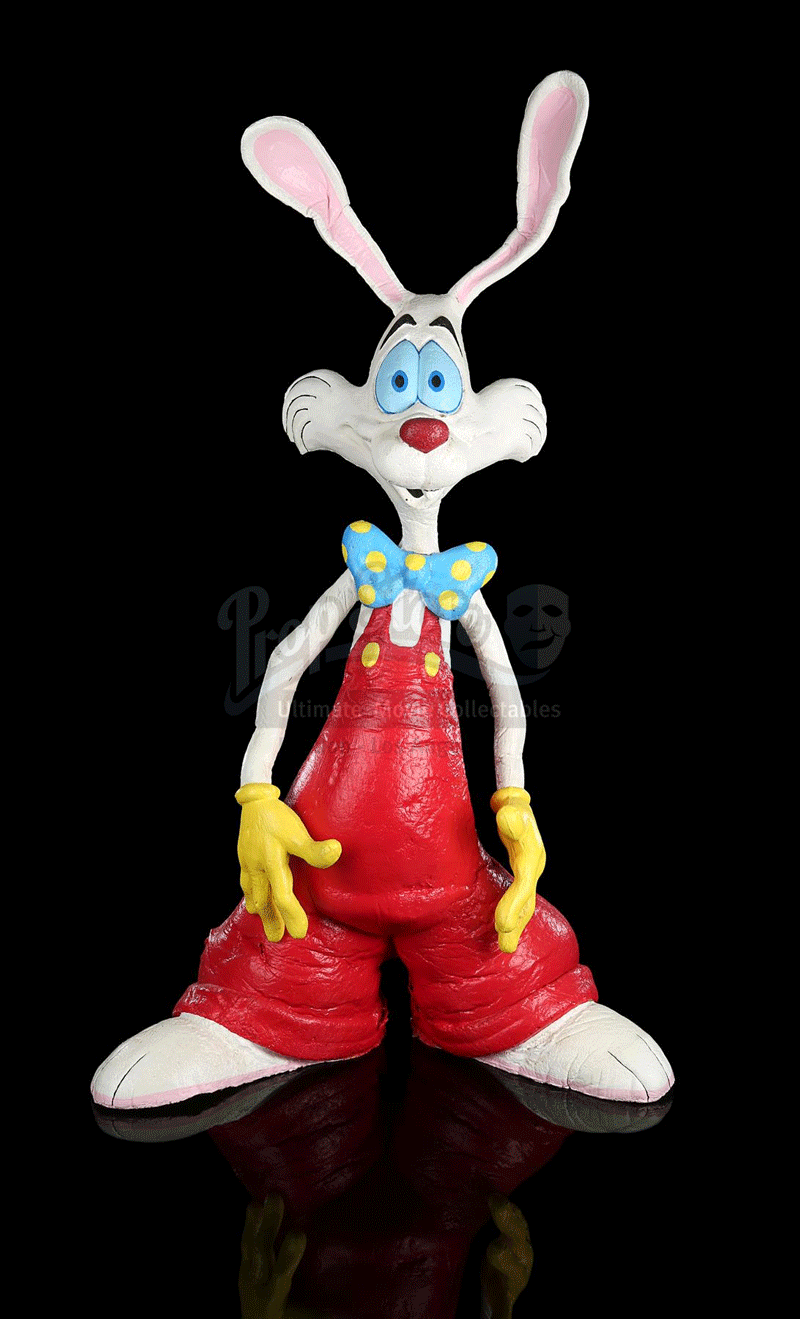 Full-Scale Roger Rabbit Stand-In
WHO FRAMED ROGER RABBIT (1988)
First up in our Roger Rabbit collection is – of course – the amazing Roger Rabbit stand-in. Made to scale, stand-ins were used during the production to help the actors, giving them a reference to act against during the scenes involving Roger and the stand-in was later replaced by the final animated version of Roger.
Made from foam with a metal armature skeleton for posing, the stand-in has been paint-finished to match the iconic rabbit. To protect it from foam deterioration, it has been sympathetically restored and coated in latex paint.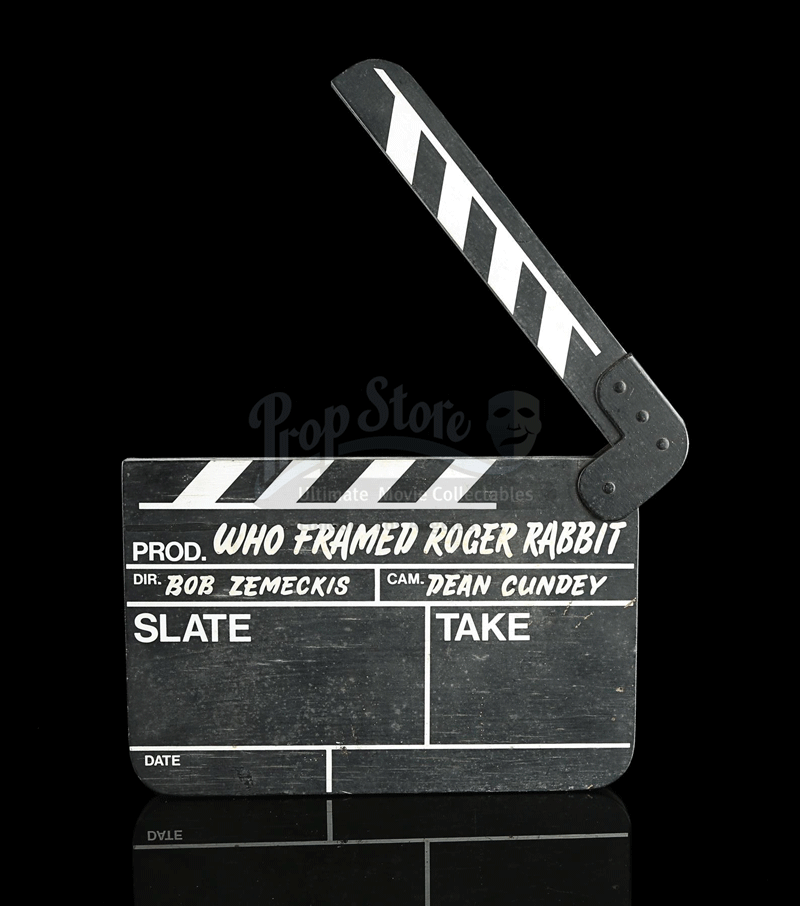 Clapperboard
WHO FRAMED ROGER RABBIT (1988)
Next up in our selection is the production-used clapperboard from Robert Zemeckis' Oscar®-winning detective comedy Who Framed Roger Rabbit. The black wooden clapperboard features the film's title painted in white at the top and the names of director Robert Zemeckis and director of photography Dean Cundey beneath, with space to write the slate number, take number and date in chalk.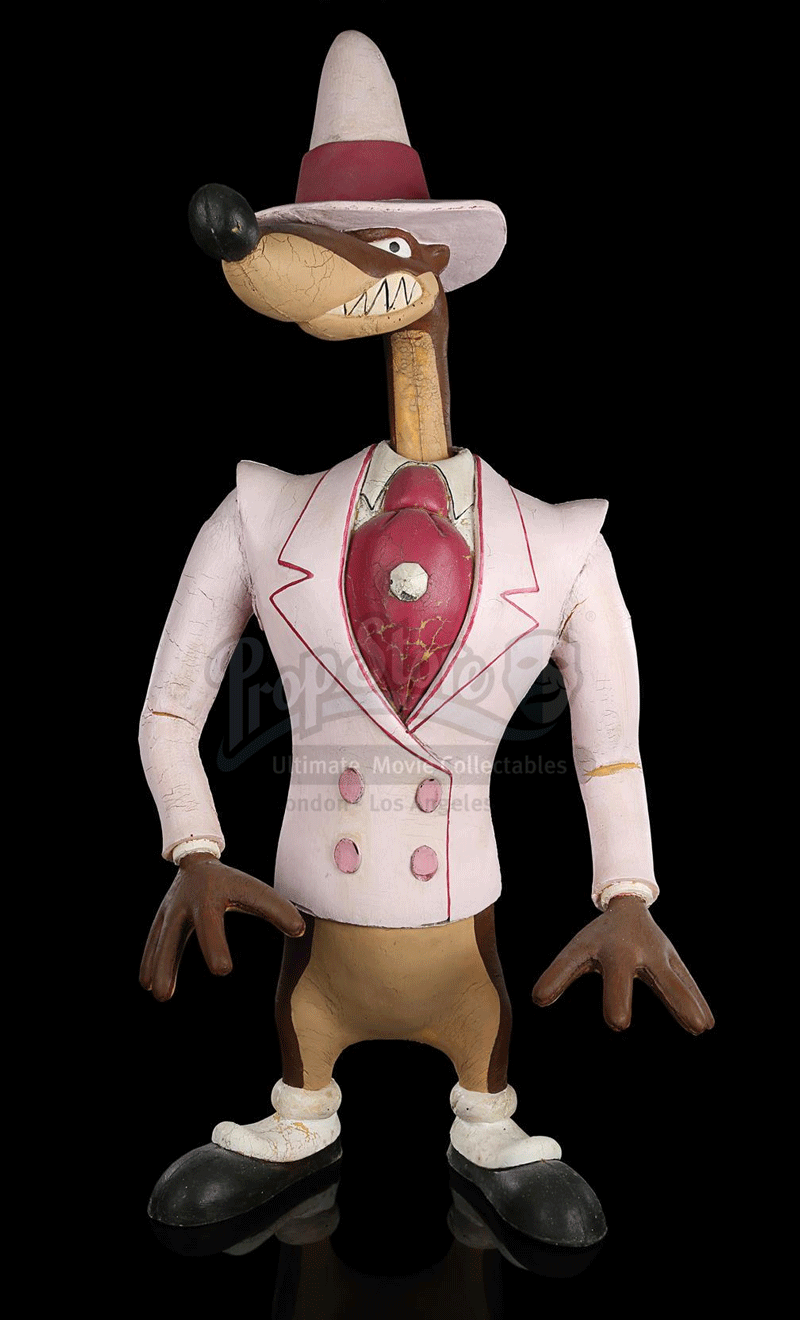 Full-Scale Smart Ass Weasel Stand-In
WHO FRAMED ROGER RABBIT (1988)
Another of our favourite Roger Rabbit pieces is the Smart Ass Weasel stand-in. Used during the production, this stand-in helped the actors with their performances in scenes featuring the lead weasel of Judge Doom's (Christopher Lloyd) Toon Patrol, most notably Eddie Valiant's (Bob Hoskins) confrontation with the Smart Ass Weasel in his office while washing his socks and concealing Roger Rabbit. Additionally, during post-production the stand in was replaced by an animated version of the character.
The weasel is constructed from foam surrounding a posable metal armature skeleton. Made to scale, it is finished in paint and features the smirking weasel wearing a matching pink gangster-like hat and zoot suit with black shoes.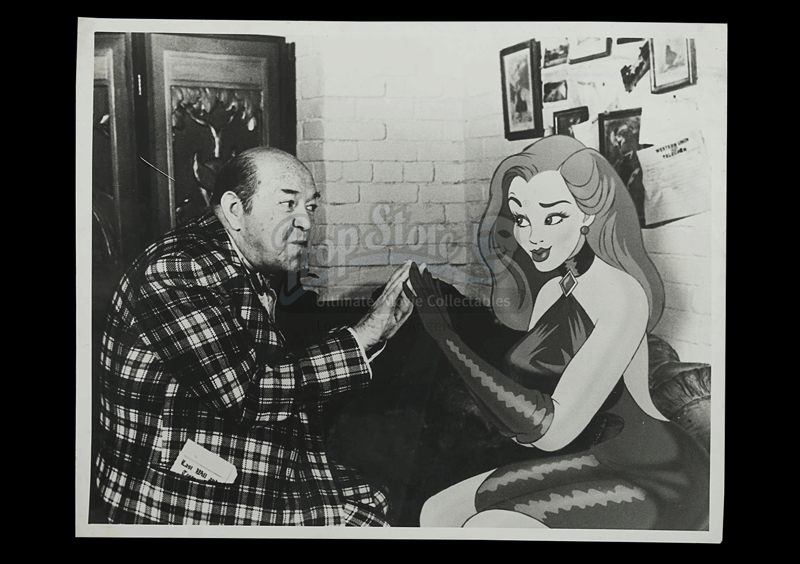 Set of Two "Patty Cake" Jessica Rabbit and Marvin Acme (Stubby Kaye) Photographs
WHO FRAMED ROGER RABBIT (1988)
And last but not least is this adorable pair of photographs, taken by Eddie Valiant (Bob Hoskins) to show Roger Rabbit that his wife Jessica was having an affair with Toontown owner Marvin Acme (Stubby Kaye). Although these images differ from the close-up versions, they can be seen as dressing on Valiant's desk.
The two black-and-white photographs show the characters playing 'Patty Cake' – a hand-clapping game – and the image of Jessica is particularly Disney-like, which is a world away from her movie appearance!
If you liked what you saw, then why not check out some more of pieces in our Roger Rabbit Collection on the Propstore site – or even sign up for a Propstore account to keep up to date with all new items that come up on the site?

And don't forget to follow us on Twitter and Facebook. And don't forget, you can explore so much more at our archive and see the extensive range of film and TV items we have for sale and auction over at propstore.com!