|
Uncategorized
FEATURED LOTS | Entertainment Memorabilia Live Auction 2020 – London
There's only a few more days left until the London 2020, Entertainment Memorabilia Live Auction on the 1st and 2nd December, and with a wealth of content this year in the catalogue from over 350 iconic films, we wanted to give you a closer look into some of our featured lots in the auction…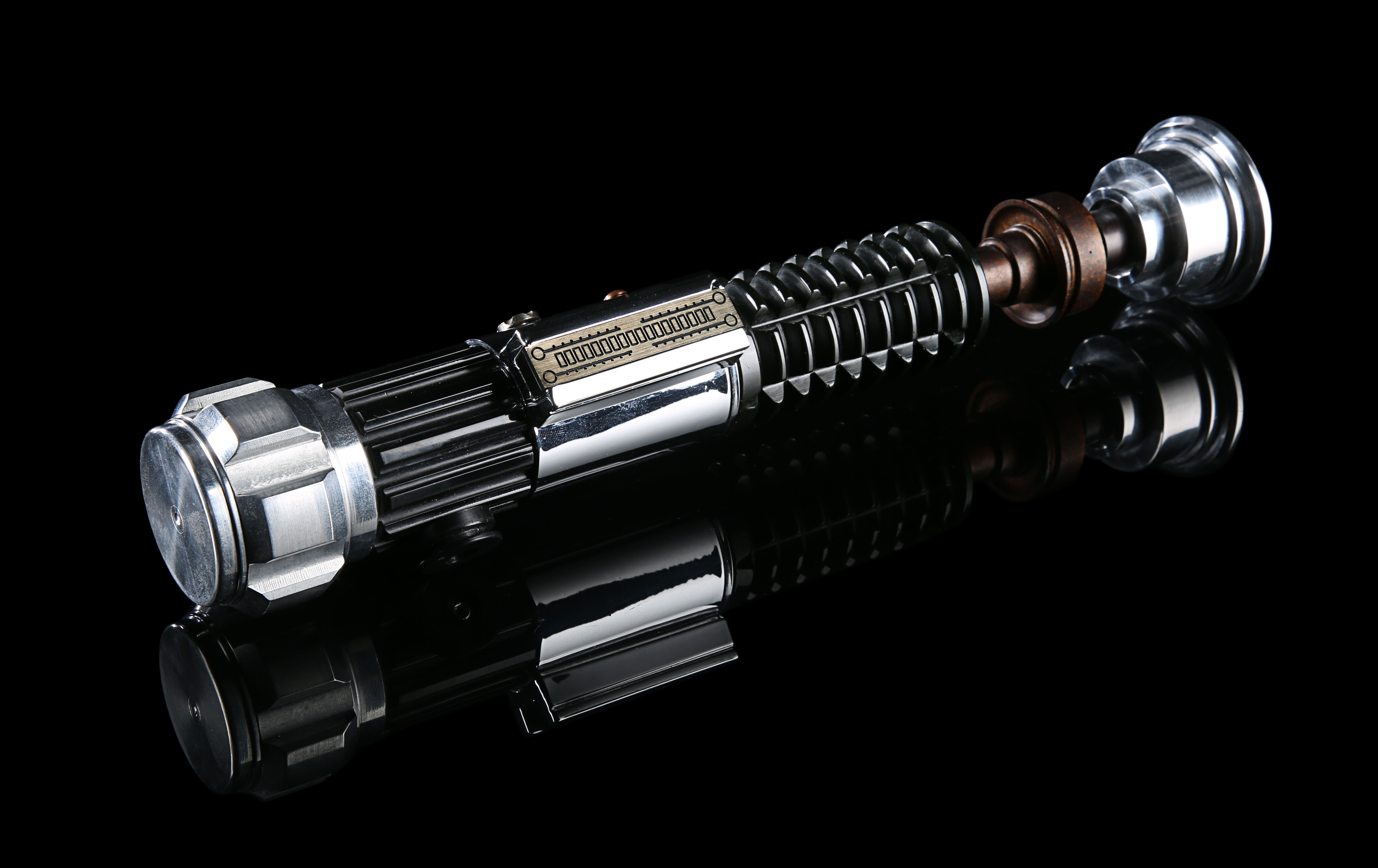 Lot 689 – Obi Wan Kenobi's (Ewan McGregor) Hero Lightsaber, STAR WARS: REVENGE OF THE SITH (2005)
George Lucas rounded his prequel trilogy off with Revenge of the Sith and finally showed the world how the corrupted Anakin Skywalker transformed into the iconic Darth Vader. The climax of the film is an epic duel on the lava planet Mustafar, between the former friends Obi-Wan and Anakin, and culminates with Obi-Wan cutting Anakin's arm and legs off and leaving him for dead. Obi-Wan's lightsaber, which he would later use to face down Vader again in A New Hope, was the inspiration for Luke's self-made lightsaber. Gifted to legendary sword master and stunt coordinator Nick Gillard by the producers after the trilogy's completion, it certainly is a weapon fit for a Jedi Master.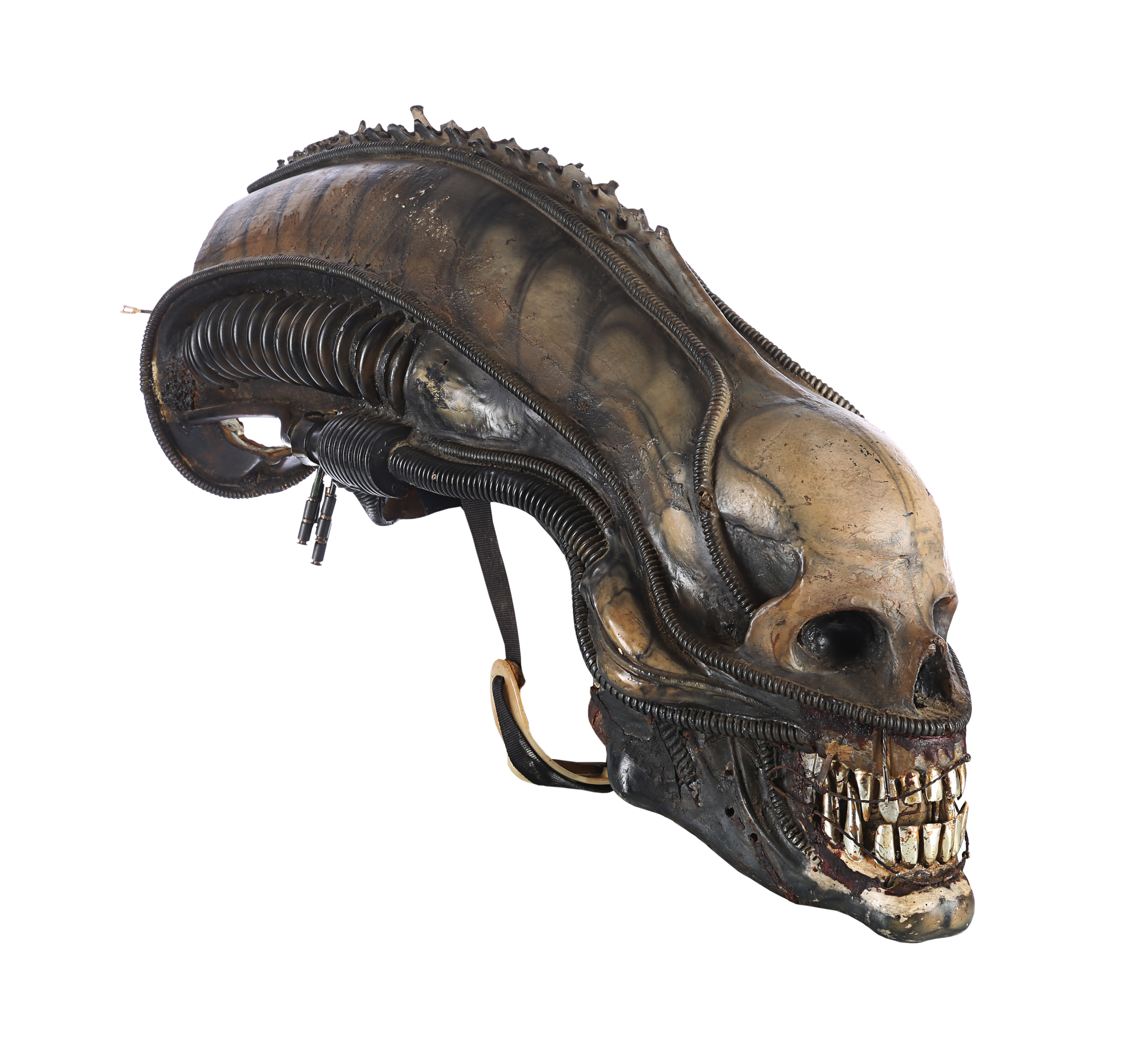 Lot 12 – Special Effects Mechanical Alien Head, ALIEN (1979)
In the history of cinema, has there ever been a more terrifying creature than the titular alien from Ridley Scott's 1979 classic? Based on H.R. Giger's iconic design, this is one of only four heads made for the creature in the original film. Carlo Rambaldi was commissioned to make three heads for the film, but there were fears that they would be delayed due to his work on another production, so David Watling was asked to make a fourth in case the others did not arrive on time. However, Rambaldi delivered, and Watling's version was not seen on screen. Despite this, what we have is a remarkable piece of cinematic horror history, complete with a moveable jaw and monstrous toothed tongue.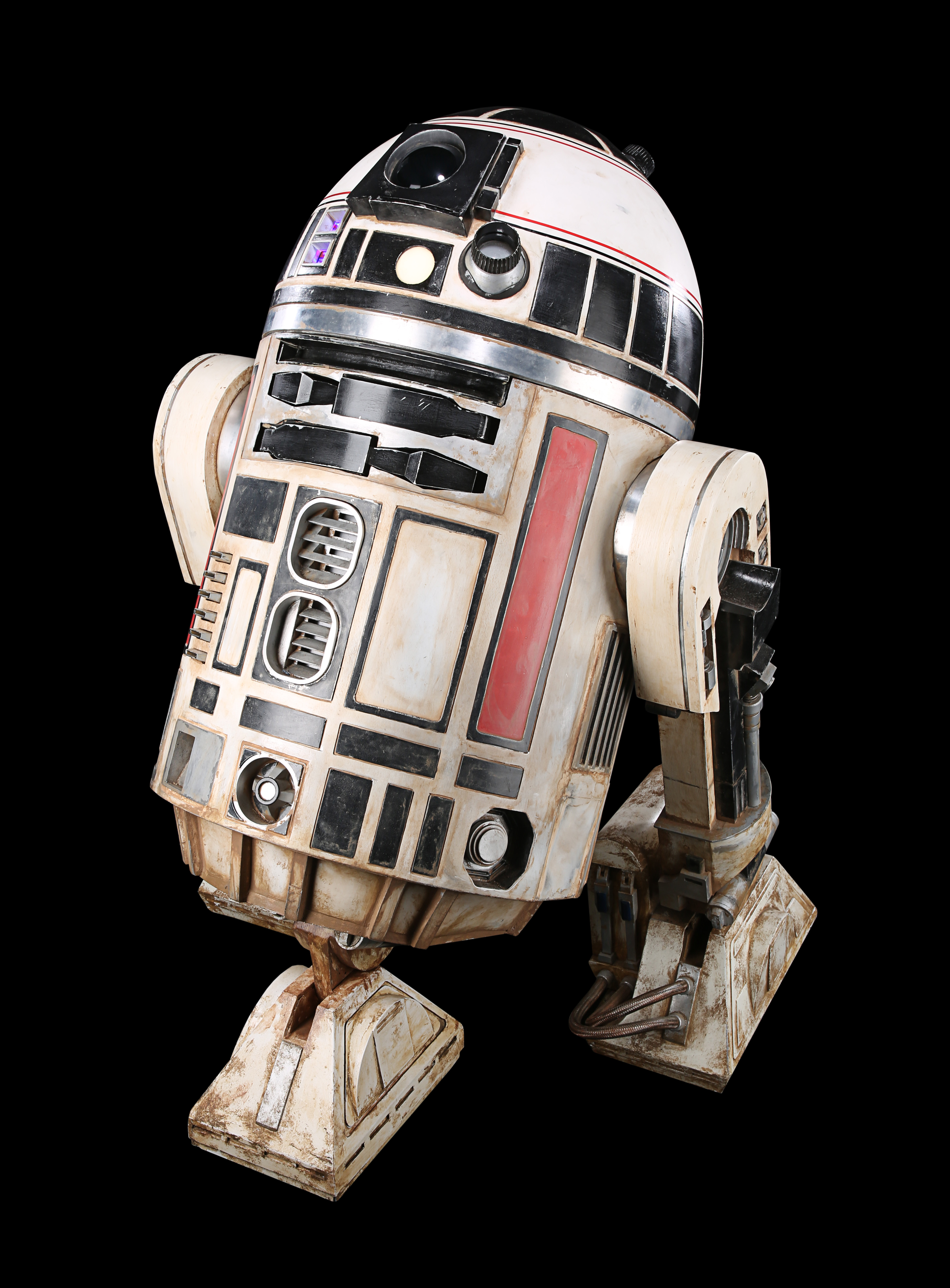 Lot 768 – Light-Up Remote-control R2-S8 Droid, STAR WARS: SOLO: A STAR WARS STORY (2018)
R2 units are a staple of the Star Wars universe, serving Imperial and Rebel alike. This droid was made by Stuart Bone, and can be seen displaying a hologram for a pair of stormtroopers at the Coronet Spaceport. Originally built for Rogue One: A Star Wars Story but ultimately unused, the droid can be driven by remote control and features a rotating dome and flashing light effects. The inside back panel has also been autographed by the legendary Kenny Baker, R2-D2 himself.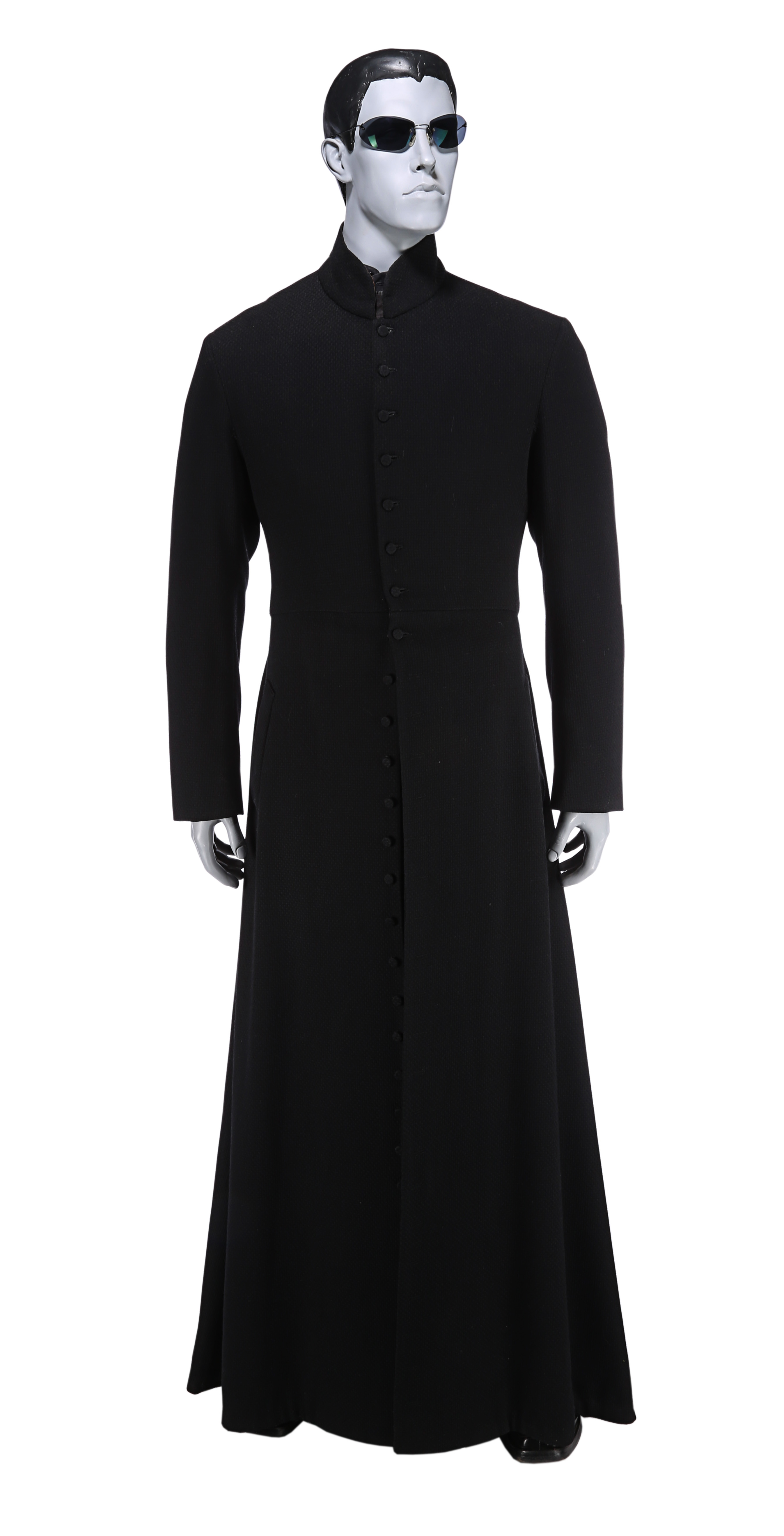 Lot 491 – Neo (Keanu Reeves) Complete Costume, THE MATRIX RELOADED (2003)
Neo's (Keanu Reeves) appearance in The Matrix Reloaded is notably different from The Matrix (1999). In the first film, Neo's projection of himself in the Matrix features a long leather jacket, T-shirt, combat trousers and boots. In the sequel, after Neo's confirmation as 'The One', his Matrix projection features a much more sophisticated look, with a long black cassock-like coat, black shirt with mandarin collar and more stylish leather shoes. It shows his acceptance of the role as an almost religious icon to the human resistance against the machines. Costume designer Kym Barrett also had to take the complex stunt sequences into consideration when designing a durable and practical costume. Displayed on a custom-built mannequin, this is a must for fans of The Wachowski's sci-fi series.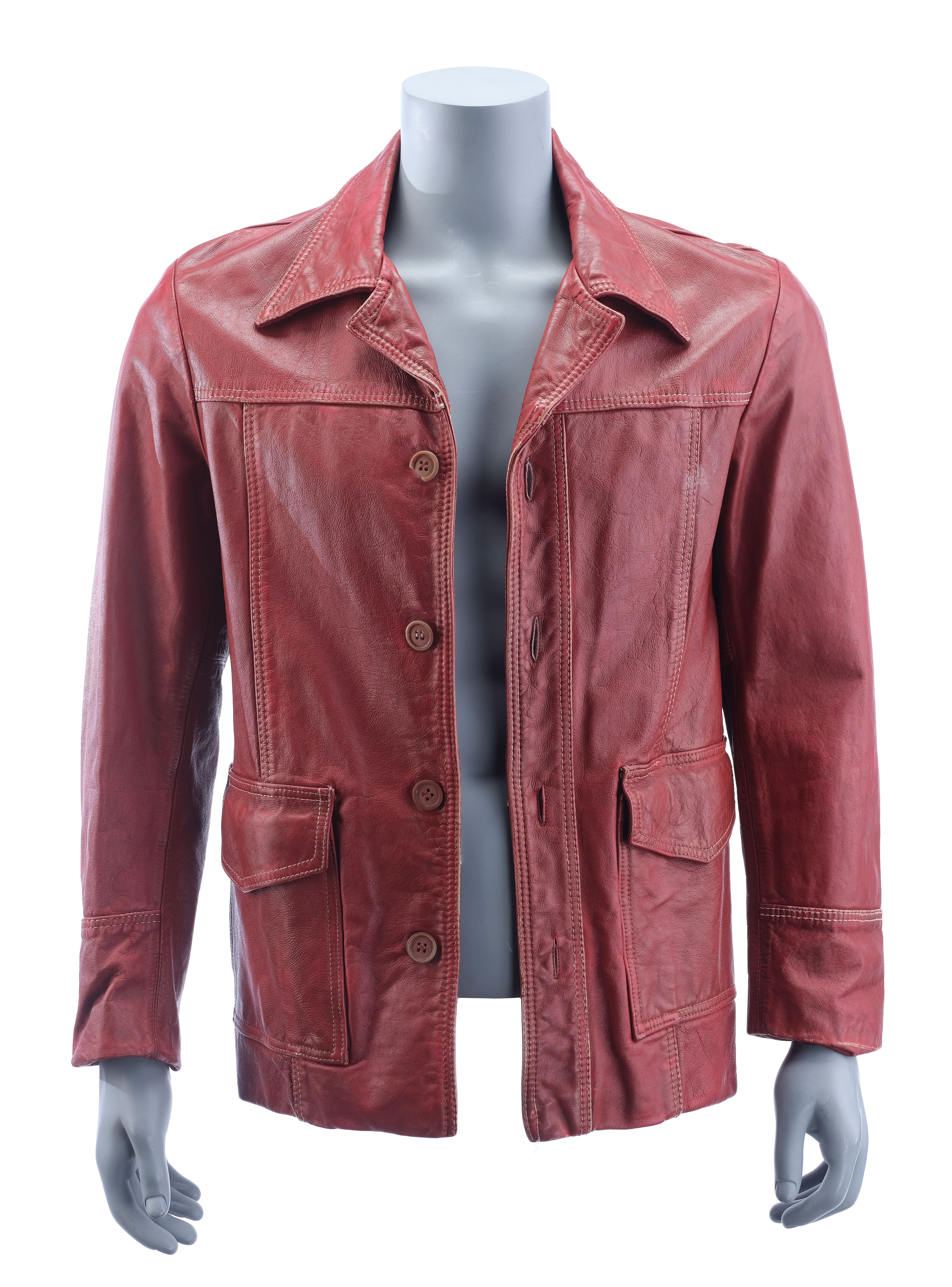 Lot 256 – Tyler Durden's (Brad Pitt) Red Leather Jacket, FIGHT CLUB (1999)
Tyler Durden (Brad Pitt) was the handsome, athletic, nihilistic id to The Narrator's (Edward Norton) emasculated, insomniac ego. Where The Narrator was plain and buttoned up, Durden was the epitome of ontemporary bohemian swagger. To be honest, it is hard to make Brad Pitt look anything less than the coolest man on the planet. This jacket was custom-made for the film, and photo-matches the one worn by Pitt in a promotional shot on the July 1999 cover of W Magazine.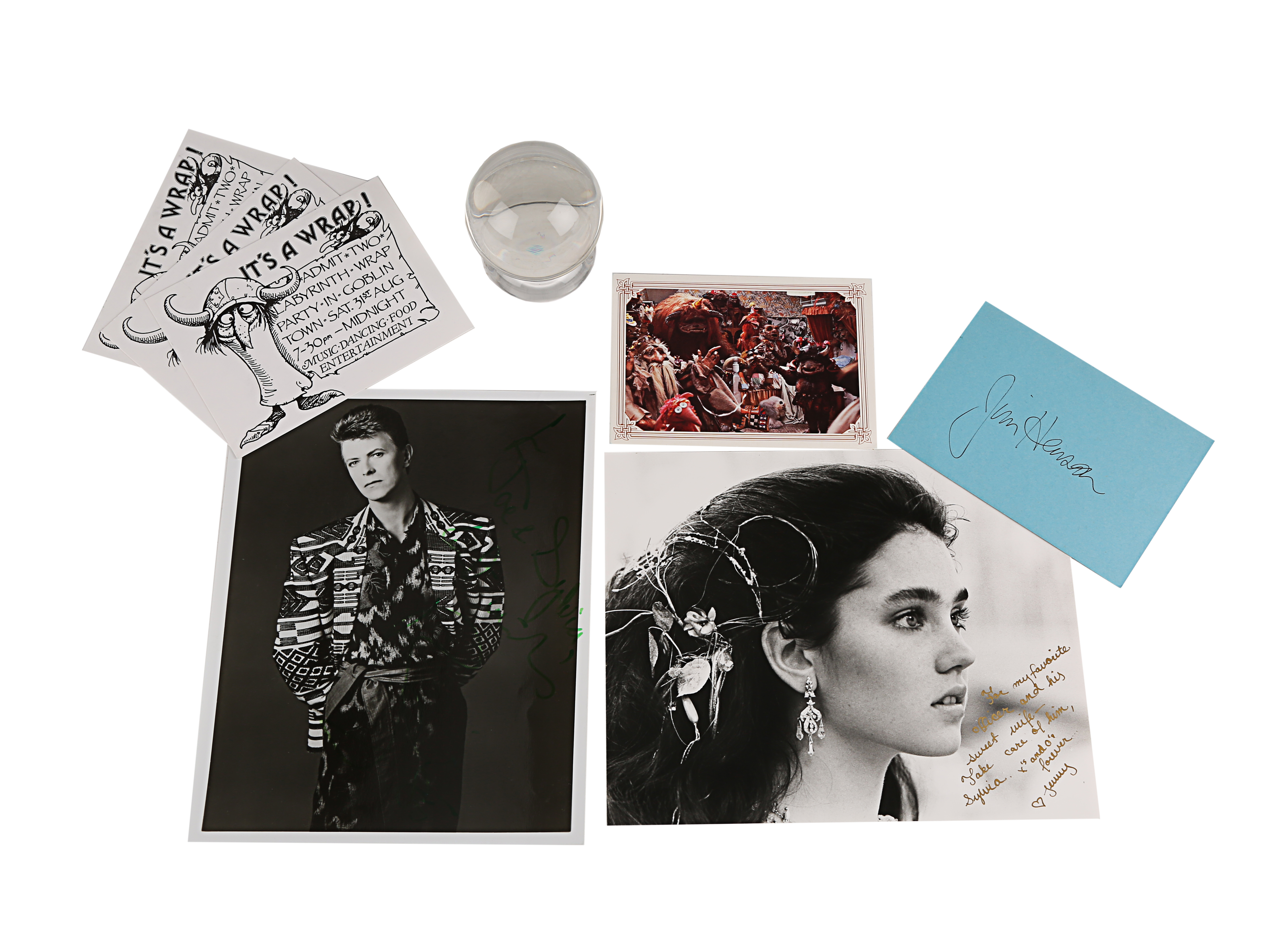 Lot 454 – Jareth's (David Bowie) Crystal Ball, Autographed Photos, Tickets and Card, LABYRINTH (1986)
Jareth the Goblin King – played by the late, great David Bowie – is arrogant, vain, and iconic. With his bouffant hair, tight trousers and magnificent ball juggling skills, he mesmirised not only Sarah (Jennifer Connolly), but millions of viewers since. Interestingly, it wasn't Bowie performing Jareth's contact juggling – choreographer Michael Moschen was crouched behind Bowie for those scenes, performing his spectacular routines completely blind.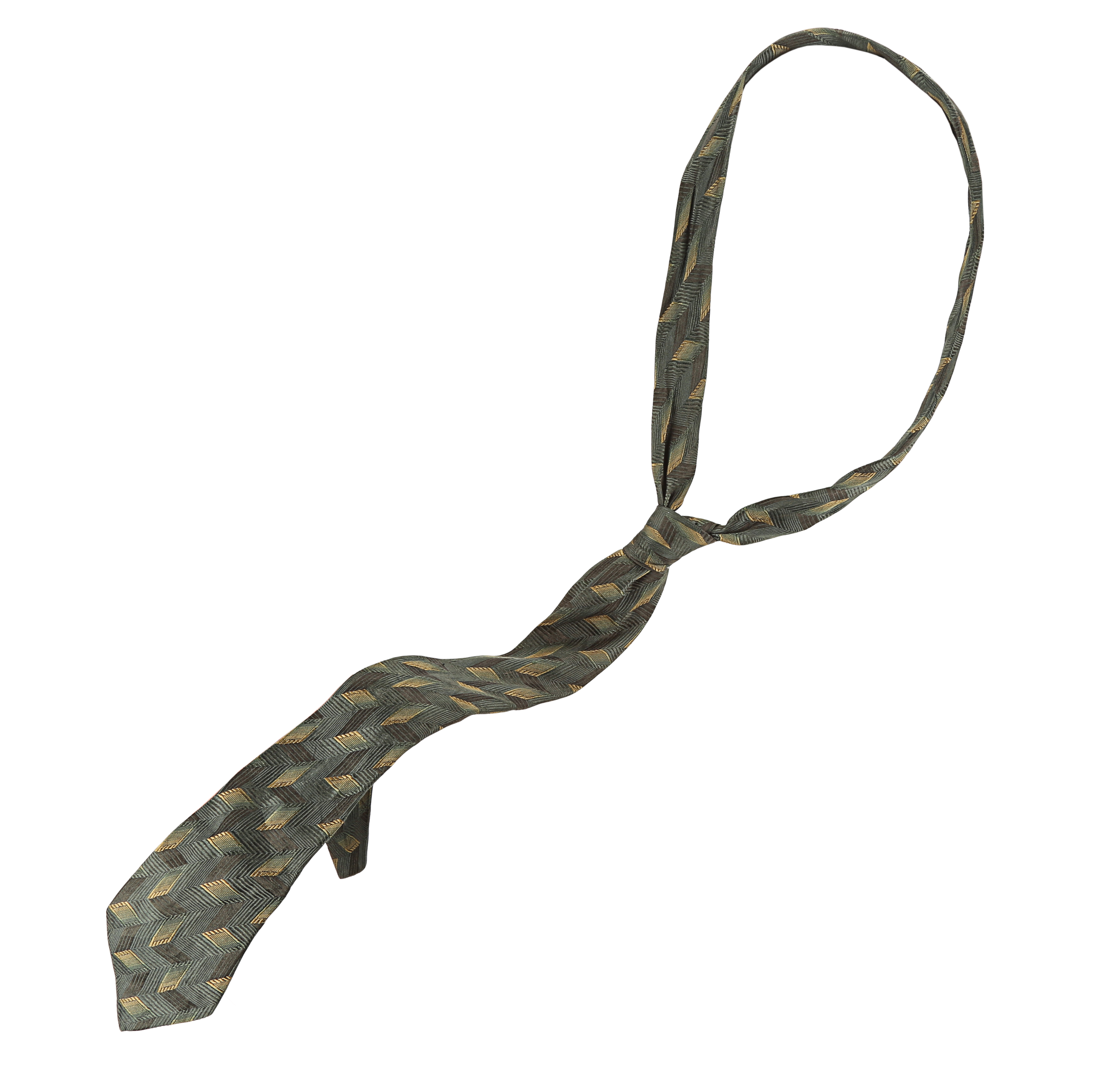 Lot 98 – Joker's (Heath Ledger) Neck Tie, THE DARK KNIGHT (2008)
Has there even been a villain as stylish as Joker? Throughout the different iterations of the character in film and television, much has remained the same: a lot of purple, a dash of green, and a smile to die for. For The Dark Knight, costume designer Lindy Hemming wanted to modernise the costume from the clean-cut look of Jack Nicholson in Tim Burton's Batman (1989). Drawing inspiration from fashion designers and rock stars, she eventually settled on the look seen in the film. However, it was Ledger who proposed wearing a thin 1960s style tie, so Hemming contacted Turnbull & Asser, who have provided custom suits for Bond films and members of the Royal Family. They created a unique, custom-made pattern for Joker's tie, and this tie was gifted to his personal assistant on the final day of shooting.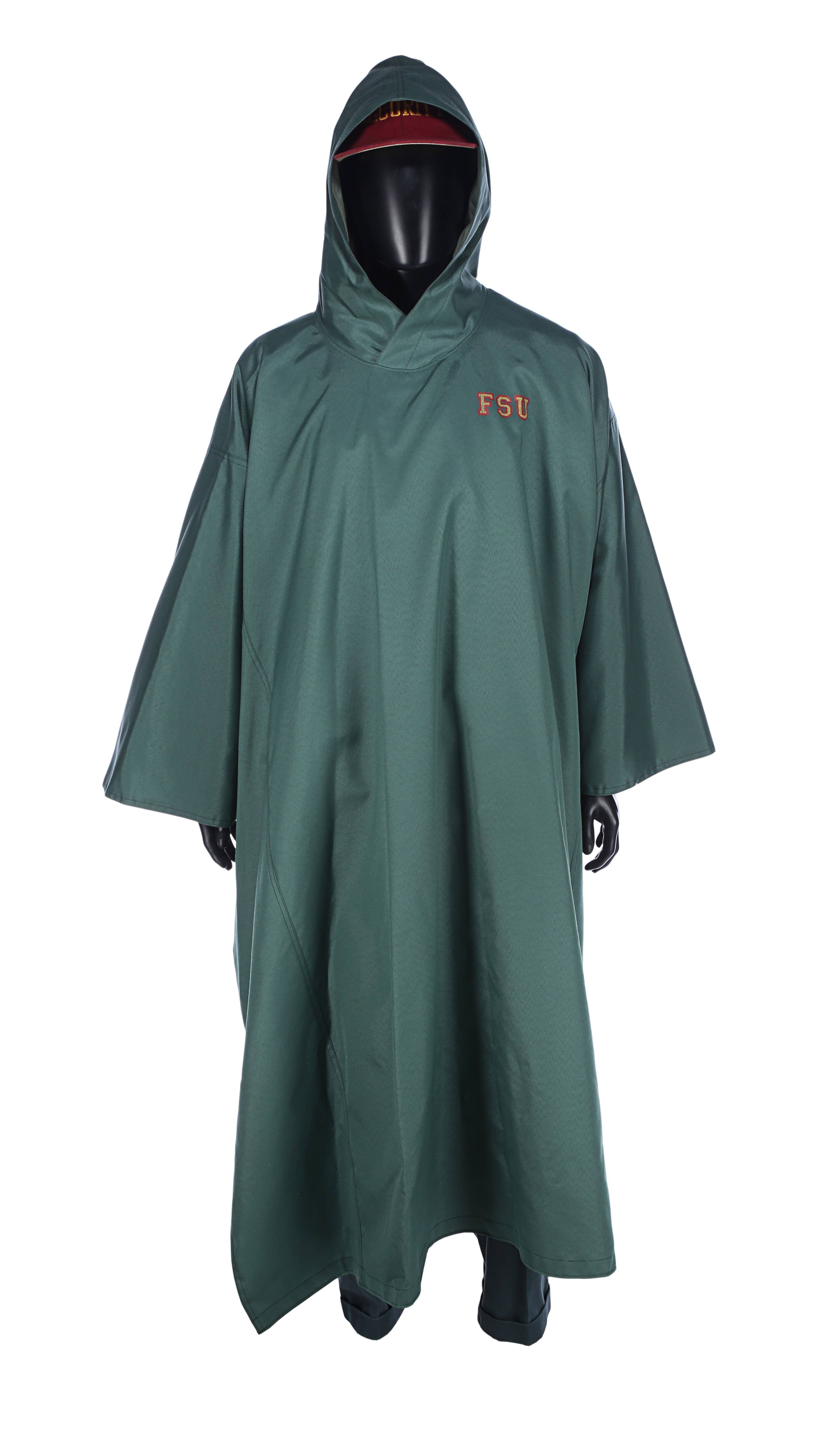 Lot 852 – Joanna Johnston Collection: David Dunn's (Bruce Willis) FSU Security Costume, UNBREAKABLE (2000)
Unbreakable is a relatively rare thing in cinema: a superhero origin story not based on a previously established comic book creation. This costume comes from the personal collection of Oscar®-nominated costume designer Joanna Johnston, and it is interesting to note that David's poncho grows longer throughout the film as he grows into his role as a hero, so the poncho comes to resemble a classic superhero cape.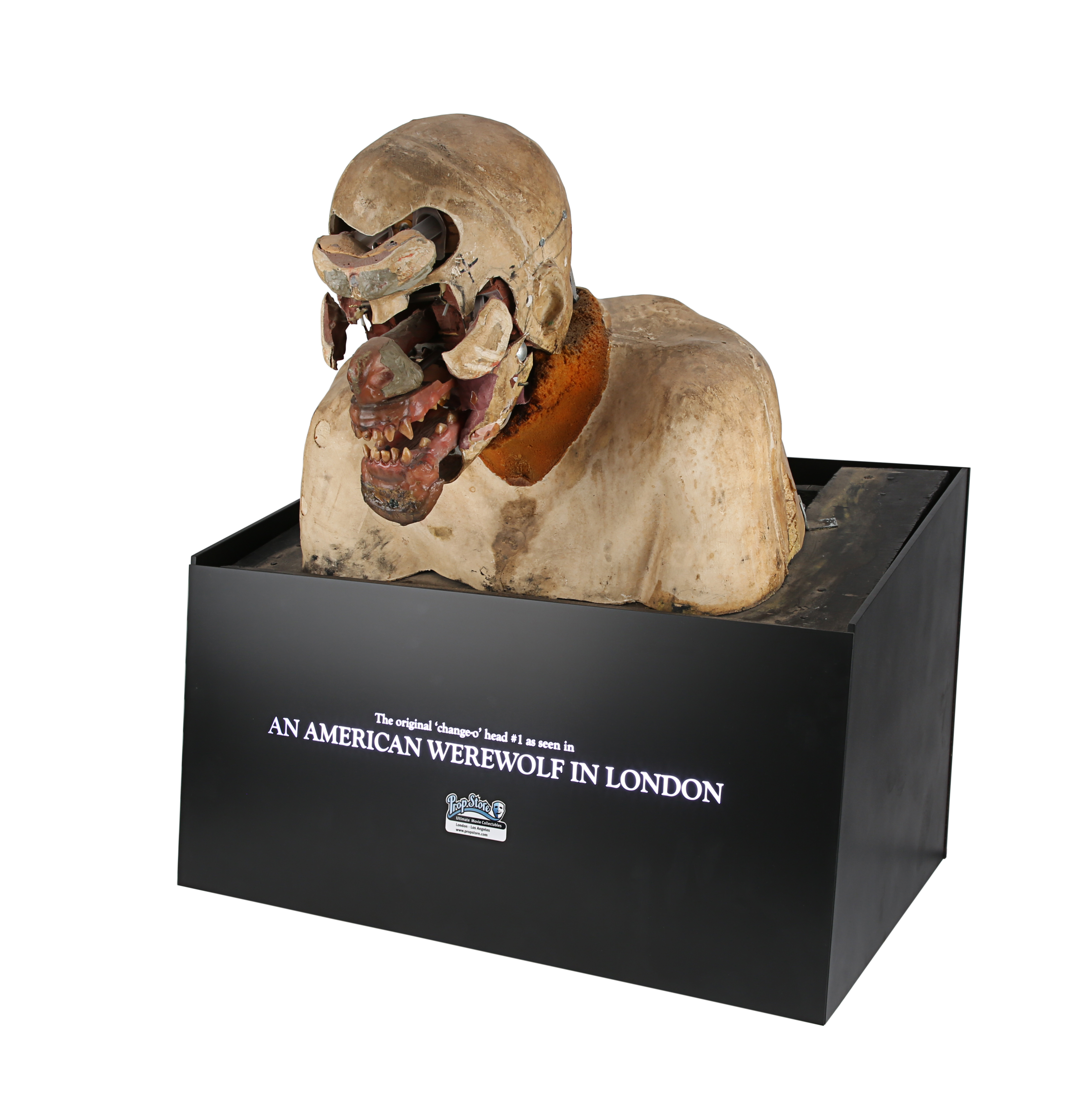 Lot 39 – Rick Baker SFX Mechanical Werewolf Transformation Transformation Bust, AN AMERICAN WEREWOLF IN LONDON (1981)
In 1981, Rick Baker beat the equally legendary Stan Winston to the first ever Academy Award® for Best Makeup for his work on An American Werewolf in London. Baker has gone on to win a further six Oscars®, but his work on the film remains special, and the werewolf transformation scene is widely regarded as one of the finest special effects sequences in cinematic history. To give the horrific effect of David's (David Naughton) skeleton morphing and skin stretching as he took his lycanthrope form, Baker devised several 'change-o' effects for different body parts. The sequence itself took 10 days to shoot, with Naughton having to spend hours each day in the makeup chair, but when it came to shoot the head transformation it worked so flawlessly that they got the shot they needed in mere minutes. Baker later recollected that he was disappointed that it was so brief. "That's it?! We've been working on this for months!" he later recollected.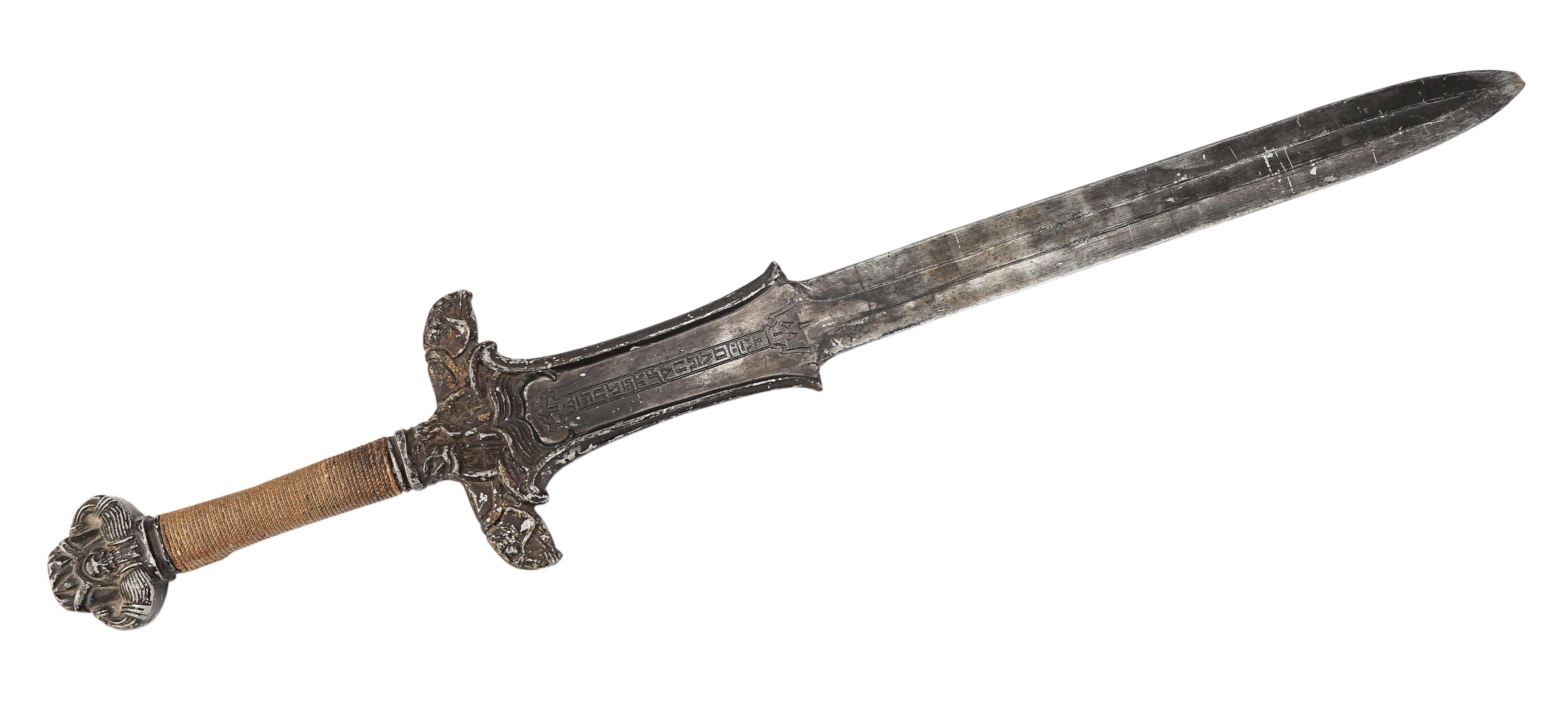 Lot 183 – Conan's (Arnold Schwarzenegger) Atlantean Sword and Four Behind the Scenes Photos, CONAN THE BARBARIAN (1982)
For much of the 1980s and 90s, Arnold Schwazenegger was one of the biggest celebrities on the planet, and Conan was the role that made him a movie star. Arnie has travelled through time on assassination missions, faced down alien hunters, terrorised Gotham City and even had a baby, but there are few more iconic images of the former Governor of California than him bare chested, swinging the Atlantean sword above his head. Designed by the late, great Ron Cobb and made by master bladesmith Jody Samson, the Atlantean sword is one of the most recognisable swords in cinematic history.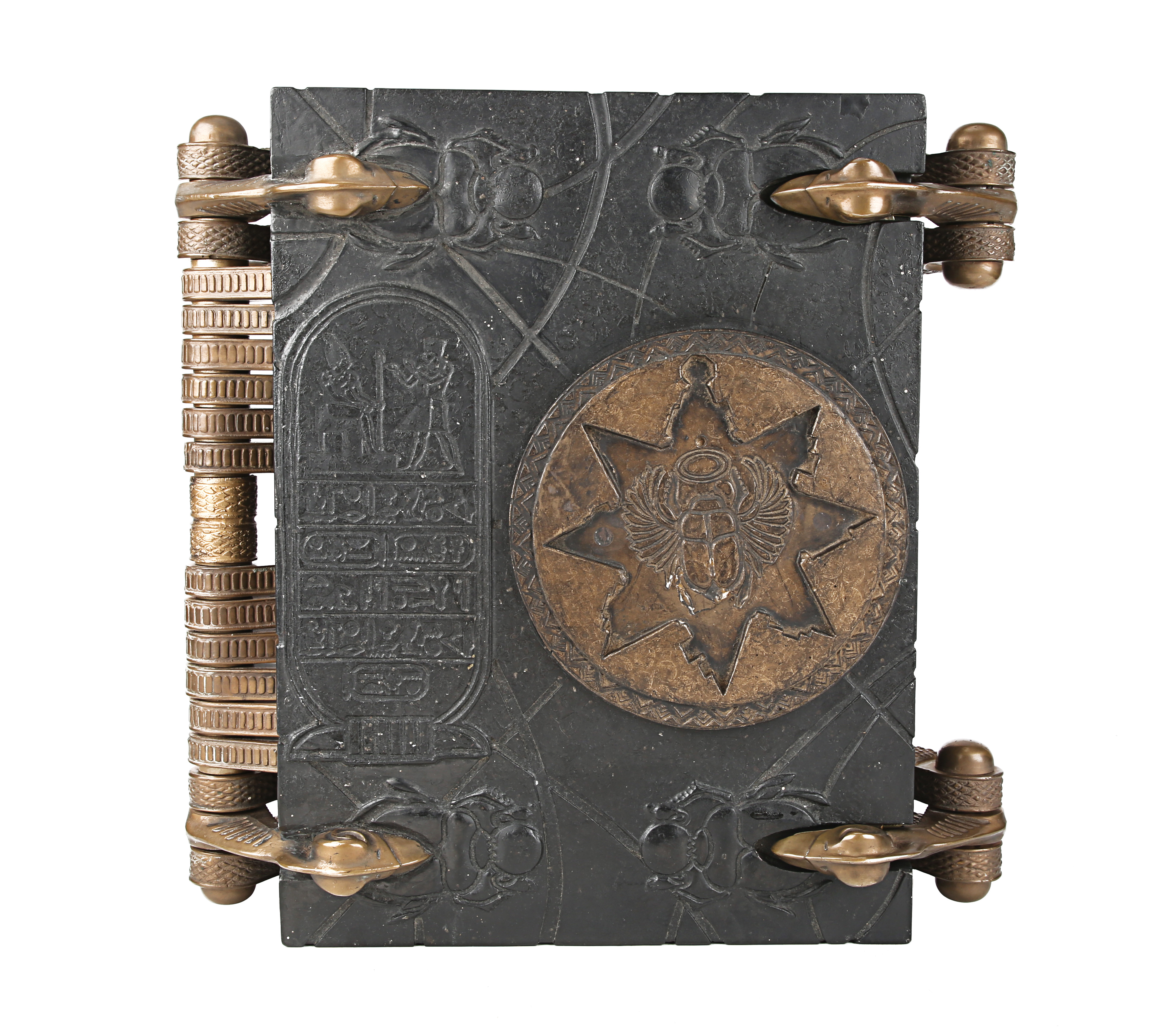 Lot 522 – Functional Hero Book of the Dead, THE MUMMY (1999)
When Evelyn (Rachel Weisz) read from the Book of the Dead, she accidentally awoke the ancient and malevolent Imhotep (Arnold Vosloo). We at Propstore make no promises as to what evil undead creatures you might end up resurrecting if you were to read from the book, but we can promise a prop of the highest quality. The book is functional (in that the locks open when the crest on the front is turned, not that it raises in the dead) and it is beautifully crafted out of resin and painted to look like solid obsidian, with solid pages inside covered in hieroglyphics.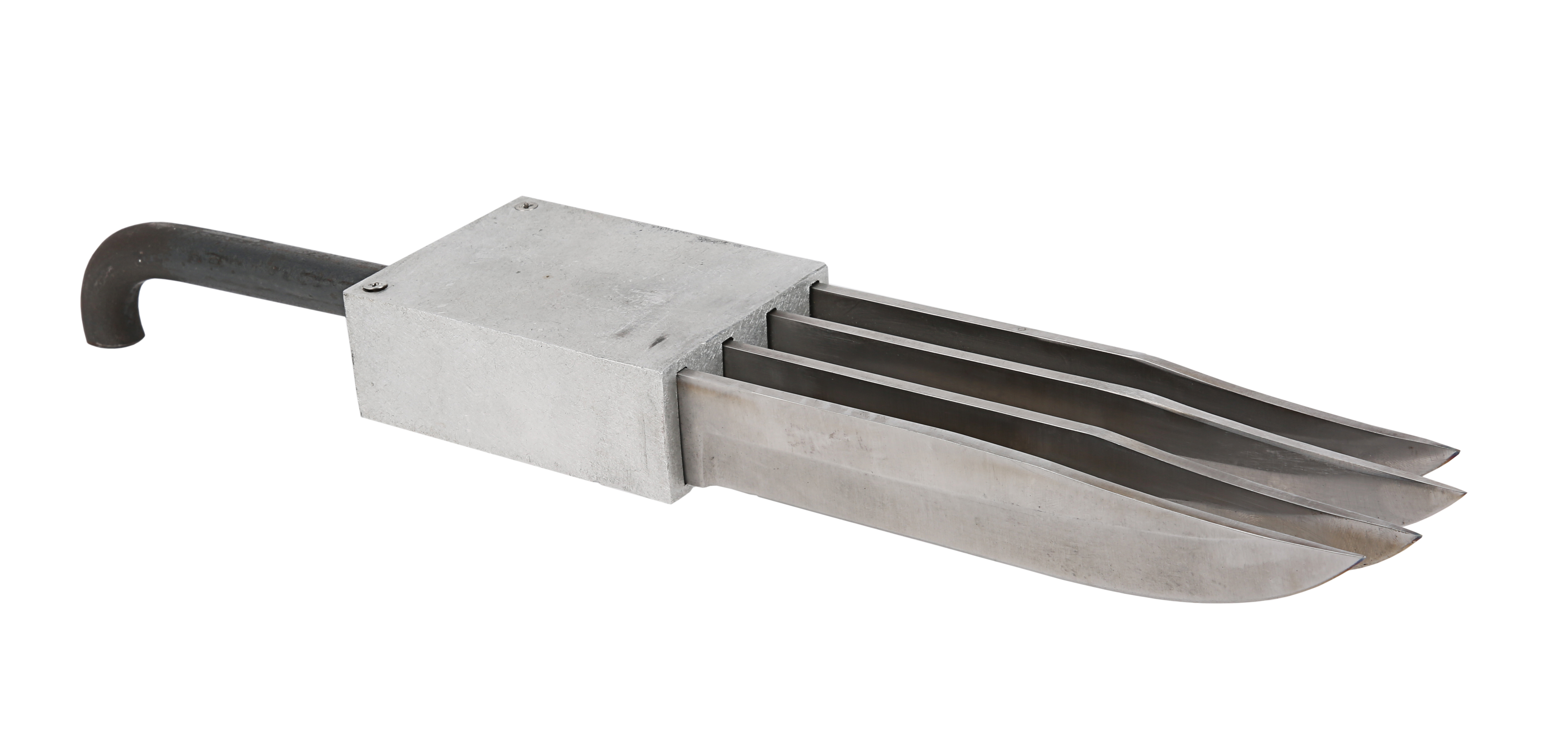 Lot 140 – Han's (Shih Kien) Knife Hand, BRUCE LEE: ENTER THE DRAGON (1973)
Enter the Dragon is many things: one of the most profitable movies of all time; one of the greatest martial arts films of all time; Bruce Lee's final completed film before his untimely death at 32; an early mix of martial arts and blaxploitation. It also features one of the most recognisable weapons in the history of the silver screen. Han's (Shih Kien) knife hand is his weapon of choice in the climactic showdown against Lee, and he used it to cut Lee several times, giving him the iconic slashes across his torso seen in so many stills and posters for the film. Only two metal versions were made for the film, so this is truly a rare piece of martial arts history.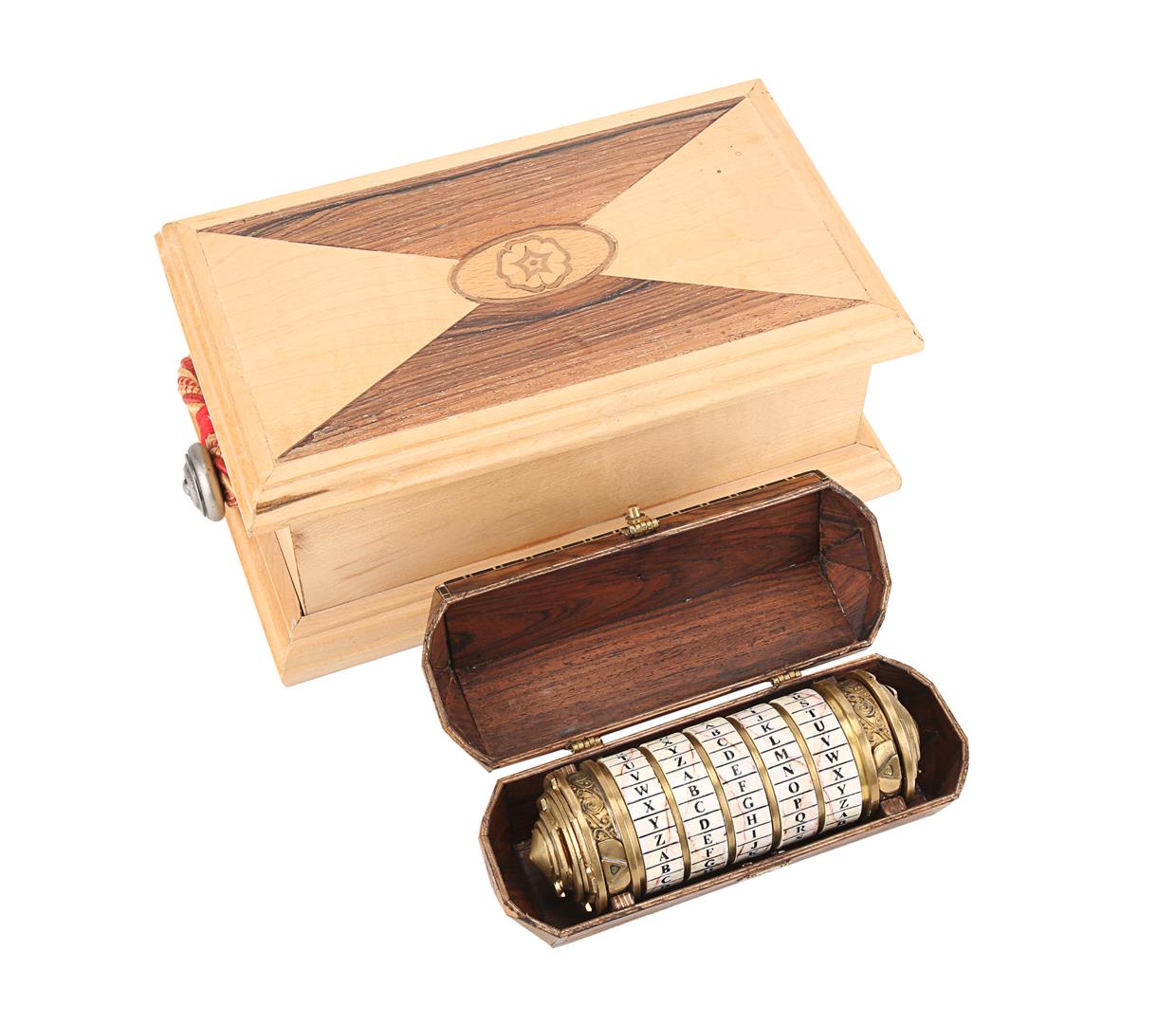 Lot 193 – Functional Hero Cryptex and Box, THE DA VINCI CODE (2006)
There is something so satisfying about a prop which was actually built to work. No tricks, no special effects, just built to work as it should. When the word APPLE is lined up on the dials between the arrows, the end of the cryptex pops out, revealing the inner tube, just as it does in the film. The production team based the design on Leonard Da Vinci's work and made it in a manner that 15th/16th century technology would have allowed.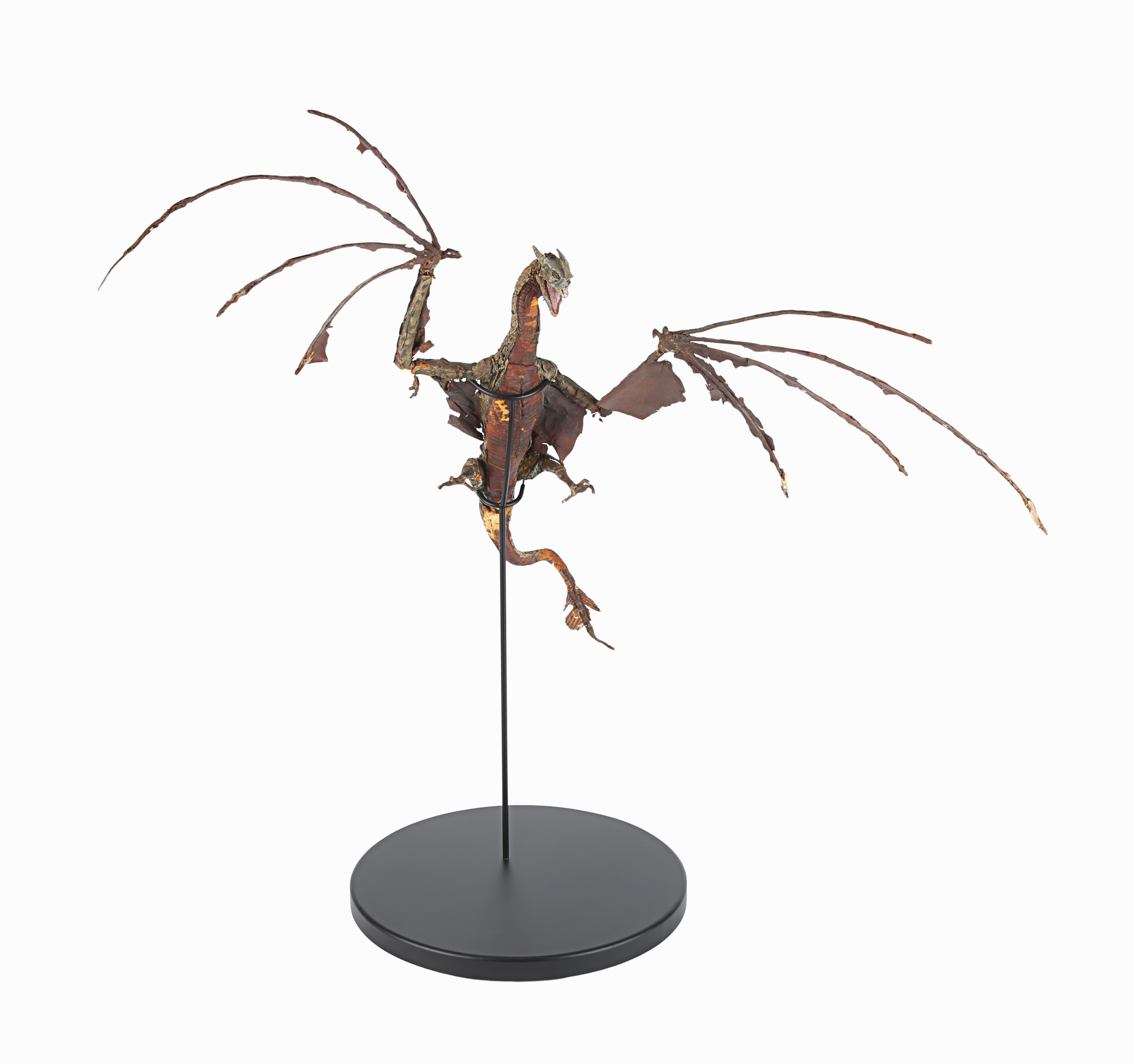 Lot 218 – Stop-Motion Miniature Vermithrax Pejorative Dragon, DRAGONSLAYER (1981)
The vicious and iconic Vermithrax Pejorative. Guillermo del Toro declared it 'one of the most perfect creature designs ever made' while George R.R. Martin called it 'the best dragon ever put on film'. 16 dragon miniatures were made for the film, but this is one of only two 'flying' models produced. The legendary Phil Tippett encouraged the use of 'go-motion', a technique developed on The Empire Strikes Back, which gave the models motion blur that is lacking in traditional stop motion animation. Although it did not win the Oscar® for Best Visual Effects (that honour went to the face-melting excellence of Raiders of the Lost Ark), it has gone down as a landmark film for visual effects.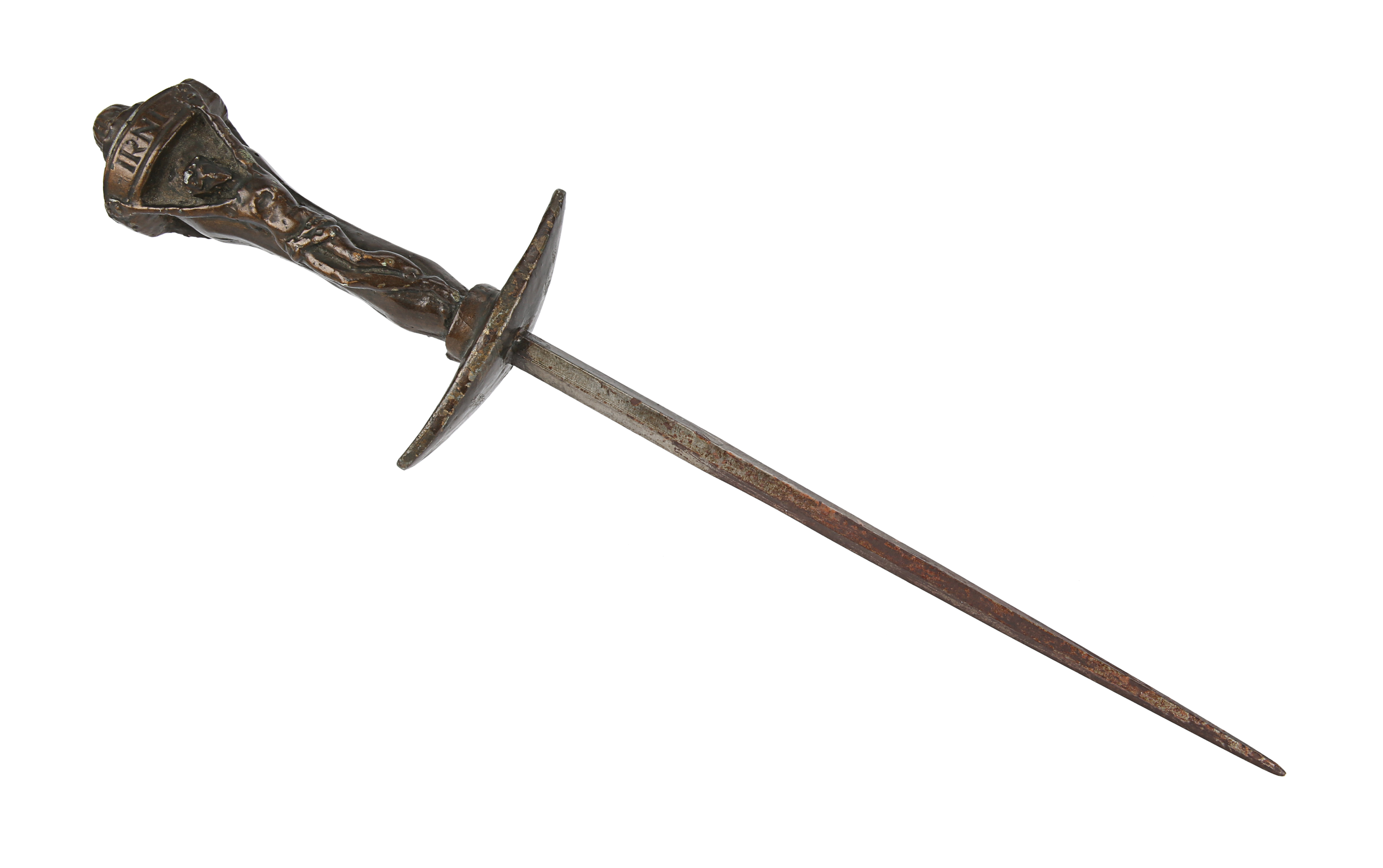 Lot 537 – Hero Dagger of Megiddo, THE OMEN (1976)
The Daggers of Megiddo are the only weapon that can kill the Antichrist. That's nothing to be sniffed at, however Robert Thorne (Gregory Peck) thought otherwise and threw them away, leading to the iconic meeting of a glass sheet and Keith Jennings' (Davdi Warner) neck. 12 daggers were made for the film, and this one originally came from actor Leo McKern, who played exorcist Carl Bugenhagen. The dagger is accompanied by a letter of authenticity from McKern, and it is the perfect item for fending off the Antichrists in your life.

Lot 96 – Heath Ledger's Personal Script and Wrap Party Token, THE DARK KNIGHT (2008)
Joker, Batman's arch nemesis since his first comic appearance in 1940, has been portrayed by several different actors across different media, and for some time Jack Nicholson's take on the character in Tim Burton's Batman was considered 'definitive'. Then, in 2008, The Dark Knight was released and Heath Ledger's layered and nuanced portrayal of the sadistic and psychopathic clown became the new benchmark. Tragically, Ledger died before the film was released, and the film subsequently serves as constant reminder of the talent that Ledger had. He was posthumously awarded the Oscar® for Best Supporting Actor. This is the first Heath Ledger script from the film to come to market, and was gifted to his personal assistant at the end of the production. It is a rare memento of a one-of-a-kind performance.
Remember to join us live from 2pm GMT on the 1st and 2nd December 2020, as we auction off all of these amazing lots and over 900 other lots of movie history now over at propstore.com/liveauction

Don't forget to follow us on Twitter and Facebook. And remember, you can explore so much more at our archive and see the extensive range of film and TV items we have for sale and auction over at propstore.com!