How a Texas-based T-shirt company brought exciting new life to the poster-collecting hobby…
Back in 2004, if you'd said to the founders of Mondo that their posters would help revive poster collecting as a hobby, they probably wouldn't have believed you. At the time, Mondo was a T-shirt-store offshoot of Texan independent theater chain the Alamo Drafthouse Cinema, and it had only just moved into poster production to help promote the Drafthouse's own events, like its Cinemania festival and its Rolling Roadshow.
The idea, pitched by freelance designer Rob Jones (now a creative director at the company), was to commission artists to create bespoke, limited-edition screen-printed "gig posters" for movies such as Better Off Dead and The Warriors.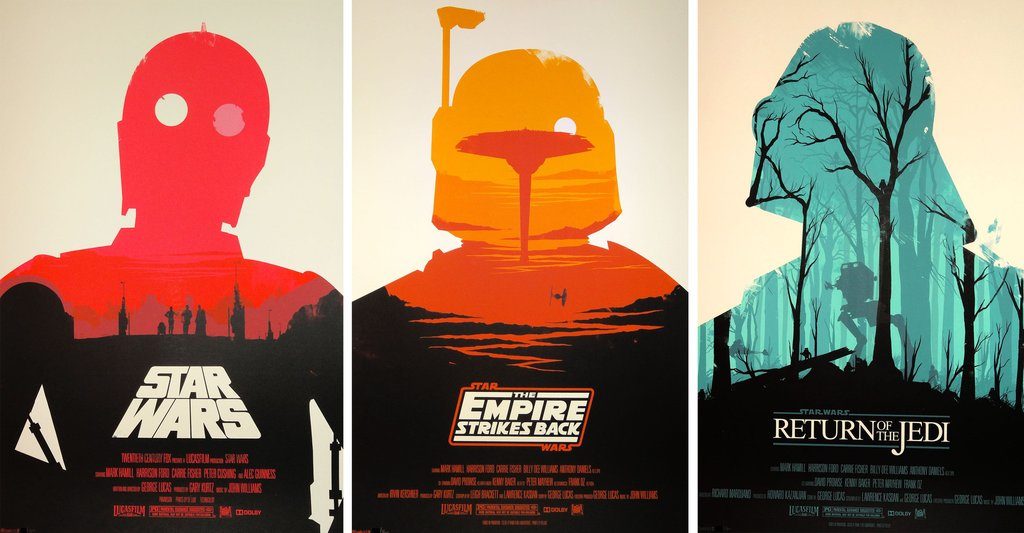 Star Wars Collection, Olly Moss
But it was an idea too good not to grow. Co-founders Justin Ishmael and Mitch Putnam suggested they take it further and seek out licensed properties for which they could commission new posters. By 2010, those licenses would include arguably the biggest property of all, Star Wars, which was given a gorgeously minimalist treatment by artist Olly Moss, while film-makers like Guillermo del Toro would marvel at Mondo's reinterpretation of their works; del Toro announced he was "a huge fan" of their output.  Mondo even started being approached to work directly with studios on their marketing campaigns; something that Putnam in 2012 described as "crazy".
It is fair to say that the typical modern movie poster does not exactly inspire great aesthetic appreciation. The days of artists like Saul Bass, Drew Struzan or Tom Chantrell hand-painting poster art seemed long-gone. Photography replaced painting, and commercial concerns outweighed artistic indulgence. Modern studio poster design is often done by committee, necessitating multiple levels of approval, and is calibrated purely for instant impact and selling key messages, often no more complex than: who's the star? This is one reason why vintage posters have such value. It is not just a question of rarity, but also artistry — a feeling that, while these are essentially just adverts for movies, they were still painstakingly created by a single person with a particular vision.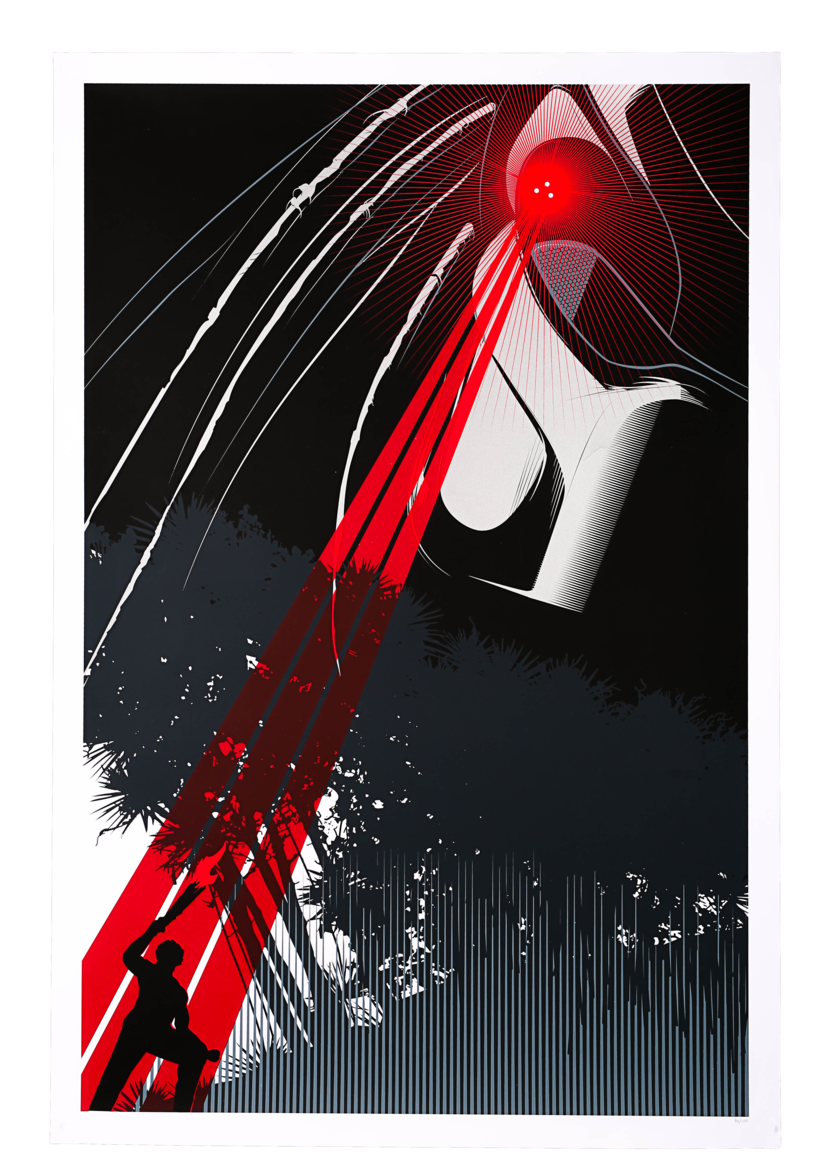 Craig Drake, Predator
This is definitely the case with Mondo's posters. They are very careful about how they marry up the material with the artist. They were keen to work with David Peterson, creator of the Mouse Guard graphic novels, and when they obtained the rights to Pixar's Brave, they realized they had the perfect match. Craig Drake's crisp, Patrick Nagel-inspired style, meanwhile, was deemed perfect for Blade Runner and Predator treatments.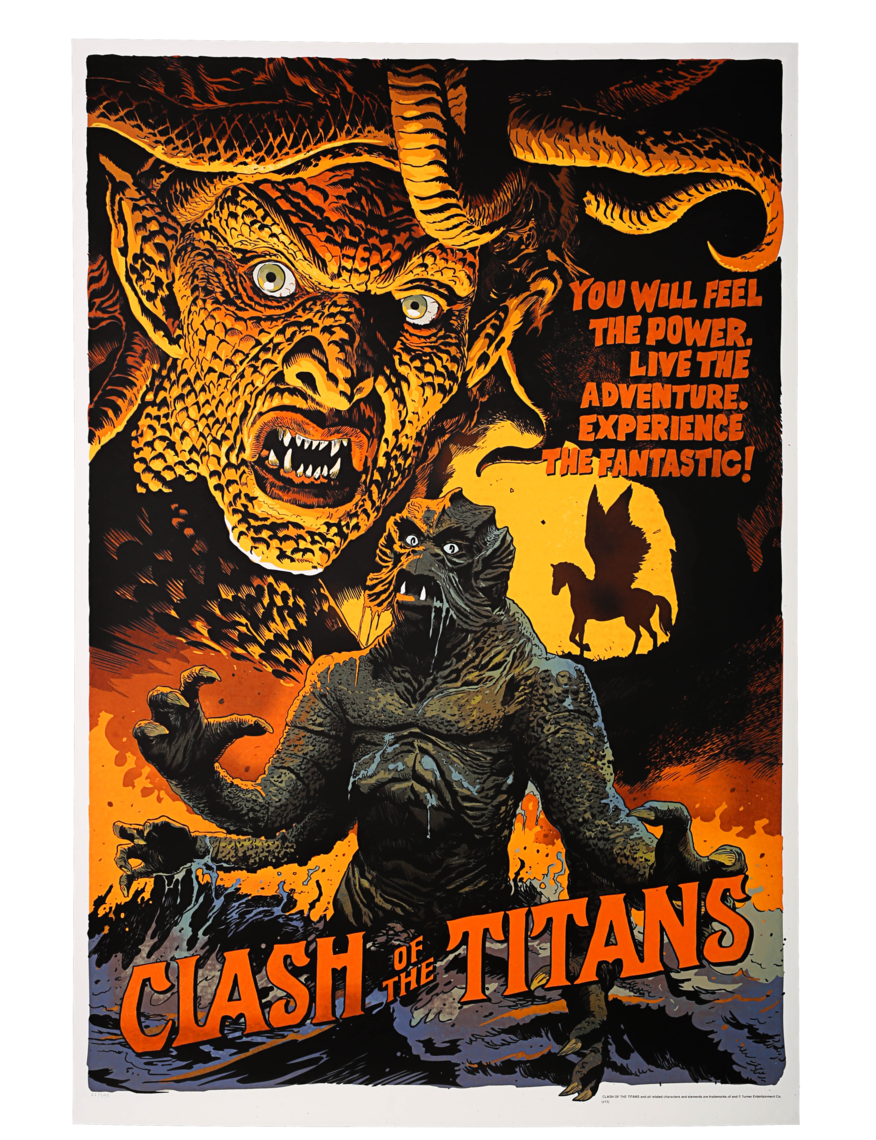 Clash Of The Titans, Francesco Francavilla
There is also the nostalgia factor, of course — one which plays heavily into Mondo's phenomenal popularity. There is immense love for movies like Jaws, Clash of the Titans, the Lord of the Rings trilogy, and of course the Star Wars saga. They trigger memories of childhood joy and wonder in most cinema fans. But what Mondo does is take that sense of joy and wonder and cast it in a striking, often visually witty, new form — one that you'd very rarely see emerging from a studio's in-house design-by-committee process.  "Mondo might bring artwork which does not immediately fit with the aesthetics, message or general mood of their marketing for a film," Jones told /Film in 2012. "However, that's generally the point."
Take Moss' Star Wars designs. They are boldly minimalist and feature impressive trompe l'oeil techniques that require a level of attention that you wouldn't usually spend on a regular poster. Darth Vader formed from the murky green of Endor's forest. C-3PO framing a Tatooine sunset, the twin suns doubling as his round, droid eyes. Infamous bounty hunter Boba Fett, whose distinctive T-shaped visor is actually the silhouette of Bespin's Cloud City. They are simultaneously classic and modern, reviving a sense of childhood thrill while requiring adult levels of appreciation. It is the perfect melding of the old and the new.
Poster expert and collector Michael Bloomfield, Propstore's poster consultant, admits to being "quite taken" by Mondo's designs. "Yes, we're focused on originals," he says, "but these are modern posters which are effectively reimagined interpretations of older films. I think they're really interesting, and I think there is a lot of potential value there."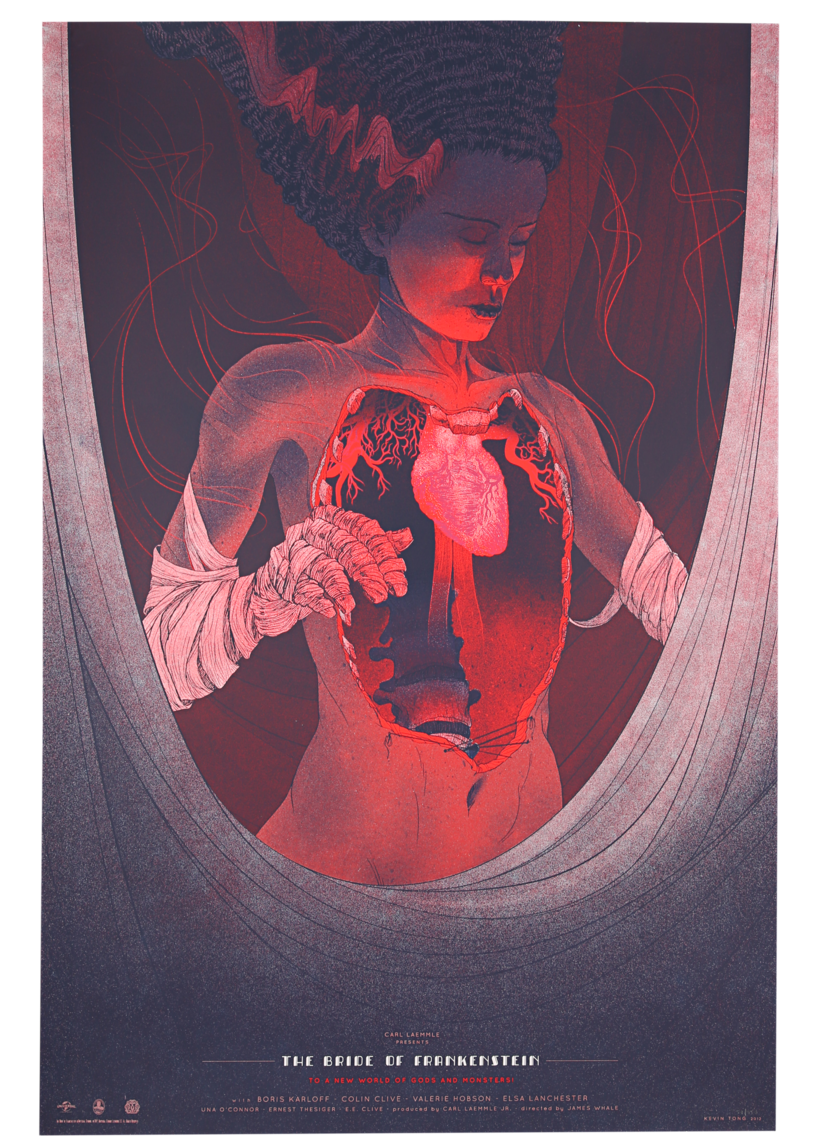 The Bride Of Frankenstein, Kevin Tong
There is a very good reason why Mondo posters have such value, despite being modern creations. Much to the chagrin of some of their fans, each print run for a poster is extremely limited, and because Mondo is committed to only screen-printing its posters, they never do reprints. "Once you've done a run, you can't really go back and replicate it," Moss explained to Gizmodo in 2012. "It will always be slightly different. The colors will be mixed differently, because it's done by hand-mixing the colors. Each print will have a little bit of its own character."
The rareness of Mondo's posters is intentional and treated as a badge of honor by the company. As former CCO Jessica Olsen told Mental Floss in 2013, Mondo's posters are "designed to be rare and therefore more collectible." They are highly sought after, with new releases often selling out within an hour of becoming available. It's hardly surprising. Mondo have not only given poster collecting a modern shot of coolness; they have also once more made poster design an essential art.
If you've got a love of all things Mondo, then why not get yourself a little something special in the Propstore Cinema Poster Live Auction, which ends on the 25th June 2019? If you're looking for that ultimate collectible piece or just something amazing from a film you love to collect, check out the full catalogue now…

Don't forget to follow us on Twitter and Facebook. And remember, you can explore so much more at our archive and see the extensive range of film and TV items we have for sale and auction over at propstore.com!