|
Auctions
Keep Calm And Carry On | The Art Of The Carry On Series
The 'Carry On' movies are quintessentially British comedies with enduring appeal. Starting back in 1958 with 'Carry On Sergeant' and running through to 'Carry On Columbus' in 1992, the film series has spanned over 60 years with 31 movies. This gives the films the distinction of being the longest continuous British film series to date…
Although each film in the franchise had its own stories and characters, there was a regular ensemble cast who created a continuity of sorts throughout the series. The regular cast members included British comedy stalwarts of the 20th century such as Hattie Jacques (who was always the matron, or some other bossy authority figure), Frankie Howerd (whose modest delivery belied his comic genius) Kenneth Williams (who was usually hapless and put-upon), Sid James (usually a conman or crook) and Barbara Windsor (who provided the cheeky 'glamour').
The film series was also made popular through its use of a number of broad popular movie 'themes' – occupational films (Carry on Sergeant, Nurse, Doctor etc), historical themes (including Carry on Cleo, Henry, Up The Khyber) and also a number of pastiches of contemporary movies (such as Carry on Screaming (a Hammer Horror spoof) and Carry On Spying (a James Bond spoof).
The films were always made at Pinewood Studios on a very tight budget. The first film cost around £73,000 (approximately £1.6 million in today's terms) which is how they managed to be consistently profitable throughout their run. Indeed, one fun fact is that Carry On Cleo (a spoof on the mega-budget Taylor/Burton epic) only looked so authentic because they managed to get access to use some of the sets from the actual film Cleopatra – which was, at the time, the most expensive film ever made.  The franchise was led throughout by the same team, viz. Gerald Thomas (Director) and Peter Thomas (Producer), supported by many regular writers and crew.  Such was the popularity of Carry On that is spawned other products during its heyday, including 4 Christmas 'specials' between 1969 and 1973, a TV series with 13 episodes in 1975, and a theatrical spin-off that played in the West End and throughout the UK.
The early Carry On films are considered by most people to have relatively innocent humour – full of 'cheeky' innuendo, rather than vulgarity. Indeed, they have been compared to the later Airplane and Naked Gun series with the late, great Leslie Nielsen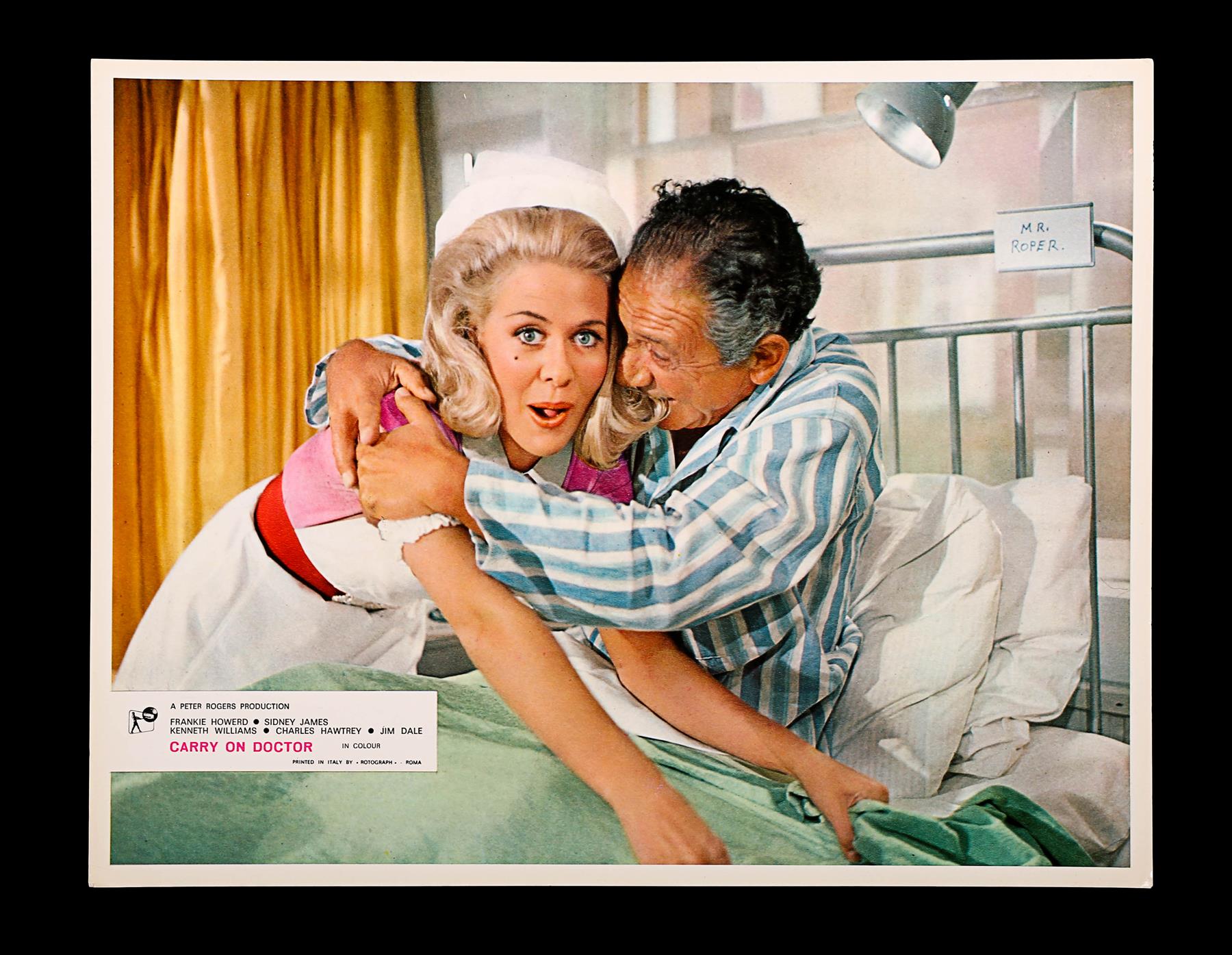 During the mid-to-late 70s, the Carry On movies (Carry On Dick, Emmanuelle etc) were rather different in tone, and often mimicked/spoofed the soft porn franchises that were 'popular' in the movie market at that time. The franchise's popularity waned at this time, and led to a long gap of 14 years between Carry on Emmanuelle and the final film, Carry on Columbus. Sadly, it was not particularly well received or successful, and so plans to continue the franchise at that time did not come to fruition. However, fans should be reassured that Carry On is not dead yet, as there have been a number of concerted efforts to reboot the franchise in recent times – in particular an enduring project called 'Carry On London' which came very close to final production!
It is probably appropriate to finish with a few classic Carry On moments that live on in our collective memories. For example, who can forget Barbara Windsor's memorable 'wardrobe malfunction' during an exercise session in Carry on Camping? And what about Kenneth Williams' classic line in Carry on Cleo: ''Infamy! Infamy! They've all got it in for me!''. That particular line was voted, in a 2007 poll of comedians and industry figures, as the funniest one-liner in film history (beating lines from Life of Brian, Airplane, Annie Hall and Duck Soup). What better accolade could a relatively modest British comedy franchise hope for?
The current Propstore Cinema Poster Auction (20th Nov) contains over 400 very collectable and valuable movie posters, but we are also lucky enough to have an amazing collection of rare and collectable Carry On posters.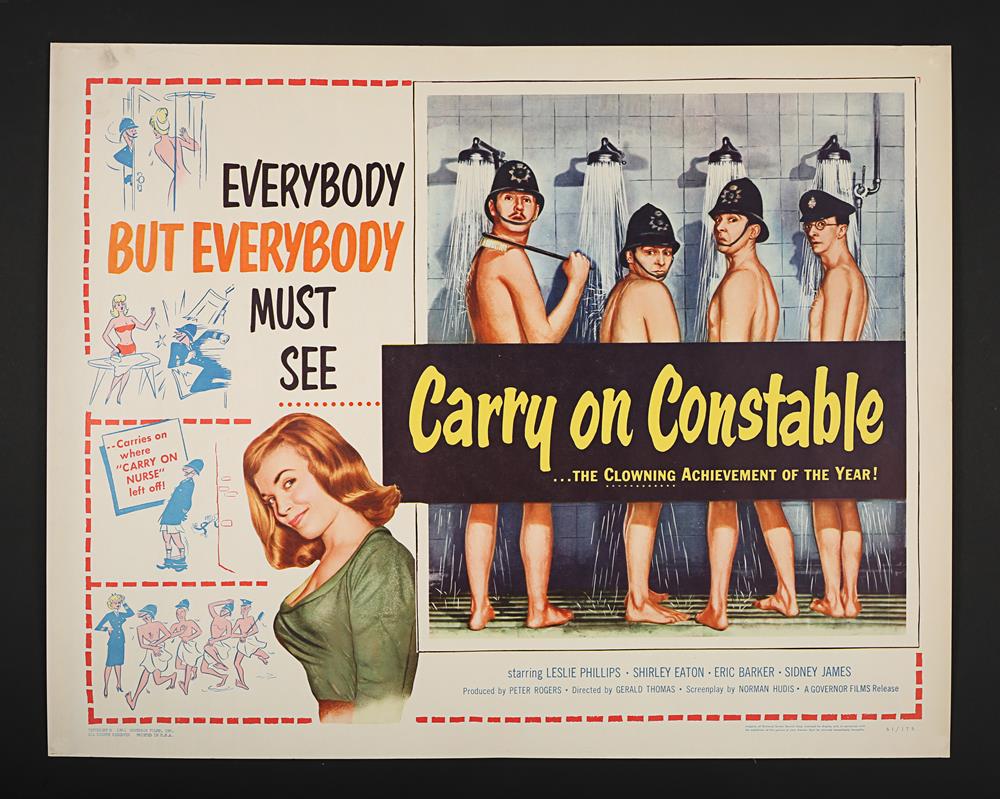 CARRY ON CONSTABLE (1961)
This early "Carry On Constable" poster is a US Half-Sheet with the usual cheeky charm of the Carry On series. From the fourth film in the series, this poster highlights one of the films starring moments – the first nudity scene in the series! Interestingly, the US poster version shown here has a far cheekier layout than the corresponding British poster formats!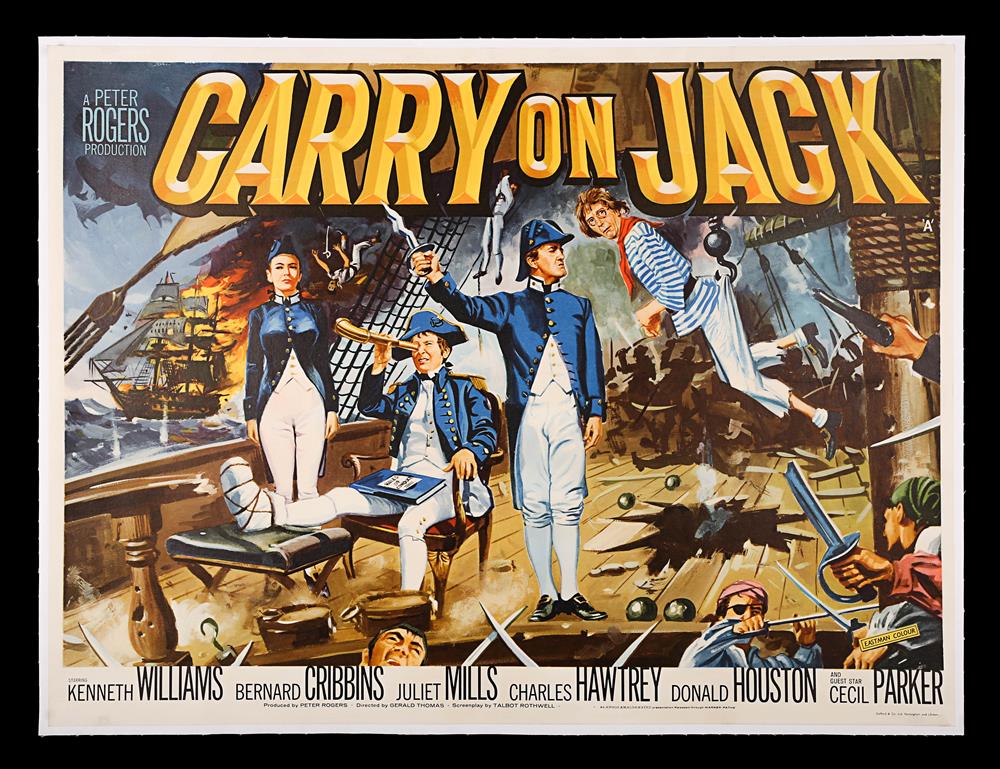 CARRY ON JACK (1963)
This amazing Chantrell composition presents a typically colourful and expansive scene and in usual 'Chantrell' fashion. This linen-backed Quad poster is from the eighth in the Carry On film series which had once started off as a non-Carry on film originally title Up The Armada.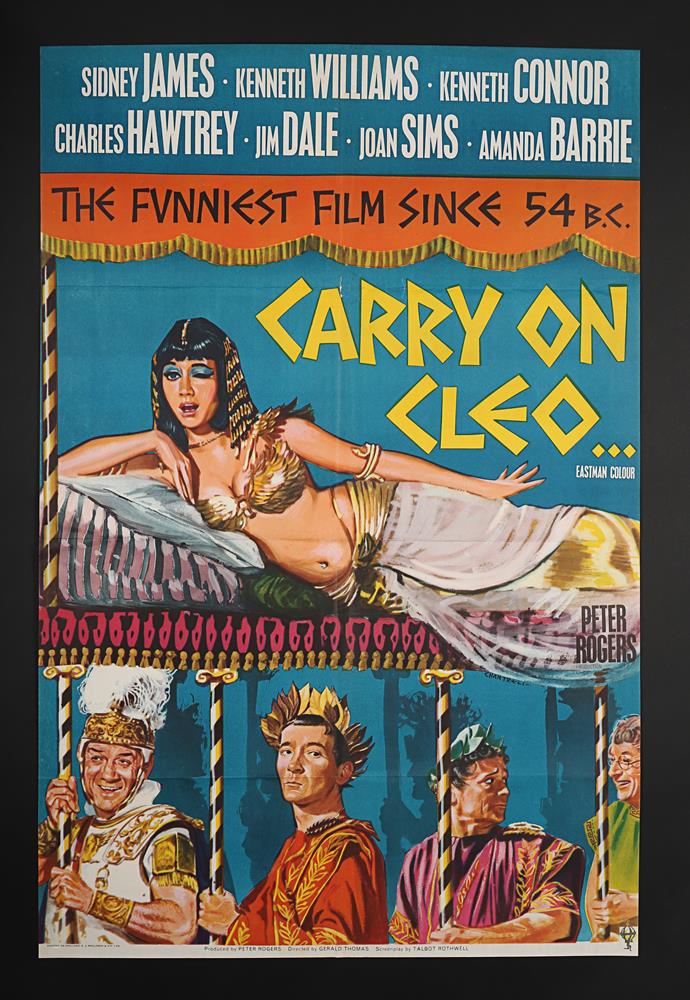 CARRY ON CLEO (1964)
Another beautiful Chantrell poster design, the film, which was a parody the 1963 blockbuster Cleopatra, mimicked the image of Elizabeth Taylor reclining on a chaise lounge. The design of the poster actually resulted in court action forcing the Carry On distributors to withdraw the offending posters with a hastily prepared alternative. Thankfully, a small number of posters carrying the "banned" design like this poster, have survived!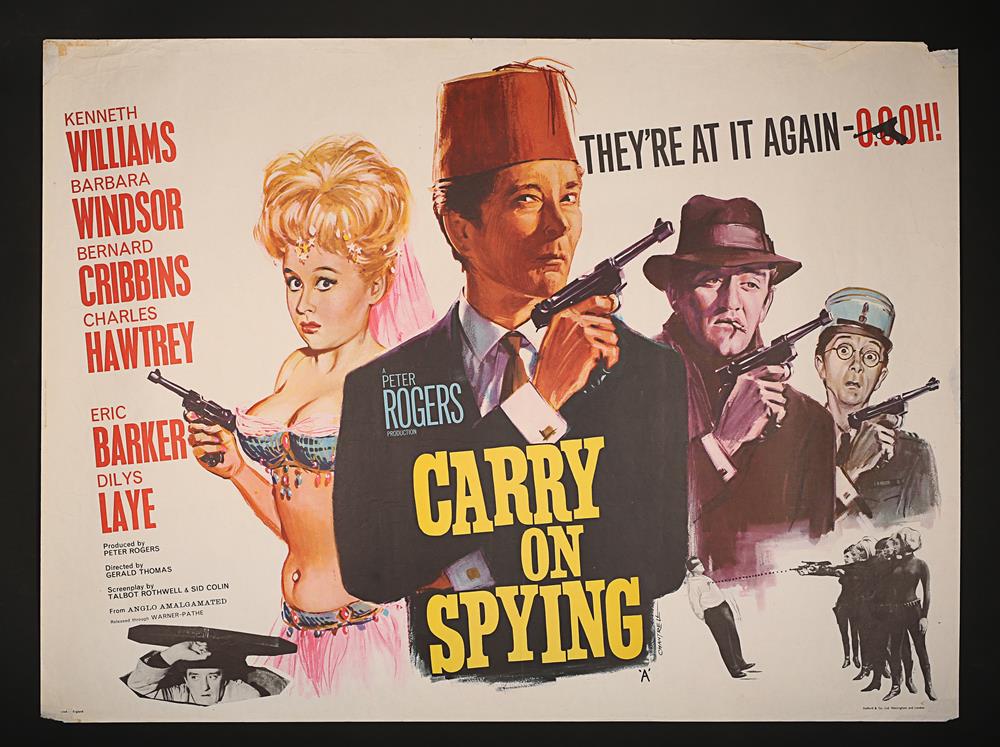 UK One-Sheet Poster (1964) & UK Quad Poster (1964)
CARRY ON SPYING (1964)
This UK One-Sheet and UK Quad poster for the James Bond spoof "Carry On Spying" (1964) is yet another amazing design by Carry On favourite, Tom Chantrell. These posters are composed of painted artwork and tinted photographs, a favourite technique employed by Chantrell in his Carry On poster series. The design also includes various tongue-in-cheek jokes, including a bent gun barrel and a play on the iconic Bond logo.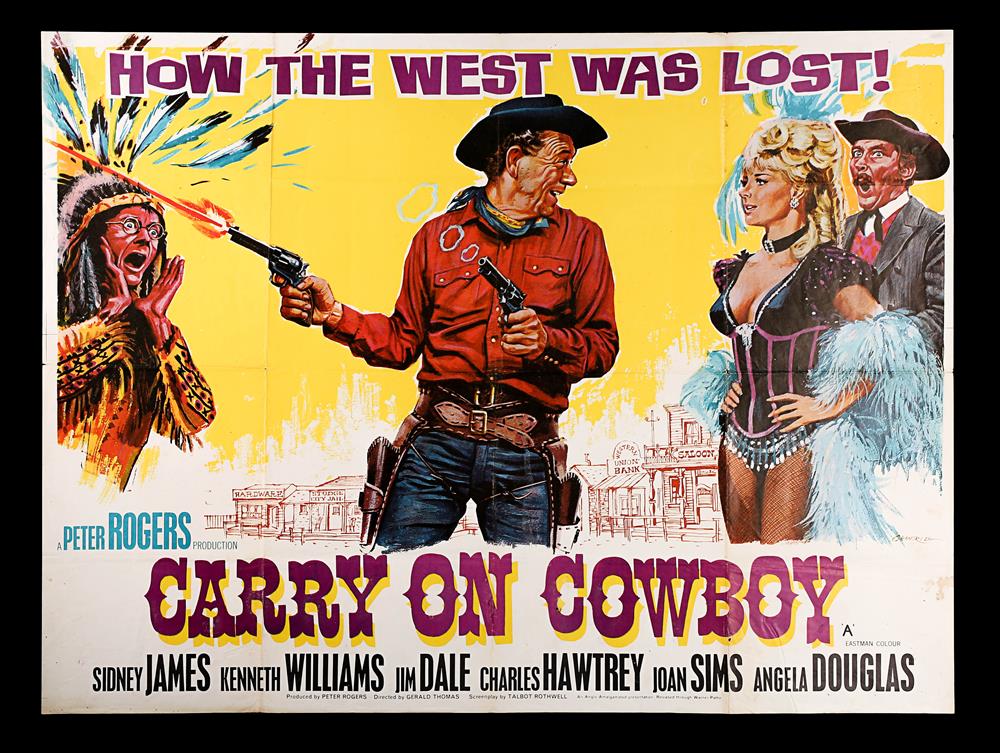 CARRY ON COWBOY (1965)
Another great Chantrell design for the eleventh film in the Carry On series, Carry On Cowboy (1965), featuring Carry On regulars Sid James, Kenneth Williams, Charles Hawtrey and Angela Douglas.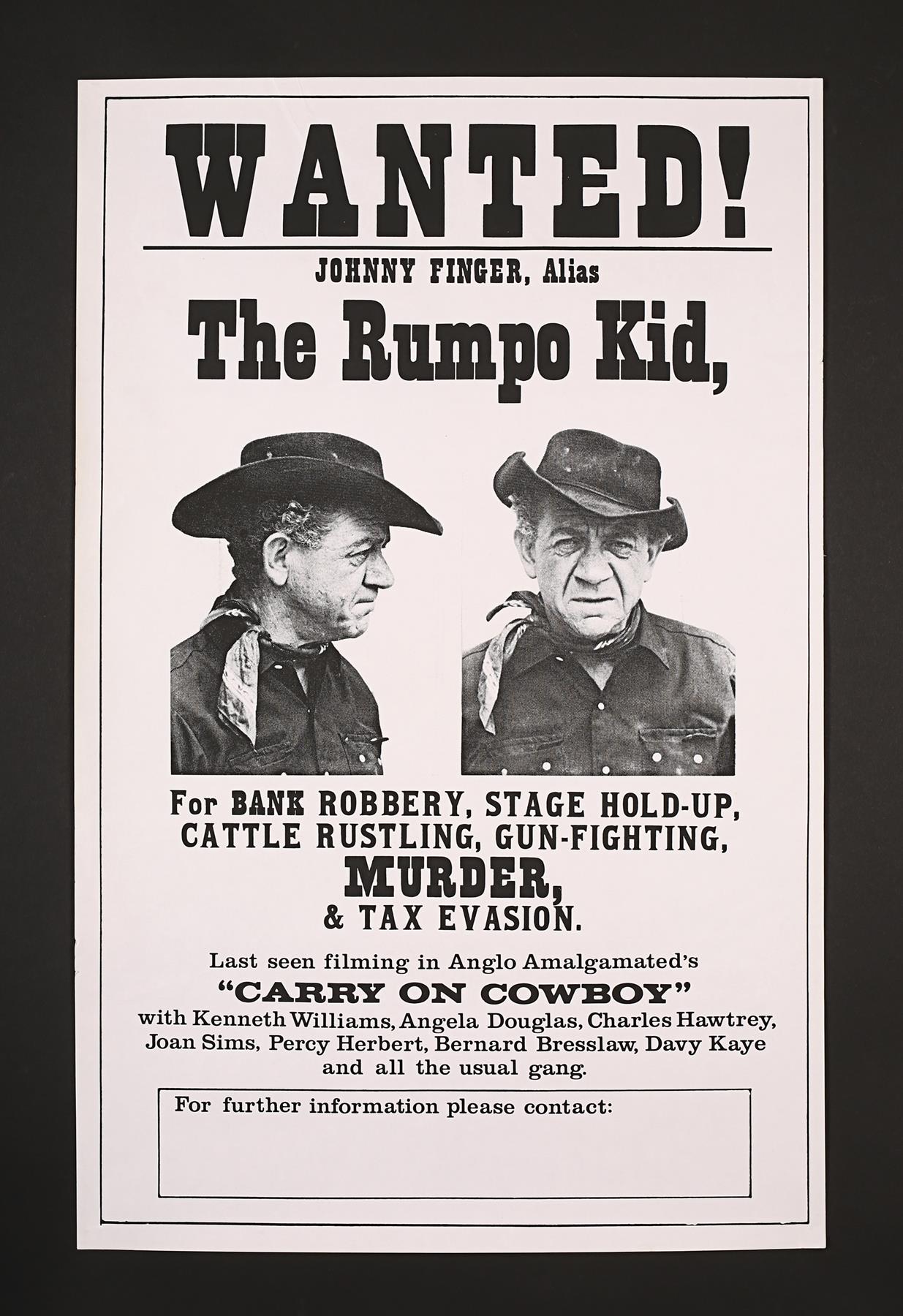 CARRY ON COWBOY (1965)
A fabulous faux Western "reward" poster featuring Sid James from Carry On Cowboy (1965). This was an official poster produced to supplement the usual UK Quad, One-Sheet and Double-Crown poster formats. The print run for this Carry On novelty was much smaller than that for the normal forms of cinema poster advertising.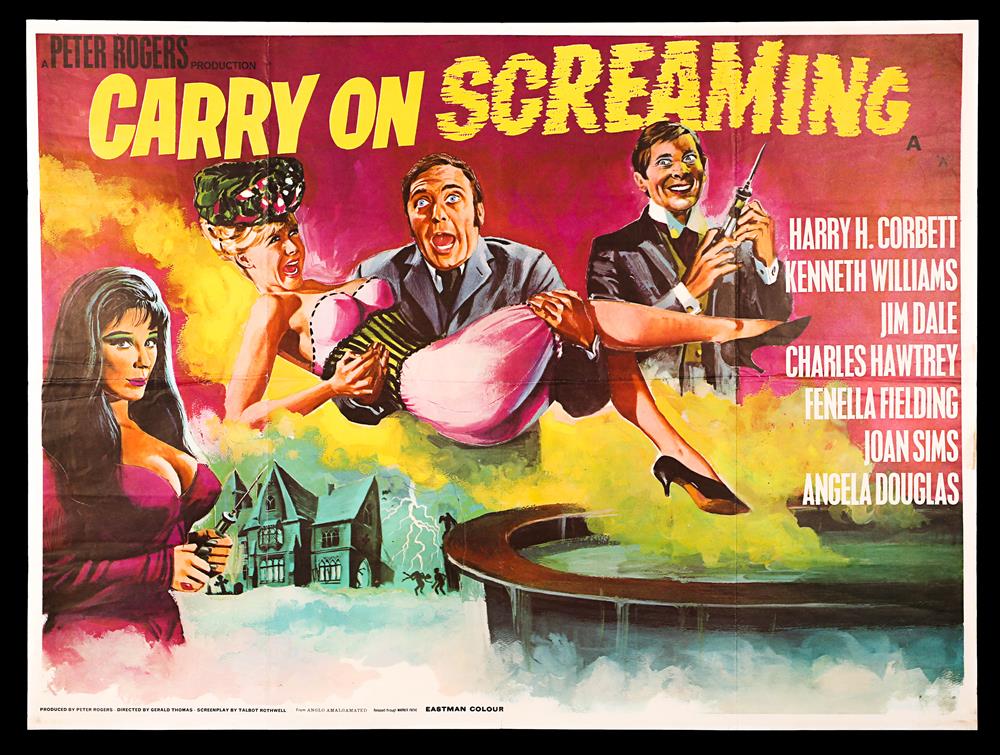 CARRY ON SCREAMING (1966)
A colourful UK Quad poster for the Carry On spoof of Hammer Horror films Carry On Screaming (1966). This humorous design was the last of the six Carry On posters that Chantrell designed and illustrated between 1963-66. The appeal of this poster to Carry On and Hammer fans alike, means this is one of the most sought after in the entire comedy series!
This handful of the hilarious and colourful Carry On posters can be found among the array of posters, artwork and memorabilia in the Propstore Cinema Poster Live Auction, which ends on the 20th November 2018. So if you're looking for that ultimate collectable piece or just something amazing from a film you love to collect, check out the full catalogue now…

Don't forget to follow us on Twitter and Facebook. And remember, you can explore so much more at our archive and see the extensive range of film and TV items we have for sale and auction over at propstore.com!