The original Carry On series of films encompassed an impressive span of 31 films from 1958 to 1992. The hallmark of the film series was to poke fun at national institutions such as the NHS, but there was also a strong focus on parodying film genres too. The mood of the films were light-hearted, irreverent and humorous and though not what you would class as high-art', the Carry On films were generally very successful.
As with anything that involves satire, there were a number of controversies throughout the film series' run, but none so peculiar as the legal case that sprung up around the poster for Carry On Cleo (1965)…
UK Quad "Banned" Poster (1964), CARRY ON CLEO (1964)
In the poster, the artist (Tom Chantrell) put Kenneth Williams and Sid James either side of a cheekily winking reclining Amanda Barrie (who played Cleopatra). In typical 'Carry On' fashion, Kenneth Connor and Charles Hawtrey can also be seen peeking out underneath Cleopatra's chaise-lounge. Chantrell illustrated six Carry On UK Quad posters during the period 1963-1966 and at first glance, Chantrell's composition for Cleo looks very much in-keeping with his other work for Carry On's  Cabby, Jack, Spying, Cowboy and Screaming. With a bold and colourful design Chantrell captures the likenesses of the actors perfectly and the film advertised is very clearly a comedy. So what's the problem?
In order to understand why Carry On Cleo caused such a commotion we need to wind the clock back to 1963, the year of 20th Century Fox's mega-blockbuster, Cleopatra. Starring Elizabeth Taylor and Richard Burton, Cleopatra was a box office success and the biggest grossing film of the year. Unfortunately, due to major issues during filming, including production over-runs, the film was also the most expensive ever to have been made and so initially lost money during its release. Scandals abound with what was meant to be the biggest and best movie ever made, 20th Century-Fox were feeling a bit sensitive.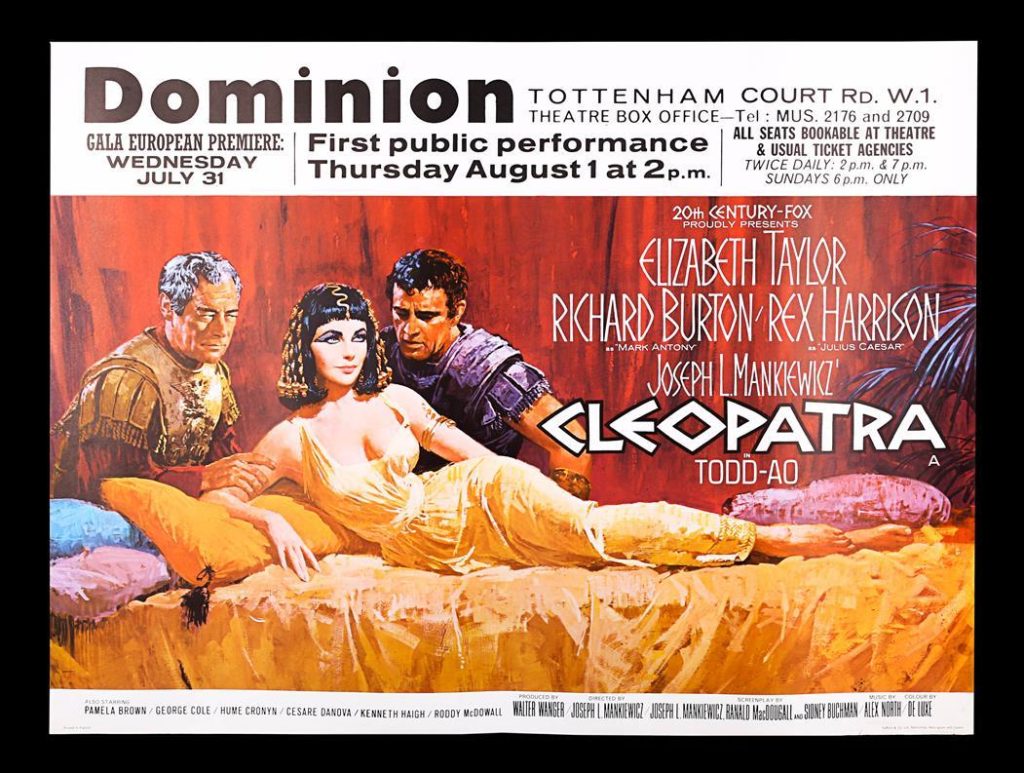 UK Quad Poster (1963), CLEOPATRA (1963)
Ironically for our story, their own poster design for the film also ran into legal difficulties. American artist Howard Terpning was commissioned to produce artwork for the American poster campaign and his initial illustration was as shown, except it didn't include Rex Harrison. As Harrison had equal billing with Taylor and Burton he was less than amused and threatened legal action. Terpning went back and added Harrison's image to his original painting and ended up creating a visual which never actually took place in the film.
As we can see, the poster for Taylor's Cleopatra and Chantrell's poster for Carry on Cleo clearly share some similarity. From Chantrell's perspective this was only natural as Carry On Cleo was not simply a spoof of the 'Sword and Sandals' genre of films which were popular in the 1950s and early '60s, it was clearly targeted at being a Cleopatra spoof. After the release of Chantrell's poster, 20th Century-Fox immediately called out what they saw as clear copyright infringement, whilst Warner-Pathe and Anglo Amalgamated (the distributors of Carry On Cleo) resisted, and so the case went straight to the High Court, with Chantrell ending up providing written evidence to the effect that his poster illustration was not a copy but a 'parody' of Terpning's Cleopatra.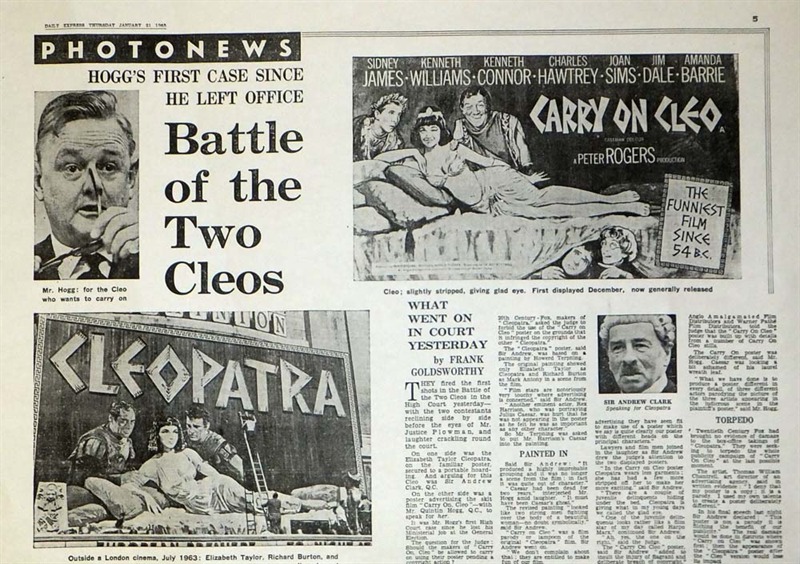 One could argue that had Cleopatra not had such a torturous passage to the big-screen, it is likely that 20th Century-Fox would not have gotten so involved. But, given the circumstances, the movie giants were not prepared to rollover.
The case was heard and the ruling given that Chantrell's design had actually infringed on the copyright of the original film's poster design and that the few posters that had initially been printed were to be destroyed. Just a handful of the 'banned' Carry On Cleo Quad posters are known to have survived the cull and Propstore is delighted to be offering one in our forthcoming auction of 25th June 2019.
The artist, Chantrell, had a good sense of humour, but was probably not particularly happy about seeing a very good piece of work being consigned to the bin. However, time pressure was at play and another Quad poster design was quickly commissioned as a replacement.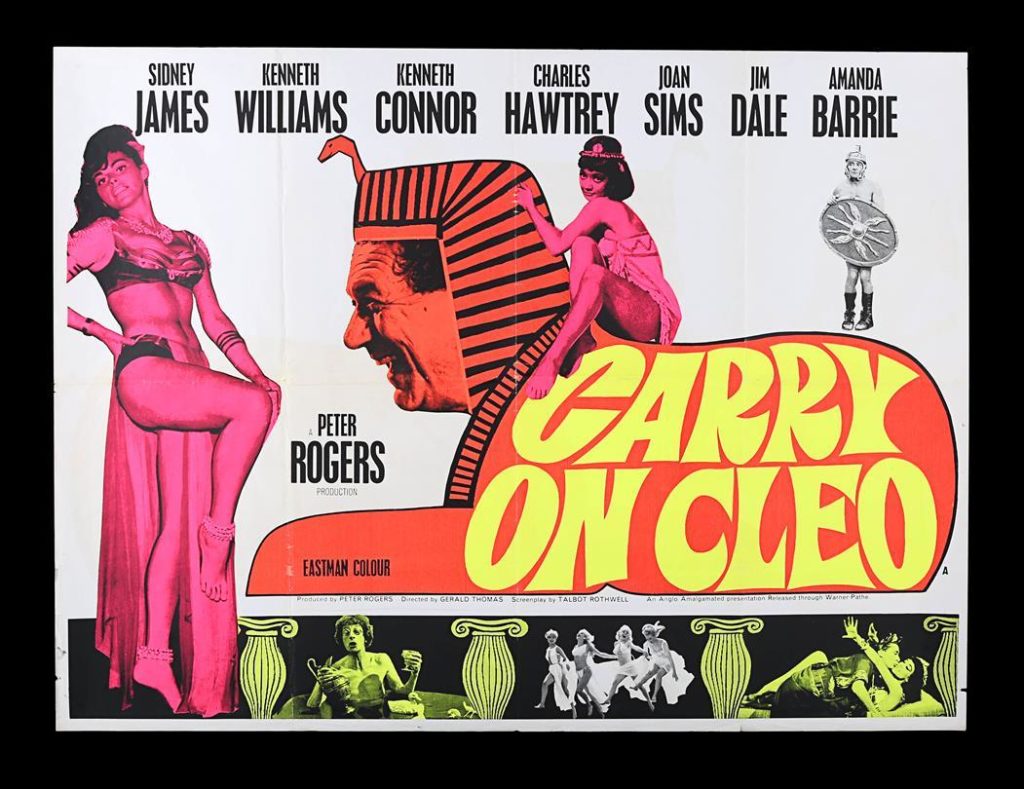 UK Quad Poster (1964), CARRY ON CLEO (1964)
This was a radically different design and essentially a quick cut-and-paste job featuring no painted artwork but tinted photos instead. The design was created by a colleague of Chantrell's, Ray Youngs, who intentionally created a poster markedly different to Terpning's Cleopatra design.
Interestingly, Chantrell did actually create a second piece of artwork for "Carry On Cleo", this being a design for a UK Lift Bill. Lift Bills were produced in relatively small numbers for display in small public areas. As can be seen, this design also eschews all reference to the Terpning poster.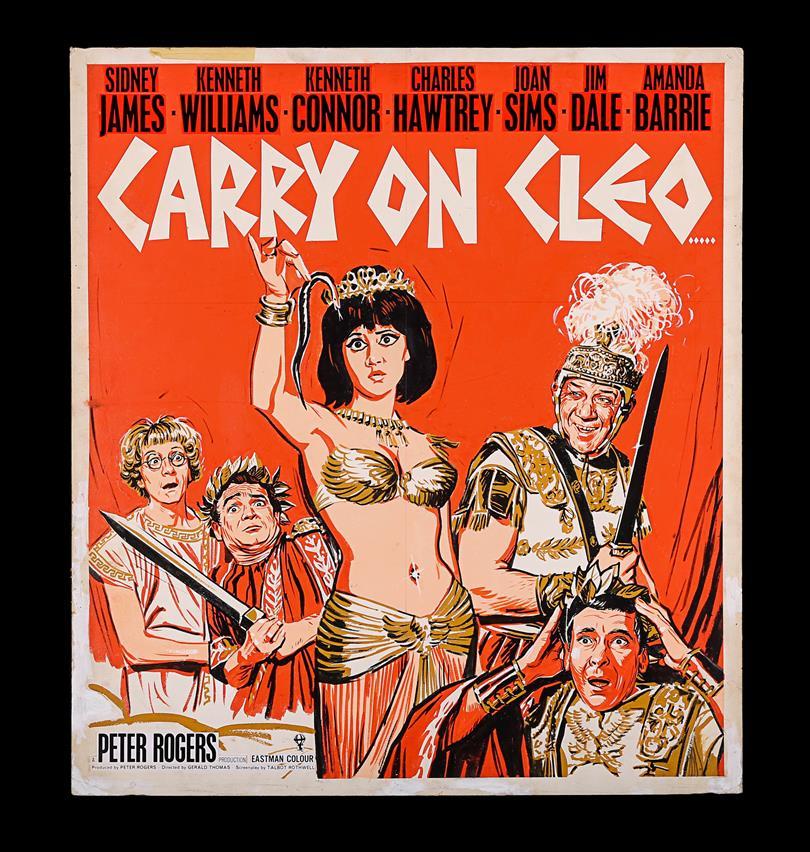 UK Lift Bill Original Final Artwork, CARRY ON CLEO (1964)
It has long been suggested that the whole Carry On Cleo dispute was perhaps cooked up by the distributors just for the purposes of publicity. However, the Carry On franchise was already well established, so it would seem unlikely that their distributors would have wanted to go to the trouble (and expense) of manufacturing a Court case just to conjure extra publicity.
Cleopatra was released in the UK in July 1963 – a good 18 months before the Cleo court case. Whilst it is true that it could take months for a film to be rolled out across the entire UK back in the '60s, it is almost certain that anyone who wanted to see Cleopatra will have done so by Jan 1965 when the Court case took place. The film had already done very well at the box office, so it is unlikely that the extra publicity gained from taking legal action was really going to add significantly to box office takings.
Irrespective, it's a fascinating story. Chantrell created a fabulous poster that is – because of this story – a real rarity in its infamy as one of the few UK Quad posters ever to have been banned. Chantrell certainly had form in presenting artwork that was often deemed too risqué for public consumption, and in these cases he simply tweaked his designs and toned down the nudity. But he must have been astonished to have seen his comparably tame poster for Carry On Cleo ending up in Court, instead!
This handful of the hilarious and colourful Carry On posters can be found among the array of posters, artwork and memorabilia in the Propstore Cinema Poster Live Auction, which ends on the 25th June 2019. So if you're looking for that ultimate collectable piece or just something amazing from a film you love to collect, check out the full catalogue now…

Don't forget to follow us on Twitter and Facebook. And remember, you can explore so much more at our archive and see the extensive range of film and TV items we have for sale and auction over at propstore.com!