|
Auctions
Propstore's Twilight Saga Auction Presents… Leader of the Pack: Jacob Black's Auction Lots
Jacob Black is one of only a few constants in Bella Swan's life. From childhood friend, to romantic interest, to Renesmee's protector, Jacob and the wolf tribe's relationship to Bella and the Cullens is constantly growing and changing throughout The Twilight Saga. Take a look at some of the stand out pieces in our auction from Jacob and the wolf tribe…
Lot 59 – Ephraim Black's Wolf Tribal Helmet
Twilight
One of the first lots in the auction that pertain to Jacob and his family's secret comes from a story he tells Bella about his ancestors. In the ensuing flashback, Jacob's great-grandfather, Ephraim Black, is seen making a treaty with the Cullen family to protect his tribe. In this flashback, Ephraim wears his wolf tribal helmet. Made of resin, the helmet is painted with brown and black accents and is detailed with two iridescent pieces adhered into the eyes.
Lot 242 – Jacob Black's Transformation Harness Costume
The Twilight Saga: New Moon
Though Bella had heard the stories of his family's past, Jacob had yet to reveal his true power until she was threatened by members of his tribe. It was then that Jacob ripped out of his sleeveless green shirt and black shorts and transformed into a wolf right in front of her. The shirt has a hole on each side to accommodate a harness for use during stunt wire work and is marked 'Jacob NM' in black ink inside the collar. The shorts are made of a cotton blend material and are marked 'Jacob NM' in black ink inside the waist. Completing this costume are a pair of shoes that are marked for 'Jacob.'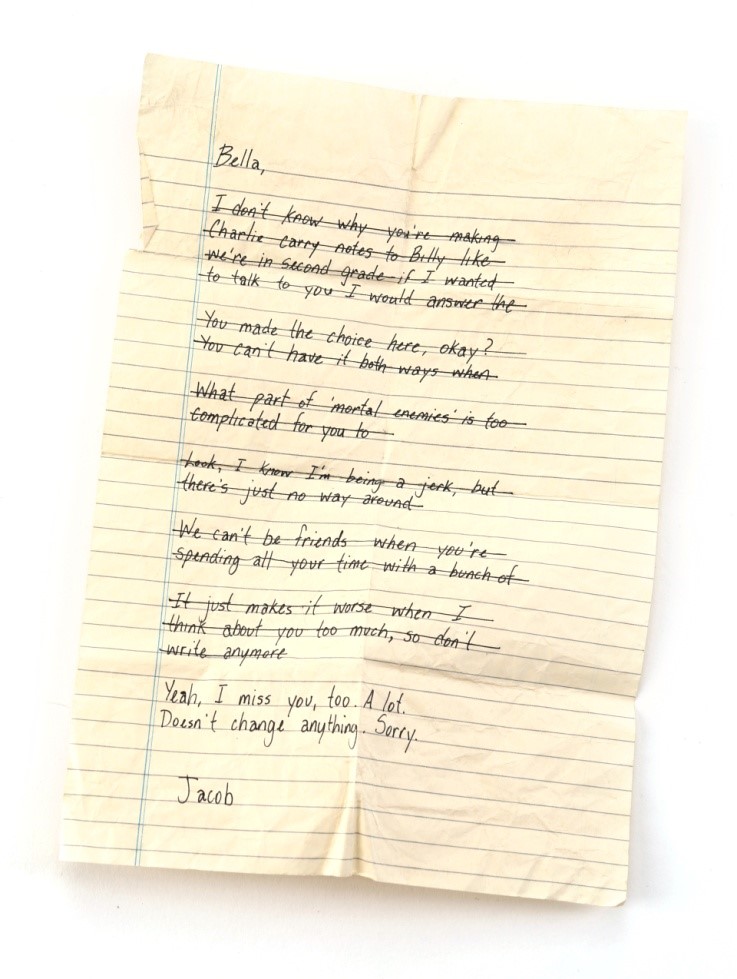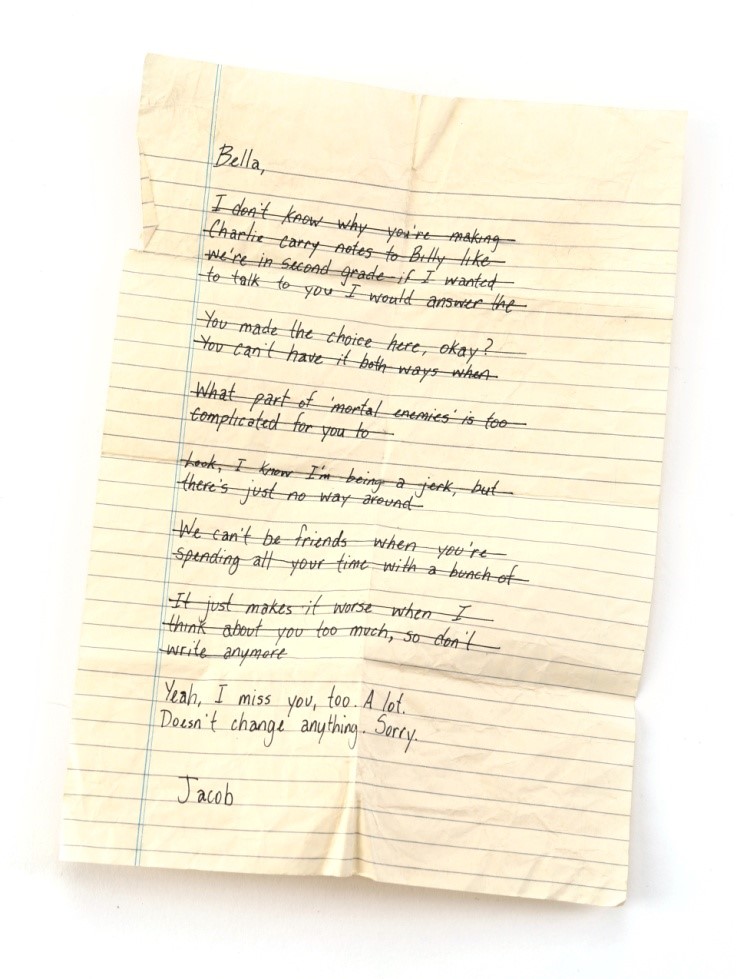 Lot 308, 322, 335 – Jacob Black's Letter to Bella
The Twilight Saga: Eclipse
When creating props and costumes for a film, most everything is created in duplicate to ensure that simple on set mistakes cannot slow shooting down too much. This is true for many items in The Twilight Saga Auction, including three lots of Jacob Black's letter to Bella. The printed letter features black ink on lined paper and has nearly all statements crossed out except for the final note, which reads, 'Yeah, I miss you too. A lot. Doesn't change anything. Sorry – Jacob.' All three lots are purposefully wrinkled by production and folded.
Lot 430 – Large Jacob Wolf Stand-In
The Twilight Saga: Eclipse
When it comes to portraying Jacob's animal nature on the big screen, The Twilight Saga's visual effects crew had to create a way of integrating Jacob's wolf self in with the other characters. For this reason, this large stand-in figure was created from corrugated plastic. For many scenes throughout the Saga, stand-in wolves like this were used for spacing reference when rehearsing and blocking scenes with the actors. Of course, the telltale 'J''s on this stand-in's face mark the wolf as Jacob. Measuring in at 112" long, this stand-in, and others like it, are some of the largest items in our auction.
Lot 583 – Jacob Black's Motorcycle
The Twilight Saga: Breaking Dawn – Part 1
While Jacob's wardrobe, lovelife, and even hair may have changed throughout The Twilight Saga, his favorite ride did not. Lot 583 of The Twilight Saga Auction is one of the coolest pieces in the entire lot, as it is Jacob's motorcycle. The 1970's style dual-sport bike has a black leather seat, black painted tire fenders and gas tank, and an exposed engine. It even still has mud and dirt on it from use!
These lots and many more are on offer in Propstore's The Twilight Saga Auction, being held on November 19th and 20th at the TCL Chinese Theatres in Hollywood, CA. Register Now to bid online or over the phone and check back soon for another look at some exciting pieces from the auction!

Follow us on Twitter and Facebook to be the first to know about all current & upcoming
Propstore Auctions and more!