Whether you're a devout poster collector, a movie buff, or looking for an eye-catching piece of art for your walls, there is something for everyone in our twelfth UK poster auction.
---
With online bidding now open until September 7, over 600 posters, concept art, original artworks, and autographed memorabilia pieces are going under the hammer – including James Bond, Star Wars, Horror, and our largest Alternative Movie Poster category yet. So, look at our Top 10 picks of the auction – remember, get your bids in early if you want a shot at scoring your own piece of entertainment history.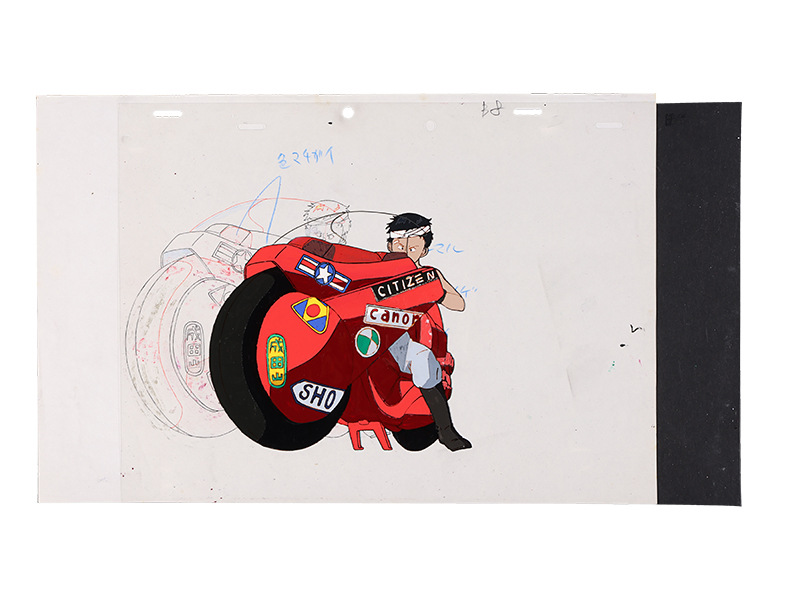 ---
Widely regarded as one of the greatest animated and science fiction films ever made – and a landmark moment in introducing Japanese animation to the rest of the world – Katsuhiro Otomo's Akira (1988) has remained a cornerstone of the cyberpunk genre and significantly impacts cinematic visions of the future to this day.
This hand-painted animation cel from the groundbreaking film features the powerful psychic Tetsuo Shima as he steals the now-iconic bike owned by his best friend Shotaro Kaneda to escape from the hospital and leave Neo-Tokyo. The cel is painted in gouache onto an acetate sheet. The cel has its original pencil production drawing of the same scene labeled "B8" with annotations in blue pencil. Accompanying the cel is a production shot background sheet on green-colored paper.
---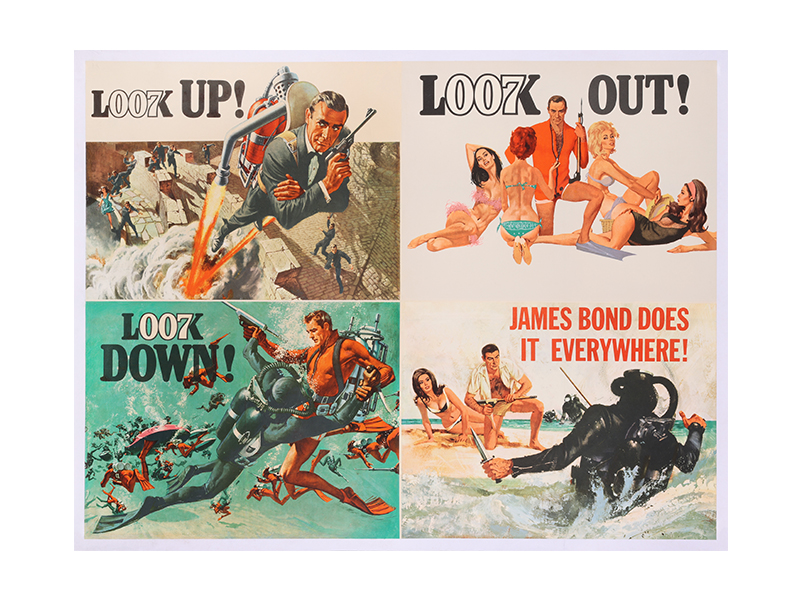 ---
Something of a "holy grail" for 007 fans – this Advance UK Quad for Thunderball (1965) features four total illustration panels – two by Frank McCarthy and two by Robert McGinnis.
The poster was designed to be cut into four pieces – each revealing a new facet of the story as Bond takes to the sky, the sea, the beach… and wherever the scantily clad women are. Very few examples (complete or otherwise) have survived, with this conservation linen-backed example being previously quartered and now re-assembled to present as an entire cinema Quad.
---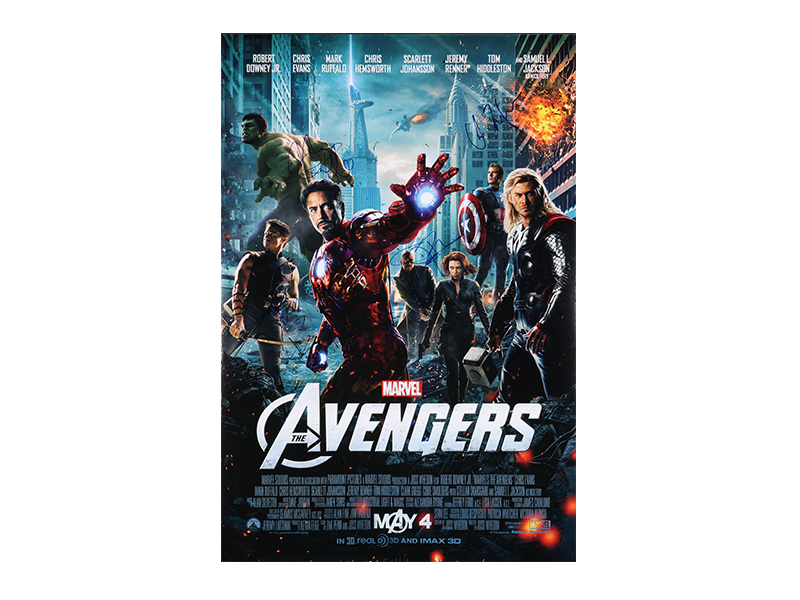 ---
It's undeniable what a considerable success Marvel and its movies have become over recent years, and the first crossover film, The Avengers (2012), is a testament to the strength of the MCU's ensemble cast. The Avengers marked just the beginning for the culture-shifting series by grossing a staggering $1.5 billion and laying the groundwork for the subsequent phases of the Marvel cinematic universe.
This autographed US One-Sheet is signed by Robert Downey Jr. (Iron Man), Chris Evans (Captain America), Chris Hemsworth (Thor), Mark Ruffalo (The Hulk), Jeremy Renner (Hawkeye), and Clark Gregg (Agent Phil Coulson). One of the newer film releases within the catalog, this is a perfect poster for superhero fans or autograph collectors.
---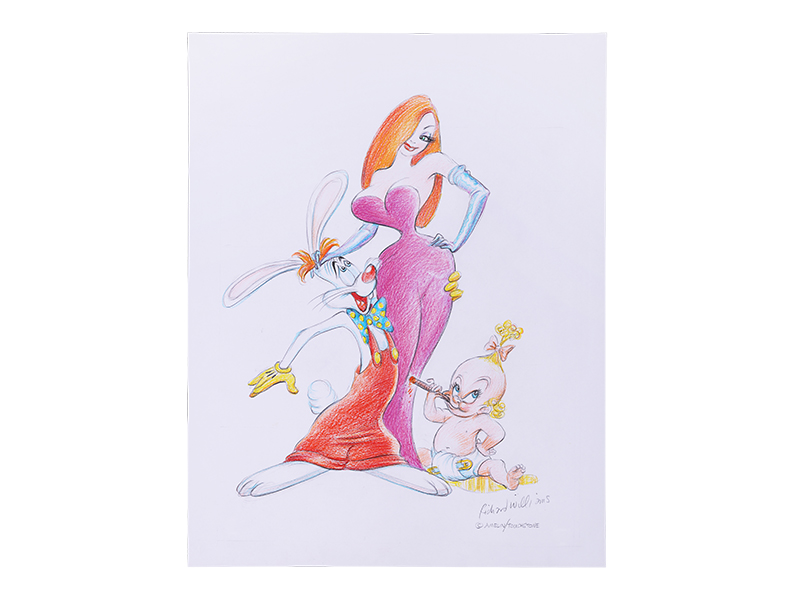 ---
This is a unique piece of original movie art, created in 2011 by Richard Williams as a donation to Aardman Animation's charity auction in aid of Wallace and Gromit's Grand Appeal. Hand-drawn by Williams, the animation director of Who Framed Roger Rabbit (1988) and won two Academy Awards® for his work on the film, this piece is rendered in colored crayons and pencil.
Depicting the trio of Roger Rabbit, Jessica Rabbit, and Baby Herman – the image captures the character's personalities perfectly – with Roger gazing lovingly at the ever-glamorous Jessica and Herman, well, being Herman! Interestingly, Williams loved Herman so much that he insisted on doing all of the animations for the character himself, so it is no surprise to see him in later works from the artist.
---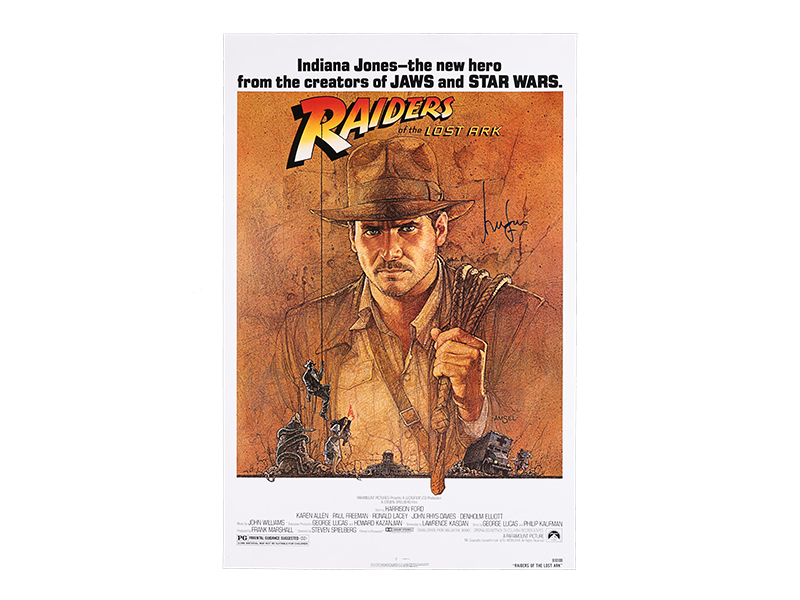 ---
An introduction to a hero – this is the first theatrical poster for Raiders of the Lost Ark (1981) which was the debut outing for adventurer and archaeologist Indiana Jones, played by the enigmatic Harrison Ford. Featuring a stunning study of the titular character by Richard Amsel, the poster gives Indy his iconic whip and fedora and transforms him into a powerful image now synonymous with the term "adventure."
Autographed by Ford himself, the signature has been verified by authenticators Beckett and comes with a Beckett Certificate of Authenticity and photographic evidence of the actor signing the poster.
---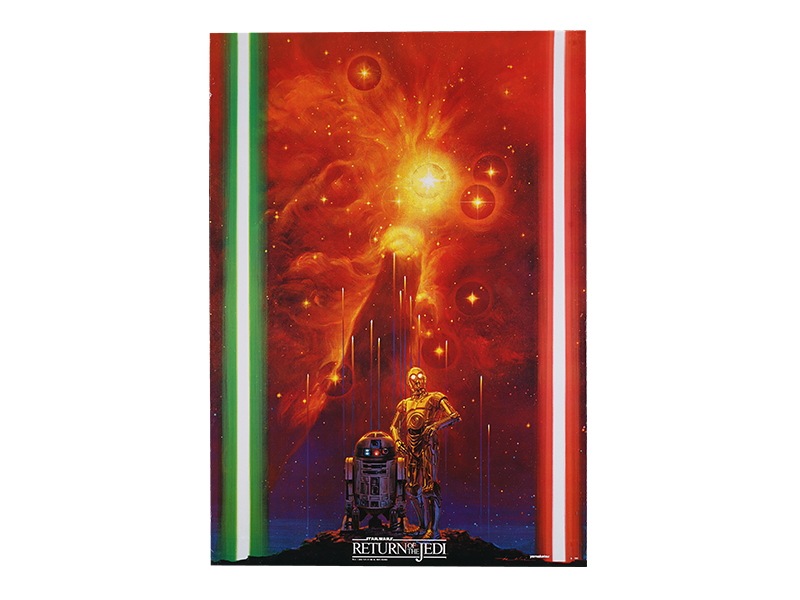 ---
For the third chapter of the original Star Wars trilogy, Return of the Jedi, Lucasfilm successfully chose several internationally acclaimed artists to present a varied series of designs for the Worldwide advertising campaign. Selecting acclaimed Star Wars artist Noriyoshi Ohrai, the "Starfall" design was created – which features C-3PO and R2-D2 as they watch the galaxy explode around them, with the glow of red and green lightsabers at each side of the piece.
The Yamakatsu-issued Style B Japanese B2 was not an official cinema piece but was sold exclusively in a very small number of Japanese cinemas, making this not only one of the most beautiful Star Wars posters but one of the most scarce also.
---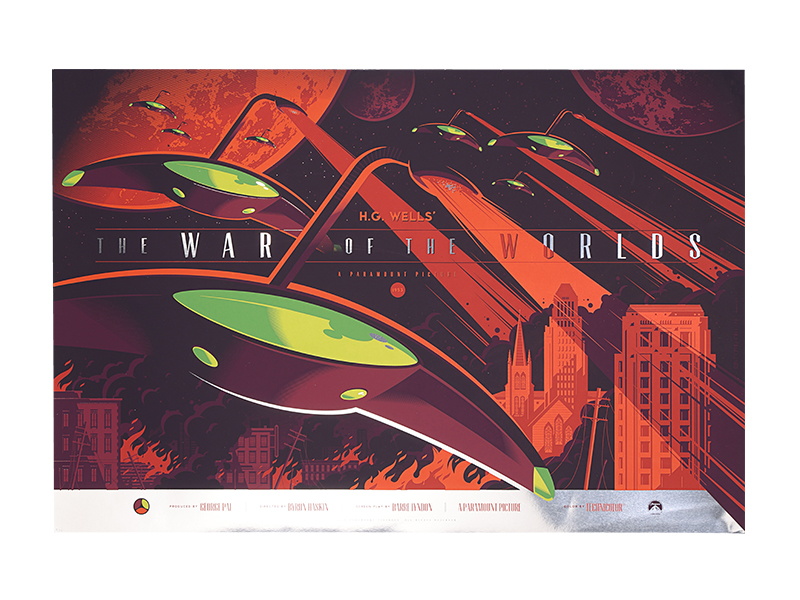 ---
Coming from the featured collection of this auction – Dark Hall Mansion Archive – Tom Whalen's interpretation of Byron Haskin's classic film adaptation of H. G. Wells' science fiction novel War of the Worlds was the first design of Dark Hall Mansion's Seminal Film Series in 2014.
This officially licensed screen print by Whalen features striking imagery with the alien warships dominating, leaving a path of destruction and chaos. This example is a Regular Foil Private Proof edition labeled "#P/P8". Beginning in 2011, Dark Hall Mansion had established itself as one of the leading names in offering creative and in-demand alternative movie posters. Over the years, they released various poster designs created by leading and established artists who produced imaginative interpretations of cinema, music, and more. Most importantly, their releases were officially licensed by the film, television, and music brands they worked with, making their posters part of the official collecting legacies of these classic titles.
---
---
Taking two months to perfect the design, this limited edition variant alternative movie poster for Forbidden Planet combines the retro feeling of the film with a modern color palette of eye-catching blues, pinks, and oranges. Established Belgian artist Laurent Durieux – now a mainstay of Alternative Movie Poster art – features Robby the Robot at the heart of the image atop a stunning galactic landscape.
Printed by D&L Screenprinting and numbered #62/200 – this is a fantastic poster that gives a new perspective to a classic piece of science fiction.
---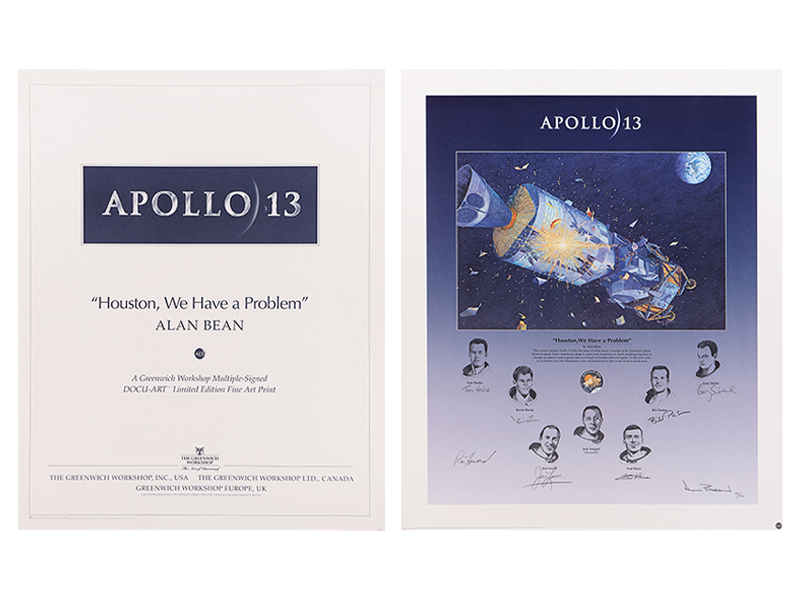 ---
This limited edition print (hand-numbered #980 of 1000) from Alan Bean features an impactful image of the moment one of Apollo XIII's oxygen explodes – along with portraits of the actual Apollo crew and their movie counterparts underneath. Celebrating "America's finest hours in space flight" and the film made about the triumph – this is more than just a movie poster; this is a commemoration of human ingenuity.
Signed by not only the featured cast members but members of the actual Apollo XIII – Jim Lovell, Fred Haise, and director Ron Howard – this is an excellent piece of movie and space history.
---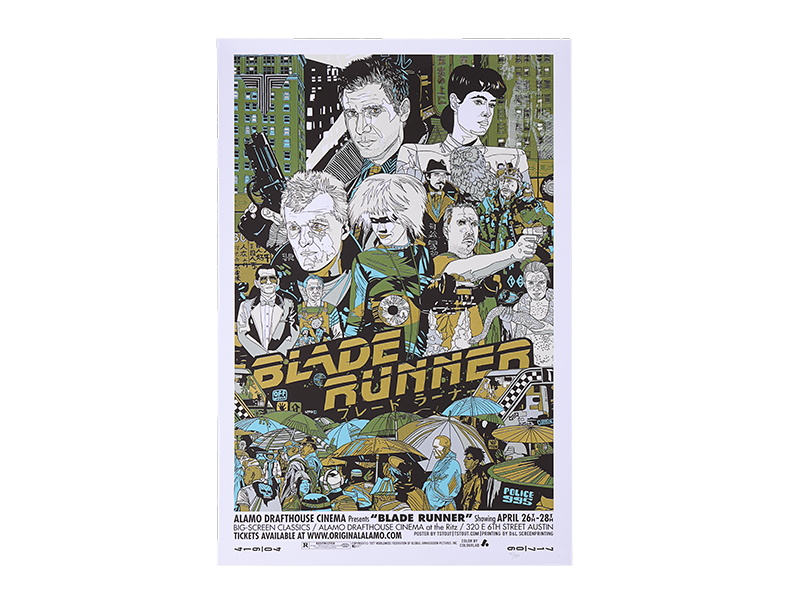 ---
We are delighted to offer one of the Regular edition designs printed on heavy stock creme paper by D&L Screenprinting. This print is hand-numbered #85/250.
Although Blade Runner may have celebrated its 40th anniversary last year, artist Tyler Stout's hand-numbered limited edition reimagining of the film's poster sold out almost immediately upon its release in 2008. Issued for Alamo Drafthouse's "Big-Screen Classics" season, which ran from April 26th – 28th, 2008, this print has become one of the most desirable 'Mondo' prints on the secondary market. We are delighted to offer one of the Regular edition designs – hand-numbered #85/200 – printed on heavy stock creme paper by D&L Screenprinting.
---
Join us on September 7th at 12 pm BST/4 am PT when the lots will begin to close in our timed online auction. And remember to get those bids in early if you want a shot at picking up some incredible pieces of visual entertainment history.
Check out the full catalog now here.
For all the latest from Propstore, including upcoming auctions and Buy now exclusives, follow us on Instagram, Facebook, Twitter, and now TikTok! For our full archive of past and current sales, head over to propstore.com now.
---