|
Auctions
Entertainment Memorabilia Live Auction London 2023: Featured Items Music
Propstore's Entertainment Memorabilia Live Auction is getting ever closer and it is the largest one we have ever produced from our UK office, coming in at just under 1,800 lots. The auction is running for four days in London – 9th-12th of November – and the first two days can be attended in person at BAFTA 195 Piccadilly. Day two of the auction features our impressive music items, a selection of which can be seen below…
---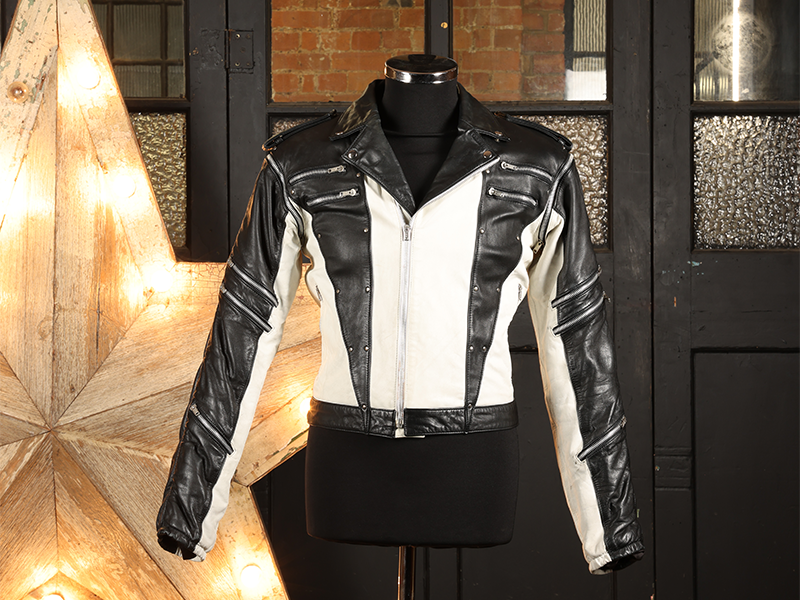 ---
The "King of Pop" Michael Jackson's original photo-matched black-and-white "Pepsi Commercial" leather jacket from the production of Pepsi's New Generation "Street" music video that was released in the United States on March 27, 1984. The Pepsi commercial was filmed soon after the release of Michael Jackson's Thriller music video. In the commercial, Jackson wore a black-and-white leather zippered jacket that had a similar design aesthetic to the red leather jacket made popular through the Thriller video. This zippered jacket photo-matches to an image of Jackson wearing it with the consignor shortly after the filming of the Pepsi ad.
The jacket photo-matches to an image of Jackson wearing it with the consignor at the time it was gifted. This jacket has direct-lineage provenance to Jackson and matches the aforementioned photograph.
The jacket offered is the only custom-made black-and-white zippered jacket with direct provenance, as well as a photo-match to the period, that we are aware of in the collector's market.
This jacket was a personal favourite of Jackson's from what many consider to be Jackson's prime creative period, meaning it is an incredibly rare chance to own an item of clothing from one of the icons of pop music.
---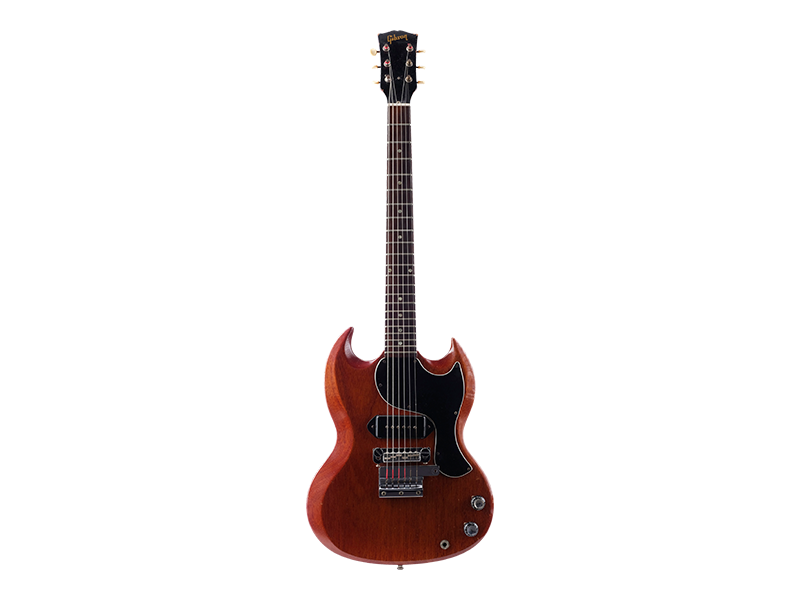 ---
Angus Young's Gibson SG Junior guitar from AC/DC's album Stiff Upper Lip. Young used this Gibson for a 2003 promotion of their studio album Stiff Upper Lip, which was released in 2001. From their first album release in 1975, AC/DC have been one of the most popular rock bands of the past 50 years, releasing a total of 18 studio albums and 59 singles. Lead guitarist and founding member Angus Young is a rock icon, with his penchant for dressing like a school boy and onstage antics, and he has also become synonymous with Gibson SG guitars such as this one.
The promotion for the album was done in New York for a VH1 Classic television commercial in 2003. Production purchased the guitar for Angus to use for the commercial and the guitar comes with a host of additional items, including a brown leather and pink fur-lined Gator guitar case and a handwritten Letter of Authenticity from Adrian Henke who produced the commercial for VH1 Classic.
---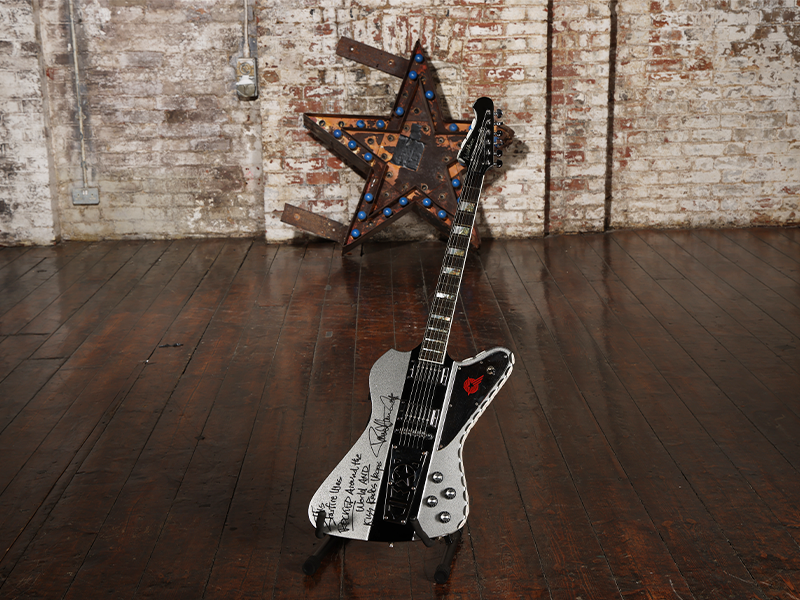 ---
With their iconic black-and-white facepaint and black-and-silver stage outfits, Kiss are one of the most visually arresting rock bands in history. So it makes sense that they would play equally visually stunning instruments, like this custom silver-colour sparkle Washburn Starfire guitar used, owned and autographed by Kiss frontman Paul "The Starchild" Stanley. Stanley used this guitar numerous times during live performances worldwide, including at Kiss Rocks Vegas in November 2014.
---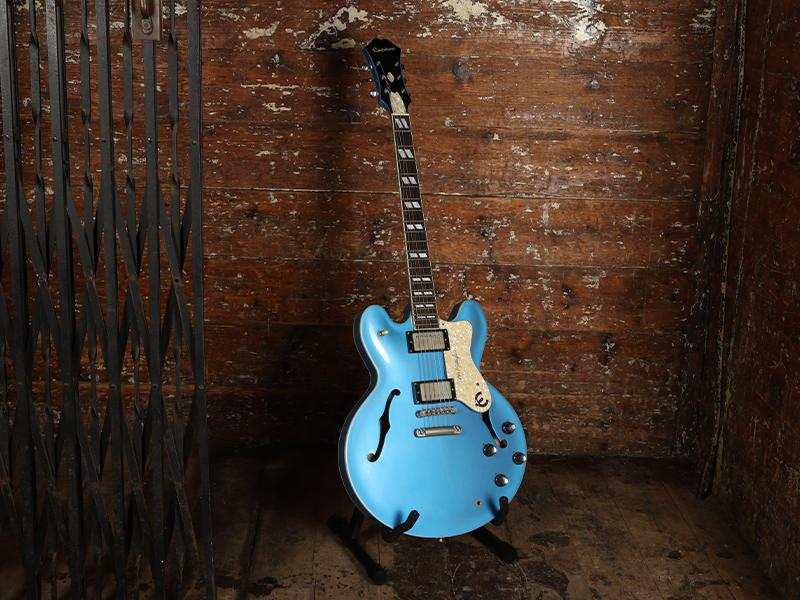 ---
In the UK in the 1990s the biggest dividing line in society was between those who preferred Blur, and those who preferred Oasis. It was the "blue-and-black dress or white-and-gold dress?" of the time. Marriages dissolved, friendships ended, all over who was better. And no, you couldn't like both.
We have a first-ever prototype of the Epiphone Supernova signature guitar made for Noel Gallagher and used during his time in Oasis, most notably during the recording of Be Here Now. This one-of-a-kind instrument was made by Gibson and Gallagher suggested various changes before the signature production guitars were produced by Epiphone in 1997 after Be Here Now was released.
---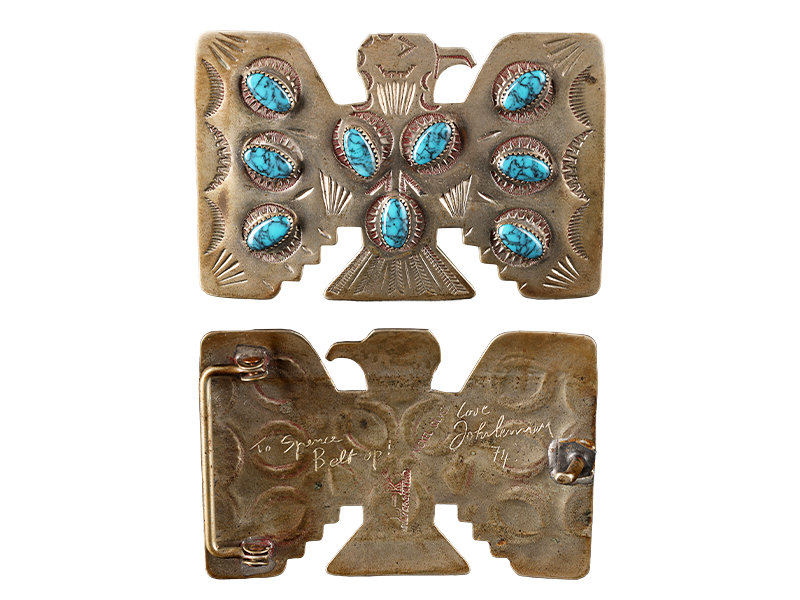 ---
Ever wanted to own a fashion accessory previously loved by a former Beatle? Well, now is your chance! This belt buckle was a favourite of the late John Lennon. There are several documented images of Lennon wearing this buckle during the period he referred to as his "Lost Weekend", an 18-month separation from Yoko Ono, when he was in a relationship with his personal assistant May Pang. Lennon bought this handmade buckle for himself in Calico, a former mining town in the Southern California desert.
The handmade Aztec-style buckle be seen in numerous photographs which accompany the piece and it was later given to Spence Berland, Senior Vice President of Record World magazine, in exchange for a belt buckle of Berland's which Lennon admired. The buckle comes with a handwritten note Lennon wrote to Berland during the trade – "To Spence, Belt Up!" – and is dated "74". The note is adhered to a piece of backing paper. Several years after the exchange, Berland's wife had this note engraved on the back of the buckle.
---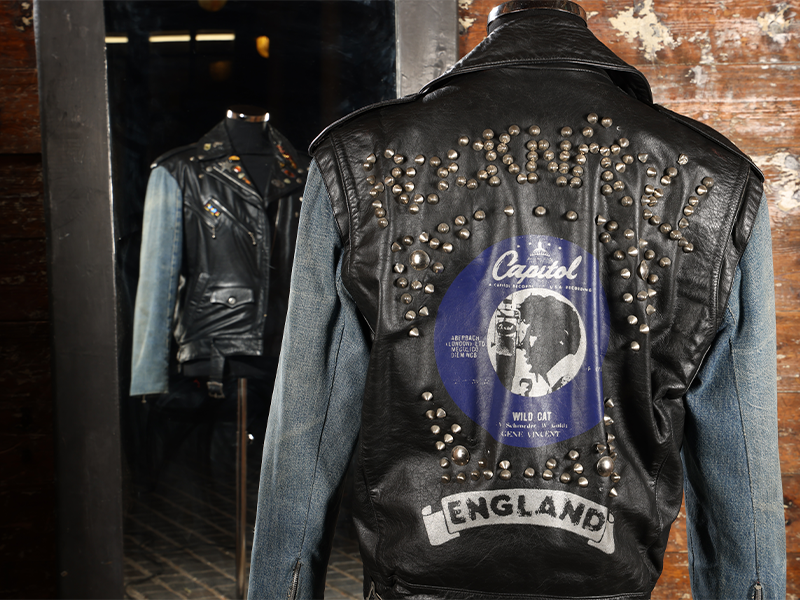 ---
When George Michael sadly passed away in 2016, the outpouring of grief was immeasurable. One of the best selling musicians of all time, a fantastic singer and an all-round good bloke, his contribution to pop music cannot be understated. This lot is a vintage screen-matched La Rocka jacket worn by Michael in the music video for his number-one hit duet with Aretha Franklin, "I Knew You Were Waiting (For Me)". This jacket comes directly from the collection of Michael's stylist Alan Keyes, and originally belonged to Keyes.
In 1986, Michael asked Keyes if he could borrow the jacket for the video. Released in January 1987, the song reached number one in both the US and the UK, and it was Franklin's only ever UK number one.
---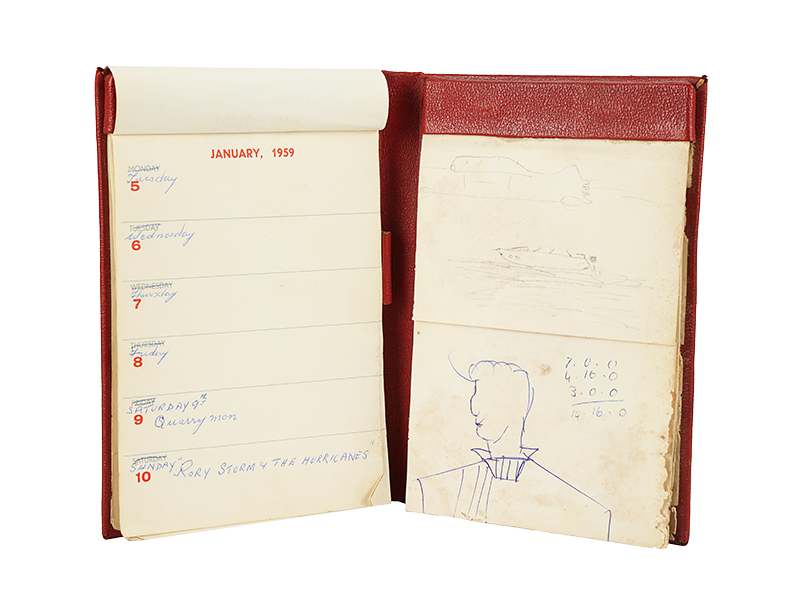 ---
Before John Lennon, Paul McCartney and George Harrison were The Beatles, they were The Quarrymen. The trio – along with guitarist Ken Brown – regularly played at the Casbah Club and even helped decorate the club's interior. However, after only eight shows, The Quarrymen quit over a financial dispute with Mona Best, the club's owner.
This diary contains Mona's handwritten notes and doodles, and mentions several bands she booked. On Saturday 9 January, she wrote "Quarrymen" and this is the only known written record of Lennon, McCartney, Harrison and Brown being booked under this name, though it is not known whether this performance took place. Interestingly, the band booked for Sunday 10 January is "Rory Storm & The Hurricanes", whose line-up included Ringo Starr.
---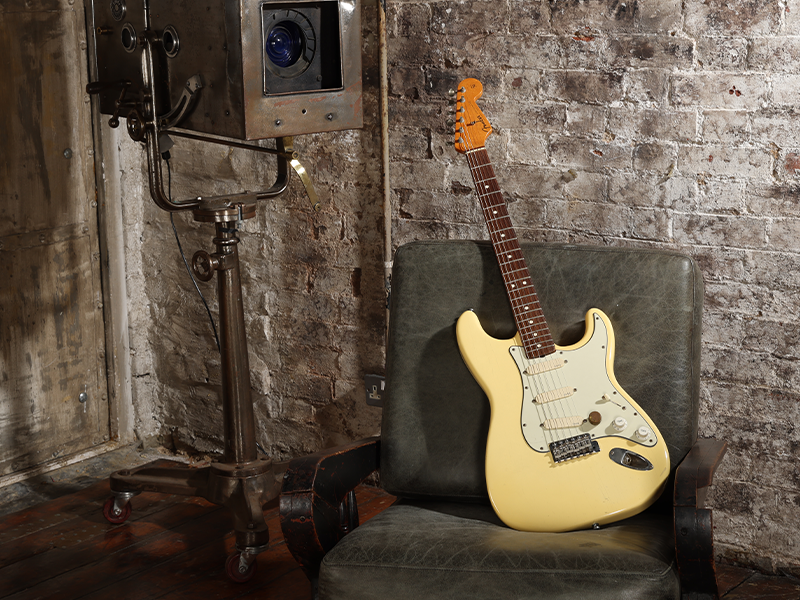 ---
Marr is widely regarded as one of the greatest guitar players of all time and is widely known as a a founding member of The Smiths. After departing The Smiths, Marr briefly joined The Pretenders in 1987 and was then recruited by The The's lead singer Matt Johnson in 1988. This new line-up, including Marr and guest vocalist Sinéad O'Connor, recorded the album Mind Bomb, which included The The's highest charting single, "The Beat(en) Generation".
This guitar was Marr's main instrument throughout the The The Versus The World global tour in 1989-1990.
Obtained directly from Marr, the guitar was part of his personal collection until 2020. A handwritten note from Marr details the use of the guitar, alongside photographic evidence of Marr holding and signing the guitar at his Crazy Face Factory studio. The back of the headstock is autographed by Marr in black ink.
---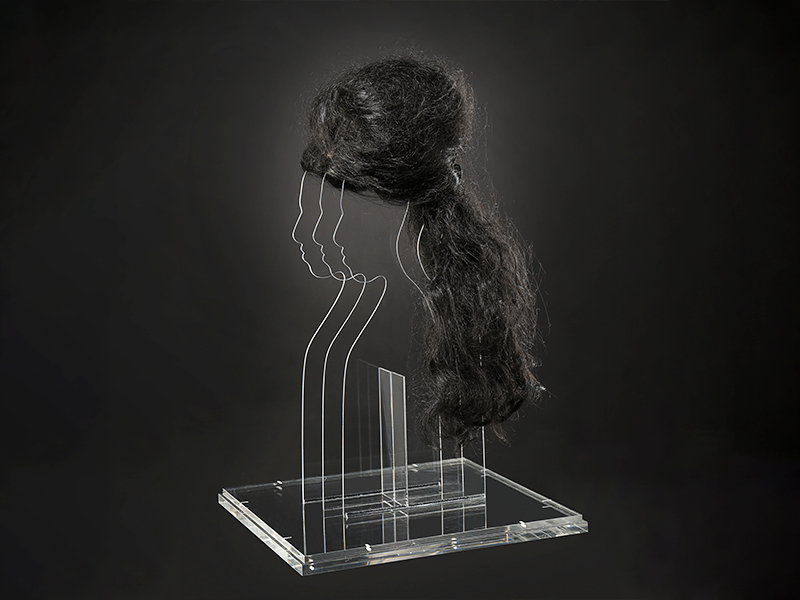 ---
The beehive hairstyle is synonymous with Amy Winehouse, who was one of the best British singer-songwriters of the last 20 years and this hairpiece was worn by the five-time Grammy award-winner in the music video for her hit song "You Know I'm No Good". This lot comes from the collection of professional hair stylist Tracey Cahoon, who worked with Winehouse from 2003 to 2010.
Winehouse sadly passed away in 2011, but has left a legacy in the music world, with many artists citing her as a significant influence. She is fondly remembered for her eclectic soulful music and unique aesthetic, including her iconic beehive hairstyle. Cahoon first met Winehouse in 2003 and they worked together on her first photoshoot. Throughout the day, the pair had been testing out various looks, and when Winehouse expressed interest in knowing if a beehive would suit her, Cahoon jumped at the chance to create one. They both loved how it looked, and after Winehouse wore the beehive on The Charlotte Church Show in 2006 it became her trademark. Her hair was often jokingly referred to as "The Eighth Wonder of the World!"
---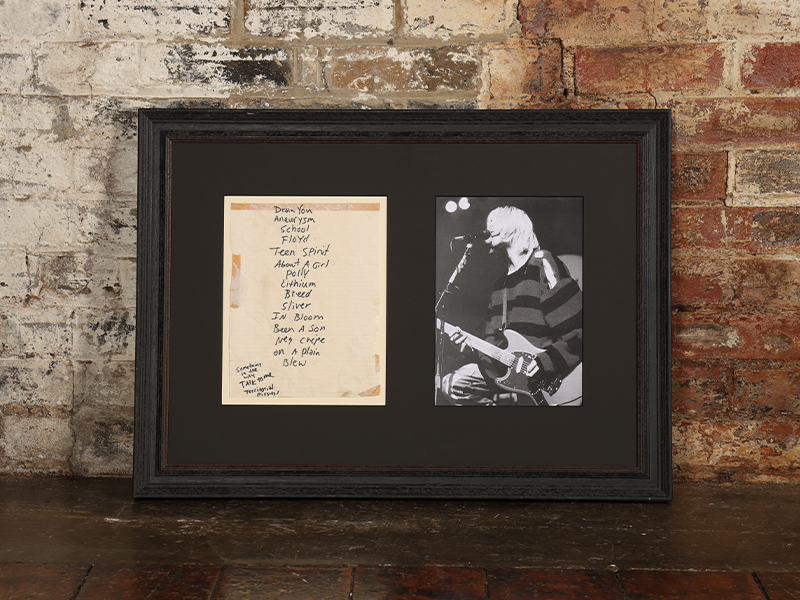 ---
A band whose significance and influence on the 1990s rock scene cannot be understated. Nirvana most famous line-up consisted of frontman and guitarist Kurt Cobain, bass player Krist Novoselic and drummer Dave Grohl (later of Foo Fighter), and this lot is a framed set list from a concert, handwritten by Cobain. It is believed that this list was written circa 1992.
The list is written in black marker on a sheet of lined A4 paper and features 18 song titles from across their first two studio albums, Bleach and Nevermind. It comes presented in a black-painted wooden frame mounted alongside a black-and-white image of Cobain playing during a performance.
---
Check out the day 2 content here.
For all the latest from Propstore, including upcoming auctions and Buy Now exclusives, follow us on Instagram, Facebook, Twitter, and TikTok! For our entire archive of past and current sales, head over to propstore.com now.
---
---