With our Cinema Poster Live Auction only hours away, we thought that we'd share with you some of the Propstore staff favourite lots from the auction. From well-known iconic artworks, to the obscure film names, there is definitely something to catch your eye in this poster auction…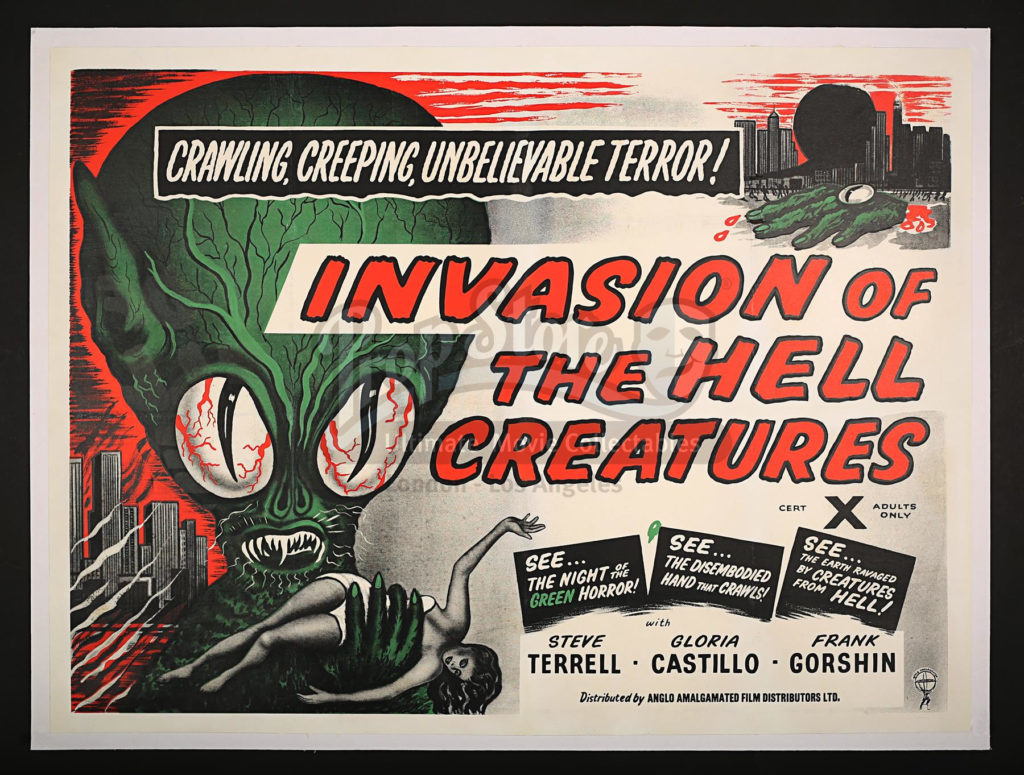 Lot #215 – Invasion Of The Hell Creatures (1957) – UK Quad Poster
SARAH, Head Of UK Photography
I absolutely love artwork from 50's B movie posters and this one is no exception! The simple lines and bold colours really make the poster pop, that coupled with the usual 50's damsel in distress while being help by an oversized large headed alien it is a front runner on my favourites list. The big X and 'adult only' promises it will be a terrifying experience (although in reality nowadays it is probably more comedy)! I haven't even seen the film, but the artwork alone…. Along with the cheesy tag lines actually makes me want to watch it. Check out all our other poster and I'm sure you will find the right one for you.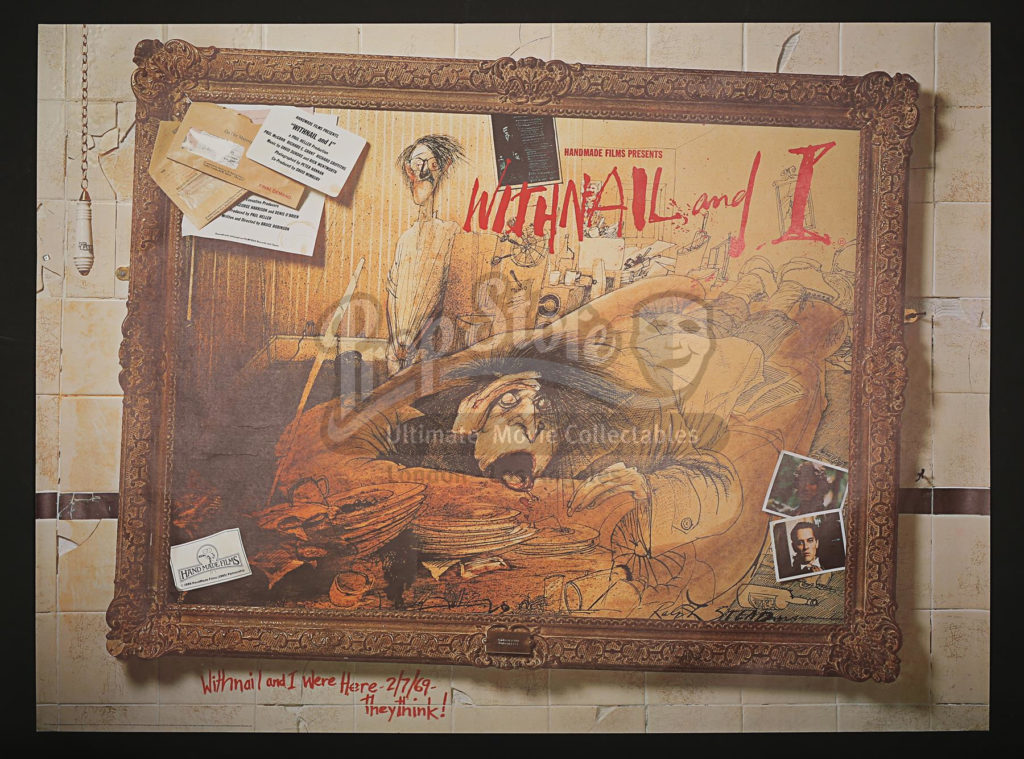 Lot #400 – Withnail & I (1987) – UK Quad Poster
MATT, Shipping/Poster Expert
As a big fan of the film and the artist Ralph Steadman, I adore this poster. Steadman (who also illustrated the book Fear & Loathing in Las Vegas) perfectly captures what it's like to have the worst hangover ever! The messy style of this poster perfectly captures the character Withnail whose drunken antics and continuing quest for more alcohol make for hilarious viewing. A limited initial distribution of this film makes this a rare and collectable piece.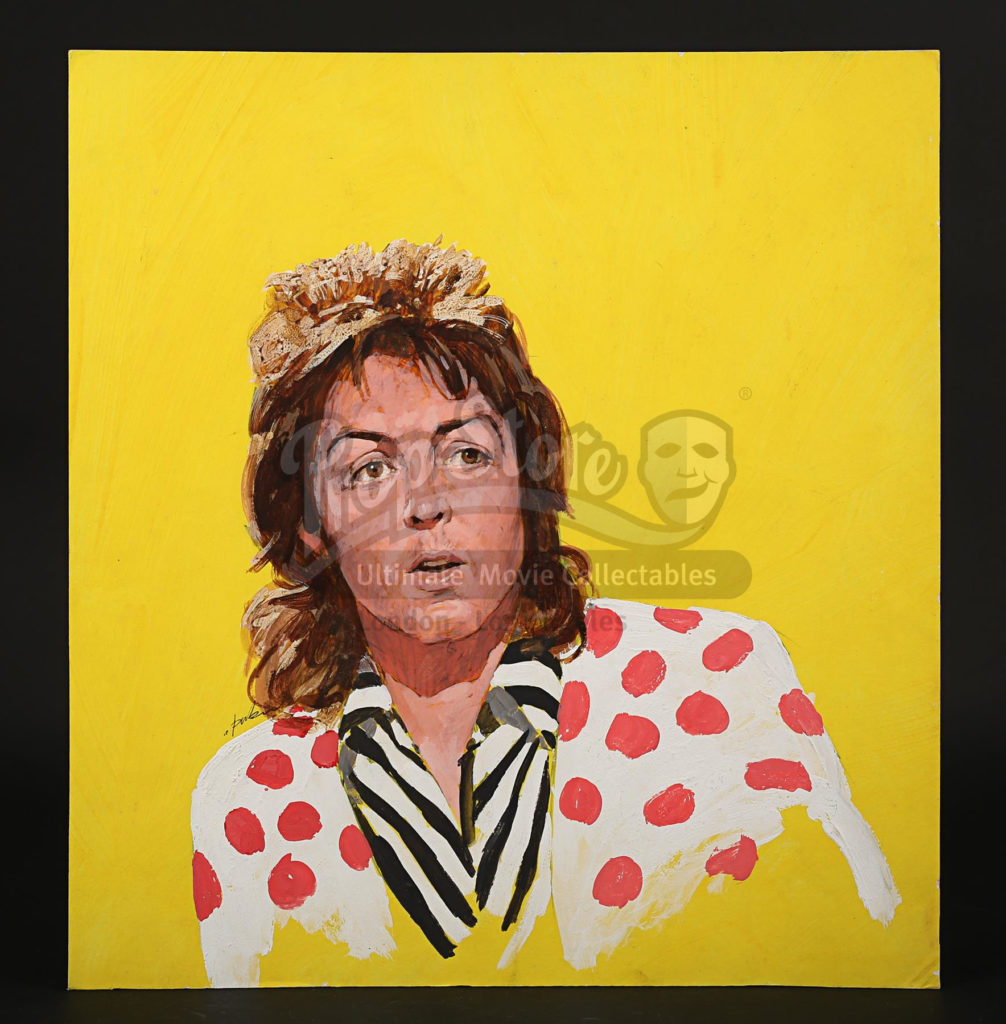 Lot #22 – Paul McCartney – Look-In UK Magazine Cover Artwork (1973)
TIM, UK General Manager
This artwork really dates me but it is the nostalgia of it I love so much. Arnaldo Putzu's distinctive style takes me straight back to my childhood in the 1970's. I should point out though, I didn't start reading Look-in until 1976!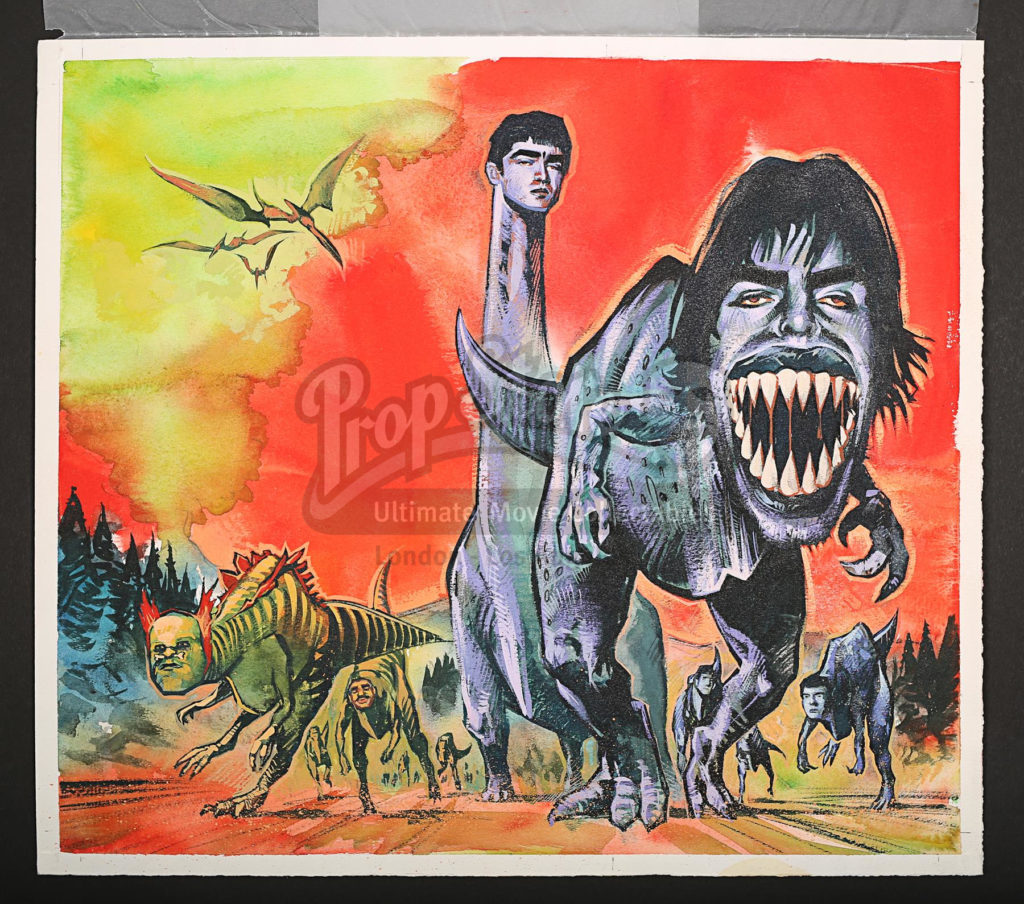 Lot #188 – The Big Issue Magazine – Oasis Prodigy (2012) Artwork
JASMIN, Inventory
This was a hard choice for me as I have many favourites – but finally came down to this one! I grew up listening to Oasis as my father is a fan and as soon as I saw this poster I loved it. The whole dinosaur theme is clever in showing their personalities, and I love how Liam Gallagher is looking the most dominant and most ferocious. The colours blend well together and the artwork is unique, and I love how its hand painted too. It's a very striking piece.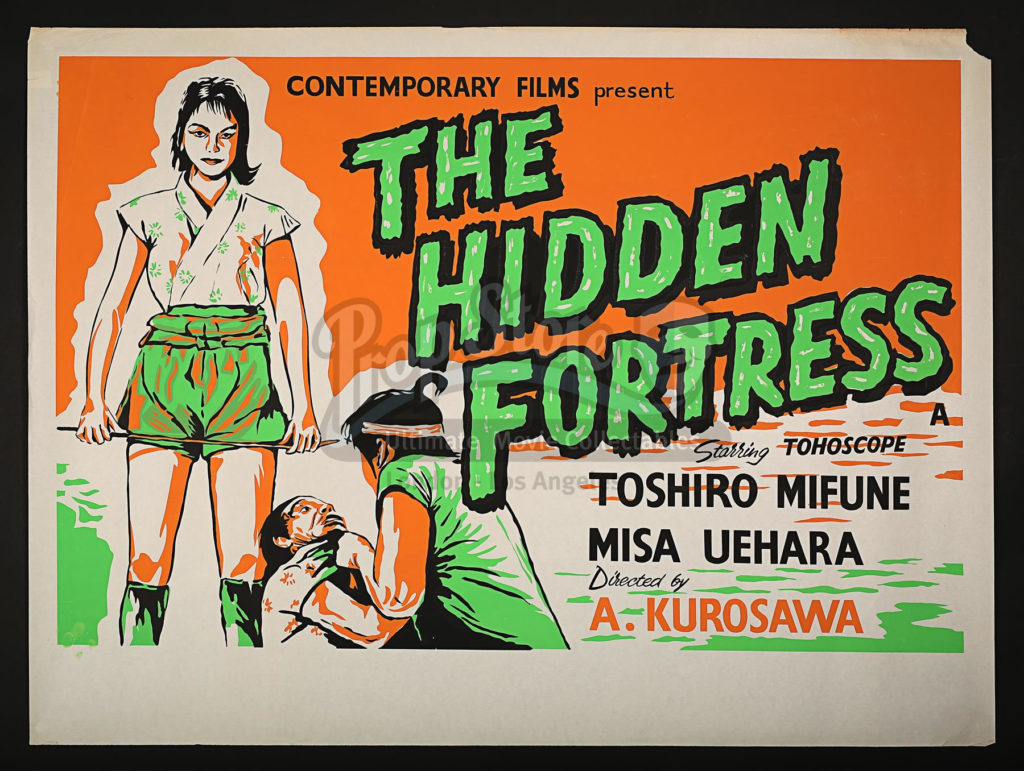 Lot #173 – The Hidden Fortress (1958) – UK Quad Poster
ROB, Photography Assistant
I'll have to admit off the bat that I have not seen this film, but I do have to say that the moment I saw this artwork I was struck with how eye catching and beautifully simply the piece was.
The simple style and wonderfully bold and contrasting colours create something that you can't just ignore, that coupled with the imposing stance of the central figure looming over the two men fighting just makes you want to see the film to find out what really goes on inside The Hidden Fortress. I also found out from our resident poster expert that The Hidden Fortress was the inspiration for Star Wars and it's just fascinating to know the little facts behind the film and it also makes me appreciate it just that little bit more.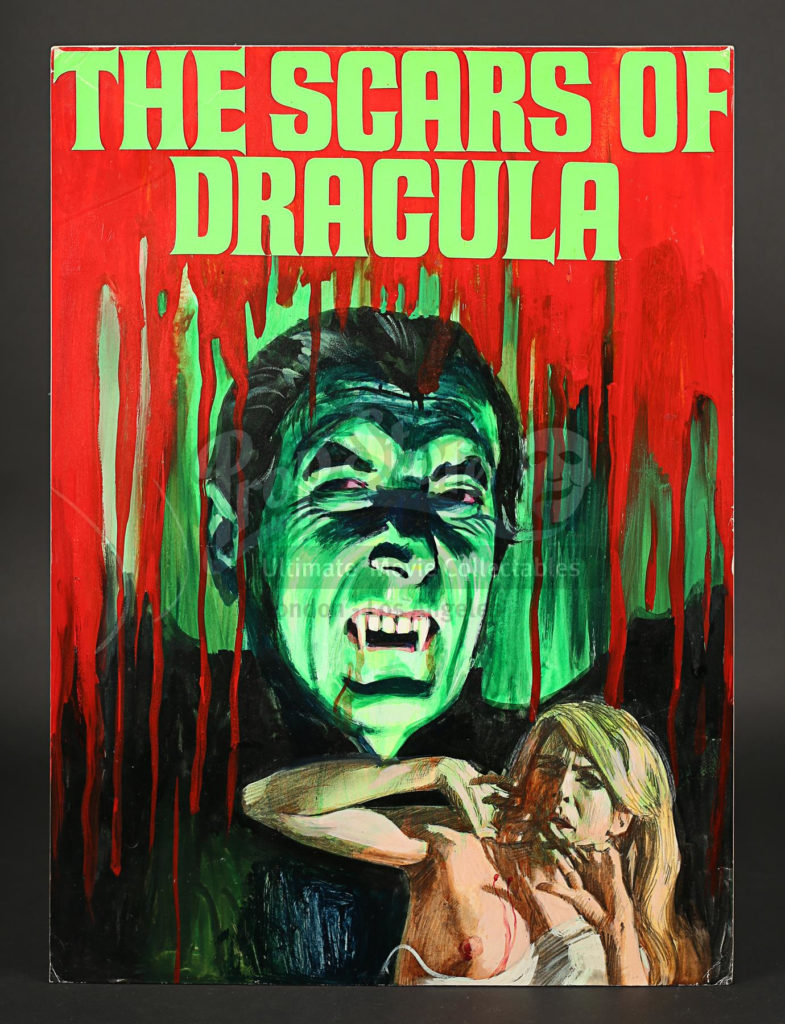 SAM, Inventory
Okay I've got a few favourites – first is Lot #78 The Scars Of Dracula (1970) – Prototype Artwork, I love this artwork because it is classic cheesy 70s poster, you've got the damsel, the monster, the neon colours and the bold title. They certainly don't make posters like this anymore!
Another is Lot #9 Arabesque (1966) – UK Quad Poster, I love the design as a whole, the background reminds me of the Wheatus' Teenage Dirtbag album and coupled with the amazing art style and Gregory Peck's action pose behind the gorgeous Sophia Loren standing so nonchalantly makes a very unique poster.
The last poster is Lot #68 Midnight Blue (1982) – UK Quad Poster, I love this poster for two reasons, first the colours compliment each other so well, the navy blues against the nude tones make Georgina Spelvin even more beautiful, she stands out and makes the poster a piece of art. Second, the layout and text font are bold and elegant and yet don't draw away from Georgina as the main focus.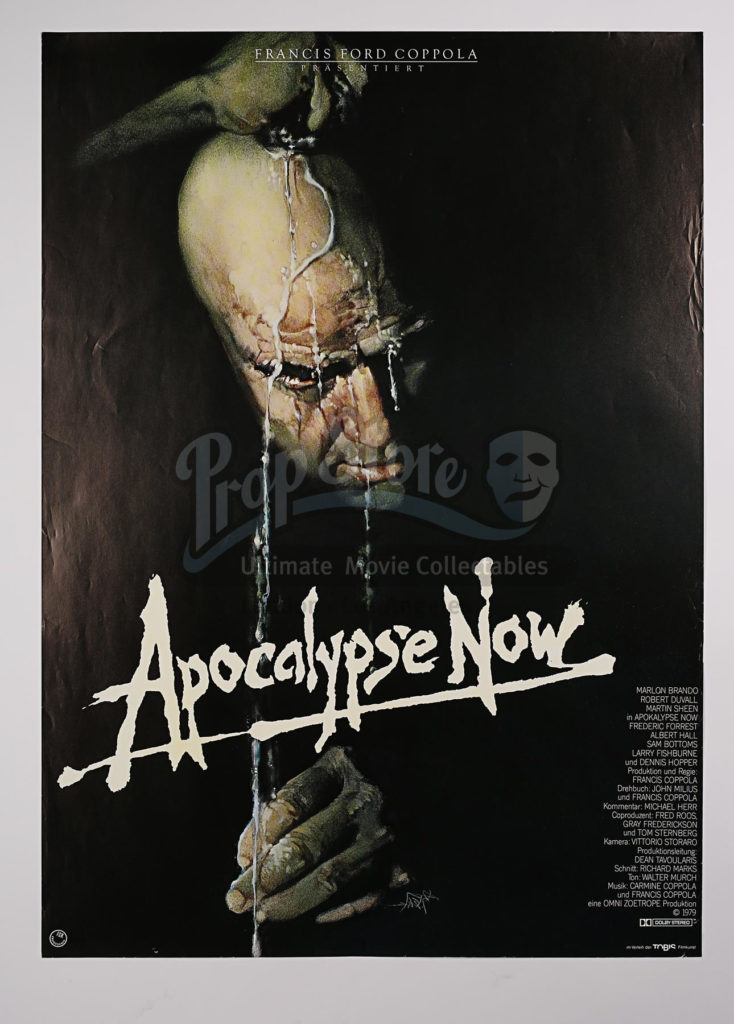 Lot #8 – Apocalypse Now (1979) – German A1 Poster
ADAM, Copywriting
For me this is exceptionally powerful as a cinema poster and a piece of art on its own – it feels like a Rembrandt or earlier 20th Century realist work. If the text was removed, the image would command just as much attention and possibly even be left open to further interpretation. I love how only essential elements are revealed in the darkness – this immediately creates a questioning mindset in the observer, especially if you're not familiar with the movie.
Knowing the film, the image as it is perfectly encapsulates the strangeness and surreal, unsettling emotions Apocalypse Now inspires in viewers. The vividly realised rivulets of water imply relief – but in the context of the darkened surrounds and Brando's bowed, shaved head, they create more of a paranoid, claustrophobic feel than anything else. That the subject's eyes are partially obscured creates the feeling of tension and questioning one's state of mind – reinforced by the tension in the hands and brow. Definitely a dark favourite from our collection.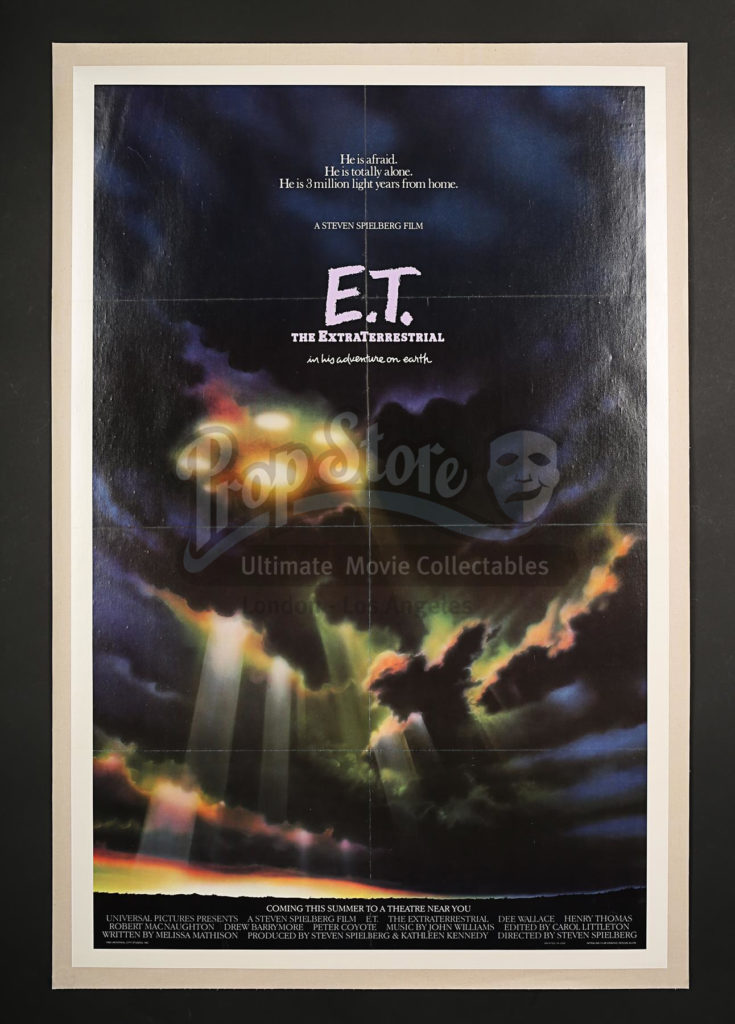 Lot #125 – E.T. Extra-Terrestrial (1982) – US 1-Sheet Advance Poster
JAMES, Photographer
This movie poster for E.T really catches my eye. I love the way the vivid colours break through the darker clouds giving a hint of what the movie offers. It shows the element of mystery as to what is producing the light that's breaking through the bleak skyline producing these explosions of light and colour. It hints at the unknown and extra-terrestrial theme.
If you liked what you saw, then why not check out some of the amazing pieces of original art and collectable posters all currently up for auction in the Propstore Cinema Poster Live Auction, and find yourself your very own piece of movie art history.

Don't forget to follow us on Twitter and Facebook. And remember, you can explore so much more at our archive and see the extensive range of film and TV items we have for sale and auction over at propstore.com!