It's that time of year again. The time when a lot of us have to think "I wonder what [insert family member's name] will want for Christmas this year…" and then we struggle, trawling through thousands of websites or fighting hoards of shoppers on the high street to find something. So here at Propstore we decided that we would give you a helping hand, with 15 suggestions that the movie-lover in your life might like. Alternatively, you can use these suggestions to guide your family and friends to a present that you yourself might like…
Any Crew T-shirt
Film productions often provide their cast and crew with mementoes of their time on the shoot and this commonly comes in the form of a crew T-shirt. Our website has T-shirts from a variety of productions and in various sizes, the perfect gift for a film lover.
Set of Three Warning Posters | 28 DAYS LATER (2002)
Ok, ok, so it isn't Halloween anymore, but this set of three warning posters from Danny Boyle's 28 Days Later could make for a great display for any horror fan.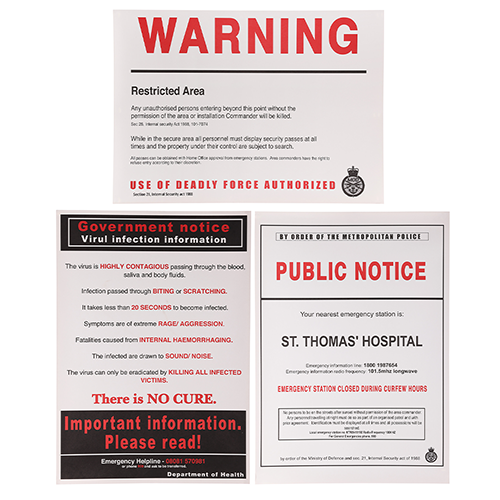 Production-Used Script | FORCE 10 FROM NAVARONE (1978)
The Christmas holidays are the time for slouching on the sofa and watching an old movie on TV. A war movie directed by Guy Hamilton? Starring Harrison Ford, Edward Fox, Carl Weathers and Richard Kiel? Sounds perfect!
Michael Bays Chair Back | 13 HOURS: THE SECRET SOLDIERS OF BENGHAZI (2016)
Michael Bay is one of the most influential action directors of the last 30 years and this was a chair back he used during the production of his 2016 film 13 Hours: The Secret Soldiers of Benghazi. Padded and perfect for relaxing on.
Post-Production Gary Kurtz Call Sheet | STAR WARS: A NEW HOPE (1977)
Original call sheets from the post-production of A New Hope are not common, especially ones where legendary producer Gary Kurtz is listed as director. An ideal gift for the Star Wars fanatic in your life.
Marauder Spear | THOR: THE DARK WORLD (2013)
Marvel films have taken over the world/multiverse, so why not gift a special someone their own piece of the MCU, straight from the battlefields of Vanaheim?
Free Paddington Poster | PADDINGTON 2 (2017)
Who would want to lock up dear little Paddington? The evil Phoenix Buchanan, that's who! Join the campaign to free everyone's favourite Peruvian marmalade-guzzling bear with this perfect display piece.
Script Binder | BRAVEHEART (1995)
William Wallace's cry of freedom echoed across cinemas in 1995 and lead to 10 Oscar nominations and 5 wins. Randall Wallace's (no relation) screenplay was one of the nominees and you can take home your very own production-used copy now.
Framed Pair of Bank Notes | TOTAL RECALL (1990)
Did Doug Quaid (Arnold Schwarzenegger) lead a rebellion on Mars, or was it all just a dream? We may never know for sure, but what is definitely real is this wonderfully made display featuring a pair of Martian banknotes.
Crew Gilet | SOLO: A STAR WARS STORY (2018)
Do you feel that? That's winter rolling in, so you better wrap up warm with this beautifully padded gilet. That it's from the production of a Star Wars film is just an added bonus, really.
Tower Model Miniature | STAR TREK: VOYAGER (T.V. SERIES, 1995 – 2001)
Model miniatures are sadly being seen less and less in visual media as CGI is now seen as a cheaper, easier option. But model miniature construction is inarguably an art form and few did it better than the team behind the various Star Trek series, so do yourself a favour and pick up a piece of sci-fi history.
Dark Knight playing cards
Heath Ledger's Joker is one of the most terrifying and memorable cinematic villain of all time and would leave customised playing cards wherever he went. The production made hundreds for use in the film and then gave the cards away during the promotional campaign. Treat someone you love to a little bit of the Gotham underworld.
Pair of Golf Balls and Tees with Brass Divot Tool and Marker | JAMES BOND: DIE ANOTHER DAY (2002)
Everyone knows a golfer. They're everywhere, they walk among us, and studies* have shown that a lot of golfers are also Bond fans. Well this collection is perfect for the golf-playing, Bond-loving person in your life. It includes a pair of balls, wooden tees, a divot tool and a divot marker, all decorated with the distinctive '007' logo, meaning they will be the talk of the course.
*Definitely a real study. You don't need to look it up, just believe us.
Crew Jacket | HOOK (1991)
It wasn't one of Steven Spielberg's most critically acclaimed films (and he's even admitted to not being fond of it) but there is a lot of love out there for Hook and it was a seminal film for a lot of people growing up. Grab yourself this crew jacket and maybe you can even pretend to have worked on it!
Autographed Sally Jupiter/Silk Spectre Poster | WATCHMEN (2009)
Zach Snyder's third film is an adaptation of Dave Gibbons and Alan Moore's iconic comic book series Watchmen and this poster has been autographed by three of the stars: Carla Gugino, Jeffrey Dean Morgan, and Jackie Earle Haley.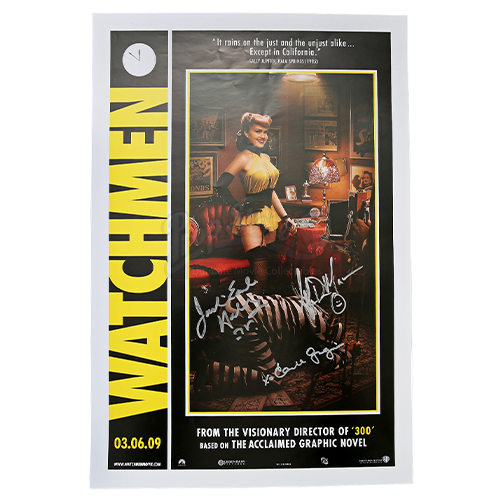 Of course this is just the start. Propstore has over 5,000 items available to purchase right now on the website, for a range of different budgets. Good luck on your present hunt!
Don't forget to follow us on Twitter , Instagram and Facebook. And remember, you can explore so much more at our archive and see the extensive range of film and TV items we have for sale and auction over at propstore.com!