In this blog series, we're delving a little deeper into what makes some of our favourite movie characters and actors so iconic. From coloured frocks to over-sized props, each month we'll take a deep dive and look at 5 movie props that made our chosen actors' careers and character what they are today.
This month we're looking at US national treasure and cultural icon, Tom Hanks. Known for his congenial nature worldwide, Hanks has been a household name since his first major Hollywood breathroughs in the mid-to-late 80s with Splash and Big. After two consecutive Academy Awards for Best Actor for his roles in Philadelphia (1993) and Forrest Gump (1994), the world was his oyster and Hanks has gone on to act in over 60 feature length films.
And his popularity today has only grown stronger. With a following on Instagram of over 9 million, he delights his fans with old movie set photos, strong morals and a strange propensity to find lost gloves.
So let's dive into the movie career of this much-loved actor and see our top five favourite movie props that have made Tom Hanks' characters so iconic…
---
In The Green Mile (1999), we follow the lives of death-row prison guards and the arrival of a strange new inmate. Considered by writer Stephen King as the single most faithful adaptation of his work, The Green Mile is a beautiful film about miracles and innocence. Tom Hanks plays the sympathetic commanding officer Paul Edgecomb, who interacts and befriends the child-like new inmate John Coffey (Michael Clark Duncan) as he begins to demonstrate some unusual powers.
Edgecomb is an authoritative figure and reflects his authority through his uniform. Historically, in the 1930s it was not actually necessary for guards to wear uniforms for prison work. However, King and costume designer Karyn Wagner wanted the 'Mile' to feel authentic and official for the viewer.
Hanks' costume represents one of Hank's most memorably movies from the late 90s, but also a slightly more serious role for the actor who is usually seen in comedic or lighter roles and comes in at number 5 on our top costumes or props from Hanks' career.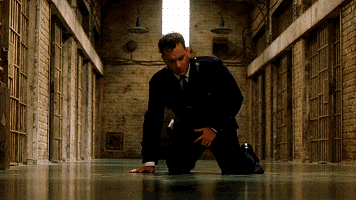 ---
Fifteen mice were used in the movie in the role of Mr. Jingles. Each mouse spent several months being trained to do different tricks because it would take too long to train one to do it alone!
---
A cinematic retelling of the three Apollo 13 mission, the film details the real-life story of how three astronauts (stuck in space) helped develop the strategy with NASA to bring them all home. Directed by Ron Howard, Tom Hanks plays Jim Lovell, commander of the Apollo 13 mission.
The spacesuits used in the film cost around $30,000 each and were highly accurate in their replication. They functioned as an airtight suit and had to have oxygen pumped in as the actors wore them. As far as spacesuits in movies go, these are by no means the fanciest or most advanced but they represent working real-life designs, without which we wouldn't have the awesome suits seen in our favourite sci-fi movies today! So, for accuracy's sake and for an amazing role, Commander Lovell's spacesuit comes in at our number 4.
---
After the first test preview of the film, according to director Ron Howard, one of the audience members wrote that he hated the film because of its 'typical Hollywood' ending, and that the crew would never have survived!
---
In Big (1988), a young boy makes a wish to a mysterious Zoltar Machine to grow up and the next day he's miraculously in the body of an adult, with all the hijinks that ensue. Perhaps Hanks' most memorable early role, Big is a film about the blending of childhood and adulthood and what connects them. There are plenty of memorable items in this film, from the white Liberace suit to the giant toy piano but none are more so iconic than the mean magic machine known as Zoltar.
Discovered by the young Josh (David Moscow) in the Playland Amusement Park – a real park which has been operating in Rye, New York since 1928 – the Zoltar machine was made in its entirety for the production. Its design was based on similar fortune-telling machines from the turn of the 20th century, most of which contained female gypsy characters.
From the 'uncanny valley'-esque movements and spooky sounds, to the coin slide into its mouth, the Zoltar Machine has the combination of creepy and cool that makes anyone want to make a wish with it, making it our number 3 Tom Hanks prop.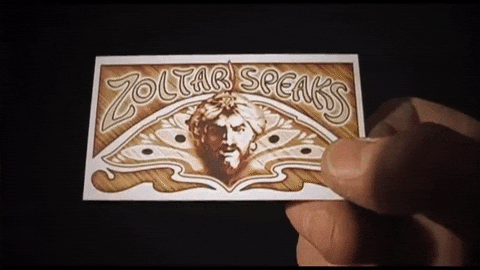 ---
According to Robert Loggia, on the day they filmed the famous keyboard scene at F.A.O. Schwarz, he and Tom Hanks noticed that doubles dressed like them were on hand just in case the two could not do the dance moves correctly. It became their goal to do the entire keyboard number without the aid of the doubles – to which they succeeded!
---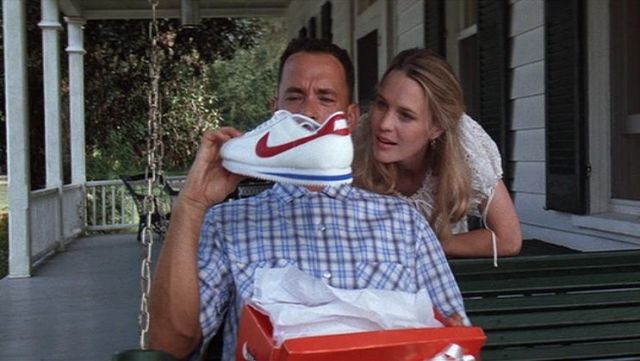 Forrest Gump (2994) follows the presidencies of Kennedy and Johnson, the events of Vietnam, Watergate and other historical events, all of which unfold through the perspective of an Alabama man with an IQ of 75, whose only desire is to be reunited with his childhood sweetheart, Jenny. Regarded as one of Hanks' best movies, Forrest Gump is a must see and nothing is more iconic about this film than his Nike 1974 Cortez running shoes.
Gifted to him by Jenny (Robin Wright) halfway through the film, these shoes represent all of Forrest's journeys from running from bullies and through Vietnam, to his three-year marathon through America.
These shoes were so cool that Nike actually rebooted them in 2015 and in 2019 a screen-matched pair were sold in our Entertainment Memorabilia Live Auction for a staggering £20,000! It's obvious that the love for this film and the unforgettable lines from the film make this an easy number 2 on our list. ---
Tom Hanks' younger brother Jim Hanks doubled for him in many of his numerous running sequences. Jim is also now Tom's voice work substitute for the Toy Story games and non-movie related voice content.
---
In Cast Away (2000), a FedEx executive undergoes a physical and emotional transformation after crash landing on a deserted island. This film was Hanks' first role in the Noughties and perhaps his most challenging to date both mentally and physically. Cast Away tells the story of Chuck Noland and his descent into madness due to his total isolation and struggle to survive. He was never truly alone, however, having his round and bouncy friend Wilson always at his side.
Wilson had actual dialogue written for it so that Hanks' one-sided interactions could seem like a natural conversation.
Wilson the volleyball isn't the only 'Wilson' Hanks has been associated with. Hanks' wife's maiden name is Rita Wilson, his first TV role was Kip Wilson in Bosom Buddies (1980-82) and he played Charlie Wilson in Charlie Wilson's War (2007).
Due to its quirky imagery it's no wonder why this ball has continued to live on in pop-culture to now. He was even reunited with Hanks at a New York Rangers game in 2015 after a fan from the crowd threw the actor a ball that looked like his long-lost friend. It's the continued love for this little guy and his everlasting iconic status as an ultimate movie prop, that makes Wilson our top Tom Hanks movie career prop!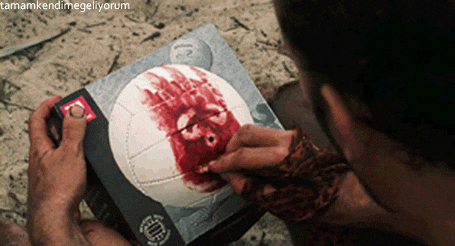 ---
You can see the island where the movie was filmed by entering the coordinates -17.609277, 177.0397 into Google Maps.
---

So, what do you think? Do you agree with our top 5 props that have made Tom Hanks' career so iconic? Let us know in the comments below what you thought, or what you would have included, or join in the discussion about this blog
Don't forget to follow us on Twitter and Facebook. And remember, you can explore so much more at our archive and see the extensive range of film and TV items we have for sale and auction over at propstore.com!