|
Auctions
Welcome To The Entertainment Memorabilia Live Auction 2018
Propstore is one of the world's leading specialist retailers in movie and television memorabilia. Founded way back in 1998, now with offices based both in London and LA, 2018 is a particularly special year for year for us since this is Propstore's 20th anniversary….
From humble beginnings as a collector himself, Stephen Lane and his team of like-minded movie enthusiasts found a way of making their interest into a global niche business servicing movie fans all over the world – eventually becoming a major player in the movie memorabilia market. What has always made us different is that we are not only experts in the memorabilia collecting field, but our company is also made up of movie fans who put their passion and love of the silver screen into everything they do.
Every year we have a very special global Entertainment Memorabilia Live Auction, which showcase the best of the best in movie and tv memorabilia from around the world. This year our annual auction will take place on 20th September 2018 at the BFI IMAX in London.  This event is our opportunity to offer all of our new and existing customers the chance to bid on some very special and iconic items.  In this, our 20th anniversary year, we have delighted to have over 600 lots, including some unique and iconic items such as Han Solo's (Harrison Ford) jacket from The Empire Strikes Back (1980) (with a whopping estimate of £1 million), Marty McFly's hoverboard from Back To The Future (1989), Indiana Jones' (Harrison Ford) signature fedora from The Raiders Of The Lost Ark (1981) and a First Order Stormtrooper helmet from The Last Jedi (2017).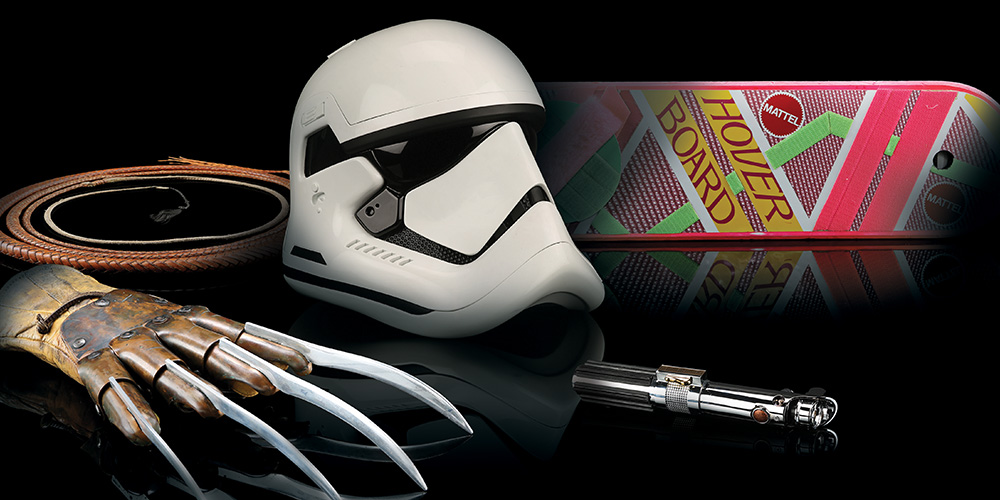 Since this it is a live auction, you are invited to join us in the BFI IMAX to bid in person.  However, don't worry if you can't be there on the big day – you can also bid live online, or by telephone, from anywhere in the world, or just watch all the exciting bidding action unfold on our live stream.
In addition, the BFI IMAX will again be hosting a free two-week exhibition of many of the key lots in the weeks leading up to the auction. The preview exhibition run from Thursday 6th September – Thursday 20th September 2018 and showcase over 270 amazing lots from this year's Entertainment Memorabilia Live Auction.
From now till the big auction day, we will be posting all across our social channels and blogs about some of our favourite lots coming up, so be sure to check back with us each week to find out what we have in store for you. And remember to register as soon as possible at propstore.com/liveauction and sign up for our weekly newsletter to ensure that you will be the first to see what's coming in the auction and be ready to bid in person, by telephone or online on 20th September!

Follow us on Twitter & Facebook to be the first to know about all current & upcoming Propstore Auctions and more!