|
Auctions
BEYOND THE BORDER: The Sicario: Day of the Soldado Auction
A movie doesn't have to be set in the distant past, or envision a fantastical future to hook us with its world-building. Often, it's just as interesting to see how film-makers and craftspeople represent modern-day reality on our screens, no matter how tough and unpalatable it may be.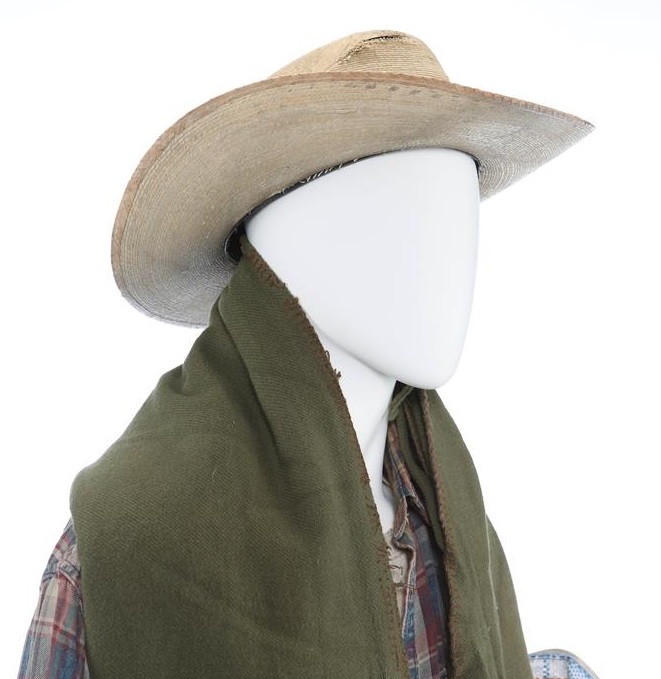 "Sicario: Day of the Soldaldo takes very real scenarios and real possibilities and turn them into a condensed story that I think is beautiful, tragic and has incredible scope," said star Josh Brolin, who plays shady CIA agent provocateur Matt Graver.
Graver is tasked with sparking a war between Mexican drug cartels now suspected of trafficking Islamic terrorists across the border. To do so, he re-teams with vengeful assassin Alejandro (Benicio Del Toro) to kidnap a drug lord's daughter. But things don't go to plan, and the conscience of both men creates grave complications. According to director Stefano Sollima (TV's Gomorrah), the film deals with the "gray areas of law and order."
As such, production designer Kevin Kavanaugh (The Dark Knight Rises, John Wick: Chapter 2) focused on a palette of greys and browns for the look of the film, 90 percent of which was shot in exterior locations, mostly rural, including a border crossing his crew built from scratch in New Mexico.
Costume designer Deborah Lynn Scott (who won an Oscar for Titanic) followed suit, and as the costumes here reveal, she relied primarily on dark, earthy tones to create the look of the characters.
Interestingly, Scott worked closely with Del Toro, who was keen to give his input into the costume design for Alejandro, fueled by his instinctive understanding of the character. He saw the hitman's different costumes as a kind of "camouflage," explained Scott, changing his look depending on the environment he needed to blend into. In one scene we'll see him in night-black combat gear (Lot #50), in another he'll wear Wrangler pants and a knit tie (Lot #20). But for the film's pivotal scene, he wears an old red plaid shirt, a green blanket shawl and a battered cowboy hat (Lot #73) — all intended to make him look like a desperate migrant, but which fail to sufficiently disguise him, with terrible consequences.
Sicario: Day of the Soldaldo isn't exactly comfortable viewing, but the world it reveals through its impressive visual, production and costume design is impactfully real. It needs to feel just a little too close to home.

Follow us on Twitter and Facebook to be the first to know about all current & upcoming Propstore Auctions and more!