|
Collections
The Propstore Collection Presents…Marty McFly's Hoverboard
Welcome to our continuing series of collections blogs as Propstore's team digs into the archives and unearths some amazing items. We talk about the film, explore the history of the prop or costume and explain why we love it so much. This time? One of those movie props you really, really wish was a real item…
Marty's Hoverboard
Back To The Future Part II (1989)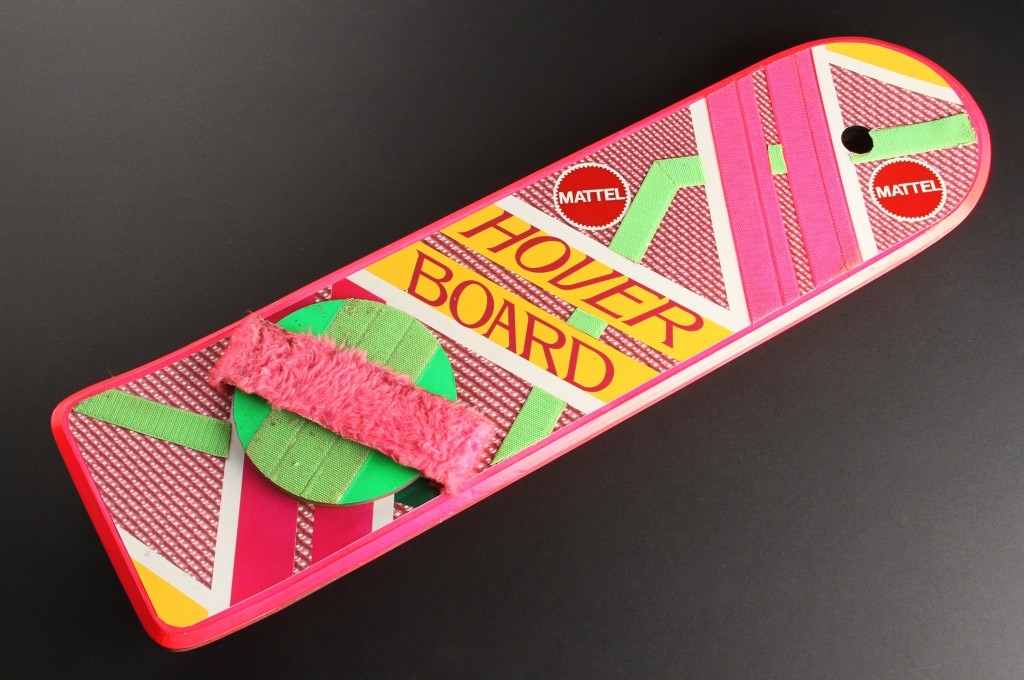 If there was ever a movie prop on screen that we all would have loved to have actually existed, it was probably the Hoverboard from Back To The Future Part II. Cruelly teased as a real product by director Robert Zemeckis around the time the film was released, the Mattel Hoverboard was "invented" somewhere between 1985 and 2015 and used by Michael J. Fox as Marty McFly to escape Griff Tannen (Thomas F. Wilson) and his gang of thugs, and later in the movie to retrieve the Sports Almanac that has played havoc with the timeline. The Hoverboard also appeared in the climactic scenes of the final chapter in the exciting train sequence.
This board is complete, it has the rare footpad (these were often recycled onto replacement boards as they became damaged during filming) and also the luminous green Velcro tape which is seen on the top side of all the on screen boards except one. The magnetic plates on the base are plastic and painted silver. The Mattel toy logo is part of a photo-real graphic applied to the deck, but though early versions of the board used a 3D lenticular graphic, this proved not to be cost effective and was replaced with the photo version. This is a close up prop made from wood, one of perhaps half a dozen handmade for filming. Lightweight Styrofoam boards were also used (these were mainly used for the SFX crane shots were the actors' boots could be screwed on for a more realistic illusion of flying).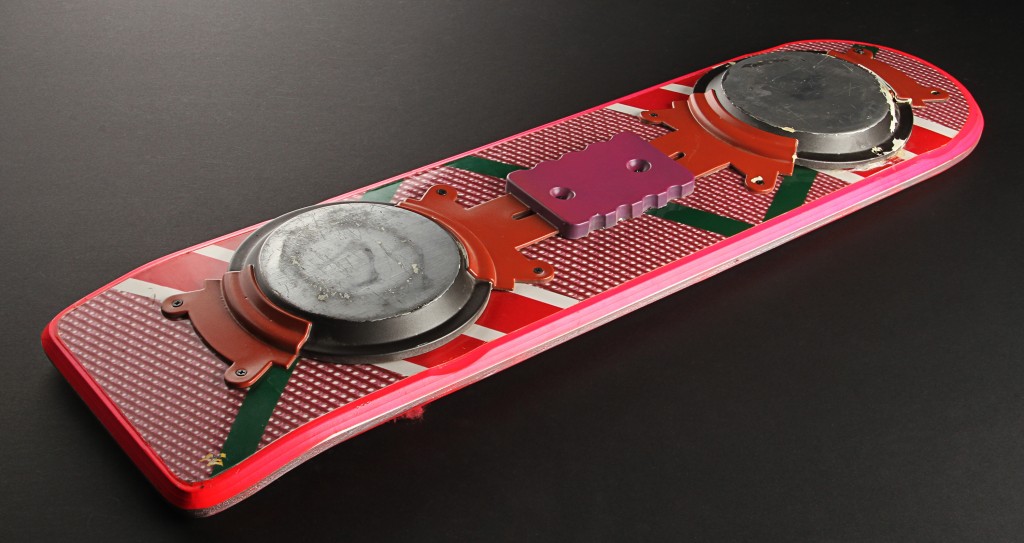 This Hoverboard is also the only known board that not only has the handle bar hole in it but also the hardware inside to easily allow those bars to be removed and replaced. When Marty first borrows the board from a passing child he pulls out the handle bars – which were apparently standard equipment, at least for younger kids – so that he can have a device more like his familiar 1985 skateboard. An instantly recognizable prop from one of the most enduring movie trilogies of all time. If only it was real… And no, we don't count those silly wheeled toys that people wobble about on these days, either.
Love this item? Tell us on Twitter and Facebook. You can explore so much more at our archive and see the extensive range of film and TV items we have for sale and auction. Head to www.propstore.com.