|
Collections
Introducing Our Terrifying Collection of Horror Film Props!
For all you horror fans out there, here is a quick glimpse at some of our most treasured props and costumes that decorate our galleries in London and Los Angeles. This represents the crème de la crème of film props from some of the most iconic horror films of all time, so let's see if they're enough to make your blood run cold
1. SFX Werewolf Transformation Head – An American Werewolf in London
This werewolf transformation head played a key part in one of the most important special effects scenes in the history of horror films. This is one of a series of heads that saw David Kessler, played by David Naughton, transform into the eponymous werewolf in John Landis' 1981 horror comedy, An American Werewolf in London.
Sadly the distinctive skin and fur have long since worn away, but that just offers added insight into the mechanics of this extraordinary piece and the brilliance of master SFX technician Rick Baker, who was awarded an Oscar for this work.
2. Nazi Demon Warmonger Mask – An American Werewolf in London
One of the most memorable scenes in an An American Werewolf in London is the dream sequence, which sees David Kessler at home with his family before being attacked by a group of four Nazi demons. This particular mask is that of 'Warmonger', the demon who sprays the room with machine gun fire.
This incredible mask, again the work of seven-time Oscar winner Rick Baker, is made from slip latex, which has been immaculately painted and finished. The detailed eyes have an opaque centre, allowing any actor wearing this mask to see reasonably well. This is a beautiful piece in excellent condition from a timeless horror classic. What more do you need?
3. Hero Freddy Razor Claw – Freddy vs. Jason
The leather razor glove, as worn by Robert Englund playing Freddy Kruger in Wes Craven's 1984 horror film Nightmare on Elm Street, is one of the most iconic film props of all time. The Freddy Kruger character went on to become one of the most popular villains in film history, spawning a number of sequels, spin-offs and even a TV series.
This particular glove was one of the steel bladed versions worn when the Elm Street franchise joined forces with the Friday the 13th series in 2003, to produce Freddy vs. Jason. This metal hero version of the glove would have been used for close-ups, with the majority of the filming completed using plastic or rubber blades for the safety of the actors.
4. Jack Nicholson's Hero Axe – The Shining
"Heeere's Johnny!" is one of the most recognisable lines of dialogue in cinematic history, and is screamed by Jack Nicholson's character, Jack Torrance, as he smashes through a door with an axe after a long winter in the Overlook Hotel.
Stanley Kubrick's 1980 version of the Stephen King novel, The Shining, was met with mixed reviews on its release, but its status has grown over the years and it's now regarded as a masterpiece.
Photographs from the film set reveal that as many as a dozen different axes were lined up ready for use.
The axe in The Propstore collection is a real axe and would have been required for practical use. The wood grain actually matches to the incredible scenes where Nicholson breaks down the first bedroom door!
5. Headless Horseman Costume – Sleepy Hollow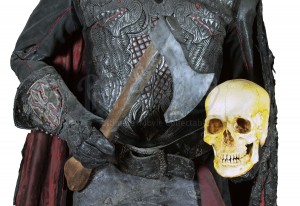 The role of Hessian, who later becomes the legendary Headless Horseman in Tim Burton's 1999 gothic horror Sleepy Hollow was played by Christopher Walken. As the plot unfolds and the Hessian loses his head, the Headless Horseman is then portrayed by stuntman Ray Park.
This costume was designed by double Oscar winner Colleen Atwood, who also received a nomination for her work in Sleepy Hollow. The costume is extremely ornate, and includes two large dragons which are finished in silver. The black gloves and long black boots were made from a unique Italian leather. The display is finished with a stunt version of one of the Horseman's axes and a of the Horseman's skull taken from the original moulds.
This is just a small sample of the horror movie memorabilia to feature in the Propstore Collection. To find out where you can see these stunning pieces for yourself, please get in touch with our team.