Our Fall 2022 Poster Live Auction has a collection of over 500 poster from over 300 movies, TV shows and more. Check out some of our auction highlights below to see some of our featured lots.
ATTACK OF THE 50 FOOT WOMAN (1958)
US Insert, 1958
Estimate: £4,000 – 6,000 ($4,815 – 7,225)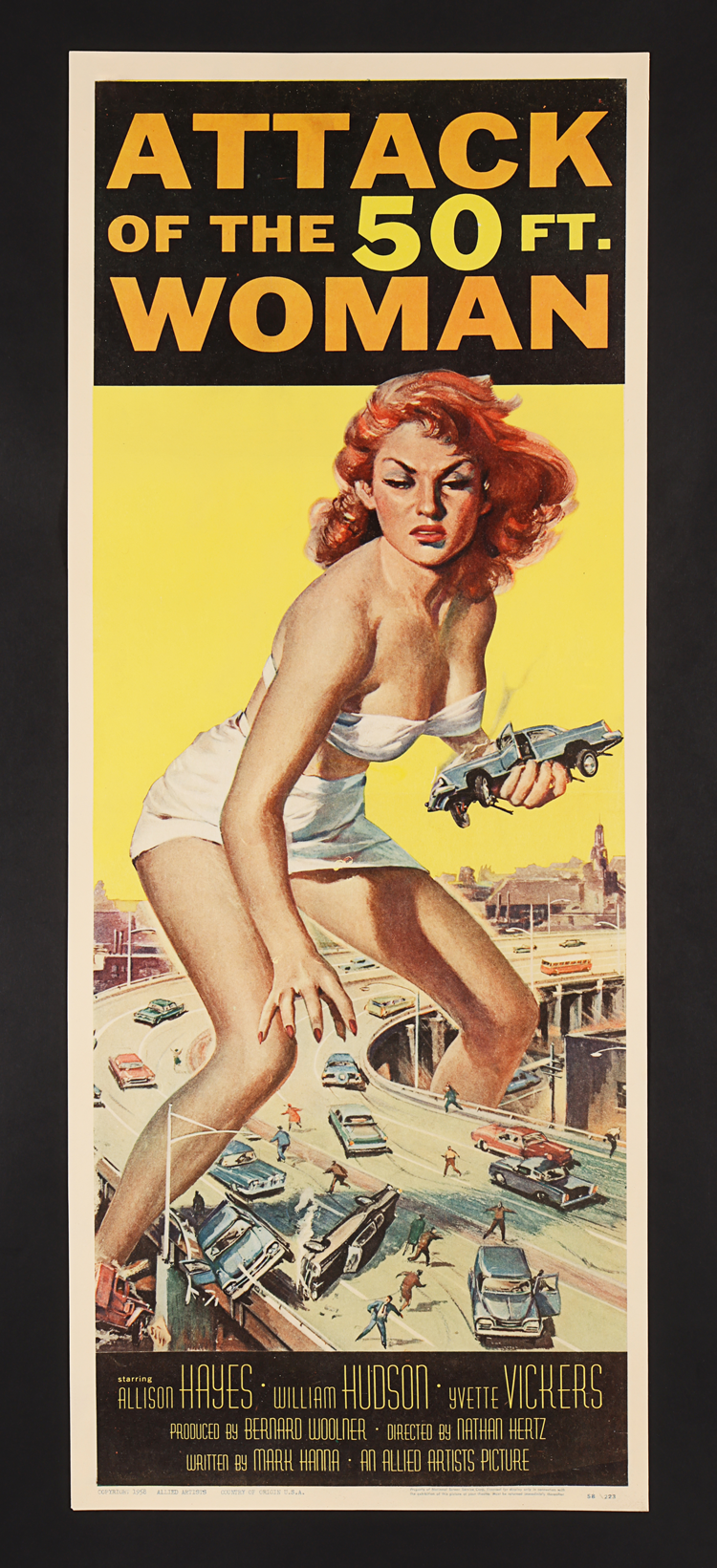 This rare US insert poster for Nathan Hertz's sci-fi horror Attack of the 50 Foot Woman (1958) is one of the most sought-after films from 1950s science fiction cinema. The 1950s saw a surge in films depicting size-changing humans, including The Amazing Colossal Man (1957), War of the Colossal Beast (1958) and The Incredible Shrinking Man (1957). Hertz's film featured a leading female role, with socialite Nancy Fowler (Allison Hayes) encountering a giant alien, causing her to grow into a giantess. She soon goes on a rampage, seeking revenge on her cheating husband. The US insert features beautiful artwork by renowned artist Reynold Brown showing an angry Fowler in her giant form, wreaking havoc on a highway.
DR. WHO AND THE DALEKS, 1965
UK Quad, 1965
Estimate: £1,500 – 2,500 ($1,800 – 3,000)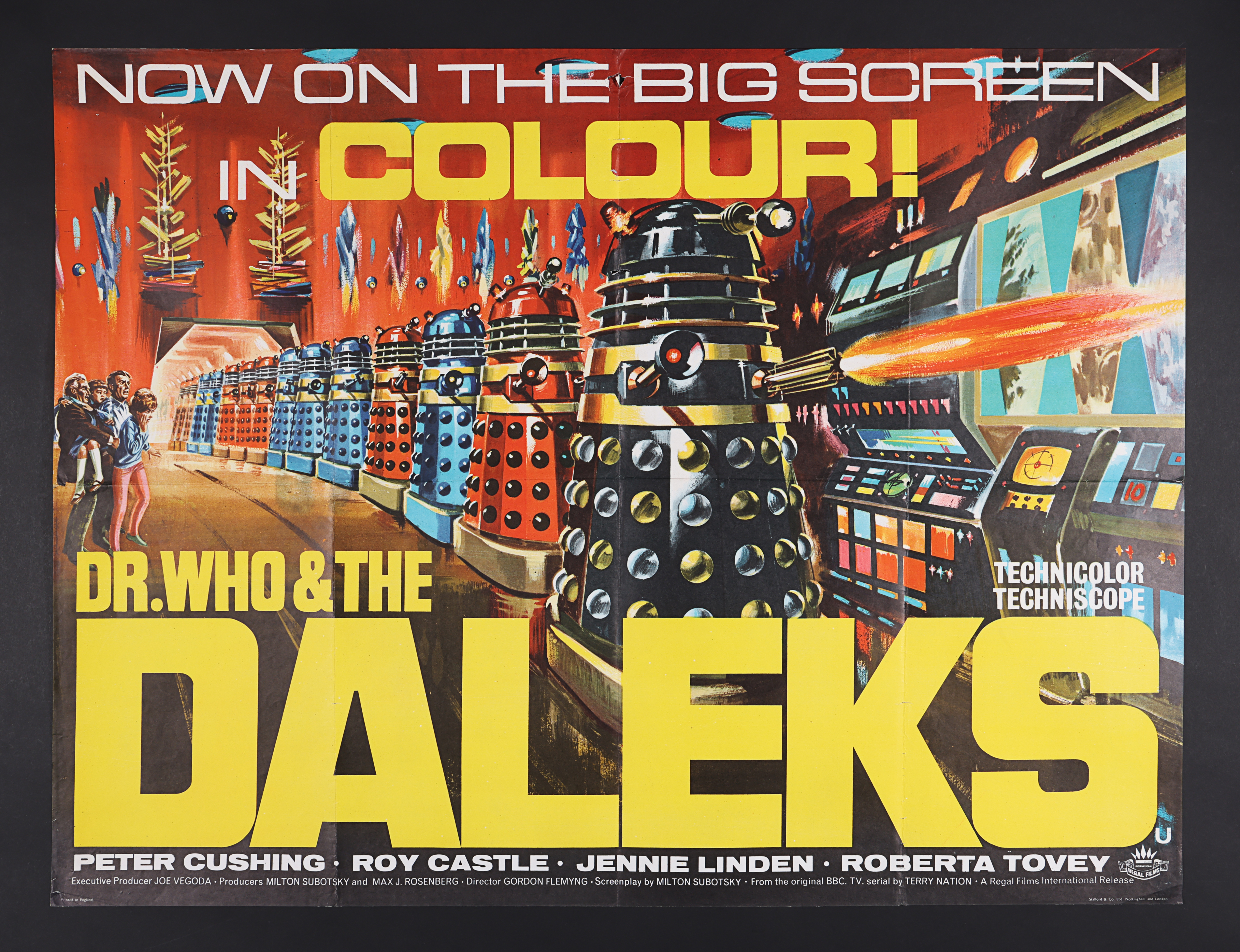 First appearing on BBC's Doctor Who television series in December 1963, the Daleks were an instant hit. A wave of "Dalekmania" swept across England, with toys, games, books, and other ephemera being snatched up by the children of the day. Film producer Milton Subotsky, never one to ignore a popular trend, quickly bought the rights to bring the Daleks to the silver screen, pitted against a somewhat different time lord – Doctor Who, played by Peter Cushing. This country-of-origin UK Quad from the film's first release in 1965 features the impressive, colourful artwork of Bill Wiggins and was only ever used for this British release.
FORBIDDEN PLANET (1956)
US One-Sheet, 1956
Estimate: £5,000 – 7,000 ($6,020 – 8,425)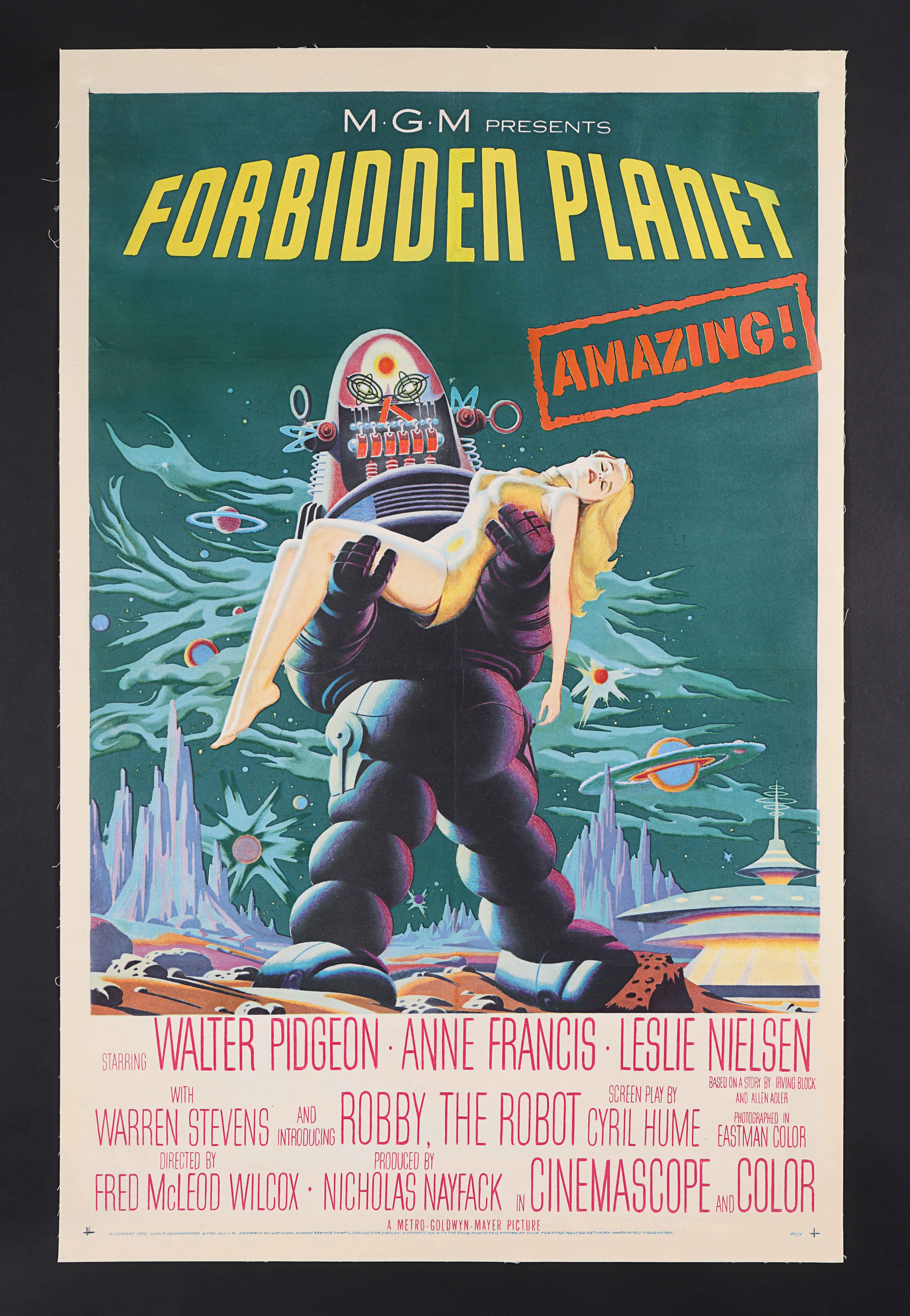 This US One-Sheet poster for Fred McLeod Wilcox's sci-fi adventure film Forbidden Planet (1956) is yet another rare and very collectible piece from the auction. The film debuted cutting-edge special effects and was one of the first movies to include a robotic character that displayed human qualities. The vibrantly coloured design features Robby the Robot – who featured heavily in the film's worldwide advertising campaign – holding Altaira (Anne Francis) against a planet-filled landscape and subterranean Krell city. A must-have for any vintage film fan!
FRANKENSTEIN MEETS THE WOLF MAN (1942)
US One-Sheet, 1942
Estimate: £4,000 – 6,000 ($4,815 – 7,225)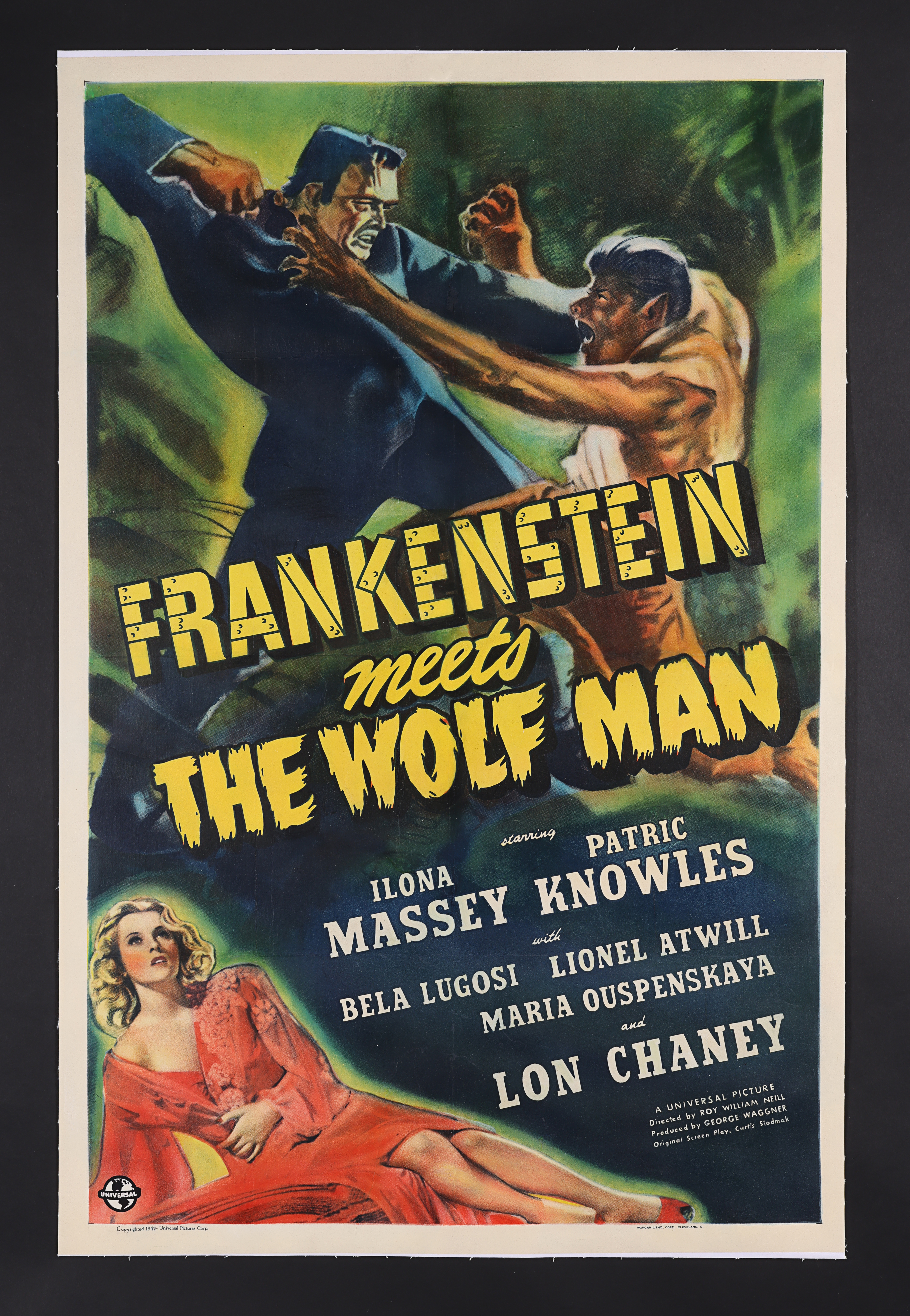 Classic Universal monster posters don't get much better than this Frankenstein Meets the Wolf Man (1942) US One-Sheet. Karl Godwin's no holds barred artwork features two of the most recognisable creations battling toe-to-toe; the Frankenstein Monster (Bela Lugosi) and the Wolf Man (Lon Chaney Jr.). The film was the first in a series of monster crossover films and starred two of the biggest names in horror. Chaney returns to his signature role of werewolf Larry Talbot, a part he would play a total of five times over the course of his career, whilst Lugosi finally dons the Frankenstein Monster makeup for his first and last time. Interestingly, he was originally Universal's number one choice to play the iconic monster in 1931 (with merchandising already printed) but declined the role before filming was due to start. This scarce US One-Sheet is a first-time offering for Propstore and will be a popular item among die-hard collectors and horror fans alike.
GODZILLA (1954)
UK Quad, 1956
Estimate: £3,000 – 5,000 ($3,610 – 6,020)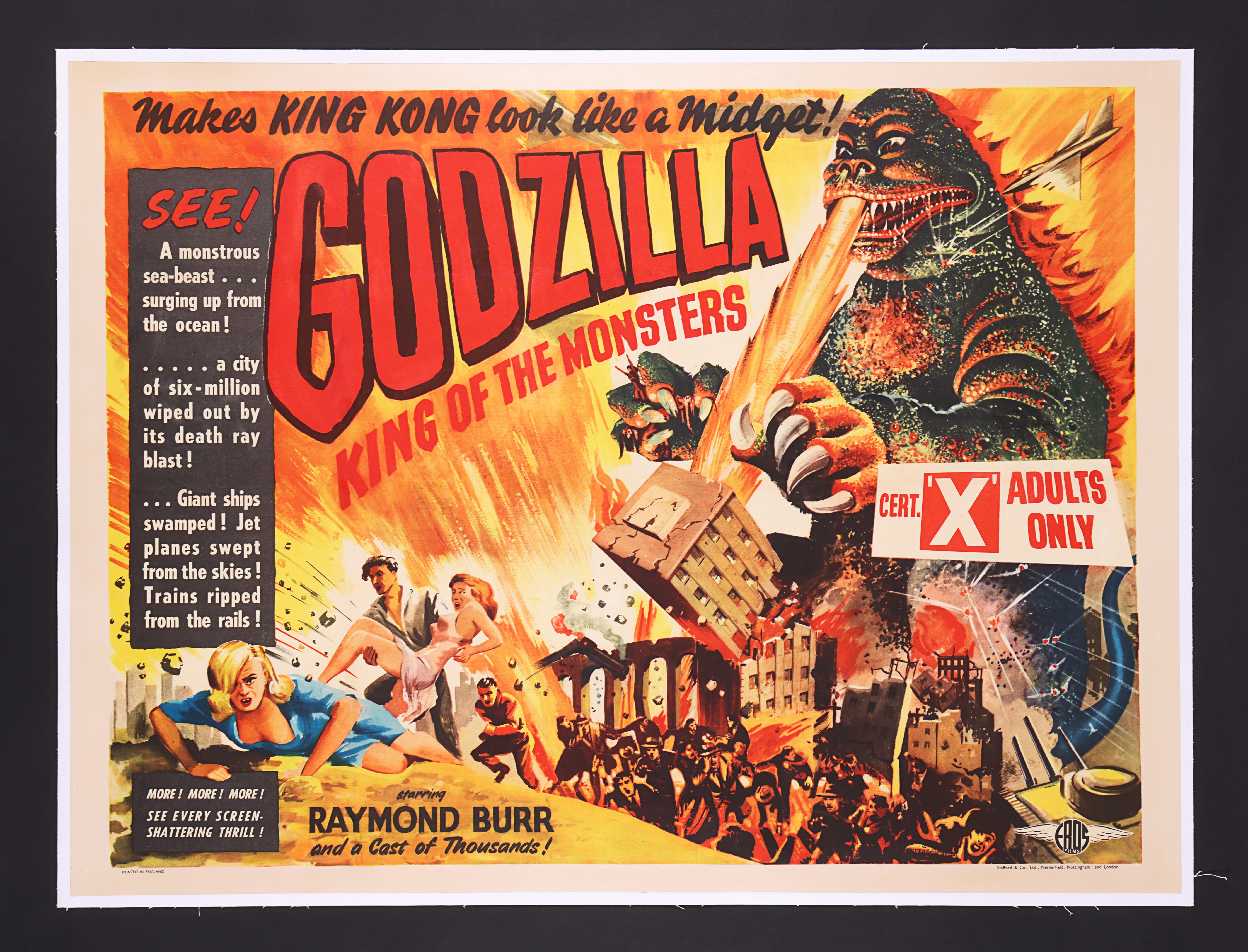 Next up is a 1956 First Release UK Quad for the original Japanese Godzilla movie, Godzilla (1954). The Toho production company, whose catalogue includes Studio Ghibli and the films of Kurosawa, invested so much money that Godzilla became the third most expensive Japanese movie at the time it was made (after Seven Samurai and Samurai I: Musashi Miyamoto, both of which are Toho productions). The studio aimed to capitalise on the success of The Beast From 20,000 Fathoms (1953) and the idea of introducing more giant monsters onto the silver screen. It initially bombed at the box office but has since been praised for its enduring legacy and spawned a franchise that continues to this day, with legendary directors such as Scorsese, Spielberg and Lucas cite this film as a huge inspiration for their own work. While the artwork for this poster is unattributed, it has taken inspiration from Reynold Brown, who painted many other monster movie posters of the 1940s and 50s.
JAMES BOND: GOLDFINGER (1964)
UK Quad – Style A, 1964
Estimate: £4,000 – 6,000 ($4,815 – 7,225)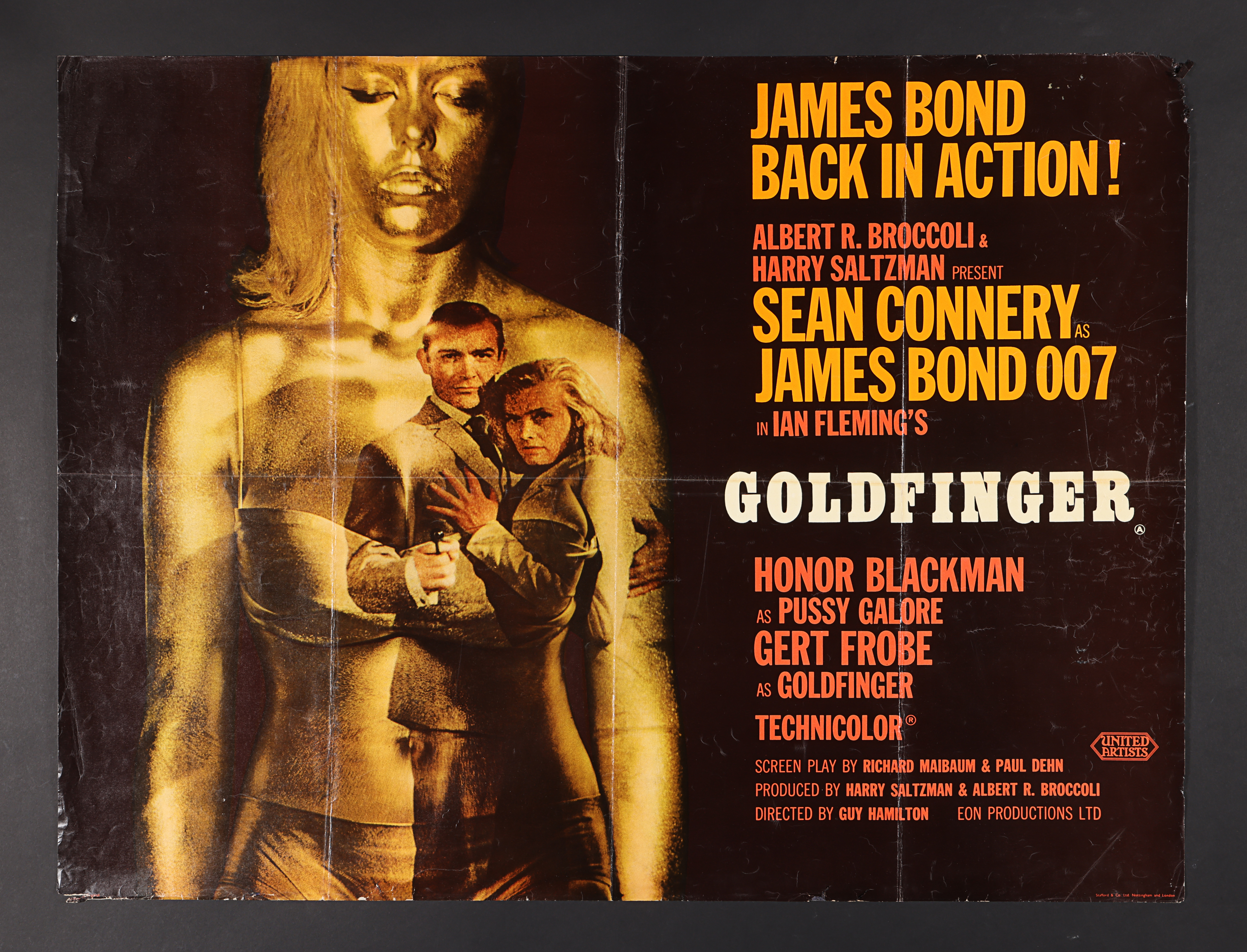 Why not celebrate the 60th Anniversay of James Bond in style, with this UK Quad "Style-A" poster for Goldfinger (1964)? Robert Brownjohn's poster design for this James Bond film moved away from the traditional painted artwork approach and instead utilised a more modern photo montage design, which was based on his own title sequence from the film. A definite must-have for any Bond collector!
NIGHT OF THE LIVING DEAD, 1968
UK Quad, 1968
Estimate: £1,000 – 1,500 ($1,200 – 1,800)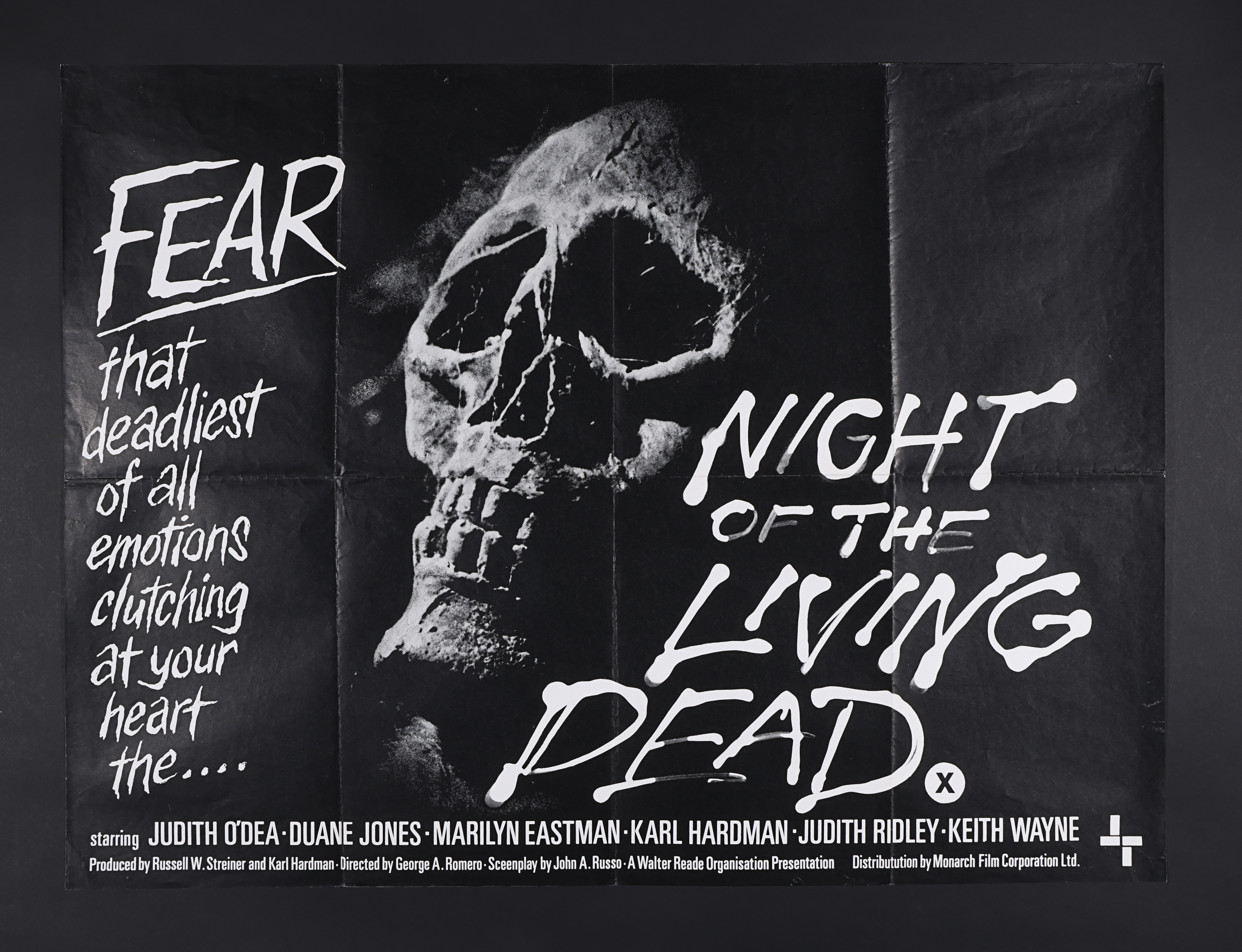 Another featured lot in our Fall Poster Live Auction is this first year of release British UK Quad for George A. Romero's Night of the Living Dead (1968). This dark, atmospheric Quad poster has unique imagery not seen in any other country, with the simple black-and-white design and foreboding skull appropriately set the horror tone for a cinema audience. A hugely important and influential horror film, the low-budget, black-and-white masterpiece set the mold for the multitude of zombie films, TV series' and comic books that followed. This poster is extremely rare and very few have ever surfaced given the low-budget, low-key nature of the film's release.
STAR WARS: EP V – THE EMPIRE STRIKES BACK (1980)
UK Quad – Gone With the Wind Style, 1980
Estimate: £8,000 – 10,000 ($9,630 – 12,040)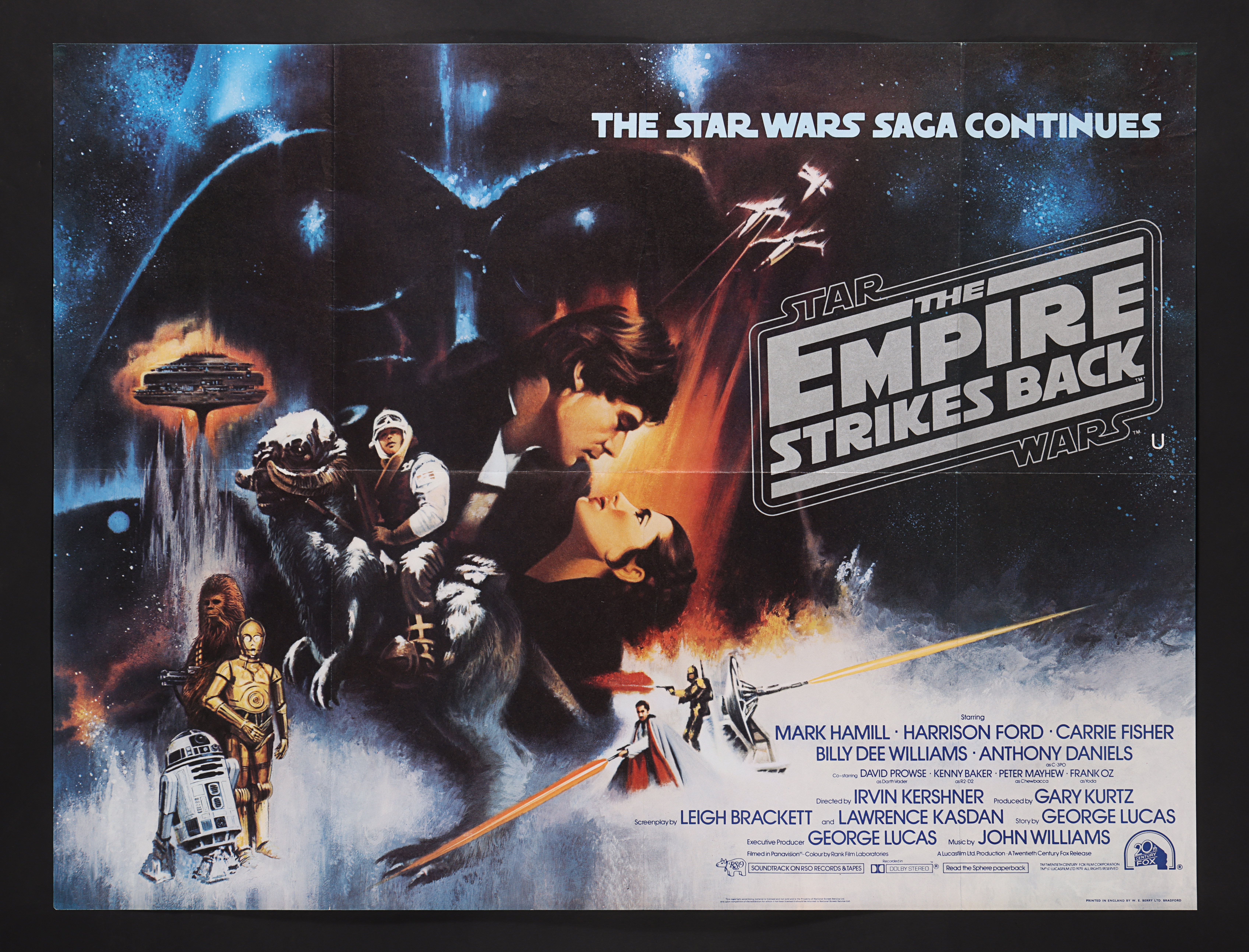 One of the highlight lots in this year's poster auction is this untrimmed UK "Gone with the Wind" Style A Quad from the promotion of Irvin Kershner's Star Wars: The Empire Strikes Back (1980). Considered to be one of the rarest and most beautiful of all the Star Wars saga posters, this British UK Quad for the release of the film in 1980 features artwork by Roger Kastel and is often affectionately referred to as the "Gone with the Wind" style due to its similarities to the classic 1939 movie poster. After a very limited initial release, many posters were trimmed for use on the London Underground, however, this is an untrimmed poster and considered to be the Holy Grail of Star Wars posters by collectors. It is so rare that it even has a 10/10 rarity rating from writer Stephen Sansweet in his Star Wars Poster Book!
THE TEXAS CHAINSAW MASSACRE (1974)
UK Quad – Local, 1974
Estimate: £600 – 800 ($725 – 965)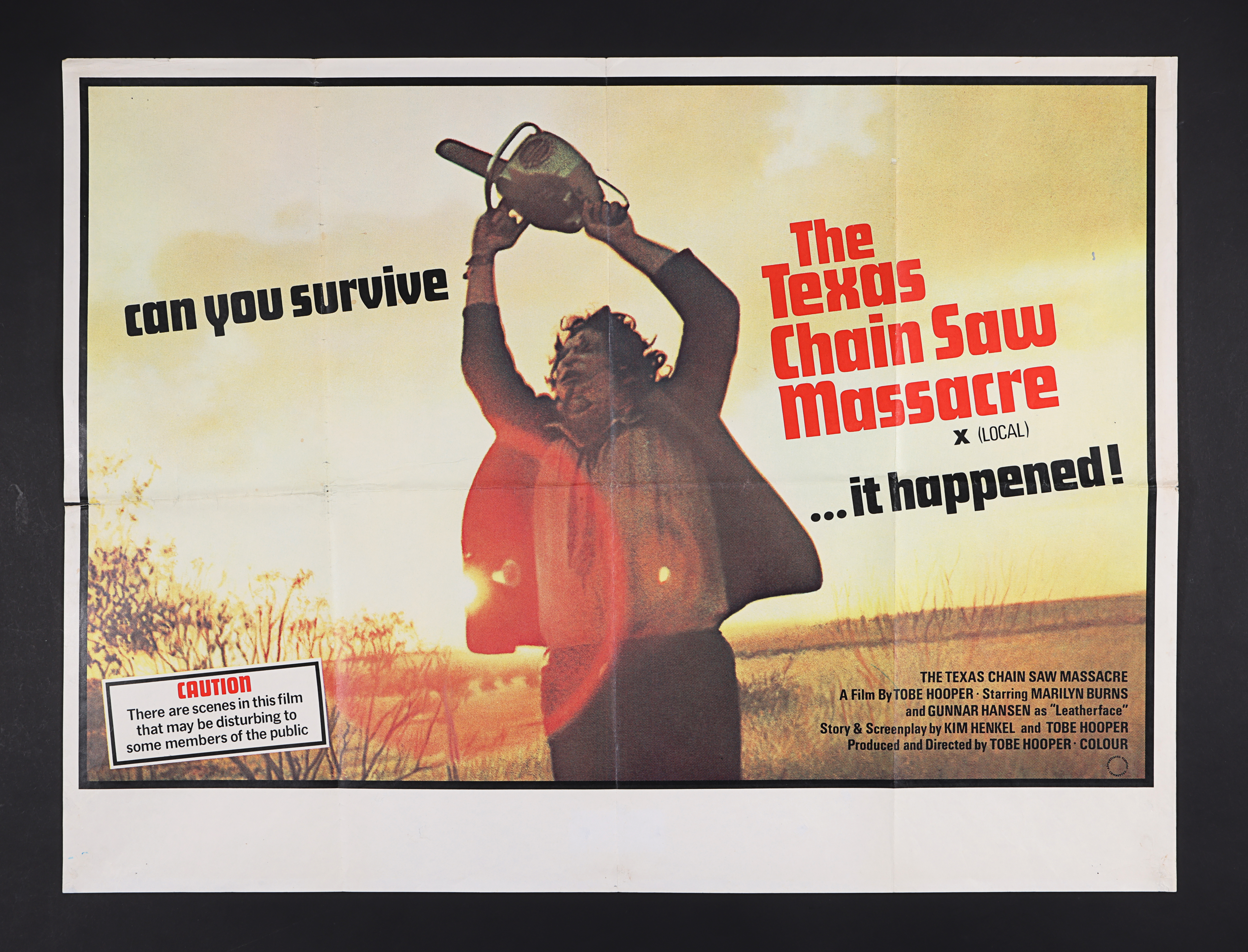 Another great lot from our Horror collection is this UK Quad for Tobe Hooper's The Texas Chainsaw Massacre. The film has become one of the most debated films of all time bringing nauseating, forceful horror to the screen with a focussed realism that was new to mainstream cinema. Arguments raged as most councils and cinemas across the country banned its release with only a handful of cinemas eventually bowing to public demand and showing the film. The extremely limited release resulted in two versions of poster being produced (both incredibly rare); an X certificate for LONDON cinemas and an X certificate for LOCAL. The example offered here is from a LOCAL screening with a design by FEREF (a UK creative agency) and is unique to the British release, featuring one of the horror genre most memorable images from perhaps the most influential cult horror film of the modern era.
VERTIGO (1958)
US One-Sheet, 1958
Estimate: £4,000 – 6,000 ($4,815 – 7,225)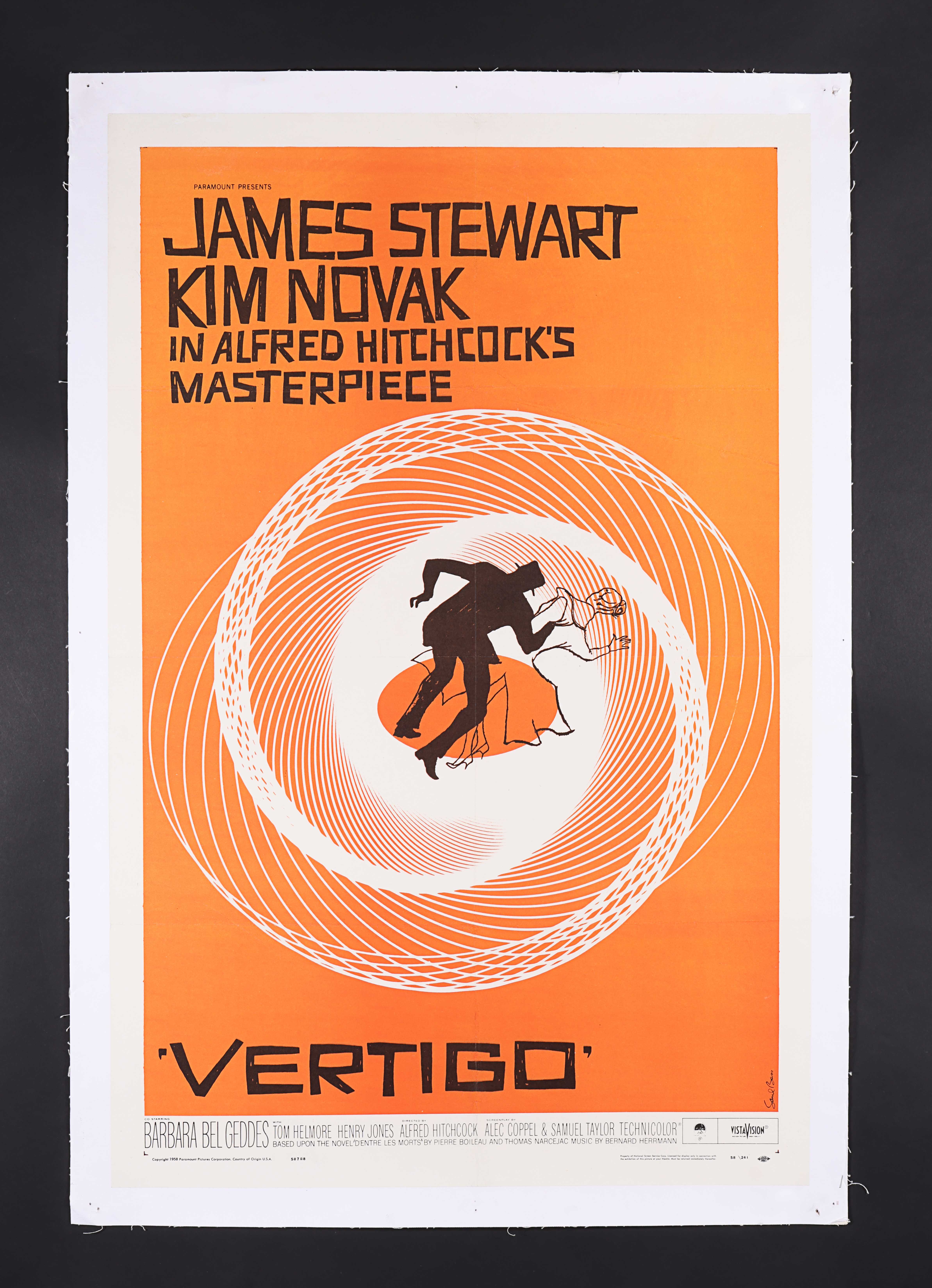 Our final featured lot is one of the most defining cinematic images of the 20th century – Saul Bass' spiral poster design for this classic 1958 Alfred Hitchcock thriller, Vertigo (1958). His design has become synonymous with the film with his simple and stylish graphics symbolising the downward spiral of events in the movie's timeline. The film was the fourth and final time that James Stewart would work with Alfred Hitchcock, with both turning in career-defining performances. Vertigo consistently makes the shortlist for 'Greatest Movie of All-Time' with the influential movie magazine 'Sight & Sound' making it their Number One film of all time. The poster is presented unrestored with the much preferred red background. Amongst poster collectors there is a strong debate that two versions were issued (red and orange), but many experts now believe that the orange styles are more likely to be faded. This is a beautiful example of a sought-after piece of important movie memorabilia that has been conservation linen-backed and another must have for any true film fan!
Find out more about the amazing selection of content and more in our Poster Live Auction on September 15, 2022 and how you can view the full catalogue and more now, at propstore.com/posterauction
And don't forget to follow us on Instagram, Twitter and Facebook to see more sneak peeks from our upcoming auctions and promotions that are coming up on our site, prosptore.com.